Whether your loved one's care needs are minor or they require more complex care, help around the house and with personal tasks means that your elderly relative can continue to manage the day-to-day activities within their grasp, while receiving assistance with those things they are no longer able to do. 
Maintaining Independence
Care at home means that your elderly loved one can remain in the home they may have lived in and loved for many years. Many of us are fiercely proud of, and keen to, defend our independence and will do everything within our power not to feel dependent on other people. That is why home care is often a more attractive option than moving into a care home or nursing home.
With the help of a domiciliary carer or a live-in carer, your loved one retains that sense of independent living and can do as much or as little as they feel they want or are capable of doing around the house. Tasks which have become too onerous or too much of a physical challenge can be delegated to their caregiver, while your loved one still takes an active role in more manageable tasks and the decision-making process. Your loved one may be able to help in the preparation of their meals, for example, but could request that their carer does the actual cooking and picks up the ingredients from the supermarket.
Continuing Hobbies
Keeping up the hobbies and pastimes they have enjoyed throughout their lives is important to most elderly people, and they may not get as much of an opportunity to enjoy their leisure pursuits in a residential home setting. However well-meaning and dedicated they may be, the staff in care homes and nursing homes simply do not have the time to give your loved one the one-to-one quality time they deserve.
Receiving care at home from a live-in carer usually means your loved one can keep up with the interests they've long held and enjoy the mental stimulation which comes with sharing their passions with another person.
Elder will do their best to match your loved one with a caregiver who shares the same hobbies and interests, so your relative will always receive companion care from someone with whom they can forge a friendship and can relate to. This can be particularly beneficial for those in need of dementia care, as memories are so often closely tied up with the pastimes they've enjoyed in younger, healthier days, and it's important to keep the mind active.
---
Dulcie's Care Story
In this short video, Mary and Colin explain how Dulcie's live-in Elder carer, Sarah, has become part of the family.
They discuss how live-in care has allowed Dulcie to stay independent in her own home, while making a new friend at the same time.
---
Keeping Pets
It may seem like a trivial concern, but the fact that your loved one could continue to keep their beloved pet is incredibly important. The bond many people have with their pets is powerful, and the heartache which would inevitably come with a move into a care home and separated from them can be devastating.
Pets not only keep people physically active for longer, but they play a key role in the mental and emotional well-being of elderly people. They can be a great source of comfort and companionship, especially for those who have lost a spouse or partner.
The majority of live-in care workers will be more than happy to assist your loved one in looking after their beloved pets. For example, taking the dog for a morning walk or helping to clean out the cat's litter tray, if your loved one struggles to manage such duties on their own.
An Alternative to Residential Care?
Many people are surprised to learn that live-in care can often be more affordable than a place in a care home or nursing home. If you and your loved one are considering their elderly care options, then this form of care at home is often the most comfortable and cost-effective route.
Help from traditional domiciliary care workers can be unpredictable. Drop-in visits are always timed, and carers work to a tight schedule, meaning that they can only spend a limited amount of time with your relative and your loved one has to fit around their work pattern. That may mean being put to bed and helped up at a time that isn't of their choosing, and the same would apply to mealtimes. Your loved one may also see multiple different carers over the course of the day and week, which can be particularly distressing to those receiving dementia care.
With a live-in carer, the carer works around your loved one and provides a continuity of care which cannot exist with a domiciliary care package or when living in a care home. Live-in carers are there to support and watch over your relative around-the-clock, giving you and your family the peace of mind which comes with knowing that they are never alone and help is always on hand.
Receiving home care from a provider such as Elder means that your loved one can do as much or as little as they wish to around the house, as well as receiving help with personal tasks such as washing, going to the toilet and getting dressed and undressed.
In the majority of cases, a genuine bond of friendship and trust can grow between the carer and the person they are assisting. Companion care from Elder means that your relative can continue to enjoy familiar surroundings while retaining that all-important sense of independence for as long as possible.
Call us for expert live-in care advice
Learn more about home help
Take a look at more Elder guides on home help.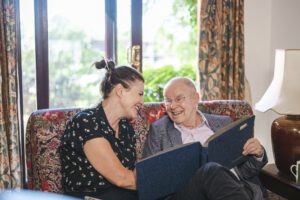 If you're looking for a little additional care for yourself or a loved one, you may have come across elderly sitting services – but