Often, the person who is healthier takes on the role of caregiver for the other, but as both grow older, more help may be needed. Added complexity comes with a dementia diagnosis, and it might seem like the only option is that one member of a couple has to go into a care home. 
There are, however, various care home alternatives such as home care are alternative ways of ensuring that your elderly parents receive the support they need while also being able to continue living together as a couple.
Care homes
Care homes offer elderly care, including dementia care, but for couples it can become complicated.
Although married couples should be able to stay together, it's not guaranteed. Care homes aren't set up for this situation, and it is unlikely to be suitable for both people unless they have the same care needs. It can be distressing for one partner to go into a care home while the other remains at home, but this does happen quite frequently.
If both your mother and father do go into a care home, they will probably have separate single rooms, although some homes may be more flexible and let them both sleep in one room and use the second as a sitting room. Sometimes, however, couples with different needs will be cared for in different areas of the home, due to practical limitations for the care staff.
A husband and wife used to independent living in their own home can find that they lose a lot of their privacy and independence when they move into a care home and have to come to terms with living with other people. The cost of funding two places in a care home can also work out to be very expensive, too.
Home care
In-home care services can help to support both your parents or relatives in their own homes. Traditional home care involves carers coming to visit several times a day to help with the person's care needs. This can offer support to the spouse who is healthier, enabling them to carry on looking after the other in familiar surroundings.
This type of care at home typically involves visits of 20 minutes or half an hour, and there is a limit to how much the carer can do in that time. If your mother or father has complex needs due to an illness or they need dementia care, traditional home care may not be enough to provide the support they require. There are also times, such as during the night, when the couple will be alone with no one available to help.
---
Dulcie's care story
Duclie is one of our longest serving customers. In this video, her and her family talk through their decision to arrange care in the home rather than the care home.
---
Live-in care
Since older couples usually want to stay together and the majority express a wish to remain in their own home, private care is often the most suitable way to support them.
Private live-in care providers will match the live-in carer with the care recipients so that they get on well together. In addition to helping with your loved one's needs by providing 24/7 assistance, a live-in carer can also support the couple by helping with domestic tasks such as laundry, cooking and shopping.
The carer will need their own room in your parents' house as well as an internet connection and a TV for their leisure time. Although they will be available to help your mother and father with all their care needs and other tasks 24/7, it will probably be appropriate for them to give the couple some privacy, while being on call to help if necessary.
If your parent requires dementia care, it will be much less unsettling for them to remain in their own home, rather than having to go into a care or nursing home. The carer will also be there to support the other member of the couple, which is important since looking after someone who is living with dementia can be very stressful.
There's also an increasing body of evidence to suggest that by full-time care in the home could reduce your parents' risk of a fall by up to 33%, and other significant causes of hospital admission – such as hip fracture – by 46%.
Advantages of 24-hour Care
The peace of mind that comes from knowing your elderly parents have someone to provide help whenever it is needed is immense. Having a carer available to support your parents through the night also gives support to both members of the couple, and they will be able to specify what the daily tasks are.
From a financial point of view, live-in care can make better sense than paying for two places in a care home or nursing home. Because the carer will be able to help with so many aspects of daily life, there will be savings on other expenditure, such as home help or Meals on Wheels.
The care that your parents receive will be documented and a care plan drawn up so that all their needs are met. The care agency will consult both with the couple and with you to work out a plan of care that provides the best possible quality of life for your parents.
Call us for expert live-in care advice
Learn more about home care
From how it works to making practical arrangements, we've covered the essentials below.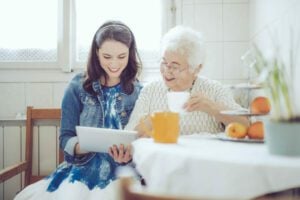 It's natural to need a little help with things as we age. However, if you or a loved one is finding daily tasks more