Live-in care is chosen by thousands of families across the UK
The days are gone where you had to settle for a care home in your later years. With live-in care, you get all the help you need but keep control, choice and independence over your own life, in your own home.
Independent at home

Your loved one gets the care and support they need but keep their own life, in the home they belong.
Truly personal care

We match your loved one to a dedicated live-in carer based on individual needs and personality.
Anywhere, anytime

Wherever you live, right across the UK, we can provide a home carer in as little as 48 hours.
Home care where you're happiest

Our customers are not alone in enjoying the comforts of home. 97% of us want to stay in our homes when we get older.

With live-in care, a dedicated home care professional moves in to help with everything from personal care to household tasks. Doing everything needed to ensure you or your loved one are safe, comfortable and happy at home.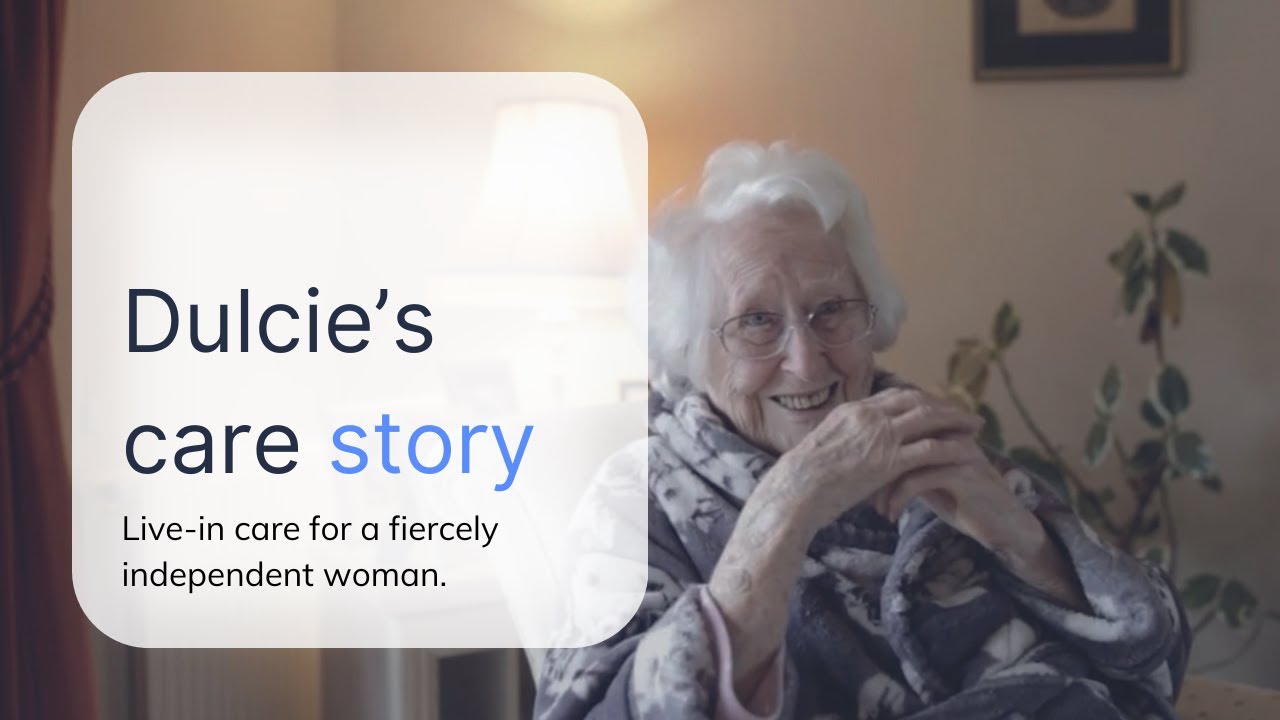 As the UK's leading introductory live-in care agency, we help match people like Dulcie with a carer based on individual needs and personality.
Rather than directly employ the carers we work with, your carer will be self-employed, carefully selected from the Elder network of care professionals.

It means you're more closely involved in the day-to-day management of your care package. Read our customer stories to discover how it works for other families.


Ordinary people doing something extraordinary

The live-in carers we work with have an average of five years of care experience and all undergo a Disclosure and Barring Service check. We also meet them all face to face to ensure they have the skill and character to do the job exceptionally.

They come from all walks of life. And while they're all united by a desire to make a difference, they each have their own reasons for joining the live-in care profession.
Caroline

Caroline joined Elder in 2017, fulfilling her personal ambition to support people make the most of later life.
Jillo

For Jillo, it was caring for her younger brother that motivated her to join the profession. She hasn't looked back.
Catherine

A carer for 20 years, Catherine moved from providing hourly visits to living in. It fits better around her life.
More affordable than you think

Many people are put off live-in care because they don't feel it's affordable. But, while all care is expensive, live-in care is more affordable than they think, often on-par with many care homes.

Before looking into care funding you should maximise your income by making sure you've applied for all the elderly benefits you may be entitled to. Billions of pounds go unclaimed each year. Then, there are a host of options out there to specifically help you pay for care.
Care funding calculator
Use our care funding calculator to get clarity on the NHS and local authority care funding you're entitled to, as well as understanding your likelihood to claim a range of state benefits.
NHS personal budgets
NHS Continuing Healthcare is for those with long-term health needs. It pays for your care costs in full. So, you should always check your eligibility for it first.
Council direct payments
Local authority funding is how many people pay for care. Your eligibility is based on your needs and financial circumstances. You can take control of your money with a direct payment.
Assets and savings
If you're not eligible for state assistance, most families use their savings. Alternatively, you can release equity from your home to cover your care costs.
Support for a huge variety of care needs

Everyone's live-in care needs are different. That's why we work with a variety of specialist care professionals. From intensive dementia care to friendly companionship care, we'll work with your full family to match you with the most suitable home carer.
Live-in care
Live-in care is our essential package, suitable for a wide range of social care needs.
Dementia care
Dementia care is provided by an expert who has experience and understanding of the condition.
Elderly care
Elderly care is for people in later life and who need a bit of extra support with daily living.
24-hour care
24-hour care is for people with intense needs who require support every hour of the day.
Stroke care
Stroke care is for stroke survivors who need support with rehabilitation and living well.
Home help
Home help is companionship care for those who want a friendly face around to support them.

Learn more about Elder:
Frequently asked questions
Can I meet the carer before they arrive?
We're unable to arrange for an in-person meeting with the carer before they arrive. This is because the carers we work with come from all corners of the United Kingdom.

However, before you confirm your carer, you'll receive their full profile and an introductory video so you can get a feel for the type of person they are. Once you've confirmed you're happy with your carer, we're able to help arrange call between you and your new carer.
How long does the carer stay at a time?
Typically, carers stay for three to four weeks at a time before taking a break. During the period they're away, we'll arrange for a secondary carer to step in. This is usually for a period of one to two weeks.
How quickly can everything be arranged?
Whether your loved one is being discharged from hospital, or your family circumstances have changed quickly, we're able to respond quickly. Wherever you are in the country, we're going to be able to put care in place within 48 hours of your call.

However, usually it takes a bit longer. Unless it's urgent, arranging care isn't a process you'll want to rush. We'll work with you to make sure we get it right.
What facilities will the carer need?
Your home carer will need a spare room and will expect a similar standard of accommodation as if they were renting the room. Before their arrival, you should aim to prepare the spare room so it's a comfortable space in which your live-in carer can retire to.
Do Elder provide carers with training?
We offer training to all the carers we work with. However, as an introductory agency, we can't enforce training. Instead, we only work with those who have had at least one-year professional care experience. We also undertake a stringently vetted process and in-person assessment to ensure they're suitable.
Will I need any specialist equipment?
The equipment you require depends completely on your situation. Bear in mind, there is funding available for home adaptations – to make sure you can make it a suitable environment.

However, during a conversation with one of our care planning team, they'll be able to recommend to point you in the right direct. Read our guide on mobility and independence here.
Do you offer respite care?
Yes, our shortest minimum period of coverage is one week. If you'd like to arrange temporary care, simply the hit the button in the top right-hand corner of the page, and enter your details. One of our team will call you back within 24 hours.
Can I use local authority funding?
Is Elder regulated by the Care Quality Commission?
Our introductory agency status is approved by the CQC, but it means we're unable to be regulated by them.

Our role is to help you find the carer that's the right for you, but you're more responsible for managing the carer on day-to-day basis. A regulated company directly employs carers. The carers we work with are self-employed.
Read more care advice:
Free telephone consultation
Request for one of our care planning experts to get in touch