Quick overview 
Live-in carers are experienced to care for a range of needs, including personal care and supporting those living with chronic conditions or things that impact daily life, such as hearing loss, vision loss or limited mobility.
It's comparable in cost to a care home bed for those paying for care themselves. Plus, your home is excluded from the financial means test, so you're more likely to be entitled to local authority funding and less likely to lose your home.
It enables people to stay in their homes, maintain their routine and live independently for longer, and is increasingly linked with a range of better health outcomes. 
What is live-in care?
Live-in care involves a dedicated, full-time, carer moving into the home to support with care needs as well as domestic tasks.
It's the new standard for elderly care, allowing your loved one to remain as independent as possible while remaining a cost-effective alternative to more traditional care options.
A live-in carer can provide support with a number of things – from care needs and support with medication prompting to housekeeping tasks and companionship.
If you're looking at care options for a loved one but are uncomfortable with sending them to a residential or nursing home, live-in care could be the solution. Live-in care fees are often comparable with care homes, with the additional benefit of your loved one receiving one-to-one personalised care in their most familiar environment.
We know that deciding on the best care for your loved one can be a challenging task, so we've detailed everything you need to know about live-in care.
What does a live-in carer do?
Live-in caregivers perform a range of domestic and personal care duties to support your loved one with their wellbeing. Exactly what your carer will support with will be bespoke to your care requirements, but common tasks include – 
Why choose Elder live-in care?
Live-in care allows people to stay in their own home, retaining a level of independence while still receiving the care and support they need. For many people, home means everything, it's part of who they are. Live-in care allows them to keep that crucial element of their life.
More choice 
We'll help you handpick a great companion from a choice of thousands of fully-vetted and approved carers.
More control 
Whether you need emergency care in the next 24 hours, or are planning ahead, we can help you take control.
More support 
Our support specialists and clinical team are here to listen, guide, and empower 7 days a week.
More value 
No surcharges, no hidden costs, and no joining fees– just truly personalised care
Who chooses live-in care?
Live-in care is an excellent option for anyone who has care needs but wants to retain their independence and remain in their home. It's an alternative option for those with a variety of complex care needs – including those who live with vision or hearing loss, have survived a stroke or are living with dementia. It's available for individuals and couples.
Those currently receiving domiciliary care
It may be that your loved one has been receiving domiciliary care but visits throughout the day are no longer sufficient to meet their needs, and more care is required. Live-in care is different – providing round-the-clock support – rather than a just few visits throughout the day, carers will move into the home  – often working on a four weeks on, one week off, basis.
Those currently in a care home
Sometimes, we find people come to us when they've tried residential care but are unable to settle in an institution surrounded by so many other people, or are just much happier in their own home. If you're in a similar situation, we'll work with any health and social care professionals to get your loved one home safely with one-to-one care.
Couples that want to stay together
It can be a huge, life-changing moment to have a partner of many years move into residential care. Live-in care can provide care for couples within their own four walls. It means everyone can be looked after. If only one of a couple has care needs, you can add spousal support to your care package for a small fee, which means your carer will provide housekeeping support for both members of the household. 
Those being discharged from hospital
If your loved one is in hospital, they may need to have care in place before they can be discharged. In this case, the only real alternative to a residential or nursing home is to arrange care within their own home. We can arrange for the carer to meet them at hospital to help ensure they get home safely.
Often, the decision on what type of care is best will fall to the family – taking into account the needs and opinions of the care recipient. As a family, it's important to discuss the various care needs and best options for your loved ones.
Those requiring specialist care 
Because live-in care is one-to-one, 24-hour care it can be ideal for those living with a wide range of medical conditions. It can provide tailored support to minimise and manage dementia symptoms, and can help those who have experienced life changing conditions such as stroke, heart attack or hip fracture to regain a sense of normality and independence. 
How much does live-in care cost?
Live-in care costs can vary between different areas and across providers. There are some common misconceptions around live-in care being beyond the reach of many, however, live-in care can be a very cost-effective care option.
What's more, if you know where to look, there are various sources of funding that can help cover the cost of live-in care which can help put your mind at ease when it comes to working out how you're going to pay for it.
Some people may require specialist support, such as Alzheimer's or dementia care, or help with conditions such as Parkinson's disease or multiple sclerosis. 
For such situations, a live-in carer may need experience in caring for people with that particular condition. At Elder each customer completes a care appraisal form before care begins. This comprehensive assessment of care needs is reviewed by our internal clinical team to ensure full-time care can be delivered safely by a professional live-in carer. 
Included in the cost of live-in care from a professional caregiver is the work that goes into ensuring they're a good match in terms of personality, interests and background This is crucial, as finding the right carer can improve your loved one's quality of life immeasurably.
As your loved one is able to stay in their own home, you may need to cover certain expenses to modify the property. Thankfully, help is available. Everyone is entitled to up to £1,500 from their local authority for minor changes to the home, and potentially more if their needs are more serious. Find out more in our home adaptations guide.
Elder's pricing 
Live-in care with Elder can start from £1150 for one person, and guarantees no hidden charges for weekends or bank holidays. There's also no additional costs for joining us or our carer matching service. The fee you pay for your care will be based on the level of care you need, so you'll never pay more than you have too. For an individual care quote, give our care experts a call. 
With Elder you'll only pay for additional services if you need them. If you require a carer with a driving licence, or someone who can provide additional spousal support, we'll add these to your package only when requested. One thing you will need to make arrangements for is your carer's weekly food budget. You can do this by working it out directly with the carer, or simply ask one of our team to provide a managed food budget. We'd typically suggest £30 per week towards your carer's meals.
Help with funding
In some cases, your loved one may be able to receive full or partial funding from their local council. To get started, you need to speak directly to social services in their area and complete a care needs assessment and financial assessment to find out if they're eligible. 
Once this is completed, you're able to request to receive any funding you're entitled to as a direct payment, which puts you in control of how you spend it. The direct payments must be enough to provide quality care for the needs that your local authority has assessed you as having. However, if your preferred choice of care provider is more expensive than your Local Authority's 'recommendation', then, it'll be down to your family to cover the rest. Many people find releasing equity from the home as a convenient way to cover this cost.
Local authority funding isn't the only source from which funding is available. It's important to know and understand what you're entitled to – particularly when it comes to claiming elderly benefits. If your loved one lives with a chronic health condition or is/has recently been in hospital, you should always ask your healthcare professional about NHS continuing healthcare. This can cover every penny of your care costs and isn't means tested, so your financial situation isn't taken into account.
Other options for funding are –
Downsizing
Lifetime mortgages,
Home reversion plans
Families are often shocked at how affordable live-in care is. People tend to think because it's one-on-one support, it's a lot more expensive than residential care. Actually, it's quite similar in price.
Plus, there are plenty of ways to pay for it. We've put together a simple four-step plan to follow and maximise the amount of money you're entitled to. Find out more by hitting the button below.

How to arrange live-in care
Once you've decided that live-in care is the best option for you, there are three main routes you can go down when arranging it – arranging it privately, with a fully-managed agency or with an introductory agency (such as Elder). There are advantages and disadvantages to each, but we can help you to arrange a live-in care service.
While private live-in care may be the initial go-to for many people, as it allows families to choose a carer they know and trust – sometimes a family member or friend – it can have many unexpected legal obligations which can be stressful.
Private live-in care
Private live-in care generally refers to the process of employing a carer yourself, usually someone you already know.
For many families, a private carer is usually a friend or family member. However, when arranged informally it can pose some drawbacks. For example you may need to manage their employment and holidays, or write up a contract, which can cause tension within existing relationships. 
When going down the route of professional private care, you'll always assume the role of employer and are therefore legally responsible for things such as sick pay, holiday entitlements and paying a living wage.
Not only that but you also have the responsibility of providing employment contracts, taking out the right  insurance, and sorting out respite care when your carer takes a break.
Arranging care with an agency can mean more peace of mind and less hassle in the long term. At Elder, as an introductory agency, we pride ourselves on our matching process so you can be reassured your loved one is matched with a carer who suits their care needs and personality.
What is a live-in care agency?
While there are an increasing number of companies offering a live-in option, a specialist agency is best able to facilitate this.
The goal of a live-in care agency is to provide personalised care and support for those who need it – while understanding the complexities of arranging care.
There are two main types of live-in care company – either a fully-managed company or an introductory agency.
What is a fully managed live-in care agency?
A fully-managed live-in care agency is regulated by the Care Quality Commission (CQC) – the UK's leading independent regulatory body for health and social care. Generally, carers are direct employees of their company, meaning the company manages your carer's pay, benefits, holidays and pension.
A fully-managed agency will take responsibility for recruiting and provide standardised training carers to their carers. They also undertake background checks and DBS screenings to ensure all documents and references are accurate.
Companies providing this service generally charge more than introductory agencies, as the fee includes all the elements of care planning and management – a fee that's determined in an assessment. In contrast, introductory agencies are more flexible in costs – meaning they tend to have lower fees.
This difference in fee doesn't necessarily affect the quality of care, however it's worth bearing in mind that because they'll take a more hands on approach to planning how your care works each day, and rely on a staff of care workers, the continuity of care you receive may be prone to change. 
What is an introductory agency?
Elder is defined by the CQC as an introductory agency, in line with the Health & Social Care Act 2008. This is a model that falls outside the scope of the CQC's regulations, but is still recognised by them.
Rather than employ the carers we work with, we match customers who require care with self-employed care professionals from the Elder network of carers. Each carer in our network still undergoes the same checks that regulated providers do. These include a robust recruitment process, including enhanced DBS checks, ensuring a minimum of two professional references are provided, and that every carer passes our situational and decision making assessments. They must also complete a face to face video interview with our expert carer onboarding team.
All the live-in carers on the Elder platform are contracted directly with your family, and work alongside you, your family, or your local council to manage the day-to-day care.
This includes managing the personal care, risk assessments, continuation of care assessments and anything else required to make sure the recipient is safe, happy and comfortable in the place they're happiest – their own home.
Introduction agencies don't have an "ongoing role in the direction or control of the service provided". However, this doesn't impact the level of service Elder-approved carers provide on a day-to-day basis. And, in terms of helping you manage your care, we go above and beyond what many other introductory agencies offer – with on-going support seven days a week from your own Family Support Specialist, and on-going guidance from our internal clinical team. 
We find this service usually suits families who really want their loved one to be cared for at home but don't mind taking on a bit of extra responsibility to keep costs down.
How Elder works
As a live-in care agency, we're experienced in understanding the care needs of individuals and their families, before introducing them to a carer who suits both their care needs and personality type.
We understand that to have someone live in your home is a big step, which is why we ensure, through our matching service, your loved one's opinions and preferences are all considered, as well as the views of the rest of the family. It means we can help find an experienced carer who'll suit their situation for the long-term.
You, the family, always get final say on the carer. You'll have the chance to read all about their experience through their carer profiles, watch their introductory video and even have a Zoom call with them to be sure they're the right fit. Your first week with us is also a no-strings trial period, meaning you can cancel or switch carers instantly. 
And while introductory agencies can't provide standardised training to carers, every carer working with Elder has free access to an e-learning platform, where they can gain new skills and qualifications in things like Moving and Handling, Food Safety, Mental Health, and Dysphagia. 
Live-in housekeeper and daily visiting carers 
For people who require extra help around the house, but may not need full-time care, a live-in housekeeper or a daily visiting carer can be a good option. The professionals can help with daily household tasks, such as cleaning, as well as preparing meals and cooking. This can be great for those with limited mobility, and allows an extra level of support and companionship in the home. 
The benefits of live-in care
Live-in care has many benefits for both your loved one and the rest of the family.
It's consistent, around-the-clock care, offering peace of mind for family and friends as well as dedicated, bespoke care to the care recipient. Because it's provided by a single carer, it offers consistency of care, and builds a level of trust and friendship between the carer and receiver. 
But it also has a number of other benefits you should consider such as financial and social benefits.
Financial benefits
Often, live-in care is thought to be an expensive option however there are actually numerous financial benefits to live-in care.
Unlike a care home, when you opt for care at home, your property is excluded from the financial means test for local authority funding, which means you're more likely to be eligible for more state support and less likely to lose the family home.
With live-in care, your property is excluded from the means test
A big advantage of live-in care is that it gives people a better chance of keeping the family home, as the local authority financial assessment excludes your loved one's property (as they're still living in it).
For example, imagine you have £25,000 in the bank, alongside a property worth £500,000 – with live-in care you would need to deplete the £25,000 down to £23,500 to start receiving state assistance from your local authority.
However, if you were to opt for residential care, in a care home, you would need to deplete both the £25,000 savings and the £500,000 property price to a net value of £23,500 to receive assistance.
While having to make home adaptations can be a financial concern, there's home adaptation money available to assist, should you opt for live-in care.
Additionally, with live-in care there are no hidden costs or hotel costs.
Social Benefits
Your loved one can keep up with hobbies and interests such as attending events or local clubs. In addition, it allows people to arrange their social life on their own terms.
They can continue to visit their regular clubs, events or places of worship. They can continue to see friends and family as they please and there's no reason their social life should change for anything other than the better.
Live-in carers provide the support required to facilitate and enable people to continue to do the things they love.
Not only does live-in care help maintain friendships, but it can also help build friendships and offer companionship for those who may otherwise be lonely. Many find that they build meaningful relationships with their private live-in carer, and are appreciative of having constant care and company in their home.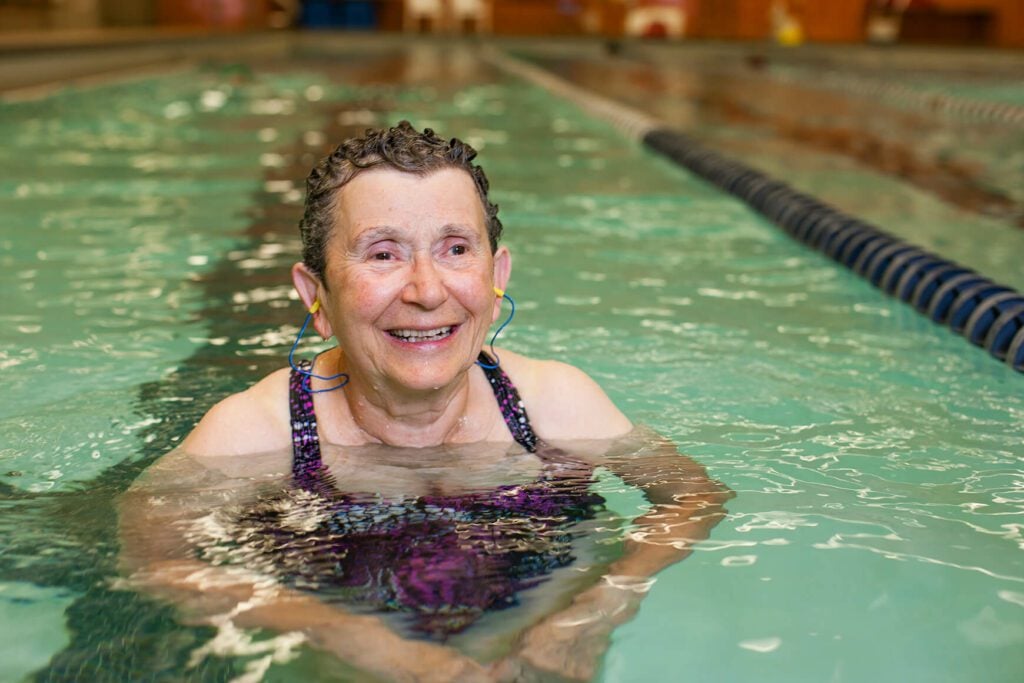 Often, we find carers and loved ones go on days out together too. Research by Live-in Care Hub shows that those who receive care at home are significantly less likely to become housebound.
Health benefits
There is a range of health benefits associated with live-in care too.
Live-in care has been linked with a reduction in falls by 33% in comparison to residential care, while there are half as many hip fractures among those receiving live-in care, compared to those living in residential care and nursing homes. In addition, staying in your home allows you to remain with the same GP, which not only provides comfort – but has also been linked to living longer.
When it comes to COVID-19, emerging evidence suggests that live-in care was a significantly safer option throughout the pandemic. Our own calculations show that, throughout the first wave of coronavirus, COVID-19 mortality was 83% lower than the care home.
Live-in care can also be incredibly beneficial to help people leave hospital sooner – which can be critically important to retaining mobility. Studies have shown that a 10-day stay in hospital can lead to up to a 10% decrease in lean leg mass, in healthy older adults. With it being estimated that you can lose 1% of muscle mass for every day spent in bed, getting home, into an environment where you're supported in moving around, can help break this cycle.
Lifestyle benefits
Live-in care allows people to stay in control for longer. They're able to maintain their routine and stay in familiar surroundings complete with their belongings, treasures and pets.
Being able to stay in their own home allows people more choice – choice around what meals they want to eat and how they want to spend their day. Whether that be fish and chip Fridays or a roast dinner on a Sunday – routine can be maintained.
This can be especially important for those with dementia as it helps keep feelings of confusions and frustration at bay. Maintaining routine and doing things which are familiar can act as a form of reminiscence – an important part of dementia therapy.
2022 Research by the Live in Care Hub also found that unfortunately, due to the on-going impact of the covid-19 pandemic, many care home residents have lost basic freedoms, such as popping to the shops. In fact, in 1/4 of homes surveyed, residents were not allowed out of the grounds for a walk. Live-in care ensures a person's routine and lifestyle are protected. 
Who can benefit from live-in care?
Live-in care can be beneficial for anybody with care needs. It means someone is there 24/7 to ensure your loved one is happy and well looked after. Providing them comfort and companionship as well as helping them with day-to-day tasks and making sure they're safe.
Some of the most common conditions we help arrange care for
As well as being beneficial for those with various complex conditions, it's an ideal choice for couples who wish to stay together. Research by Age UK found that elderly people are 1.6 times more likely to experience loneliness if they live alone. Live-in care allows couples to stay together in their home for longer.
Types of live-in care
Live-in care includes different types of home care for various care needs and conditions. Here we run through some of the most common arrangements we put in place for families.
24-hour live-in care
24-hour live-in care is available for those with more advanced care needs. If your loved one requires around the clock care – day and night – then 24-hour care would provide you with the reassurance they're being consistently cared for.
While all live-in carers are on-hand 24-hours per day, you may need further assistance if your loved one has more intensive care needs. 24-hour live-in care involves two carers, ensuring someone is actively providing care 24-hours a day.
Complex live-in care
For complex conditions such as dementia and Parkinson's, complex live-in care, where a professional moves into the home to support with social care needs, is ideal for ensuring your loved one receives the specialist support they require, while still retaining independence over their routine in the familiarity of their home.
Companionship care
With loneliness in the elderly becoming a concern, it's essential to ensure your loved one is happy, secure and cared for. Companionship care provides your loved one with a friend who can talk to them and help them keep in touch with friends and family.
Convalescent care
Having the extra care and support needed after a surgery or hospital stay is important. Convalescent care is a short-term care solution, allowing people to receive the care they need, after illness or injury, in their own home.
Emergency home care
This type of care plays an important role should your primary carer become ill or need to take respite at short notice. Emergency home care is a type of live-in care that's available at short notice, to get your loved one the support they need as quickly as possible.
Intermediate care
The NHS provides intermediate care for a period of up to six weeks, following a hospital stay and with the purpose of rehabilitation. You can make your wishes known to receive this type of care at home and ensure your loved one recovers in their own space.
Overnight care
Overnight care can help to ensure your loved one is safe, comfortable and secure overnight. A carer will be on hand to support with any incontinence or challenging behaviour.
Respite care
Respite care is where a substitute carer steps in for a limited amount of time. It allows primary caregivers to take time for themselves and their wellbeing, while helping to ensure minimal disruption in routine.
Palliative care
For people facing life-limiting conditions, palliative care at home can help to ensure people living with these illnesses remain supported, comforted and cared for in their own home. It's all about ensuring every single moment of someone's life is maximised.
Each of these care types has people and conditions they're more suitable for. There's no right or wrong answer, it's all about finding the option that best fits with your loved one's needs and wishes.
For those with substantial care needs, nursing care is likely to be recommended by health and social care professionals overlooking your loved one's situation.
Whereas, for less intensive needs, it might be more of a straight choice between care in the home and support in a residential care home. In this guide, we run through live-in care versus other care type and show how they compare.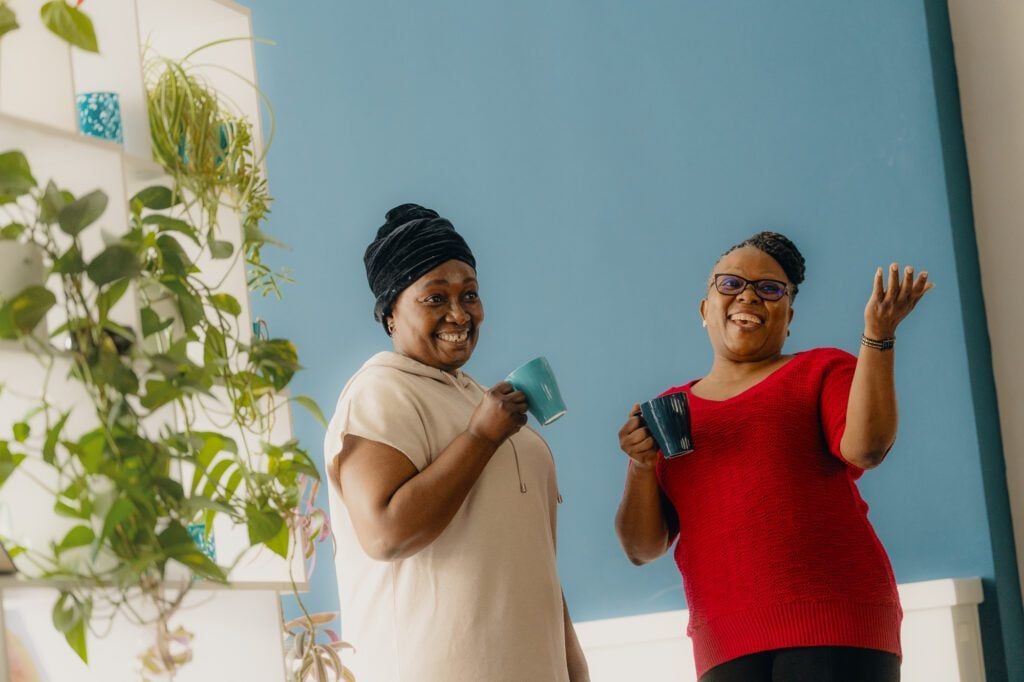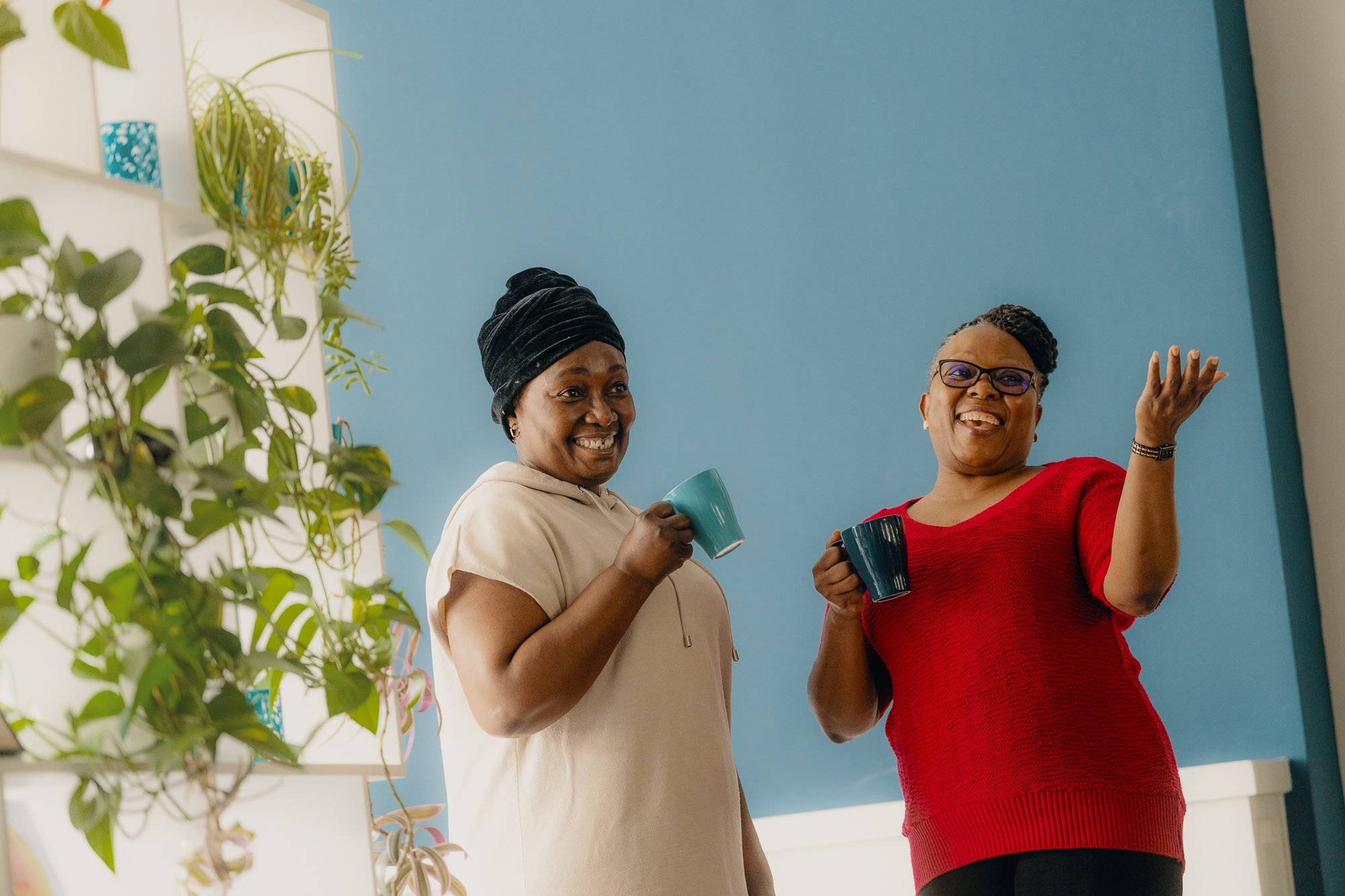 Who are Elder-approved carers?
At Elder, we understand it can be difficult to let someone you don't know into your home, which is why we vet every care professional we work with to the highest standards. Not only do they all have a minimum of one year working as a professional carer, but they're people who genuinely love what they do. Read their stories by clicking the button below.
If you're experienced in providing high-quality care, why not join our community of live in carers? View and apply for our latest carer jobs here. 
What are the limits of what live-in carers can do?
It's important to note that live-in carers are social care professionals, not nursing professionals.
They're able to support with personal care tasks such as washing, diary planning and household tasks, but are unable to administer medication or perform a range of tasks undertaken by a medical professional. If you're unsure if live-in care is right for your needs, click the button below to schedule a no-obligation call with an Elder Care advisor. 
Live-in care top locations
Up and down the UK, we provide live-in home care as an alternative care solution. Offering the highest standards to some of the UK's top cities and towns.
Live-in care London
To help older people in London to continue to live independently, we provide high-quality live-in care across the region.
Live-in care Scotland
Across Scotland, we can provide the best quality live-in carers to help your loved one continue to live their life to the fullest. Whether you live in Edinburgh or Angus – we can support your care needs.
Live-in care Birmingham
In Birmingham, we're available to provide live-in care services as an alternative to Birmingham care homes for those who are reluctant to go.
Live-in care Manchester
We are able to provide live-in care services throughout the Manchester region, to provide a high-quality alternative to standard care options.
Frequently asked questions
More information and advice