How does ageing impact the eyes?
As we age our eyesight may deteriorate. This can be for a number of reasons, sometimes it's simply the result of a lifetime of use. Other times, it may be caused by common eye conditions such as cataracts, or an underlying health condition, such as diabetes. If you have a family history of sight problems this can play a part too.
People may develop an eye condition called presbyopia in their mid to later years – in fact, the name originates from the Greek for 'old eye'. The eyes gradually lose the ability to focus on objects up close, it can start around the age of 40, and make everyday tasks like reading difficult without glasses.
Other common conditions that can cause later-life visual issues include:
Age-related cataracts –where cloudy patches can develop in the lens inside the eye. Cataract accounts for over a third of the cases of vision impairment in people over 75 years old.
Glaucoma – a group of diseases that affect the optic nerve. It's estimated five in every 100 people over the age of 80 experience glaucoma.
Age-related macular degeneration (AMD) – the leading cause of sight loss in people over 50 years old. It happens when the macula — a small area in the centre of the retina deteriorates, causing blurred vision. This can happen slowly over a number of years (dry AMD) or very suddenly (wet AMD).
Can age-related vision loss be cured?
Many causes of vision loss are generally treatable. For example, people with wet AMD may be offered eye injections or light therapy, while those living with cataracts may be eligible for corrective surgery.
However, many types of vision loss will require some form of lifestyle change. This may mean following a healthier lifestyle to help prevent future problems, or getting the right support in place if your sight loss is permanent or degenerative.
It can be really difficult to hear that your visual impairment can't be cured. Some people may experience grief, or feel angry or worried. It's therefore really important to seek specialist support. The NHS guidance states that you may be offered a referral to a low-vision clinic, where they can help you understand more and come to terms with your condition. There are also a number of specialist charities offering dedicated emotional and practical support to people living with sight loss and their families, these include The RNIB, The Macular Society, and Glaucoma UK.
What can you do to protect your vision in later life?
There are a number of things we can all do in our daily lives to promote eye health, these include:
Regular eye testing
It's recommended that you have your eyes tested every two years. However, your optician may ask to see you more regularly if they feel it's necessary. Of course, if you notice a change in your eyesight it's important to see your optician as soon as possible.
If you're over 60 years old, or are 40+ and have a family history of Glaucoma or a diabetes diagnosis you should be eligible for free sight tests on the NHS.
If you're living with mobility issues, or are unable to leave your home easily for mental health reasons, you may be able to arrange for regular eye exams to be done in the comfort of your own home. Highstreet optician Specsavers offer at-home eye tests, while NHS England, Wales Eye Care Services, and NHS Inform Scotland can help you find more information about the services available in your local area.
Protect your eyes from harmful rays
UVA and UVB rays are invisible rays contained in sunlight which have been linked to the development of certain eye conditions. If you wear a pair of glasses or contact lenses, you can ask your optician whether they have a built-in UV filter, to help prevent UVA and UVB from entering the eyes. You can further protect your eyes by ensuring you wear sunglasses to limit sunlight exposure. It's recommended that you choose sunglasses with a CE mark, which is the European safety standard. There is also a British standard, which will be displayed on the glasses with the code BS EN ISO 12312-1.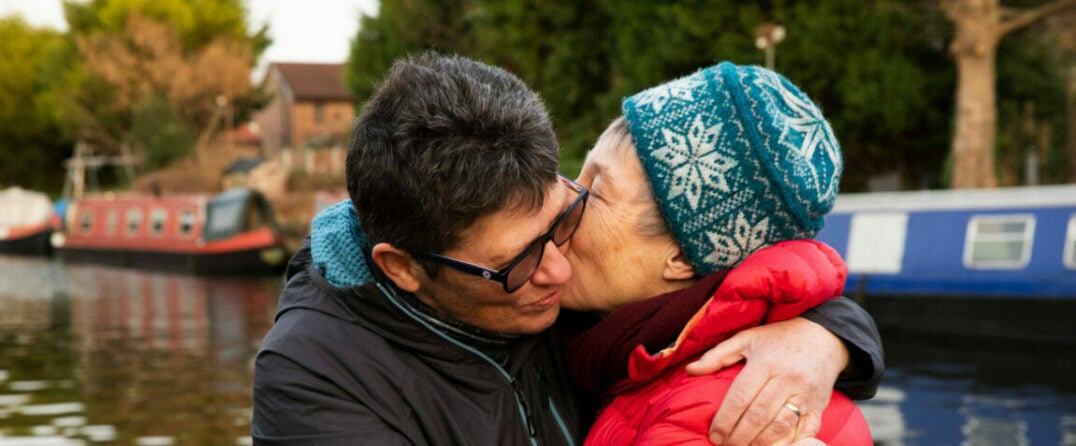 Low vision aids and practical changes 
People with vision loss may benefit from fitting assistance aids or making certain changes to their homes. These include letting in as much natural light as you can, fixing trip hazards such as throw rugs, putting up continuous handrails, and changing the colour scheme of rooms to improve contrast. 
For additional peace of mind, some people choose to wear a community alarm, which when pressed can alert a family member or carer in a medical emergency. 
For rooms where accidents may be more likely, there are additional measures you can take too – 
In the Kitchen 
Reorganise cupboards and drawers to ensure the most used items are in easy reach. Clear surfaces of unnecessary clutter
Contrasting colours can be useful for people with some level of vision. Dark bowls, pans and plates can be used for light-coloured foods, and vice versa 
Apply special raised stickers to handles or important buttons and dials 
Talking scales, or using recipes that use measuring cups instead may  make weighing ingredients easier 
Boiling vegetables in a chip basket or using a vegetable steamer to remove the need to drain
Using a slow cooker instead of the hob or oven may help reduce the risk of burns
In the bathroom 
Install non-slip  and non-reflective flooring, that's a different colour to the walls 
Fit handrails that are a different colour, finish, or texture to the walls 
In the hallway and on the stairs 
Use a big button telephone
Set up a voice-activated personal assistant
 Paint the bannister and handrail in a contrasting colour 
Make the edge of each stair stand out more by either painting them or fixing edging to them 
How can live-in care support someone with vision loss?
There's no reason why elderly people with poor vision can't maintain a good quality of life. While some aspects of daily living may become difficult, live-in carers can offer a helping hand where needed, and help make small adjustments to the home and daily routine to help people with sight loss stay as independent as possible.
Assist with cooking – helping with chopping and peeling, and staying safe around hot appliances like the hob or kettle 
Help with personal care – offering a stead hand getting in or out of the shower, helping with grooming and shaving 
Running errands – helping with online shopping, or creating a shopping list and visiting stores safely 
Adjusting the daily routine – making sure there is plenty of time for a person living with vision loss to do tasks independently, without feeling rushed
Help to get out and about – driving or accompanying a person on public transport so that they can safely attend social clubs, day centres, or go shopping. 
Providing emotional support and companionship – being someone to talk to, and enjoy playing games or doing hobbies with 
Live-in care after cataract surgery
If your loss of vision is caused by cataracts you may choose to have surgery to replace the lens in your eye. This type of surgery usually takes between 2 to 6 weeks to fully recover from, according to the NHS, and you'll likely need some support during this time. 
A temporary live-in carer will be able to help with the following – 
Avoiding getting water near your eye area when washing
Taking on strenuous activities while you recover, such as gardening or lifting heavy shopping bags
Providing reassurance and guidance if you experience double vision
Ensuring your medication is stored correctly (eye drops may need to be in the fridge) and providing reminders when it's time to take it.s
Learn more about complex care
Take a look at more Elder guides on how to support those living with complex conditions below.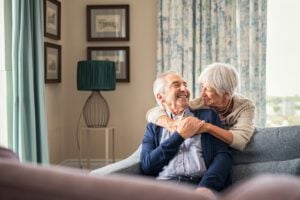 It's estimated that over a third of people with diabetes in the UK are over 65 years of age. That's around 1.5 million people.