You've reached us outside of our opening hours. Create your account to get access to My Elder, our online portal for arranging care and accessing information to support your journey to care.
Caring for the Elderly: Memory Change Versus Dementia
Changes associated with ageing can include the slowing down of the brain and body. This is not necessarily anything to worry about, as the individual's intelligence remains unchanged, but it can take longer to process information. Memory changes may also occur, and many older people have difficulty remembering things such as place names and the names of people.
Forgetfulness
Many older adults experience forgetfulness to some extent. You should not be overly concerned if your loved one finds himself in a room and cannot remember what they entered it for, or is unable to recall the name of a film or a familiar address. Sometimes, if given more time, they will recall the missing information, but if not it may not be a sign of anything more than a normal part of the ageing process.
Mild Cognitive Impairment
If you become aware that a loved one is having frequent memory problems, they may have Mild Cognitive Impairment, also known as MCI. MCI does not usually affect their ability to continue independent living or interfere with their daily life, but close friends and family are likely to notice the decline in their mental function or memory. People who have this condition do, however, have an increased likelihood of developing a form of dementia such as Alzheimer's disease, although this is by no means inevitable.
Symptoms of Mild Cognitive Impairment
The symptoms of MCI can include losing or misplacing things or regularly forgetting appointments or events. You may also notice that your loved one is having difficulty following a conversation, or that they cannot remember the name of a new acquaintance.
This does not mean that they cannot continue to live with the level of support they currently enjoy. If your loved one can remain at home with home care visits to help with tasks they find difficult, there is no reason for you to feel you have to arrange full-time elderly or dementia care for them.
---
Dulcie's care story
Duclie is one of our longest serving customers. In this video her and her family talk through their decision to arrange care in the home rather than the care home.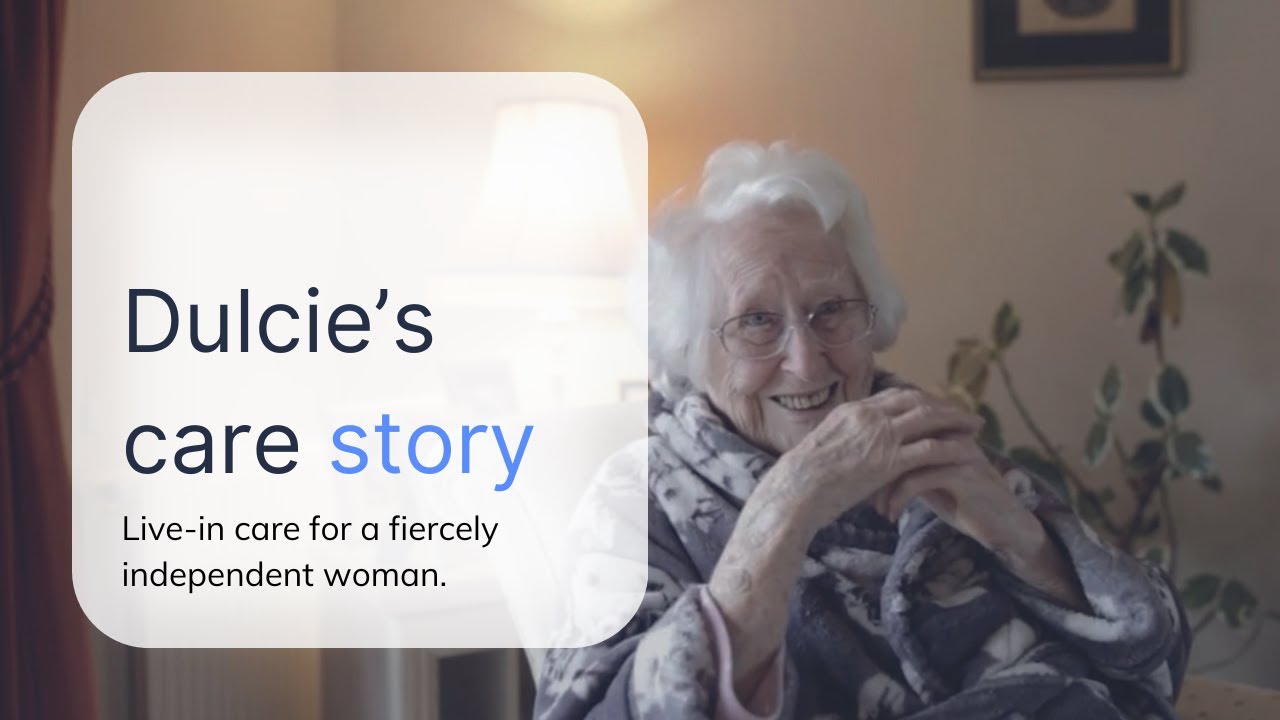 ---
Dementia
The term dementia can cover symptoms caused by various conditions, including Alzheimer's, which involves a more severe mental decline. Abilities such as language, memory, abstract thinking and judgment can be affected to the extent that they severely disrupt the person's life. If your loved one can no longer enjoy their hobbies or social activities or loses interest in family relationships, they may be experiencing the development of a cognitive problem such as dementia.
Symptoms of Dementia
Your loved one may have difficulty with simple activities such as dressing appropriately, paying bills or washing up. They may be unable to remember times when their memory loss has caused a problem, or tend to get lost easily, even in places that they know well. Another symptom of dementia is the inability to follow simple directions.
You may notice that your loved one often forgets the word they need or uses the wrong word. Conversations can become garbled, or they may repeat a story or a particular phrase in the same conversation.
If faced with a choice, your loved one may have trouble making a decision, or display poor judgment. They may also begin to act inappropriately in social situations.
These symptoms among others may indicate that it is time to review your loved one's care arrangements.
Discover more of our articles on dementia
From dealing with a diagnosis and understanding the implications to getting advice on how to live well with the condition, our extensive resources will help guide you through what can be a tough and emotional moment.
Popular searches:
Elderly Care for People with Dementia
Because your loved one needs dementia or Alzheimer's care, you do not automatically have to consider admitting them to a home. Those living with dementia can react poorly to changes in their environment, and admission to a residential care home or nursing home can be quite traumatic for them.
A preferable alternative may be private live-in care. This involves a live-in carer moving into the home with your loved one and providing 24/7 assistance to support them in whatever way they need. The care recipient may be physically healthy, but need prompting to carry out personal hygiene tasks or to dress in an appropriate way. Live-in care means that the caregiver becomes familiar to your loved one and they feel comfortable accepting the help they need. Private care providers aim to match carers carefully with care recipients to ensure that they will forge a good relationship. Some staff have training in dementia care and experience in dealing with the challenges of the condition.
In addition to in-home care and supporting your loved one's cognitive function, a live-in carer will carry out domestic tasks such as cleaning, shopping, laundry and meal preparation. The exact details of their role should be decided upon before the placement starts and be flexible enough to meet all of your loved one's needs.
Knowing that someone is on-site, providing 24/7 care, can be a great relief, as you will no longer have the worry about how your loved one is coping. If any unexpected situations arise, the carer will be there and able to alert you to any changes in your loved one's health.
Call us for expert live-in care advice
Changes associated with ageing can include the slowing down of the brain and body. This is not necessarily anything to worry about, as the individual's intelligence remains unchanged, but it can take longer to process information. Memory changes may also occur, and many older people have difficulty remembering things such as place names and the names of people.
Related Questions
Alzheimer's: How to Care for Ageing Parents
There may come a time when we realise our parents or relatives aren't able to live alone any longer. Old age and age-related issues such as Alzheimer's create safety concerns, and these become a constant worry. However, we neither want them to move into a home nor do they wish to live in residential care. The question then arises whether live-in care is an option. Can care given by a live-in caregiver be a better option, and is it an affordable one?
Dementia Live-in Care: How Does It Work?
People living with dementia often find change confusing and threatening. This is why arranging for care in their own home can be the best possible option if they are no longer be safe to be left alone. Live-in care is gaining in popularity, and specially trained staff are available to provide Alzheimer's support as well as other types of care.
Dementia Live-in Care: How Do I Pay for It?
If your loved one is living with dementia, it can be difficult to work out how to pay for the care they need. Enabling them to remain in their own home with 24/7 support from a live-in carer is the ideal situation and there are various ways this can be arranged.
Dementia Live-in Care: How to Find a Carer
If you have a loved one who is living with dementia, you will want to ensure that they enjoy the best quality of life they can. Care at home is an ideal solution, but finding a caregiver you can rely on to provide support and companionship 24 hours a day is not always straightforward. There two main options when searching for a live-in carer for your loved one; private arrangements or employing a specialist care provider.