How Elder Works
Arranging care for a loved one is stressful. We help make it simple.
To find out more, call us today:
We work with the whole family to get the best outcome for everyone
Arranging care for someone you love is never easy. It's often stressful, confusing and complex. In a world that's difficult to navigate, we're here to help. Here's how care with Elder works.
How to arrange care with us
1. Book free consultation
Talk through your family's situation with one of our expert care team. They're able to provide advice on navigating the system, discuss how to put funding in place and help you understand whether live-in care is suitable.
2. Complete application form
Following your call, it's time to complete your application. You can do this by using the My Elder login we'll give you, or by requesting a freepost form. It covers everything from health requirements and medication, to favourite meals and hobbies.
3. Matching process
Our matching team then work with your family to help you find the most suitable available carer. We'll help source them based on your loved one's individual needs and personality.
What our carer says:
"Going home at the end of the day or finishing a placement I feel I have contributed to the world – and in such a positive way"
Jillo – Carer with Elder
4. Receive profile & video
Once we've helped to find a carer we think is suitable, we'll give you access to their profile and introductory video. This gives you an opportunity to be completely certain the whole family is united behind the decision.
5. Carer arrives & trial week begins
We'll arrange travel with the carer. They'll arrive between 12pm-2pm on the first day of the care package. Your family will then have a no-strings trial week to be completely sure live-in care works for you.
6. Manage care with My Elder
My Elder puts everything you need to manage your care in one, handy place. From updating payment details and reading carer profiles to planning handover days and, crucially, keeping your loved one's details updated.
How can you be sure Elder is right for your family?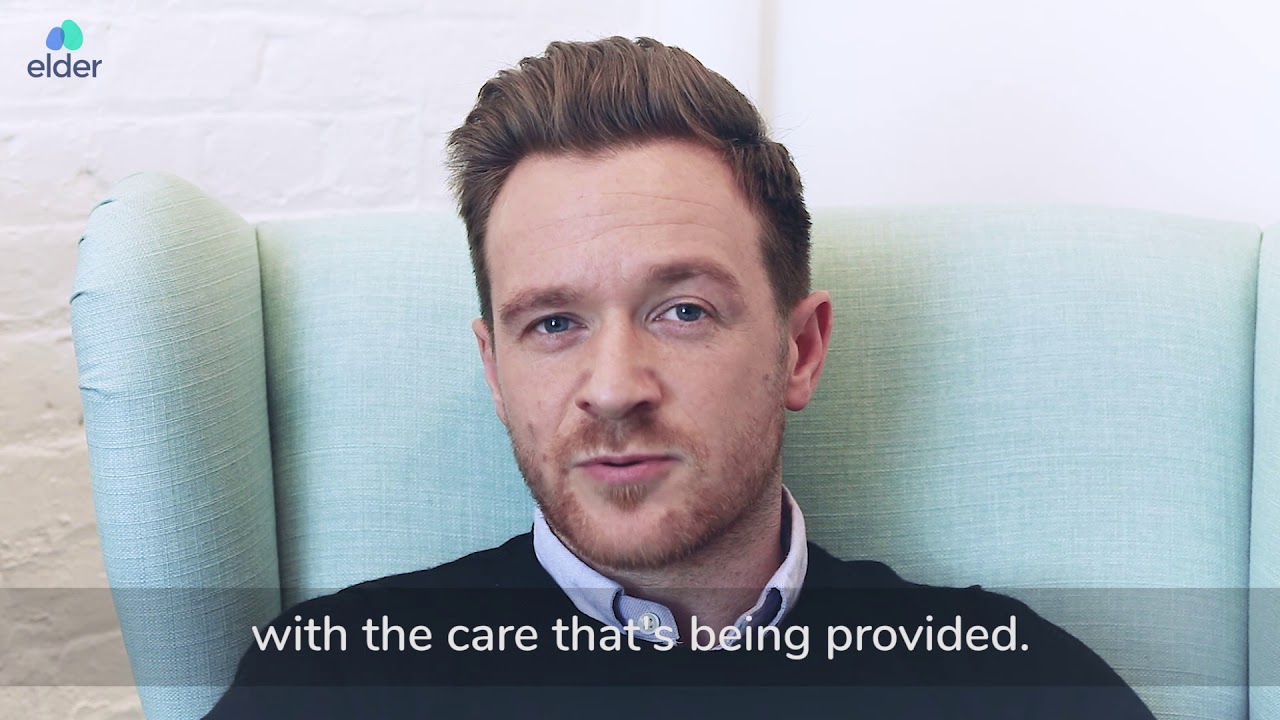 Our Head of Care Support, Daniel Stott, talks through how our trial week works – giving you the reassurance that live-in care is suited to the individual needs and requirements of your family.
Daily responsibilities
A live-in carer's responsibilities will range depending on the level of care that's required. However, standard tasks include:
Household cleaning
Help getting dressed
Assistance with personal hygiene
Meal preparation
Medication prompting
Support with mobility
Running errands
Companionship
Responding to emergencies
Carer time off
We do our best to ensure your loved one's care is as consistent as possible. However, like all jobs, time off is needed. Here's a typical pattern of care:
Week 1-4: Your loved one's primary carer starts. They live in, working 12 hours a day, with two hours of breaks taken intermittently throughout the day.
Week 5: The primary carer takes time off. A substitute, 'respite' carer moves in. They'll take care of your loved one until the primary carer returns.
Week 6-10: The primary carer returns. They'll typically be in place for another four weeks
Get care information and advice:
Free telephone consultation
Request for one of our care planning experts to get in touch