In this article, we'll provide you with a list of practical tips and insights to ensure the safety and accessibility of a home for your older loved ones. There are many adjustments and updates that can be made to any home to improve and promote independence and reduce the risk of accidents and injuries.
Entryway safety tips
Ensure that there is a clear and accessible route from the driveway to the entrance of the house. You can do this by examining all walkways for any signs of damage, such as cracks, loose bricks, stones or uneven surfaces. Make repairs as necessary to ensure a flat walking area devoid of potential tripping hazards, and adjust the landscaping to ensure that the walking paths are suitable for individuals using mobility aids such as wheelchairs or walkers, if necessary.
You can Install handrails on both sides of the door if there's a step up to the entrance. It's important to ensure that any stair treads are non-slip and deep enough for proper foot placement. For easier access to the property, assess the availability of space to install a ramp. Of, course, step-free entrances provide safer access for people in wheelchairs or using a mobility aid, such as a walker or stick.
For Wheelchair users and other mobility aid users, Threshold ramps cover raised thresholds. They may be fixed or need to be removed and stored frequently. Different styles of ramps are available, including rubber and folding aluminium versions. Threshold ramps are useful for overcoming raised thresholds or shallow steps on one side.
To make it easier for those using mobility aids, install swing-clear hinges on doors, which allows the door to swing completely clear of the opening, giving mobility aid users plenty or room to get through. A professional can also enlarge doorways.
Kitchen safety tips
You can make a kitchen safer and easier to use for an older person in various ways. For example, replacing knobs on cabinets and drawers with levers or pulls can make them  easier to grip, and reduce the risk of an older person catching their fingers. Keeping a long-handled grabber in the kitchen to reach objects avoids the need to use a step stool or an unstable chair to get to hard-to-reach places. Moving more commonly used items to locations that don't require reaching too far or bending down can also help avoid injury and accidents.
It's important to update appliances to be safer. For example, oven controls should be at the front to avoid leaning over hot stoves, while buttons and dials should be clearly labelled and easy to use. Many modern coffee machines and toasters have automatic shut-off features too, avoiding hazards if someone forgets to turn them off.
Purchasing dishes, utensils, and cookware that have contrasting colours with countertops, tabletops, and storage areas can aid people with visual impairments in navigating the kitchen. For people who are hard of hearing, thermometers and timers with lights exist to alert someone when their food is ready.
Bedroom safety tips 
Everyone wants their room to be cosy and comfortable, and you can make sure your older relative still has the perfect bedroom, even if they have extra access and comfort requirements.
For those with mobility issues, who find getting up and down tricky, or do not have use of their legs, you may find it useful to adjust the height of their bed so that it's easier to get in and out – either on their own, or with your help. Make sure the person can sit on the edge of the bed with their feet touching the floor – this way, you know they won't have to climb or stretch to get in and out of bed either. You don't always need to invest in a mechanically adjustable bed to improve accessibility – using risers or purchasing a taller bed frame can help add much needed height. A lower box spring mattress may be a good option if it's too high. 
Other ways to improve bedroom safety:
Webbing loops can be installed underneath a bed's leg or caster, allowing someone the ability to pull themselves up into a sitting position and reducing the need for a caregiver's assistance.
Keep a torch on the bedside table or near the bed for emergencies.
If nighttime bathroom visits are frequent, arrange a bedside commode.
Bathroom safety tips
Bathrooms can pose challenges for older people due to potentially hazardous flooring materials and slippery surfaces from sink or shower use.
Safety in the bathroom can be improved with grab bars for additional support while using the toilet, shower or bath. 
For nighttime bathroom trips, motion-activated bright lights could be installed along the way towards the bathroom, and adequate lighting for the entire bathroom. Waterproof lights should be placed in the shower and over the tub.
To avoid burns, set the water temperatures to 50 degrees Celsius or lower. You can do this easily on most modern boiler systems using the main control panel. You may also choose to clearly label hot and cold faucets – or consider installing anti-scald or tempering valves between the water heater and the taps, which detect and adjusts to changes in water temperature to keep the water coming out the tap a safe temperature. 
Make sure baths and showers have step-free access. Step-in tubs have doors for easy entrance and exit. To make showers accessible, you can add a bath bench, a hand-held showerhead, and a convenient shelf to reach wash products. For those in wheelchairs, a large zero-entry shower with a bench is often the best option.
To prevent slipping, consider adding non-skid decals to slippery areas in the bathroom. When selecting flooring, it's recommended to choose slip-resistant materials such as wood, textured vinyl, or tile with ample grout to enhance traction.
To make going to the toilet easier for those with joint replacements or arthritis flare-ups, install a comfort-height toilet or add a toilet seat riser to an existing toilet. This modification provides extra height and may aid in transferring to and from a wheelchair.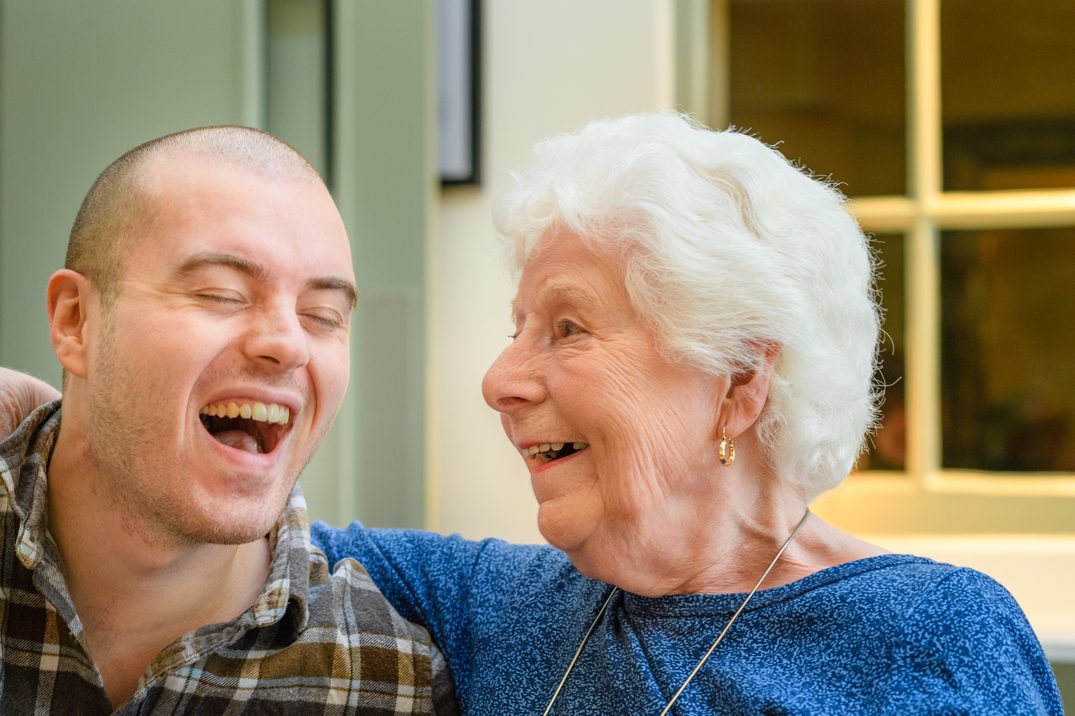 Stair safety tips
Stairs, indoors, step stools and steps outside can both be hazardous for older people. Outside, nonslip strips can be installed on steps to make them less slippery when they're wet. Handrails should always be fixed securely and ensure they are tightly fastened to the wall so that they provide good support.
If your loved one is less mobile and they use a wheelchair or a walking aid, steps may be replaced by ramps to make getting around easier. Indoors, consider installing a stairlift for anyone who has difficulty using the stairs safely.
Safety outside
Ensure outdoor lighting is adequate and that paths are level and free of obstructions. Trees and shrubs should be maintained so that they do not overhang walkways and if there are bumps on the lawn, they should be levelled so that they do not present a tripping hazard. If there is decking outside your loved one's house, make sure it is treated to make it nonslip.
Home modifications can help improve older loved one's quality of life by resulting in a safer and more accessible living environment. Applying the tips above may make a real difference to your loved one's home and life.
Additional considerations 
Fire safety
It's essential that your loved one's home has smoke detectors and carbon monoxide detectors installed and that they're checked regularly.
If your relative has impaired hearing, they may not be able to hear an alarm sounding unless it's nearby, so make sure that they're positioned in regularly used places, such as living rooms, kitchens, bedrooms and bathrooms. For people who are profoundly deaf, audible alarms can be replaced by flashing lights to alert them to potential danger.
If your loved one has mobility problems, they may have difficulty reaching a fire extinguisher to tackle a small fire, so it's a good idea to position several extinguishers around the home in places that are easy to reach.
Fire safety is essential if your loved one is living with dementia care may sometimes leave the cooker on inadvertently.
Medical alert systems and personal alert alarms
For people who live alone, perhaps with daily elderly care visits, a personal alarm system can give them the ability to summon help when it is needed. A lightweight pendant or wristband with a button that connects to a response centre can be worn by the older person, who can choose whether nominated family members or the emergency services should be contacted.
The service will operate 24 hours a day, seven days a week. You will need to check whether the alarm will still function outside the house in case your loved one should have a fall in the garden.
Accessible phones
Your loved one should have phones that are easy to use, so choose a cordless model with large, easily visible buttons. You can pre-programme commonly used numbers and emergency contact numbers into the phones too, and position several in different rooms in the house, so they are accessible when needed.
Alternatively, you could provide them with a large button mobile phone to carry around with them.
Floor safety
Rugs positioned on floors around the house can pose a trip hazard, particularly for older people with poor eyesight or balance or mobility issues. Rugs should be removed where possible, or where they are needed; they should be secured in position using tape or nonslip backing.
Lighting
Inadequate lighting often causes accidents especially for people with poor vision, so ensure that halls and other frequently used areas have bright and easily accessible lighting. An automated system can be installed so that your loved one can quickly turn the light on without having to search for the switch.
Outside the house, motion-activated night lights will discourage intruders and increase visibility for your relative if they need to go outside in the evening.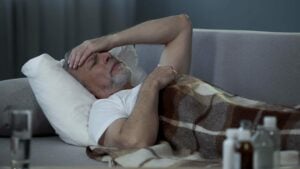 Caring for sleep problems in elderly Changes in sleeping patterns are frequent in older people, and you may notice that it progressively gets worse over
Read More »