Fire safety
It is important that your loved one's home has smoke detectors and carbon monoxide detectors installed and that they are checked regularly.
If your relative has impaired hearing, they may not be able to hear an alarm sounding unless it is nearby, so make sure that they are positioned in places that are regularly used, such as living rooms, kitchens, bedrooms and bathrooms. For people who are profoundly deaf, audible alarms can be replaced by flashing lights to alert them to potential danger.
If your loved one has mobility problems, they may have difficulty in reaching a fire extinguisher to tackle a small fire, so it is a good idea to position several extinguishers around the home, in places that are easy to reach.
Fire safety is particularly important if your loved one needs dementia care and may sometimes leave the cooker on inadvertently.
Bathroom safety
Even if your loved one has companion care at home, there may well be times when they are alone in the bathroom and at risk of slipping. To minimise the risk, you could install grab rails in places where they are likely to need support.
A sturdy support to help them get in or out of the bath or shower can be beneficial, and a grab rail next to the toilet can also help with lowering themselves to the seat and standing up after using the toilet. Another way to help is to install a raised toilet seat to make it easier for someone with mobility problems to use the toilet.
Floors should be non-slip if possible, but rubber mats can help to make tiled floors less slippery.
Installing a seat in the shower can improve your loved one's safety because they will be able to sit down if they feel tired or dizzy. Although you can buy free-standing stools, a seat that is bolted to the wall may be sturdier.
Consider a walk-in bath or shower for your loved one if they find bathing difficult and are at risk of falling.
Personal alarm systems
For people who live alone, perhaps with daily elderly care visits, a personal alarm system can give them the ability to summon help when it is needed. A lightweight pendant or wristband with a button that connects to a response centre can be worn by the elderly person, who can choose whether nominated family members or the emergency services should be contacted.
The service will operate 24-hours a day, seven days a week. You will need to check whether the alarm will still function outside the house in case your loved one should have a fall in the garden.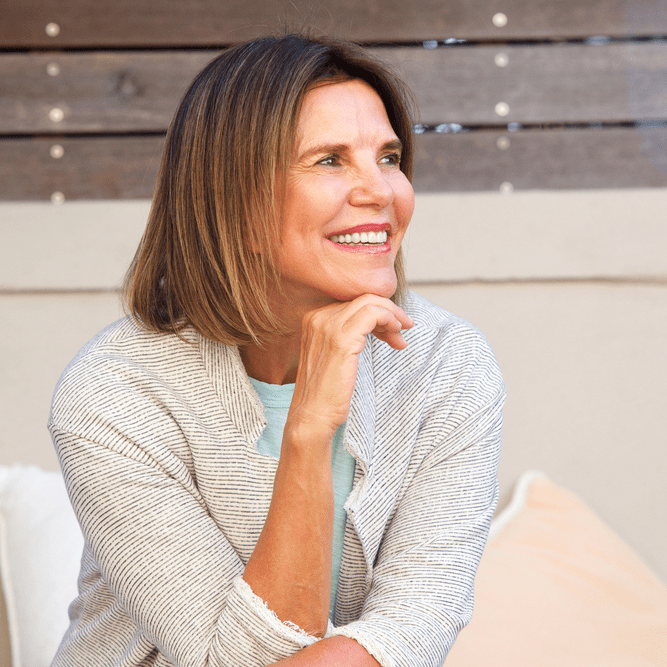 Fantastic support for my mum
" The carer you sent me is fantastic. My mum loves her. She's kind, caring and works as a team with me. "
Angela, Manchester
Accessible phones
Your loved one should have phones that are easy to use, so choose a cordless model with large, easily visible buttons. You can pre-programme commonly used numbers and emergency contact numbers into the phones too, and position several in different rooms in the house, so they are accessible when needed.
Alternatively, you could provide them with a large button mobile phone to carry around with them.
Floor safety
Rugs positioned on floors around the house can pose a trip hazard, particularly for older people who have poor eyesight or issues with their balance or mobility. Rugs should be removed where possible, or where they are needed; they should be secured in position using tape or non-slip backing.
Lighting
Inadequate lighting often causes accidents, so ensure that halls and other frequently used areas have bright and easily accessible lighting. An automated system can be installed so that your loved one can easily turn the light on without having to search for the switch.
Outside the house, motion-activated lights will discourage intruders, as well as increasing visibility for your relative if they need to go outside in the evening.
Safety on the stairs
Stairs indoors and steps outside can both be hazardous for older people. Outside, non-slip strips can be installed on steps to make them less slippery when they're wet. Handrails should always be fixed securely and ensure they are tightly fastened to the wall so that they provide good support.
If your loved one is less mobile and they use a wheelchair or a walking aid, steps may be replaced by ramps to make getting around easier. Indoors, consider installing a stairlift for anyone who has difficulty using the stairs safely.
Safety outside
Ensure outdoor lighting is adequate and that paths are level and free of obstructions. Trees and shrubs should be maintained so that they do not overhang walkways and if there are bumps on the lawn, they should be levelled so that they do not present a tripping hazard. If there is decking outside your loved one's house, make sure it is treated to make it non-slip.
Bedroom safety
Ensure there is a phone beside the bed, so your loved one can call for help if necessary.
The bed should be at knee height or lower to reduce the risk of injury if your loved one falls out. Mattresses should be firm so that the older person can get out of bed easily, and the light should be accessible from the bed so that your elderly relative will not have to walk across the room in the dark if they get up in the night.