What causes incontinence in the elderly?
Loss of bladder or bowel control can be due to all sorts of reasons, so if your elderly loved one is experiencing problems, the first port of call should be a doctor or specialist nurse to ascertain the likely cause. There are a number of medical conditions which can cause or exacerbate incontinence, such as urinary tract infections, which can be easily treated with medication.
In other cases, a person's medication may cause unwanted side effects, including incontinence. In these cases, it may be possible to switch to another form of treatment.
Other conditions implicated in incontinence issues include irritable bowel syndrome, constipation, prostate problems, conditions such as MS, and prolapse. Your GP will be able to offer help and assistance and advise you on likely outcomes.
People with dementia or Alzheimer's disease often develop incontinence in the later stages of the disease, but any new occurrence of incontinence should always be checked out by a medical professional to rule out possible infections. A specialist dementia carer should also be able to support with this.
A common cause of incontinence in the elderly is a general weakening of the pelvic muscles, which may be helped by targeted exercise programs.
Helping a loved one with incontinence
Your elderly relative may be disinclined to discuss incontinence issues with you, but the subject does need to be approached, in order to deal with it effectively. If you suspect that your loved one is suffering in silence, it's important to address the issue and discuss options sensitively, no matter how embarrassing the subject seems to be.
The first port of call should always be your relative's GP or nurse practitioner, who will rule out possible infections and try to establish the cause of the problem. If there is no clear medical reason for the problem, your GP can refer you to an NHS Continence Clinic for support.
You can also contact the Bladder and Bowel Foundation for assistance in your relative's local area, although this may not be available as a free service.
When providing care at home, in any capacity, it's essential to ensure that your elderly loved one is drinking an appropriate amount of liquid during the course of each day, as this will keep them adequately hydrated.
An elderly person should aim to consume around 1.5 – 2 litres of fluids every day, so do make sure that they aren't drinking less in an attempt to conceal the problem.
Where bowel incontinence is an issue, it can be helpful to include plenty of fibre, such as granary or wholemeal bread, in the diet, as this will encourage regular bowel movements and minimise the risk of constipation.
Products to help manage incontinence
There is a huge variety of products available to people with incontinence, so there is no need to soldier on alone if your loved one is experiencing problems. Products are available on the NHS and privately, so do explore all the options before deciding on the best course of action.
It's possible to source disposable or washable products, such as bed pads and underwear, and your loved one may like to try both types before deciding on the best and most suitable option.
For long-term issues, washable products are likely to be more cost-effective, but the solution in each case is up to the individual and their particular circumstances.
Look out for incontinence pants, which offer varying levels of protection, along with pads for the bed and waterproof mattress protectors, which will prevent damage to the mattress.
Different products offer different levels of protection, so examine the small print and look for products that will keep your loved one's seats and bedding clean and dry for at least six hours. Cheaper products may not offer the same level of protection, making them a false economy.
Don't forget to provide waterproof covers for your loved one's favourite chair, and make sure that you have a good supply of specialist skincare products, such as wipes and creams, which will minimise skin irritations and soreness.
In extreme cases of bladder incontinence, it may be necessary for a catheter to be employed, which will be inserted and removed by healthcare professionals and trained caregivers.
How can a live-in carer help with incontinence?
If your loved one is experiencing prolonged issues with incontinence, it may be worth considering private live-in care at home. A dedicated caregiver moves into your relative's home and offers a variety of elderly care services, encompassing everything from companion care to dementia care.
Caregivers are highly trained and empathetic, making it easier for families who are struggling to cope with incontinence issues on their own.
When choosing a carer for your loved one, it's important to make sure that they will be compatible with your loved one, to ensure the best possible outcome for both parties.
Maintaining dignity in old age, and in the face of incontinence, can be extremely challenging, and it is important that your loved one feels happy and comfortable with their caregiver, as this ensures the most positive outcomes.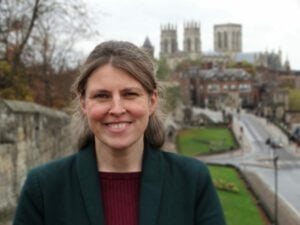 Giving the elderly a voice in Parliament: An interview with Rachael Maskell MP We talked