These questions cover some of the most common questions we receive about the basic concept of elderly live-in care.
What live-in care is and how it works
What is live-in care?
Live-in care is an increasingly popular alternative to the care home. It's where a carer lives in your loved one's home, remaining on-hand throughout the day and, if required, the night too.
It's the perfect solution for those who require assistance with daily activities but would prefer to stay in the comfort and familiar surroundings of their own home – something 97% of us say we want.
A live-in carer is there to provide all the assistance and support required to ensure your loved one continues to live a happier, healthier and more independent life than they would in a care home.
Why live-in care rather than a care home?
When you or a loved one reaches the point of requiring round-the-clock support, many people turn to residential care simply because they're unaware better options exist.
Live-in care not only removes the emotional stress associated with moving home, it also ensures the person needing care gets a level of attention and companionship far beyond what they'd get at a care home, where a care worker's focus is divided.
Is live-in care safer than a care home?
There is simply not yet the body of evidence to provide a conclusive answer that live-in care is safer. However, as the concept of care at home has gained popularity, so has research into its benefits.
Recent research by Live-in Care Hub found by choosing live-in care, rather than an institutional care setting, elderly people experienced 33% fewer falls and 45% fewer hip fractures. Incidents like these impact significantly on health and mobility.
Along with this come other benefits of simply staying in your own home. These include pet ownerships, keeping your GP and staying in the heart of your community – around those you love most.
Find out more information in our guide comparing the care home to live-in care.
What does a live-in carer do?
A live-in carer is there to support your loved one live the best life they're able to live.
Tasks include personal care, medication prompting, mobility assistance, toileting, cooking, housework, running errans, and simply being there as a companion.
As everyone's needs are different, the tasks your carer performs are really down to individual requirements.
How long does it take to get everything arranged?
This depends on your requirements. If your family's care needs are urgent, we're able to act quickly – putting everything in place in as little as 48 hours.
However, for the best match we always would try advise leaving around two weeks. Here's more information on how Elder works.
How can I be sure that live-in care is right for my family?
Arranging care is a big moment for a family. We understand the gravity of the decision. That's why the first week of care with us is a trial. If you're not completely happy, you're able to end care with us with very little notice.
Will I have to have monthly contract?
No, we have a rolling agreement. We ask that if you'd like to terminate care with us that you provide us with two weeks' notice.
If you have to end care with us because of acute hospital admission or death, of course, we just ask that you make us aware of the situation as quickly as possible. And it goes without saying that you'll not be charged.
Elder is an introductory agency, what does that mean for my family?
Elder is defined by the Care Quality Commission (CQC) as an Introductory Agency, in line with the Health & Social Care Act 2008. This is a model that is approved by the CQC but falls outside the scope of their regulations.
Rather than employ the carers we work with, we match customers who require care with self-employed care professionals from the Elder network of carers
You can find out more information on what an introductory agency is and what is means for you here.
Elder carers and how we match them
These questions cover some of the most common queries we receive regarding the carers we work with.
Who provides the care?
Unlike others, Elder is actually not a care provider. As an introductory agency, we help match your family with a suitable carer based on skills and personality. Your carer is a self-employed care provider.
We have a rigorous assessment process to ensure we give you access to the best carers available. We interview each face to face, assessing their skills, before undertaking a full DBS  or PVG check.
The carers we work with come from a broad range of nationalities and backgrounds. However, we ensure they have a good level of English. We also ensure they have at least one year's care experience in the UK. Many Elder carers have in fact been caring for over 10 years. Find out more information on our Elder carers page.
How does Elder ensure the carer is the right person?
Our matching process combines unparalleled matching technology and a team of care planning experts, who are well versed in matching those in need of care with the right fit for them. Once we've found the carer we think to be most suitable, we'll get in touch to let you know.
You'll then have just over 24 hours to let us know whether you think they're a good match. If you're not happy with the carer we've selected for you, it's really important that you provide clear feedback as to why. We'll then take your comments on board as we search for another option. That said, we usually find that most families are happy with the first carer we've selected for them.
How long do carers stay at a time?
This varies from one family's arrangement to the next. Typically, care packages have one primary carer. They usually care in the home for three to four weeks at a time. They'll then take a rest, typically for one or two weeks.
During this time a temporary respite carer will step in. While we aim to ensure consistency with respite carers, this is not always feasible. It completely depends on the specific requirements of the family.
As you'd expect, the more specific your criteria, the more difficult it is to find a returning respite carer.
How do you match a carer to those in need of care?
Getting the match between primary carer and care recipient is vital to ensure live-in care works for you and your family. Luckily, we have thousands of registered carers with experience to suit your specific requirements.
As soon as you've spoken with us, we'll set up your My Elder account. We ask you then complete your care appraisal, detailing your specific requirements.
Our technology then pulls through carers deemed to be suitable. Our care planning experts will look at these options before presenting you with a choice of carers.
Affording care is one of the biggest worries many families face. In this section we cover the most frequent funding questions we're asked.
How do I find out what funding I'm entitled to?
This very much depends on your loved one's specific circumstances.
The first thing to consider is which body is responsible for funding your care. Some people with long-term complex health needs qualify for free social care arranged and funded solely by the NHS. This is in the form of NHS Continuing Healthcare Funding. Your social worker, local GP or inpatient medical professional will be able to offer advice on your eligibility.
As you'd expect, to qualify there's an assessment process. The assessment team will look at what help is needed, judging complexity, intensity and predictability. There are two points of contention with NHS Continuing Healthcare.
Firstly, there is no means test, so theoretically a billionaire could have all their social care costs covered. But, more importantly, dementia is currently not counted as a medical condition suitable for NHS funding.
For those not entitled to NHS funding, your local authority is the next place to contact. If a social worker is already in place, speak to them directly. If not, contact your local authority's Adult Social Services department.
They'll set up a care needs assessment. A social worker will visit you or your loved one's home to see whether any support is required with everyday life. They'll assess you on a range of criteria – from emotional wellbeing and social life to health and housing requirements. During this process, they'll likely speak with all relevant medical professionals, such as a GP and district nurse.
The outcome of this process will be a decision on the level of care that's deemed to be required. Following this, a financial means test is undertaken. For home care, this looks at the value of your liquid assets – excluding property. Here is a current breakdown of the asset thresholds in each nation of the UK:
England – £23,250
Wales – £24,000 (care at home) or £50,000 (care in a care home)
Scotland – £27,250
Northern Ireland – £23,250
Can Elder take payment from the council?
Yes, we can. We actually work with multiple councils up and down the UK to ensure those with a broad range of financial circumstances are able to afford the support they need.
To pay for care with Elder, you need to request whatever local authority funding you're entitled to as a direct payment. This means it will go straight into your bank account and you then pay the money to Elder directly.
This may or may not cover the full cost of the care. If it doesn't, most families use savings, pension or an equity release scheme to cover the rest of the cost.
Can Elder take payment from the NHS?
Yes. In a very similar way to funding from your local authority, if you're eligible for support from the health service you're able to ask for it to be paid in the form of a direct payment. The NHS version of a direct payment is called a personal health budget.
As mentioned, although more rigorous in terms of eligibility criteria, NHS Continuing Healthcare funding will cover the full cost of your care. So it's always worth double-checking this potential with your GP.
How does Elder take payment?
We can take payment from a card of your choice on a weekly basis, or we can set up a direct debit from a nominated account. If it's funded by a local authority, then we can invoice them directly.
You'll only ever pay for care you've already received and you'll always be able to find back-dated invoices in your Elder account.
What if I'm not entitled to government support?
If you're not entitled to government support, this is because the relevant authority, usually your local council, has deemed you have enough money to pay for your own care.
This is the situation a lot of families face. However, it's important to remember that as soon as assets fall below the thresholds, you'll be entitled to funding from your local authority. With care at home, you're likely to be eligible for funding more quickly than if you opt for residential care – given that your home is excluded from assets in the financial means test.
Are there any hidden costs?
Our pricing is tailored to the individual's care needs, so get in touch for a quote. However, that doesn't mean there aren't any extra costs to budget for. You'll need to provide the carer with a food budget. You should also consider a budget for household upkeep, bills, groceries, mobility etc.
If your loved one is more mobile, we also recommend thinking about a recreational budget. This could be put towards making sure your loved one and their carer can go on regular days out.
Who pays for the carer's food?
Typically, the carer will prepare meals and eat with your elderly relative. We, therefore, ask you to put aside a sufficient budget to cover this expense. As a guide, this will be up to around £30 per week.
If you don't feel comfortable arranging this yourself, we're happy to do this for you by adding an extra £40 to your weekly rate.
Once the carer has arrived
In this section, we deal with those common questions about once the carer arrives.
Does the carer get a break during the day?
The care professionals we work with will be on duty for up to ten hours per day, taking two hours worth of breaks intermittently throughout the day, around your needs.
The carer should only take a break when it is absolutely safe to do so. However, as everyone's care needs are different, this is something we urge families to arrange directly with their carer.
Can the carer take my loved one out?
Absolutely, one of the main advantages of live-in care is your loved one is able to continue with life as normal. That includes walks and days out if possible.
Whether it's a visit to a local attraction, a walk around the local park, or simply a trip down to the shops, we always ask Elder carers to ensure your loved one's life is as active as possible.
Obviously, if this is something you'd like the carer to do, it's important that you provide them with a budget. Using a prepaid card, such as a Pleo, allows you to keep an eye on exactly how this money would be spent.
Are the carers insured?
Elder has public liability insurance with a policy that covers up to £5,000,000 if necessary. This protects your loved one in the unlikely event of accidental damage to property caused by the carer.
Does the carer take time off?
As already mentioned, typically every three to four weeks the primary carer will take a one to two-week break. During this period we'll ensure they're replaced with a suitable secondary carer. You'll be informed well in advance of the care handover.
What happens the day the carers swap over?
The day carers swap over, we call a handover. You can keep track of the dates of upcoming handovers through your My Elder account. On the day, your current carer will remain with your loved one until the new carer arrives.
Unless otherwise agreed, the carer will conduct an in-person handover to pass on all the relevant information. To make sure this happens, we recommend making yourself available for the first handover or a new carer to help this process.
Can I change carers?
Yes, if you don't think the carer we've selected for you is right, don't worry. We'll find a new match for you as soon as we can. All you have to do is give us a call to let us know.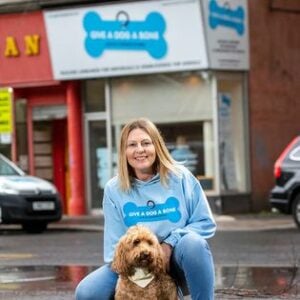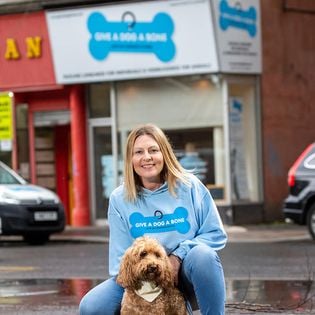 Give a Dog a Bone founder Louise Russell discusses her mission to provide companionship for
Read More »