The Meals on Wheels program delivers meals to people who cannot shop for ingredients or cook meals at home. The term "Meals on Wheels" is commonly used to refer to meal delivery services, even if they aren't officially named as such.
The assistance provided can range from helping people recently discharged from the hospital to those facing medical issues that make it difficult to be independent. They can also assist those who are disabled or people with a mental illness. The aim is to supply ready-made meals to people who can live independently in their own homes but cannot shop for and prepare meals themselves.
Some local councils offer these meal delivery services free or at a subsidised rate, or several private companies offer the service for a fee.
Who qualifies for council-provided or subsidised Meals on Wheels in the UK?
You may not always need an assessment of your care needs to access meal services, but your council may offer an assessment. This may also include a financial assessment. The exact criteria for receiving meal deliveries may differ slightly between councils, so it's always worth checking with your local authority to see if you or a loved one is eligible. 
An example of the criteria for Meals on Wheels may look like the below – 
Individuals must either be 55 years or older or fall within the age range of 18 to 54 and possess at least one of the following qualifications:
Dementia

A learning disability

A physical disability

A mental health issue

A history of substance abuse
You also must fit one of the below criteria:
You struggle to prepare food for yourself

You have just come out of the hospital

Your carer or relative needs respite from cooking

You're unwell, either physically or mentally

You cannot go shopping for food alone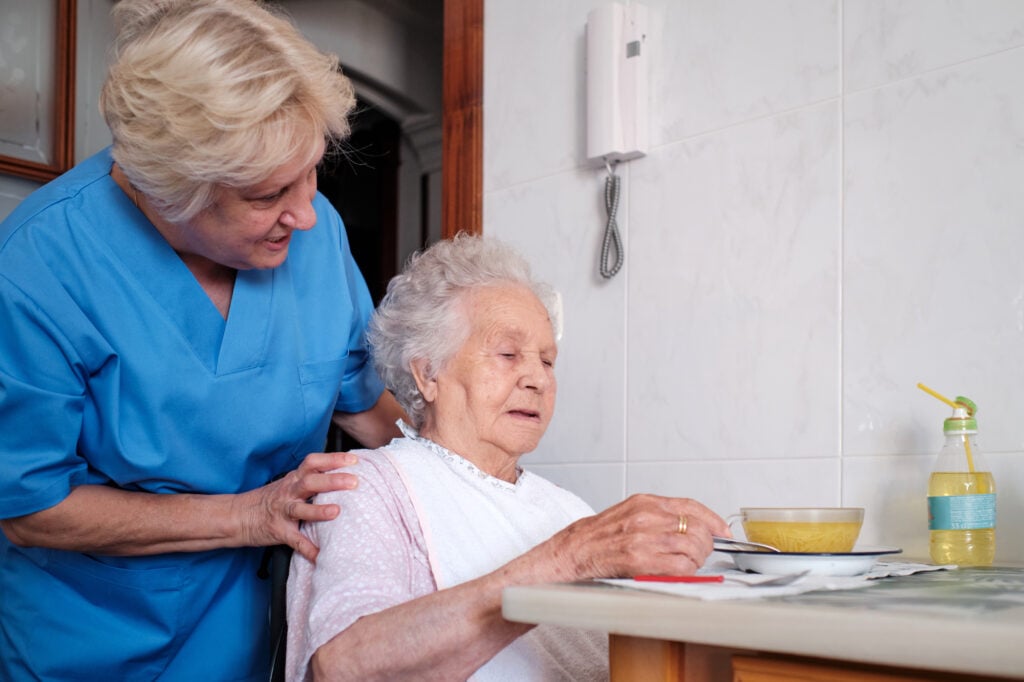 What companies or organisations do Meals on Wheels?
If you contact your local council, they may be able to provide a free or subsidised meal delivery service for eligible individuals. If this service is not available, there are other established organisations. Local Citizens Advice Bureau or councils can also offer referrals to other agencies if needed.
Meals on Wheels companies
Apetito, collaborates with various councils and local authorities to provide hot meals all year round to individuals with disabilities or older people. Their service is offered at an affordable price to government authorities and families facing poverty or low income, with the goal of supporting independent living in their own homes. They also assist individuals recently discharged from the hospital or those with diabetes.
Meals on Wheels drivers from Apetito go through DBS background checks and offer additional support to the vulnerable, including basic wellbeing checks on delivery – plus, the driver can cut up the meals, provide a drink, and encourage eating if needed. They'll also be aware of who to call and when there is a cause for concern or no answer at the door. 
The service can accommodate special dietary and faith-based meal requirements.
Oakhouse Foods provides frozen meals, hot and cold desserts, and groceries. The company caters to a wide range of customers, but most of its clientele consists of older people. Their food options suit various dietary requirements, such as low salt, vegetarian, and gluten-free. Foods are also organised on their site by chewing and swallowing ability levels – offering both soft food and pureed dishes. 
Wiltshire Farm Foods provides a wide variety of meals and desserts, totalling over 340 options, that can be easily cooked in a microwave or oven. They offer free delivery across the entirety of the UK and don't require any contracts or subscriptions. They also provide options for individuals with dietary restrictions, including low sugar, low fat, and vegetarian meals, as well as soft food options such as pureed, minced, and bite-sized portions.
ICare Cuisine is a popular ready-meal service that has been delivering food for over two decades. They offer a variety of main meals, desserts, and teatime sandwiches that can be delivered frozen or ready-cooked. Their delivery drivers aren't just drivers but are also trained in care. They can assist you in choosing your menu, keep an eye on your well-being, and provide a familiar face. You can also pay extra for the ICare delivery person to help for 15 minutes with other needs you may have, such as washing up, taking out rubbish, or making you a drink.
Parsley Box delivers meals direct to the home that can be stored in your cupboard and eaten within minutes. There is no need for a fridge or a freezer, and no subscription is required. 
They offer a varied menu choice including main meals, sides, and puddings made with high-quality ingredients. They also provide meals for special dietary requirements, such as low-sugar, gluten-free, and vegetarian options. The service benefits from speedy delivery and has a UK-based customer care team available Monday to Saturday. Free delivery is offered for orders over £35.
What kind of meals are usually offered?
Meals on Wheels services usually offer a wide range of foods in various forms – Including frozen and hot nutritious meals, plus food for specialist diets, such as gluten-free and meals which are easy-to-swallow dysphagia-friendly.
For example, companies such as Apetito offer various types of menus, including:-
Main range –

200 delicious, nutritionally balanced soups, mains, sides and desserts

Texture modified

– provides people with

dysphagia

(swallowing problems) safe and flavoured meals.

Ethnic range

– Meals following religious beliefs, such as kosher and halal meals.

Reduced appetites

– Consists of small portions packed full of calories to combat the effects of malnutrition.

Free from range –

Delicious special diet meals free from the 14 main allergens, with no compromise on flavour or choice.

Individually plated food

– Allow people to choose what they want
What is the average cost of the meals?
From council-paid or subsidised services, the average meal costs £4, usually going no higher than £5.60. This average rises to £4.50 per meal when using private companies, and the highest price can go up to £9 for larger and more complicated meals.
What's an alternative to meal delivery services?
If you're worried meal deliveries won't be efficient enough care for you or your loved one, a care home is not what you want, and you want control over what meals are prepared and eaten, live-in care may be a good option.
A live-in carer can be a valuable daily companion to have in the home, who will help with basic tasks, such as shopping for food and making meals. At the same time, they'll also be able to encourage activities like getting washed and dressed. They can even help a person stay active in their community by meeting friends, attending social clubs or simply popping into the shops.
Being able to stay in their own home allows people more choice – such as choosing what meals they want to eat and how they want to spend their day. Whether fish and chip Fridays or a roast dinner on a Sunday – routine can be maintained.
This can be especially important for those with dementia as it helps keep feelings of confusion and frustration at bay. Maintaining routine and doing familiar things can act as a form of reminiscence – an essential part of dementia therapy.