Companionship care is offered to people who may be experiencing loneliness or isolation for an extended period of time. A caregiver companion may visit the person at home or move in as a live-in carer.
A daily companion will help with basic tasks, such as making meals, encourage activities like getting washed and dressed, and can help a person stay active in their community by meeting friends, attending social clubs or simply popping to the shops. 
As people age, their social networks may be weaker, meaning television, radio, and pets are their main source of companionship. A fear of falling over may keep them from getting out and about on their own, and if they can't drive, being alone can turn into isolation.
The global coronavirus pandemic meant keeping our distance from loved ones and spending months inside our homes with little company. This worsened mental health concerns across most age groups – but with many older people having to shield to protect their health or perceiving outside as unsafe, loneliness increased. 
The internet has made it easier than ever to communicate with people on the other side of the world. Still, we tend to forget that many people of older generations are unfamiliar with digital technology.
Companionship care can be the same service as live-in care, where a carer moves into the home to provide full-time assistance. However, it is less likely that the person requiring companionship support will need higher levels of personal care.
to experience loneliness if they are widowed. 
to feel lonely often if they're in poor health
to feel lonely if they're unable to do the things they want to. 
Wendy's story
"Violet and Suleekha have both got to know Mum's ways now and she has got to know them. They're both such warm personalities and they're always smiling and having fun with mum. They are like part of the family now and we hope we can continue to have them for a long time."
The benefits of companionship
Having someone to talk to, and interact with, can make a lonely older person's day. Knowing that a visitor is coming to spend time with them is a powerful motivator to get up, bathe and get dressed in clean clothes.
Reminiscing about days gone by, interacting with other people and passing on snippets of wisdom gained over a lifetime can all help a lonely older person to re-engage with the world.
'Use it or lose it' applies to mental ability every bit as much as it applies to physical movement, and a stimulating and engaging conversation can quickly dispel the feeling of loneliness.
It's not hard to see that a mind that isn't exercised can soon start to lose its strength, and once a person has become steeped in loneliness, it can be not difficult raise interest in life again.
A live-in carer can provide company for everyday tasks that most of us may take for granted, such as eating together, playing board games and other day-to-day activities. They're there to be a live-in friend to your loved one, helping to keep them happy and having fun.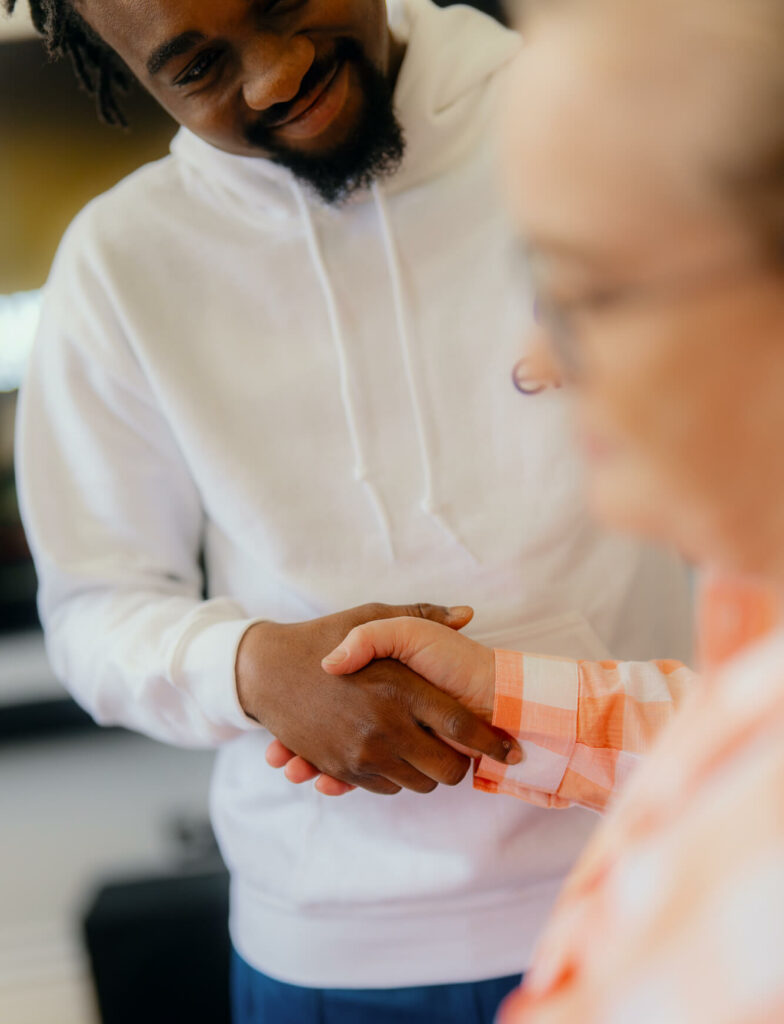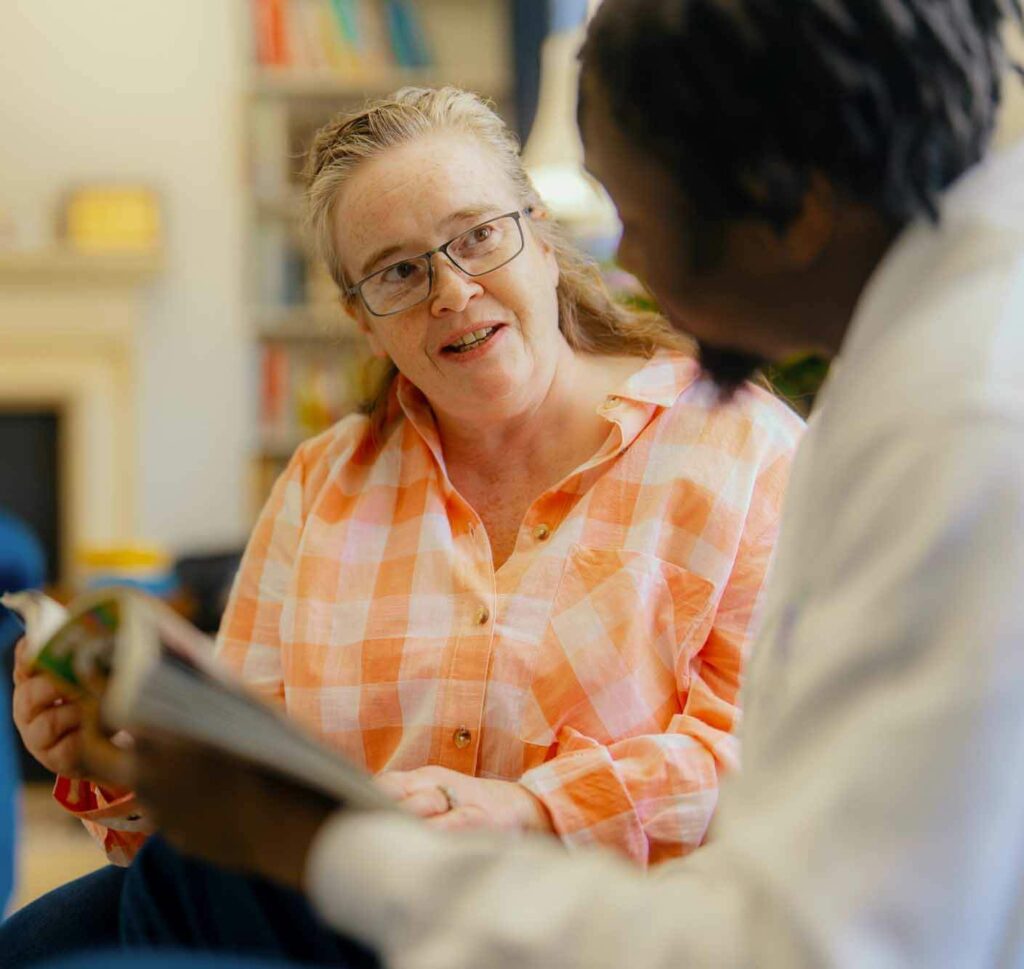 Elder care solutions
Full-time work, combined with a growing generation that's  supporting both their own children and their elderly parents at the same time means it can be difficult to spend enough quality time with the people we love.
Yet it's still possible for older people to stay in the comfort of their own homes, while still feeling connected to the outside world and building new friendships. 
A companion carer will be there to talk to throughout the day, and can help older people avoid things like doorstep con artists and internet scammers, who are known to target older people. They'll also be on hand to deal with emergencies.
From helping with the shopping and cooking to lending a hand with the household chores, a live-in companion carer will happily tackle a wide range of jobs. 
The Cares Family on the power of intergenerational friendships
From friendships that flourish through a shared love of music, to talking politics and putting the world to rights, at Elder we are regularly blown away by the connections that form between the live-in carers we work with, and the older people they support.We asked The Cares Family – a network of charities working to bridge the age gap, about the benefits and impact of forming friendships with people from different generations.
Someone to have a conversation with
Talking is something that we all enjoy, and for older adults, knowing that there is someone close at hand that they can engage in conversation can make a massive difference to their lives.
Companionship care is an excellent option for many, however, for those who may not be ready to take the step or would need funding, there are other options. Age UK, for example, provides different befriending options for seniors – including phone calls with volunteers.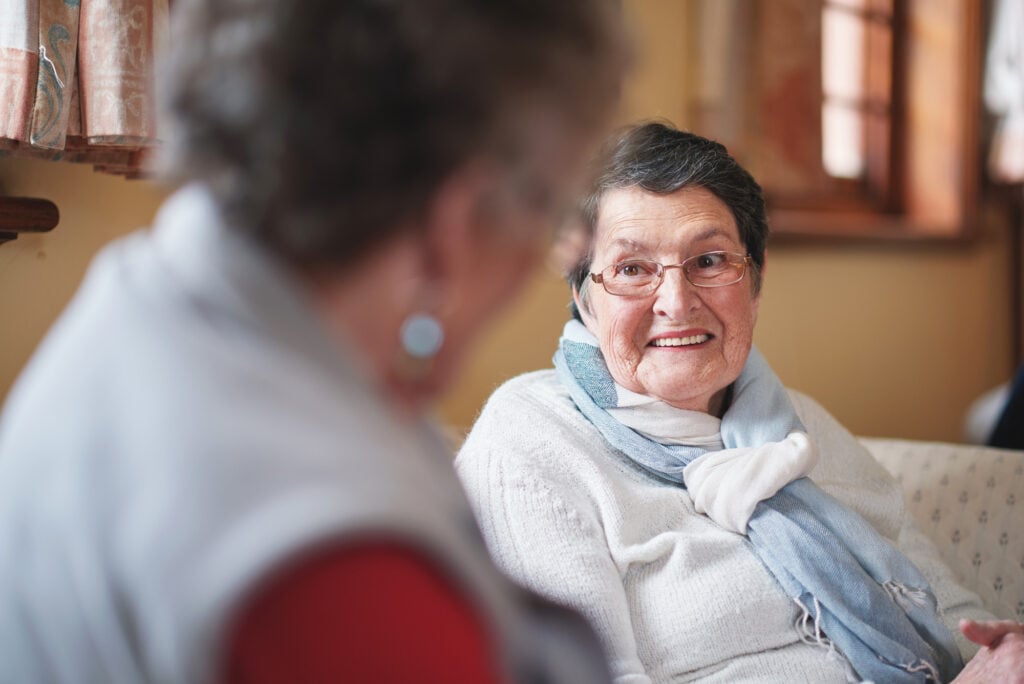 Joanne's story
Not only is a live-in carer great for assistance with day-to-day tasks but also for staying active, motivated and happy. For example, Patricia has been with Elder since 2017, she has dementia but doesn't let that stop her.
Patricia's carer, Rose, helps her to continue doing the things she loves such as gardening and going to the park – all with the company of her friendly carer who is now like a part of the family.
While Patricia needs a higher level of care, companionship care is available to those who may not need much care at all but instead the support of a friend.
What does a companion carer do?
Companion care can be arranged according to your or your loved one's needs. Whether you want someone who enjoys a chat over a cup of tea, or who can support with weekly outings or shopping trips – carers are used to helping in a variety of ways. 
For people who are feeling exceptionally lonely, are experiencing some health problems, or are just feeling particularly vulnerable living alone, a live-in companion carer is an ideal solution as it allows them to continue to enjoy living in their own home but also provides 24-hours of care at home. 
A live-in carer will make sure that you or your loved one can stay in touch with friends and family who live further afield, by using social media and helping with emails and video phone calls, if this is something you'd like help with.
Live-in carers can help with many day-to-day tasks and care needs. Here are some common tasks, but what exactly they help you with is completely up to you. 
How Elder can help with companionship care
At Elder, we can offer home care services at various levels – companionship care being one of them.
Our personality matching component is a core aspect of our live-in care service – meaning you'll be matched with a companion based on individual needs and personality. This is an important part of finding a companion you can get on with and feel comfortable around.
If you're concerned you or a loved one may have needs beyond the remit of companionship care, consider a care needs assessment and vocalise your preference for live-in care. This can help pinpoint your exact needs and be a step in securing any necessary funding.
More choice
Choose your carer from our 5000+ community, and manage care easily with your MyElder account. 
More control
Whether you need care in 24 hours, or are planning ahead, we can help you take control.
More support
Our support specialists and clinical team are here to listen, guide, and empower 7 days a week.
More value
No surcharges, no hidden costs, and no joining fees– just truly personalised care.
Read more about companionship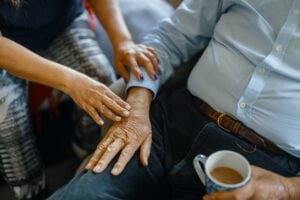 How can live-in care help prevent elderly mental health issues? People of any age can experience poor mental health, and as many as one in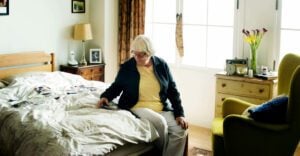 Live-in care: can it help someone overcome loneliness? Every year, the Marmalade Trust hold their annual Loneliness Awareness Week, drawing attention to the fact that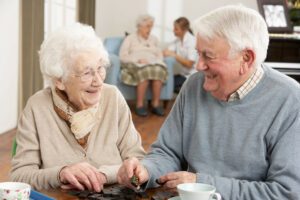 How social connections keep elderly people healthy Losing friends and family members is, unfortunately, a natural part of later life. But it can be detrimental