Domiciliary care services, or visiting care, might be one of the first options people consider for care at home.
It involves a carer paying visits to the home throughout the day, to help with personal care and meal preparation – among other things.
This type of care is best suited to those without complex needs, and who can still manage some daily tasks independently at home.
What is the meaning of domiciliary? 
Domiciliary by definition, simply means 'occurring in, or involving someone's home.'
It's a word that's now almost exclusively used within both the private and public health care spaces to describe the kind of home care older people and veterans commonly receive.
Within elderly care, it's a term that can encompass many different types of care support – from companionship and help with daily tasks, to more personal care such as bathing. However a domiciliary visit will only ever take place in someone's own home, rather than a nursing home or a care facility. A carer will visit a few hours a day for an indefinite period, to help an older person live a safer and more comfortable life.
Domiciliary may often be referred to by other names like hourly care or visiting care – but it's essentially the same thing.
What is domiciliary care?
Domiciliary care can be considered to be 'traditional' home care. It involves a carer paying visits to a care recipient at certain times in the day to carry out specific tasks such as personal care assistance or meal preparation.
Usually, domiciliary care would be recommended if your loved one is unable to manage completely independently but doesn't need full-time help yet. Carers can come into the home for any time between 15 minutes to a couple of hours – providing support with a range of things such as:
Personal care
Medication support
Help getting around
Domestic tasks
Meal preparation
Pet care
As we get older, our desire to be self-sufficient doesn't change.  Therefore the thought of leaving the home for residential care, or being cared for full-time can be hard to accept.
Domiciliary care is therefore a good option for those who might need that little bit of extra help – but in a way that helps them feel in control and independent.  The type of care can vary from person to person – depending on their needs. Some may only need one visit per day, whereas others may require more. Some people might need support around meal times, for example or help with getting out of and into bed.
When is domiciliary care suitable?
It's most suitable for those with less acute conditions, such as early-stage dementia where support is only needed at a minimal level. Or, in situations where families are able to offer a certain level of support alongside the domiciliary carer
Domiciliary care can be beneficial to people of all ages and various levels of care needs. It can be used for different reasons – including recuperation following surgery, convalescence and rehabilitation.
For people with complex conditions and those who require a greater level of care and support, domiciliary care may not be appropriate.
For example, as dementia progresses domiciliary care may not provide the same continuity in care and routine that's required. In some cases, there may be missed visits, a regular change in schedule or carers.
Domiciliary care may also not be the safest option for those living with advancing dementia. It can become unsafe for people to be left unsupervised for even short periods of time – as they may wander or be more prone to accidents.
When a person's care needs become more advanced, there are other options such as live-in care.
One of the best ways to assess whether domiciliary care is the best option for you, is to ask yourself a few questions:
Do you need support around the home?
Do you need help getting into or out of bed?
Do you require help with chores and domestic tasks?
Do you need someone to drive you to doctors appointments?
Do you need someone to support your medication management?
Do you need someone to help you maintain dietary needs?
Do you need someone to help with personal care?
If you answer yes to any of these questions, then considering domiciliary care could be the next step for you.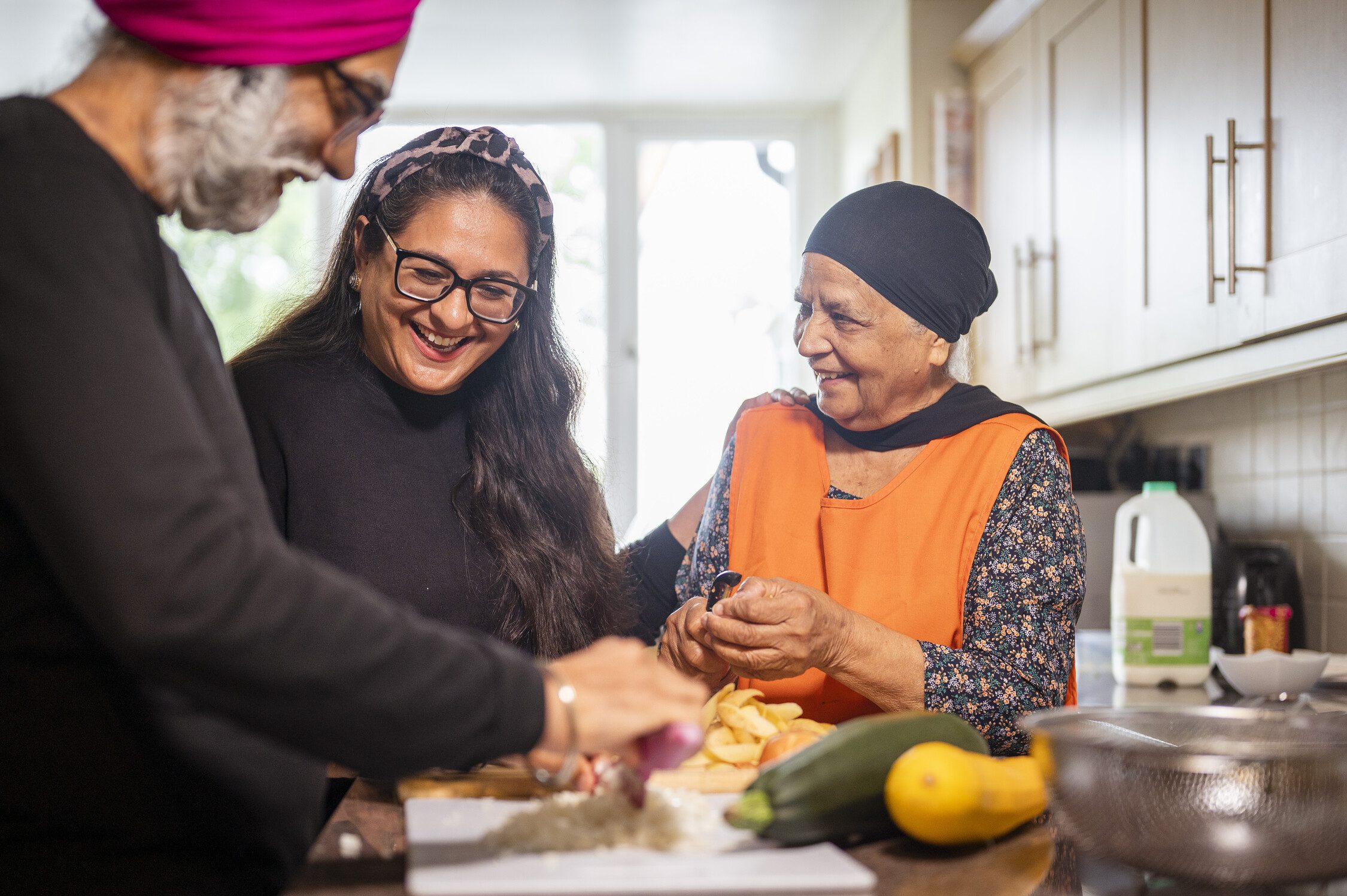 Centre for Ageing Better Images – Pictures Peter Kindersley
How does domiciliary care work?
Domiciliary care plans are made with you in mind – they are flexible packages that are tailored to your specific needs. You can choose how many times per day, and at what time your carer visits and for how long.
Your plan will be affected by your specific needs and the cost will vary depending on this. Every package is unique and so can take into account your personal habits – for example when you prefer to eat meals or go to bed.
Types of domiciliary care
Domiciliary care is not 'one size fits all'. You can choose a type that suits you personally, and as with any type of care – there are different ways to tailor it to your life. Main types of domiciliary care include:
Companionship care – for those who want a little extra company, perhaps after losing a spouse
Multiple visits per day – for those who need a little extra help at specific times of the day such as meal times
Nursing domiciliary care – for those with specific health needs such as changing dressings, or stoma care
Housing support – for help with general things around the house such as cleaning and keeping on top of bills
How much does domiciliary care cost?
The cost of domiciliary care can vary depending on a range of things such as location, care needs, visits per day and personal circumstances. To get an accurate breakdown you would need to undergo a care needs assessment and speak to a care provider.
Your local authority may be able to pay some, or all, of the costs associated with domiciliary care but in some instances you may have to fund it yourself. In this case, make sure you are claiming all the elderly benefits you are entitled to.
Professional care at home is usually charged per hour. This can range from £10 to £30 during the day and more for care at night. Costs may be higher on bank holidays and weekends. Depending on how often the care is needed, this can add up to become a large cost.
Domiciliary care often requires some home modifications, which usually comes at a cost to the family. These modifications could include moving beds downstairs, installing stairlifts and alarm systems. If you do require home modifications – you can apply for a grant.
Elsie's care journey

Elsie had been living with osteoarthritis for some years, but she recently noticed her mobility was declining rapidly. She began to find day to day tasks such as washing dishes and unpacking shopping difficult. Her sons started to worry that she was no longer able to cope independently. So, they decided it was time to consider additional help.
Through domiciliary care, Elsie has been receiving home visits twice a day for an hour each time, Monday through to Friday. Her carer does however vary on each visit.
Elsie's carer helps with things like personal care, cleaning and cooking. Sometimes, she requires night visits, costing up to £100. This service works out at £800 to £1000 monthly for her family.
In addition, Elsie has also had to have adjustments made to her home. A stairlift has been installed which can be priced anything from £1000 to £3000. Elsie's family decided these improvements were more than justified, and they help her to continue to live a fulfilled life.
While it's often a worthwhile cost to ensure your loved one is safe and the family has peace of mind – there are funding options for domiciliary care and in some cases home improvements. Councils can sometimes help in the form of grants and loans, so make sure to get in touch with your local authority.
How to arrange domiciliary care?
As with any type of care, there are different ways to organise it. You could start by looking into privately arranging domiciliary care – where you hire the carer directly yourself – but this comes with its own considerations  surrounding employment, sick pay, tax and family tensions.
Generally however, you want to start with a care needs assessment. You can get one by contacting your local authority – who can either come to the home, or make an appointment at a community hub. This assessment will cover your different care requirements and look at the type of  support that's needed.
At the end of the assessment, you'll be directed on how to arrange care or support.
Domiciliary care can be sourced through local councils and dedicated agencies. You may have more choice if you enquire with an agency as local councils do tend to be stretched. If you or your loved one has specific thoughts on the type of care they want, it's important that they speak up in either circumstance.
Sometimes the assessment may not lead to a direct recommendation of care or support services, but your assessor will give you advice on next steps. If care is recommended you can then look into securing funding if necessary. For this, a person will undergo a financial assessment.
Advantages and disadvantages of domiciliary care
For some families, care homes provide everything that's required and are seen as a safe environment for their loved ones where they can have constant access to the support they need. But the comfort and familiarity of being at home is often overlooked as an option. This is where the benefits of domiciliary care can be seen.
The benefits of domiciliary care will depend on the level of care required and individual circumstances. For others, live-in care may be more appropriate, or maybe a natural progression between the two.
Type of care
Advantages
Disadvantages
Domiciliary care
– The person remains at home
– Less stress from changing environments
– Medication support is available
– Personalised care plan
– Personal care support is provided
– Alleviates some strain on family members
– It costs less than a care home
– The carer may differ each time
– Not suitable for nursing care needs
– The carer may be stretched for time as they are visiting others
– Care is not available around the clock
– Support may not be available when it's needed most
– Geographical limitations mean you may not have much choice of carers
Live-in care
– People can stay at home and retain independence
– Less stress from changing environments
– Activities, meals and routines are personalised
– Support is provided around the clock
– Complex care needs are catered for
– Range of funding options
– Often thought to be an expensive option
– Not suitable for nursing care
– A new person moves into the home
– Home adaptations may be needed
Read more on domiciliary care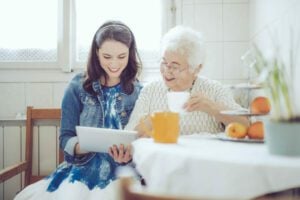 It's natural to need a little help with things as we age. However, if you or a loved one is finding daily tasks more difficult,
Read More »
The role of a domiciliary carer is to pay regular visits to the home of a person who requires care – to provide them with company, personal care, perform domestic duties and prepare meals. The exact role will depend on the needs of the individual.
Domiciliary care is another term for visiting or home care. It stems from the latin 'domus' which means home.
One of the main advantages of domiciliary care is that it takes place in the home – meaning people do not have to leave a comfortable environment and can retain some form of independence at home. It is good for those who don't have extensive care needs – and is usually one of the first steps people take into care.