As a person ages, their personal care habits can change. At some point assistance with personal care may be needed.
Personal care can include anything from toileting assistance to getting dressed in the morning.
Personal care at home can help a person retain their independence and feel better while still getting the assistance they need.
From showering to getting dressed, help at home with personal care can enable the elderly to stay in their home but still receive the necessary support they need to complete day-to-day tasks. Personal care at home will mean that your loved one can maintain their familiar routines in the place where they're most comfortable.
Live-in care is the alternative solution that allows your loved one to stay in their own home, retain a sense of independence but still receive the necessary care they need. Live-in carers can assist with a range of things from doing the food shop to meal preparation and personal care.
What is personal care?
Personal care is quite a broad part of a live-in carer's duties. It can encompass a range of things – but generally includes personal hygiene, grooming and toileting.
Elderly people may be reserved when it comes to accepting help with personal care, but the benefit of having assistance in this area tends to outweigh the reservations.
Personal care can include things such as –
When does my loved one need personal care?
It can be difficult to know when your loved one needs personal care – it's not uncommon for the older generation to be uncomfortable talking about personal topics like requiring support in this area. Or they simply may not realise they do.
There are some general signs you can look out for when trying to understand whether your loved one needs personal care:
Wearing the same outfit everyday
Stopping bathing
Stopping brushing their teeth
As we age, personal care can become more demanding, and it can be more difficult to bathe, dress and use the bathroom. The signs that your loved one needs personal care may be subtle. There are ways you can help your loved one with personal hygiene but it can be beneficial to seek professional assistance.
If your loved one is struggling to look after their personal hygiene, it could be the right time to discuss finding a personal care assistant.
Are you in Scotland?
You may be eligible for free personal care from your local council. Click below to find out more.
Benefits of personal care
Personal care is vital for the health and wellbeing of your loved one. With personal care, their needs will be taken care of with sensitivity and dignity, and they'll enjoy a better quality of life and higher self-esteem.
Promoting good personal hygiene helps to prevent illness and the spread of infection. It also promotes better mental health and allows your loved one to remain in their own home in safety and comfort, enjoying an independent lifestyle.
What are the options for personal care?
Personal care is considered a key part of elderly care and is included as a core duty of our live-in carers.
This type of care  is designed to follow your loved one's routines, whether they enjoy a shower in the morning or a bath before bedtime. A personal carer can also offer support with other housekeeping tasks, such as:
Specialised personal care
With certain complex conditions, personal care needs differ and require specialist support. At Elder we're able to support with various complex conditions and helping with personal care is one of the ways we're able to do so.
Personal care and dementia
Personal care and hygiene, in particular, can become difficult for people living with dementia. They may forget to wash or find it difficult to accept help with washing and bathing.
If a loved one is living with dementia, assistance with personal care can help to keep them comfortable at home.
When they start, a dementia carer will understand the situation and be able to cope with any anxiety, embarrassment or aggression that they may encounter.
A regular personal carer will build a strong relationship with your loved one based on trust and understanding. The carer will offer support and encouragement and stick to well-established routines so that your loved one feels relaxed in their company. That could be as simple as finding out what their favourite products are or handing them the soap when it's time to wash.
The role of any carer is to support the care recipient's independence. In the case of dementia care, a personal carer will help their client make their own choices when it comes to their personal care. A home carer will also support a loved one with domestic tasks to wash and decide on the clothes they're going to wear as part of a routine discussed and agreed upon together.
Choosing the right personal carer
There can be several reasons for needing to arrange personal care for a loved one. They may need support in their own home after an illness or surgery– referred to as convalescent care. Alternatively, their regular carer may be uncomfortable with performing more intimate personal care routines.
Elder can arrange for specialised personal care that offers the right level of extra support for your loved one and their individual needs.
At Elder, we know how important it is for your loved one to be comfortable with their carer, so we have a dedicated matching service which helps to ensure this – matching carers with families based on individual care needs and personalities.
As they're often going to be moving into your loved one's home, and become a fundamental component of their life, it's essential you take the right steps to choose the right carer for you. As part of this, you should consider personality as well as experience and training.
A personal care assistant should offer a friendly face and gentle encouragement. Above all, they should be someone with whom your loved one is comfortable and that they trust.
When considering home care for your loved one, it's crucial that a carer respects personal boundaries. The carer should be respectful of the care recipient's wishes and work to support their independence and dignity.
A personal carer should also work with your loved one to create an individual care plan based upon specific instructions. They'll spend time getting to know your loved one's likes, dislikes – such as their preferred products – and will follow their particular guidelines.
Read more on personal care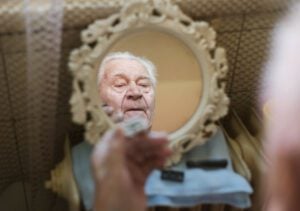 Bath aids for elderly Getting in and out of a bath tub can become difficult as we get older. Limited mobility, poor balance and weaker
Read More »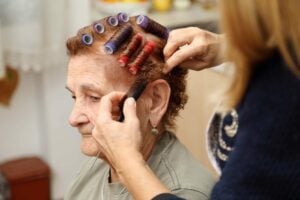 Caregiver tips: haircare for the elderly Caring about the way we look, and the image that we present to the world doesn't stop when we
Read More »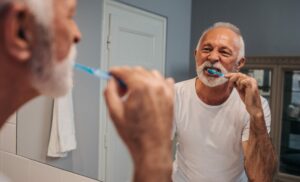 Oral hygiene for the elderlyAn essential part of elderly care in the home is oral hygiene. Good oral health can significantly enhance your loved one's
Read More »