Before this type of care at home starts, it is vital to ensure that your elderly relative knows that the carer will be living with them and is comfortable with this. If they need dementia care or are confused, this may be more challenging. We've shared some organisations that can support your dementia experience here, as well as guidance on how to navigate care refusal here. 
Their own space
A carer who moves into either your or your loved one's home will need their own space in which to sleep and spend time when they are not actually providing elderly care.
Caring 24/7 can be very demanding, both physically and emotionally, and it's important that the live-in carer has somewhere where they can enjoy time away from the person they are caring for. However well they get on together, the carer will need some time alone to unwind.
Most commonly, a carer will have a bedroom of their own, but if this is not practical, you could adapt a reception room or study for them to use. It's important that this room is private, and for their use only. It shouldn't be used as access to other rooms either, for example, if walking through the dining room is the only way to access the kitchen, the dining room wouldn't be a suitable room to adapt.
Depending on your or your loved one's mobility and the general layout of their house, it may be practical to consider whether moving into a ground floor room would be advantageous. This could leave a free room upstairs for the carer, but it would only be practical if there are toilet facilities for you or your loved one to use downstairs.
There is no need to go to great lengths to decorate a room for a carer. The carer's room should simply be comfortable, clean and have adequate heating.
Before the carer moves in, the room should be thoroughly cleaned, and fresh bed linen should be provided. In addition to a bed, the private live-in carer will need basic storage facilities such as a wardrobe and chest of drawers. A comfortable chair and a TV, while not strictly necessary, will help to make them feel more at home in the house.
Use of a bathroom
The live-in carer will not need a bathroom of their own, although this would be preferable. They'll need clean and functional bathroom facilities that they can use, and if sharing a bathroom, there should be somewhere for them to store toiletries.
WiFi
Although this may not have been a priority in your or your loved one's life so far, WiFi is essential to many people these days so that they can keep in touch with others.
The internet is useful for many things, including keeping in touch with Elder and updating care logs, so that the wider family can stay in the loop. If you don't have WiFi, it's worth setting up a connection for the live-in carer to use, and ensuring that they have the  passcode. This can be even more important in rural areas where the mobile signal may be poor. 
Kitchen facilities
Live-in carers will cook regular nutritious meals, and often depending on your needs, will eat the same meals as you or your loved one. Therefore, they'll not need separate cooking facilities.
If they have any specific dietary needs for example if they are gluten free, they'll provide the special food they need. Eating together can help everyone to become more comfortable together and enable a positive relationship to develop. 
Insurance
You should inform the insurance company that covers the home that elderly care from a live-in caregiver is taking place, in case this impacts on the household insurance.
If you or your loved one has a car, ensure that the carer is added to the cover if you want their companion care duties to include driving to visit friends or to enjoy trips to places of interest. They may also need to use the car for shopping trips or other errands.
Information
Your or your loved one's needs and preferences online care appraisal, along with medical details such as their medication schedule, allergies and any dietary requirements.
Security
Elder's live-in carers undergo thorough recruitment procedures that include DBS checks or PVG checks in Scotland. We also ask carers to provide verifiable references from their previous places of work. 
Although, it can be to everyone's advantage if you ensure that cash and valuable items are kept somewhere secure so that no misunderstandings occur. This is particularly important if you have a loved one living with dementia and could become confused about where a particular item is.
Housekeeping
The live-in carer will probably be responsible for various household expenses and running errands, and you will need to decide how you want to manage these. Possibly the simplest method is to provide petty cash and ask the carer to keep receipts and keep a record of expenditure.
Alternatively, you may prefer to set up a separate bank account with a debit card that can be used by the carer to pay for anything needed on a day to day basis. Whichever you decide, it is important that both parties understand what is expected.
Create a list of personal emergency contacts
This is a list of the people the carer can contact in the event of an emergency. Be aware that emergency calls can come at any time of the day or night and make sure you check with people before adding them to the list. Include their home phone number and mobile number. This list could consist of family members, a close friend or neighbour, or another suitable adult. Ideally, you should have at least three people on your list, but feel free to add more if you have a wide circle of people willing and able to help in the event of an emergency.
List your loved one's medical contacts
This list can include the GP, dentist, optician – if relevant – and any other health care professionals that are supporting you or your loved one. Display this list, along with the emergency contacts list, in a prominent location, ideally near a phone or somewhere it's unlikely to be moved.
Outline the daily routine
Depending on the nature of your needs, you might like to map out the daily routine on a daily planner you can stick on the fridge, to help the transition to home care go as smoothly as possible. Beginning to receive care for the first time may be a confusing or upsetting time for some people, so anything you can do to help everyone feel comfortable and respected will be invaluable. If your loved one requires dementia care or similar, sticking to a routine might be especially important. If your arranging care for a loved one on their behalf, but they need a less involved level of care, such as companion care, they'll be able to discuss their requirements with their carer themselves.
Don't be afraid to ask questions
In addition, it's worth speaking to friends and relatives who have previously hired a home carer. They'll be able to tell you what to expect and to provide invaluable advice about how to prepare. You can also find the experiences of other Elder customers here.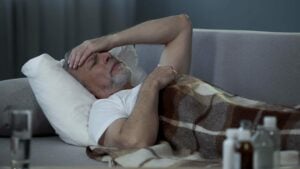 Caring for sleep problems in elderly Changes in sleeping patterns are frequent in older people, and you may notice that it progressively gets worse over
Read More »