You've reached us outside of our opening hours. Book a free telephone consultation and one of our care planning experts will give you a call whenever is convenient for you.
Specialist stroke live-in care
We offer bespoke stroke care plans that provide vital support to older people living with stroke and its effects.
Or call us, we are here to help
Experts in stroke care and prevention
More than 100,000 people suffer from strokes in the UK every year and there are more than 1.2 million stroke survivors across the UK. A stroke can have many causes and many different knock-on effects, including loss of vision, loss of mobility and loss of speech. Therefore creating a bespoke care plan that fits your loved ones support needs is vital in ensuring they lead a happy, healthy, engaged life for years to come.
At Elder, we specialise in providing families with the right care options to suit their needs, with expert local live-in carers who are fully screened and vetted to ensure the highest quality of care.
Choosing Elder live-in stroke care
We understand that looking for a carer can be daunting, that is why our specialist team, are here to help you along every step of the. Simply get in touch directly to book a free consultation.
Fully vetted care professionals
We vet every single carer on our database to ensure that they have the skills and expertise required to fulfil your family's needs.
English-speaking carers
Every one of our carers is a fluent English speaker to ensure clear, quality communication between them and your loved one.
Bespoke care plans
We undertake a free consultation service to create a plan that is tailored to the exact stroke care needs of your elderly relative.
Click the link below to book a free consultation and find out how we can help.
---
What our customers say
Colin and Dulcie's story
Dulcie is 100-years-old and lives with her son Colin, his wife Mary, and her Carer Sarah. She has dementia and has had full-time live-in care for six months. We talk to the family about the challenges of finding the right care solution for a fiercely independent woman – and how the positive benefits of live-in care with Sarah has transformed all of their lives.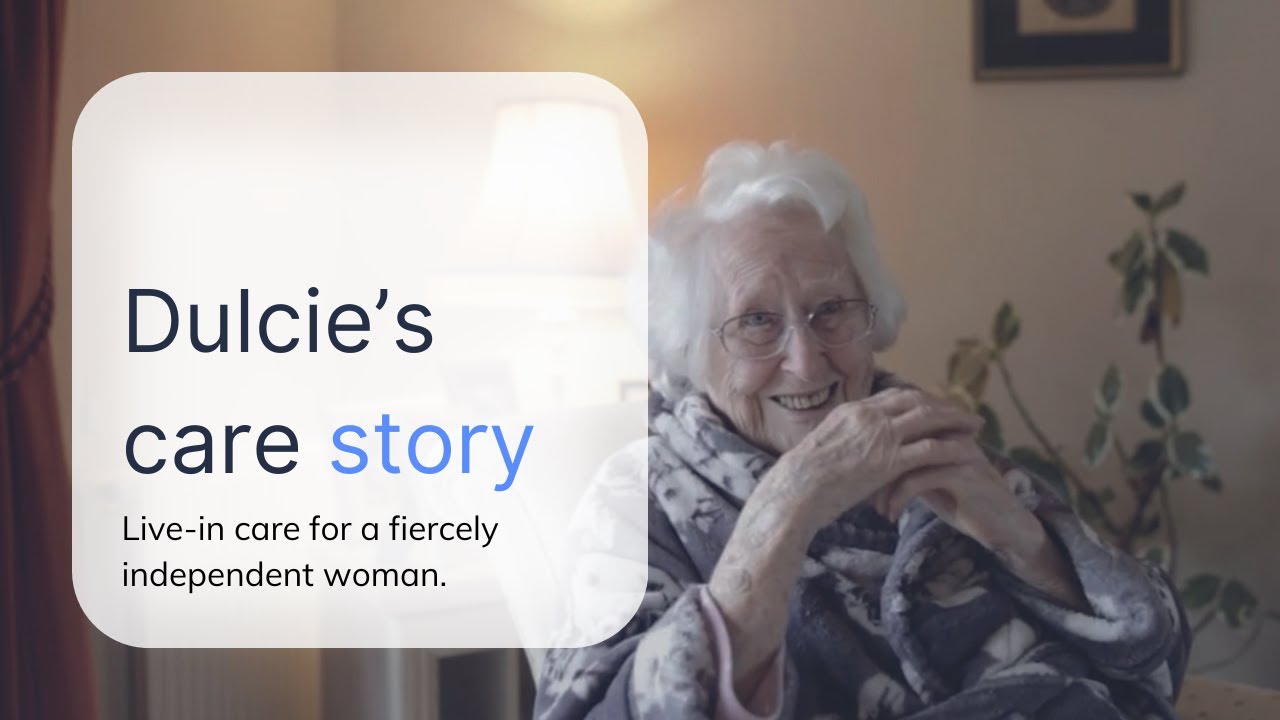 Get in touch for expert care advice
Stroke care in the home
Stroke can have a serious impact on an older person's mobility, verbal communication, hearing or eyesight. That is why we believe that the best place for them to receive the care they need is in their own home, where they feel safe, comfortable and secure. Our carers can help with all day-to-day tasks like shopping, cooking, cleaning and going to the toilet, helping your loved one retain their independence while receiving quality live-in care.
Local carers who can start within 48 hours
We always endeavour to provide quality local live-in carers who have experience in caring for older people with increased risk of stroke, or people living with its effects. You can meet your proposed carer prior to them starting work to ensure that they are the right person to look after your loved one and, once approved, they can usually start within two days. Our processes ensure that we create the perfect home environment for the care recipient and their family.
Reasonably priced high quality care
We are completely transparent about the cost of live-in care. Our pricing and payment structure for full-time live-in care plans start at just £895 per week, per carer and there are countless stroke care plans to choose from.
We work with you and your family to ensure that the plan we provide is the perfect one for the older person in your life living with the effects or increased risk of stroke.
Frequently asked questions
What effects can stroke have?
Stroke can leave older people with a number of physical and psychological problems that require specialist health and support.
Some experience loss of feeling and use of certain parts of the body, from parts of the face to arms and legs, this makes walking, mobility and general day-to day tasks much more difficult to complete. Many people also experience loss of sight, hearing or the ability to speak and, as a result, find verbal communication extremely difficult.
Elder carers are all expertly trained in helping people living with these effects and their families. Book a free consultation to see how we can help your loved one's circumstances and to start your journey with Elder.
Who is at higher risk of having a stroke?
There are a number of factors that make a stroke more likely, including age, with older people at higher risk than those under 60. However, people living with heart disease, high blood pressure or diabetes are all also at much higher risk.
If your loved one is receiving full-time Elder live-in diabetes care, heart disease care or care for high blood pressure, we ensure that the carers involved have a full understanding of the stroke risks and what to do should they occur. We do everything we can to ensure that our carers aren't just of the highest quality, but that they are prepared for any eventuality that may arise.
Do Elder offer 24-hour stroke care?
All Elder care solutions involve the carer moving into your loved one's home to provide the care they need when they need it, remaining on call to deal with any emergencies that may occur during the night. However, if a care recipient is regularly requiring three or more care wake-ups per night, we generally advise their loved ones to look into a two carer plan.
These plans involve two carers working in alternating shifts to ensure that the older person in question has constant care supervision, should they need it. Our two person care plans start at just £1,450 per week, unlike many other care providers who simply require families to pay for two single carer plans.
To find out more about specialist stroke live-in care or to book a consultation, simply get in touch with our team to book a time and ask any questions you may have about how we can help your family.
Learn more about live-in care