What is home care?
Home care, otherwise known as domiciliary care ensures those in need can get regular care in the comfort of their own homes. A professional caregiver will ensure the person they are supporting can life safely and as independently as possible at home. Home care can range from companionship and low level assistance with things like cleaning, shopping and preparing meals, to more complex care such as managing dementia symptoms, help with washing or going to the toilet, and even some types of nursing care. 
What are the two types of home care?
Home care services will usually fall into one of two categories –
Live-in care –  where a carer will move into a person's home to provide round-the-clock care and safety
Visiting care – where a carer comes over to provide care for a few hours daily. 
 If you choose live-in care, you'll likely need to make some additional preparations before care begins. For example, your live-in carer will be staying in the home for an agreed period of time, and will need a private room to sleep and relax in. 
What is the main purpose of a home care?
Home care provides support with daily living – ensuring an older person can continue with their routine, remain a part of their community, and live safely in their own home. 
Home care services can provide support with a wide range of tasks – 
How can home care help me?
If you're arranging care for a loved one
If you've noticed that your loved one is beginning to find certain things difficult at home, for example, is struggling to keep up with housework, or has experienced an increase in trips or bumps, you'll likely worry about their safety and wellbeing. This worry can be even more distressing if you don't live nearby. Arranging home care can provide peace of mind by ensuring someone is available to keep them company, support with tricky tasks, and ensure the home environment is as safe as possible.
if your loved one lives alone, regular or full-time home care can mean there is someone available to talk to and enjoy life with. Unfortunately loneliness is fairly common in later life. According to AgeUK 1.4 million elderly people in the UK often feel lonely, which if left unresolved, can have a serious impact on mental health. Signs a person may be feeling chronically lonely include a change in appetite, sleep patterns, and behaviour.
You may only need to arrange home care for a short-period – this is called respite care. If you care for a loved one yourself it's important for your own wellbeing that you take a break from time to time, and respite home care can provide trusted cover while you're away. You may also require temporary professional care after hospital discharge while your loved one recovers back at home.
If you're arranging care for yourself 
It's completely normal to feel uneasy about the prospect of care. If you're looking into care from a care provider, you may be worried about allowing a stranger into your life so intimately, or wonder what'll happen if you don't get on, or if they try and impose changes you're not happy with.
Quality care providers, such as Elder will always work with you to design an arrangement on your terms. Building a bespoke care package will ensure you only receive support when and where you need or want it. 
Billons of people across thee world employ some type of help with day to day tasks – from cleaners and gardeners, to dog walkers and meal delivery services. 
Employing help and support from someone new can help make more time for the things you enjoy, while the things you find difficult or time consuming are taken care of.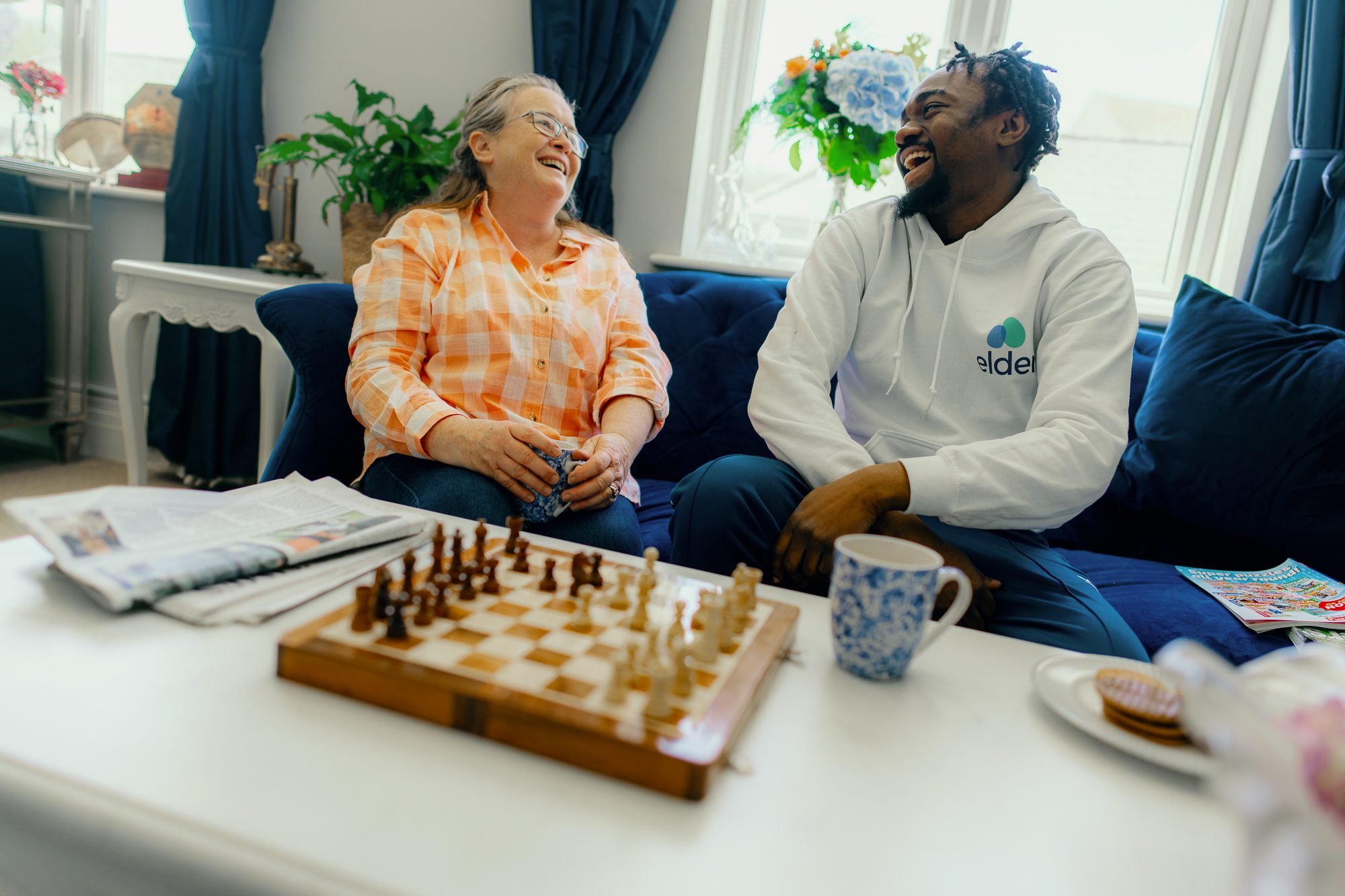 Why choose home care with Elder?
Elder is an award-winning home care agency making high-quality home care more responsive, more personal, and available to more people.
Bringing together compassion, innovation and expertise, we're committed to delivering a better care experience for older people, their families, and their carers.
More choice
Choose your carer from our 4000+ community, and manage care easily with your MyElder account.
 
More control
Whether you need care in 24 hours, or are planning ahead, we can help you take control.
More support
Our support specialists and clinical team are here to listen, guide, and empower 7 days a week.
More value
No surcharges, no hidden costs, and no joining fees– just truly personalised care.
Finding your carer 
with some providers, you'll be supported by a care team or a rotating staff of agency carers. with elder you'll choose your own private carer from our 4000+ community of self-employed carers. We'll identify carers with the right experience and character. You'll have time to get to know the passions and skills of each carer through their profile and introductory video, before choosing who you like best. You can even chat to them over video to help you and your family feel comfortable in your decision.
Your carer will work directly for you, and will provide dedicated, one-to-one support and companionship. 
We only work with fully vetted and approved carers. This means each carer on the Elder platform must complete a background DBS or PVG check, provide at least two verifiable references, and pass our character and judgement assessments. We only allow experienced, trustworthy, and genuinely caring professionals onto the Elder platform, which is why less than 10 percent of those who apply make it through. 
Elder was the first care company to provide self-employed carers with an award winning loyalty programme, providing them with third party rewards that look after their own health and wellbeing. 
Managing your care 
Our technology-enabled service is designed to grow with you. This starts with completing our online care appraisal care. This is your list of care needs  – which we'll share with our in-house clinical team to ensure a high standard of care can be delivered safely at home. 
Once care is in place, you'll be able to manage your care using your own online account MyElder. Here, you'll have the freedom to shape your care schedule quickly and easily, managing your needs and receiving daily updates from your carer. You'll also have the on-going support of your own dedicated Family Support Specialist. They'll ensure you have everything you need to stay in control of your care, and that you feel comfortable using your MyElder account.
Colin and Dulcie's care story
Dulcie is 100-years-old and lives with her son Colin, his wife Mary, and her Carer Sarah. She has dementia and has had full-time live-in care for six months. We talk to the family about the challenges of finding the right care solution for
a fiercely independent woman – and how the positive benefits of live-in care with Sarah has transformed all of their lives.
With Elder, you're never on your own.
Our Care Advisors are on hand seven days a week to answer your every question. Whether you're ready for care or are just looking for guidance, they're happy to help. 
The cost of care at home 
The price you pay for home care will usually depend on the level of care you need, and where you are in the UK. 
At Elder we offer a range of home care services – and always tailor our care fees to the individual to ensure you're only ever paying for the support you need. 
We also don't charge additional fees for joining Elder, matching you with suitable carers, or for care on bank holidays or weekends. To find out more, take a look at our pricing page. 
There are a number of funding options or payment schemes to help cover some or all of the cost of home care too. 
1. Speak to your local council's benefits office 
You or your loved one may be eligible for monthly payments in the form of Pension Credits, Attendance Allowance, or Cold Weather Payments – A benefit for people who may struggle with rising energy costs. You may also be entitled to a reduced rate for council tax. 
2. Arrange a social care assessment 
If you local council decide you have a qualifying need, they may offer full or partial funding for your care. To work this out, they'll first assess your health and care needs, before performing a financial assessment to understand how much you can realistically afford to pay towards your care. If they conclude that you need care, but don't have the means to pay for this yourself, they'll offer you funding.  
3. Contact your local NHS Continuing Healthcare (CHC)  Team
This is a form of funding available to those with complex, on-going health conditions. The eligibility criteria for NHS funding is a lot stricter, however if you're successful your care costs will be covered in full. To apply, you'll need to ask your GP, district nurse, or discharge team (if you're in hospital) to put you in touch with your local NHS CHC team.