Getting in and out of a bath tub can become difficult as we get older. Limited mobility, poor balance and weaker muscles and bones can all cause serious accidents. In this guide we'll look at a range of bath aids that can help make bath time the safe and relaxing experience it should be. 
What are bath aids?
In the simplest terms, bath aids are pieces of specialist equipment or mobility aids that can help you get in and out of a bath safely. 
Common aids include things which can make lowering yourself into a bath easier, such as bath seats, and equipment that can help you wash with confidence.
Bathing without assistance is seen as a sign of elderly independence. However, having an accident while washing could be potentially disabling and cause injuries that can be difficult, or sometimes impossible to recover from. 
Some older style baths may be a lot deeper than today's standard, especially freestanding baths. Old glass shower screens could also cause injury if fallen on, as they may not be made of tempered safety glass – breaking into large shards on impact. In these instances bath aids can be even more crucial.
Types of bath aids
Non-slip matting
A non-slip mat is an essential item for those who struggle with balance and coordination, or who have a history of falls. There are many types of mat you can try. Some use rubber suction pads to fix to the bottom of the bath tub – creating a safer surface to stand on when getting in and out the bath.
You can also get large rubber.or absorbent mats for the bathroom floor, which can minimise the risk of slipping if the floor gets wet.
Bath lifts
Lifts are a common bathroom mobility aid that can help you move freely between the bathroom and the bath tub, and can provide support while you're in the bath for confident washing.
Motor-driven –  These are simple chair style bath lifts, which can easily be fixed to the bath without the need for screws or brackets. To use this type, simply sit on the chair when it's level with the bath rim height, and use the battery powered handset to lower the seat into the bath. You'll still need to lift and swing your legs into the bath, so this type is best suited to people who can do this without too much help.
Inflatable – This type of lift is a trickier to find, and work much in the same way as traditional chair style lifts. However rather than lowering you into the bath using a motor, the inflatable bath cushion will slowly deflate, and then re-inflate when it's time to get out.
Fixed band – If you like to have a long soak in the bath, this may be the lift for you. to use this lift, you position yourself in a large fabric band, kind of like a sling, that's fixed to a unit on the wall. This lowers you to the bottom of the bath, and because there's no chair behind you, you're free to lie down and relax. However, this type is only recommended for people with the core strength to support themselves in the sling.
Bath boards & bath seats
A bath seat or board fits over the width of the bath tub to provide a raised platform for you to sit on comfortably. Many models are height adjustable, and  can dramatically reduce the distance you need to lower yourself into the bath water. They're especially useful if you struggle with balance, or lack the upper body strength needed to push yourself up from the bath.
Bath steps
Usually made from plastic or metal, bath steps can reduce the distance you need to lift your legs to get into the bath. They're popular with elderly users with limited movement in their knees or hips, such as those living with arthritis. These bathing accessories can be used for other tasks around the home too, such as getting in and out of a high bed.
Hair washing tray
If it's getting more difficult to lift your arms to wash your hair or hold a shower head, a specially designed tray can provide a rest for your head and neck and divert flowing water while someone assists you. 
How to get bathing aids and equipment
While smaller bathroom aids such as steps and mats can be bought for between £5 to £150, together items can add up, especially if you want to keep spares in your friends' and family's homes too for when you visit. Larger equipment such as electric bath lifts can be costly too.
This is why it's always worth asking your local authority about a Home Adaptations grant – which will cover the cost of safety adaptations up to £1000.
If your needs are more advanced you may be eligible for a Disabled Facilities Grant. This means-tested form of funding can provide up to £30,000 for making your home safer and more accessible.
Speaking to nurse, doctor, or occupational therapist is a good place to start if you're interested in claiming one of these grants.
If you do decide to purchase a range of bath aids yourself, you may be able to make some savings through VAT relief. Those living with mobility issues or a chronic condition usually don't need to pay VAT on these types of products if they're for personal or domestic use – i.e for use at home.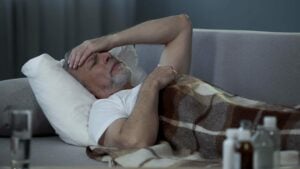 Caring for sleep problems in elderly Changes in sleeping patterns are frequent in older people, and you may notice that it progressively gets worse over
Read More »