They may be more willing to agree to the support on offer if they realise that it will enable them to retain a level of elderly independence. 
General hygiene every day
If you have decided on live-in care in the home, the caregiver will be familiar to your loved one. They will not feel intimidated, as they might if a stranger tried to assist with their personal care. Sometimes elderly people, especially those with dementia, need prompting to wash their hands after using the toilet.
If this is awkward, simply giving them a soapy facecloth may be enough to encourage them to make sure their hands are clean. It should then be rinsed, so that they do not keep soap on their hands and finally, ensure that they dry their hands thoroughly.
A daily routine should include ensuring that the person's face and their genital area are washed, with a bath or shower twice a week as a minimum. Teeth should be cleaned in the morning and evening.
With care at home, a care plan detailing your loved one's needs will have been worked out, but if you are providing elderly care yourself, you will be able to create a plan together with your loved one.
Personal care
It can be difficult for an older person to accept help with what will always have been a very private activity. They may feel embarrassed at first, but will probably come to terms with their live-in carer assisting them with washing and bathing.
If you are providing in-home care for your loved one yourself, you may find that it helps to make bathing a relaxing activity, by using their usual bath products and perhaps having their favourite music playing. Preferences such as whether to have a shower or a bath should always be respected.
In elderly care generally, and dementia care in particular, it is essential to explain what is happening, as you help with washing or bathing. Sometimes this can seem like an invasion of the person's privacy, so you need to be sensitive to how they are feeling and act accordingly.
Maintaining dignity
A private live-in care provider will ensure that their members of staff are trained in all aspects of promoting dignity.
With any 24-hour care at home, it is important to ask how the person would like you to help them. They may be able to carry out certain tasks themselves, and it is important to let them be as independent as they safely can.
If you are helping with bathing or showering, use a towel to cover their modesty when possible. The same applies if you are giving your loved one a bed bath – only the part of the body that is being washed should be uncovered.
In addition to washing and rinsing the skin, it is important to ensure that it is properly dried, as otherwise they may get sore. Pay particular attention to skin folds and areas such as behind the ears and under the breasts.
---
Dulcie's care story
Duclie is one of our longest serving customers. In this video her and her family talk through their decision to arrange care in the home rather than the care home.
---
Safety
People with limited mobility or problems with balance can be at higher risk in the bathroom. When carrying out the hygiene aspect of home care, ensure that you protect your loved one from falls or injuries. Ensure the floor is not wet and slippery and that the bathroom is warm. The water temperature should also be comfortable, but not too hot, as some older people have reduced sensation and may not realise. If your loved one can be left alone in the bathroom, make sure that you can easily gain access in the event of an emergency.
Your own safety, or that of anyone providing private care, is also important. If your loved one needs help getting in and out of the bath or shower, ensure that you know the principles of safe moving and handling, and that any necessary aids are available.
Toileting
Whether a person is normally continent or not, it is important to maintain their personal hygiene. If your loved one has problems controlling their bladder or bowel functions, they are at risk of developing infections or skin problems. As such, it is important to ensure that they have the correct continence aids and that these are changed regularly.
It does not take long for unpleasant skin conditions to develop if an older person is left in a wet pad or wet underclothes. Sometimes limited mobility can contribute to an elderly person having "accidents", and they may be embarrassed about this. Your loved one's GP can put you in touch with a continence advisor who can advise you about dealing with these issues.
Alzheimer's care
People who are living with dementia can often become confused or angry. They may refuse help with personal hygiene or find bathing distressing. If this becomes a problem, speak to your live-in care provider about the dementia care training their staff have undergone and make sure that the person responsible for caring for your loved one understands the nature of the condition.
Sometimes with professional dementia care, the best strategy is to accept that they do not want a bath or shower and to try again when their mood appears to be more settled.
Call us for expert live-in care advice 
Learn more about live-in care
Take a look at more Elder guides on the benefits of live-in care.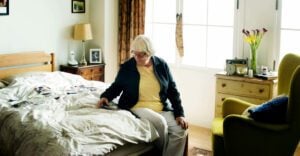 Live-in care: can it help someone overcome loneliness? Every year, the Marmalade Trust hold their annual Loneliness Awareness Week, drawing attention to the fact