In cases of vascular dementia, the memory loss and difficulties with language and problem-solving which we associate with the disease are caused by damage to the brain as a result of reduced blood flow. 
If your loved one has received a diagnosis of vascular dementia, you may have noticed that they are finding everyday living harder and harder to manage. Memory problems can make it difficult for elderly people to carry out even the most basic of tasks when it comes to caring for themselves and their home.
If you think that your loved one is struggling to cope alone with vascular dementia, it might be a good idea to start thinking about the elderly care options available to them.
What causes Vascular Dementia?
Vascular dementia can be caused by a number of things, but in the simplest terms, the disease results from reduced blood flow and damage to the brain. The varying types of vascular dementia have some symptoms in common, including memory loss, difficulty in problem-solving, communication and language issues, a deterioration in spatial awareness and difficulties in decision-making.
These symptoms may be more pronounced in certain types of vascular dementia than others, but in almost all cases they will have some impact on an elderly person's quality of life.
Some forms of vascular dementia are stroke-related, the result of reduced blood flow to or a clot on the brain. While the interruption of blood flow may have been short and temporary or prolonged, a stroke can lead to the onset of vascular dementia. Post-stroke, it is thought that around 20 percent of sufferers will develop the condition within six months.
Vascular dementia may also be caused by smaller blood vessels deep within the brain developing thicker walls and becoming stiff and twisted; this is known as subcortical vascular dementia.
The visible symptoms for this form of dementia can be markedly different to those associated with a stroke, although this is the most common type of vascular dementia.
---
Dulcie's Care Story
In this short video, Mary and Colin explain how Dulcie's live-in Elder carer, Sarah, has become part of the family.
They discuss how live-in care has allowed Dulcie to stay independent in her own home, while making a new friend at the same time.
---
Signs and symptoms
Symptoms will vary from person to person and will depend on the underlying cause. Symptoms may manifest rapidly, for example after a stroke, or they may be slower to show themselves as in the case of subcortical dementia.
On the whole, people living with dementia will exhibit signs of memory loss and forgetfulness. Your loved one may struggle to plan, make decisions or follow a simple set of instructions such as a recipe, and you may notice that they are slower at thinking and responding.
Concentration may become more difficult, and they may come across as confused, while their language and communication skills may decline and they may show signs of reduced spatial awareness, becoming unable to see objects in three dimensions.
In addition to cognitive impairment, those suffering from vascular dementia might also find themselves becoming physically weaker and experience a loss of bladder control. They also tend to be prone to more extreme emotions, often becoming severely depressed or lashing out in aggression for no apparent reason. As the disease progresses, they may also begin to experience visual and auditory hallucinations.
Dementia care options
If your loved one has been diagnosed with vascular dementia, finding them appropriate elderly care to ensure their safety becomes all the more important.
Many dementia sufferers find a move to a care or nursing home a deeply traumatic and confusing experience. This requires them to adjust to an unfamiliar environment, a constant stream of new faces and the difficulties of communal living when they may have been used to a certain level of independence.
For the majority of dementia sufferers, the option of remaining in their own home and a familiar environment is preferable to residential care. With a live-in care package from a provider such as Elder, your loved one can receive specialist dementia care within their own home, and you can feel confident that they are being looked after at all times.
A live-in carer will not only be able to help your elderly relative with day to day tasks such as cooking, cleaning and taking their medication, but they will also be able to assist with those personal care tasks which may have become a struggle, including getting to the toilet, getting dressed and bathing.
They will also be able to take them to and from various medical appointments and social events, thus ensuring that they receive the highest standards of care and benefit from social interaction with the outside world.
Other benefits
In addition to receiving all the help and support, they might need to remain within their familiar surroundings, those receiving companion care experience a level of care continuity which simply cannot be found in a residential care home. As they are looked after by the same carer day in, day out, they can take comfort in seeing a familiar face rather than the multiple carers who work in a nursing home.
With care at home, your loved one can remain in their own home and maintain a greater sense of independence. Elder can tailor home care packages to perfectly suit your loved one's needs as they cope with vascular dementia. For more information on the services we can provide, please get in touch today.
Call us for expert live-in care advice
Learn more about live-in care
Take a look at more Elder guides on the benefits of live-in care.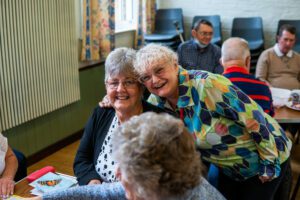 How Can Live-in Home Care Help With Learning Disabilities? Learning disabilities come in many different forms, but they all have an impact on a