Quick summary
Live-in care is the new standard for elderly care.
Live-in care is practical, comfortable and allows your loved one to remain as independent as possible.
Live-in care is a cost-effective alternative to standard care options.
You may be wondering what exactly live-in care means and how a live-in carer can help to look after your loved one as they grow older. Here's a guide to how a 24/7 live-in carer could meet your loved one's daily needs, providing the companionship they require so they maintain the highest quality of life possible in their later years.
Live-in care: What is it?
Full-time care at home can often be the ideal solution for those seeking elderly care. It may be that your loved one has been receiving domiciliary care but visits throughout the day are no longer sufficient to meet their needs, and more care is required. Sometimes, a person has tried residential care but is unable to settle in an institution surrounded by so many other people, and is much happier in their own home.
Couples with different care needs often find that the best and most cost-effective way for them to stay together is to opt for care within their own four walls. If your loved one is in hospital, they may need to have care in place before they can be discharged. In this case, the only real alternative to a residential or nursing home is to arrange for private care from a resident carer in their own home.
Many people get it confused. But live-in care is different from domiciliary care in that it provides around-the-clock support, rather than a just few visits throughout the day – with carers working on a four weeks on, one week off, basis. It's an affordable alternative to a care home – with fees starting at £1225 per week.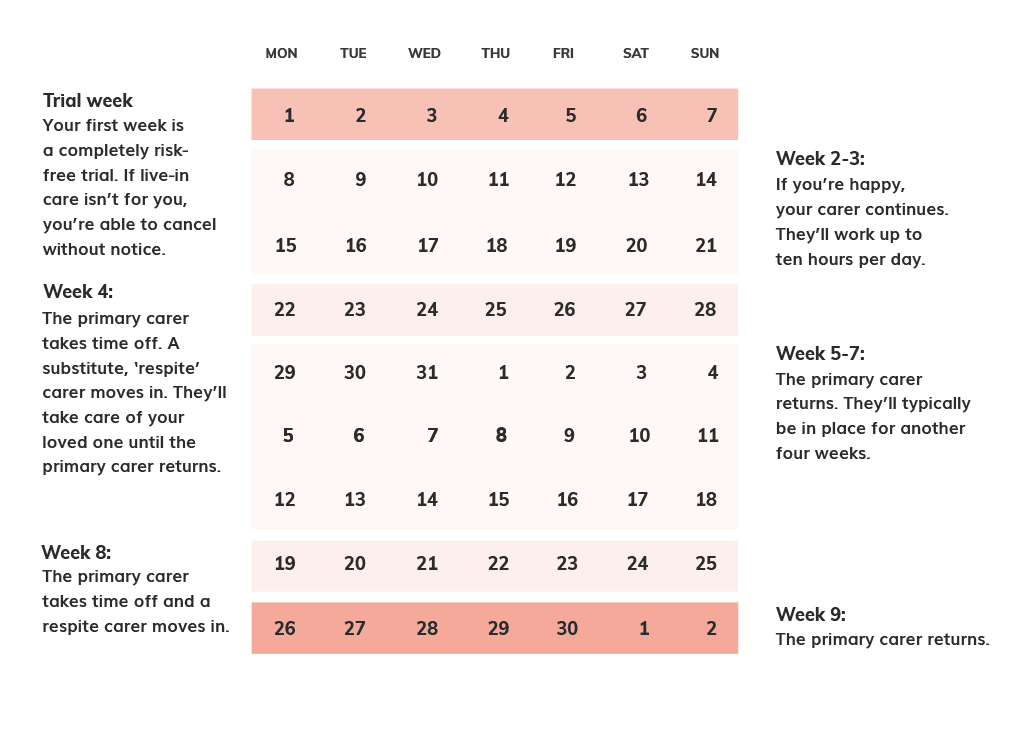 Why should you choose live-in care?
Many people choose live-in care so that they can retain their independence and live exactly how they wish in the comfort of their own home. All care is a compromise between people wanting to get on with things, and getting the support they need.
Ultimately, live-in care is an option that minimises the change involved when this compromise becomes inevitable. It allows your loved one to hold on to their routines, and you to be reassured they're being looked after.
Personal care
The personal care provided by in-home carers can be tailored to include whatever level of assistance you or your loved one needs. It often includes support with incontinence issues, help with washing and general hygiene, dressing, applying their makeup, brushing tea, and shaving. A live-in caregiver is there to meet your loved one's needs, however personal or complex.
Live-in care means that there will be someone there overnight too, so if support is needed during the night, it's on hand. This gives you the reassurance of knowing there's always someone there for your loved one, whatever the time of day or night.
Those who require full-time care both day and night, over and above three times per night, could benefit from 24-hour care in which instance two carers are needed and would work in shifts to ensure full 24/7 care is available.
Practical help
In addition to personal care, a live-in carer will also carry out domestic tasks such as shopping, light housework, washing, and ironing. You won't have to be worried that your loved one is eating properly – the carer will aim to plan and prepare nutritious and balanced meals for them every day.
If your loved one has animals, and they need help to look after their pets, just mention this when arranging care and we'll ensure your carer is happy to do so. This enables your friend or relative  to continue enjoying the companionship of their beloved pets, rather than having to give them up.
Having pets around is not just a mood-booster, it has been linked with an array of healthy benefits. This is one reason why it's so important for private care providers to match a carer with the care recipient carefully, to ensure that all their needs can be met.
Familiar surroundings
It's completely understandable that people who've lived in their own home for many years are naturally very reluctant to move, even if they're aware that they need help with some aspects of their lives. A live-in carer can enable the older person to remain in their own home where they feel comfortable and safe.
This is especially important if your loved one has dementia. The condition can often cause people to become very upset by changes in their environment. A specialist carer can provide dementia care – a higher level of support which helps with some of the specific difficulties the condition presents – be it sundowning, mood swings or challenging behaviour.
Help with day-to-day tasks
Even something as simple as answering the door can be difficult – or even impossible – for some older people, but with a dedicated home carer, there's always someone to pick up the phone or go to the door. This also provides a vulnerable person, especially those in need of dementia care, with protection against anyone attempting to defraud or deceive them.
If your loved one needs help with their correspondence or day-to-day financial matters, a caregiver they trust will be able to help with this. They'll also assist with managing any arrangements such as hairdressing or healthcare appointments, social outings or shopping trips.
Many carers can drive, or will otherwise accompany your loved one. This means that the care recipient is able to maintain their independence, their mobility, without feeling they're imposing on family members.
Peace of mind
It can be difficult and stressful when you know your loved one needs elderly care at home, especially if the situation has arisen suddenly and you need an urgent solution.
Keeping your loved one safe, happy and well cared for is, of course, the number one priority. You naturally want to find a solution and the peace of mind that comes with it.
It's the same for your loved one. Many elderly people worry that they may have become a burden to their family members. And, although a carer can take some getting used to, they'll often be much happier knowing their needs are being met, without depending on people they love.
Health and wellbeing benefits
There are many wellbeing benefits linked to live-in care – many of which arise out of being able to remain in one's own home.
Not only does it allow people to maintain their social network and continue their favourite hobbies – but live-in care actually reduces the risk of being housebound by 64%. Which in turn can prevent mental health problems and improve mortality.
In addition to mental health benefits, live-in care also has an array of physical health benefits – research has indicated that live-in care could actually reduce the risk of falling by 33% and, in turn, the risk of a hip fracture by 46%.
Maintaining independence and routine
One of the biggest benefits of live-in care is that it allows people to maintain their independence and routine for longer,  continuing with the little things they enjoy – from choosing their favourite meals to visiting social clubs and their friends whenever they like.
How can you find a live-in carer?
There are a few ways to find a carer – including using private arrangements. You can choose to arrange live-in care privately, which means the carer is employed by yourself and you have legal responsibilities in terms of pay and holidays.
Alternatively, you can choose to arrange live-in care using a carer employed by a care provider or use an introductory service such as Elder.
The introductory service offered by Elder means you can find a carer matched with your loved one's needs and personality quickly and simply – we carry out the necessary checks on all carers and then match them with you using our matching service.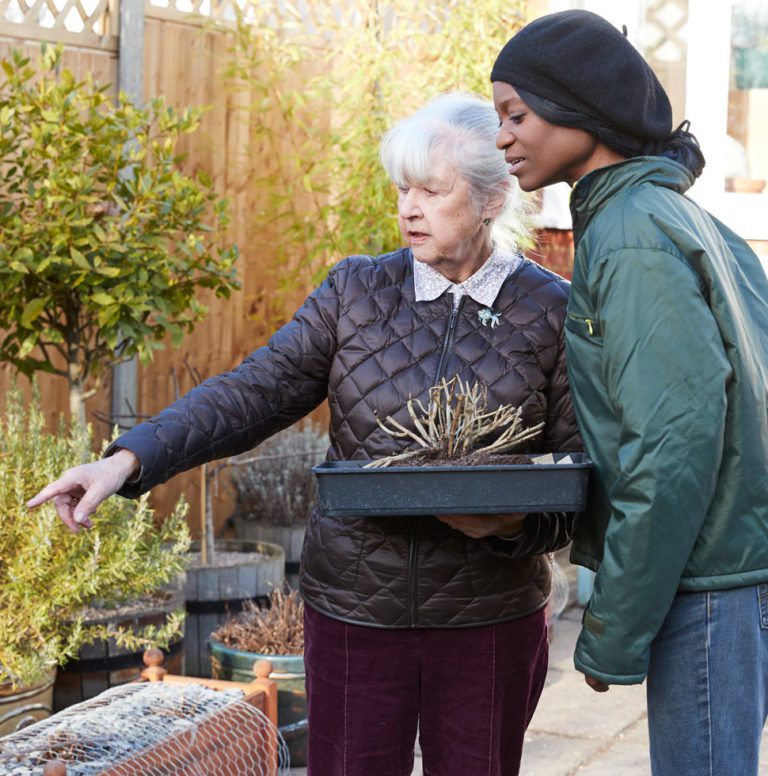 What does a live-in carer need?
There are a variety of ways to consider what a live-in carer needs, so let's look at their requirements at all levels. These are things you need to consider to ensure live-in care really works for your family.
What a live-in carer needs to join Elder
In order to be a part of the Elder live-in care platform carers must have at least one year of care experience and DBS check (VGA if in Scotland). We then carry out a multi-stage, in-depth, interview process which involves:
Initial screening
Situational judgement test
Interview
Onboarding
What a live-in carer needs while on placement
What a live-in carer needs to know
Live-in care comes with many benefits, and in order to get the best out of live-in care there are a few things which the care recipient should share with their carer in order to have the best care possible.
Make sure to share things such as:
Favourite meals
Food is an important part of later life – go through the ideal weekly menu.
Daily routine
The basics of what time they get up, eat, wash, get out, and go to bed.
Social calendar
Whether day centres, family visits or clubs, run through their social life.
House rules
Run through any specific customs or rules the carer needs to follow.
Likes/dislikes
Let the carer know of the things that your loved one really loves to do.
Medical, social and emergency contacts
For professionals, such as GP and social workers, and family members.
Real life story: Colin and Dulcie
Dulcie is 102-years-old and lives with her son Colin, his wife Mary, and her Carer Sarah. She has dementia and has had full-time live-in care for over two years.
We talk to the family about the challenges of finding the right care solution for a fiercely independent woman – and how the positive benefits of live-in care with Sarah has transformed all of their lives.
Frequently asked questions
What can I expect from a live-in carer?
A live-in carer can help with various tasks including day-to-day housekeeping tasks such as preparing meals and cleaning. In addition to this they provide around the clock care including personal care and medical care where applicable. They also provide companionship and help the care recipient to live independently.
Can I have a live-in carer?
Anyone who requires care can have live-in care. If you wish to remain in your own home but require extra care and support around the house, you can have live-in care – there are many benefits from maintaining independence to receiving one to one care.
To find out more about how a live-in carer could help you, you can contact Elder for an initial consultation.
How does 24-hour care work?
24-hour care differs from standard live-in care in that it usually requires two or more carers. These carers work in tandem with one another to provide 24-hour care. 24-hour care is generally required for those with complex medical needs such as dementia or Parkinson's in which overnight care is needed.
Who chooses live-in care?
Live-in care is a popular choice with anyone who wishes to remain in their own home whilst receiving the care and support they need. It is great for anyone who wishes to remain independent and stay in familiar surroundings. It is also a good choice for those who have complex care needs as they can receive the one-to-one attention they need as well as the professional medical care they require.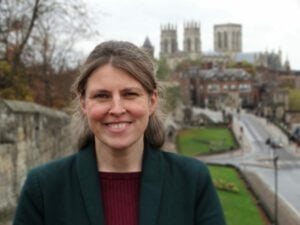 Giving the elderly a voice in Parliament: An interview with Rachael Maskell MP We talked to Rachael about how she helps constituents with issues around
Read More »