Quick summary
Whilst cancer is a condition that can affect people of all ages, it is more common in older people. 
Spotting the signs of cancer can become more difficult as people age, so it is important to know and understand the symptoms. 
Live-in care can help to provide help in the home for those with cancer – supporting them on a day to day basis.
The risk of developing cancer increases with age. In 90 percent of all cancer cases, the person is over 50 years of age. 
The majority of these cases occur in people aged between 50 and 74, but a third of all cases are in those aged 75 and older. Prostate, breast, and lung cancers are all quite common in older people, but this section of the population is susceptible to all forms of cancer.
Age UK estimated that in 2020 there were 2m people aged 65 and over living with a cancer diagnosis in the UK. 
Cancer is a condition which can strike anyone. It is caused by the uncontrolled growth and reproduction of cancerous cells, which can spread to healthy tissue and organs in a process known as metastasis. 
Some of the organs most commonly affected include the stomach, lungs, prostate, bowel and liver, although there are more than 200 different forms of the disease and each is treated very differently.
Research suggests more than a third of the population will suffer from cancer at some point in their lives, but certain lifestyle choices such as a poor diet, smoking, excessive alcohol consumption and being overweight can make it more likely that an individual will develop the disease. 
Cancer in the elderly can be difficult to manage. Receiving a cancer diagnosis is a frightening and daunting experience, but understanding how to care for a parent or loved one with cancer can also come with its own challenges.
If your loved one has been diagnosed with cancer and you are concerned about how they will manage, a live-in carer can give you the peace of mind which comes with knowing that they are being well looked-after and supported at all times.
How to spot the symptoms of cancer in the elderly 
It's essential that older people, their children and caregivers are aware of the symptoms of cancer and are ready to react and to seek support from a medical professional. 
Unusual or unexplained changes in the body are often the first early warning signs of cancer; discovering a lump, for example, or a change to your bowel habits. 
The earlier cancer is detected, the better the outlook, so it is important that your loved one visits their GP immediately if they notice a change which causes them concern.
Common Symptoms of Cancer
Jaundice (skin or whites of the eyes turning yellow)
Lumps anywhere on the body
Changes in moles
A recurring cough
A change in bowel habits
Abnormal bleeding
Unexplained, significant weight loss
It's important to remember that different types of cancer will have 
their own specific symptoms. 
Certain types of cancer are more easily treatable than others.he prognosis for cervical cancer, breast cancer, testicular cancer and prostate cancer generally have far better five-year survival rates than pancreatic, lung and colon cancer, for example. Cancer can be especially difficult for those living with dementia or 
Alzheimer's
 as they may find it difficult to recognise these changes. Also, older people living alone are far less likely to spot early symptoms of cancer, than those living with a spouse or other family members.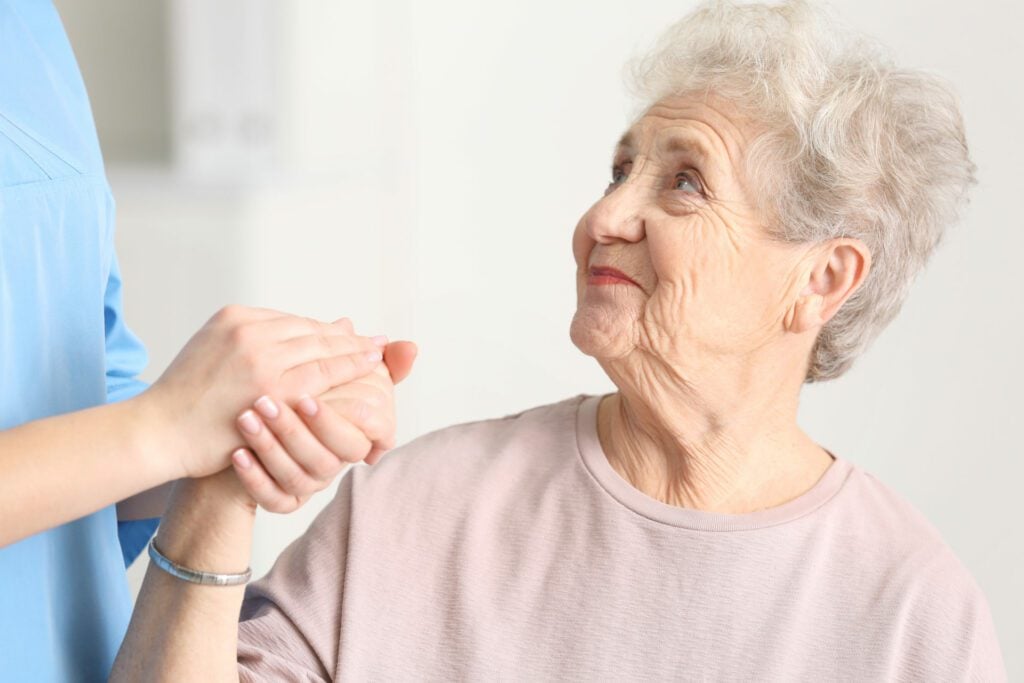 The challenges of cancer in the elderly 
As we age, our DNA becomes more prone to mutation. Mutation can be caused by unhealthy lifestyle factors, or by genetic issues and susceptibility. However, age appears to be the greatest risk factor for developing cancer.
In patients over 75, the management and treatment of cancer is an increasingly common problem. They are more likely to experience serious side effects from treatments such as chemotherapy – not only due to their age, but due to other preexisting health conditions. 
Not only is treatment more difficult, but many older people may choose to refuse treatment – as they don't want to spend their later years in the hospital. 
However, with medical technology and treatment options improving, many people are living longer with cancer. 
There are other risk factors when it comes to cancer in the elderly, such as long-term illnesses like heart disease – which can develop as a result of the same habits as some cancers.
Not only can these increase the likelihood of cancer developing, but having these existing health problems can mean people require more support throughout diagnosis and treatment, such as: 
Support with personal care
Nutrition 
Managing finances
Staying active 
Elderly cancer treatment 
The first step after diagnosis is to agree on the right treatment. Cancer mortality rates are dropping for those under 75, but hardly changing for the 75 to 84 age group, and are actually increasing for people over 85. 
This could be linked to late diagnosis, not taking up treatment, and also to under-treatment. Under-treatment of cancer in the elderly has been highlighted by Macmillan as a concern. It involves treatment decisions being made based on age, rather than health, and can lead to people not receiving the right treatment they need. 
Many families will have mixed feelings about treatment types, and not wish their loved ones the stress and discomfort of cancer treatment
However, not all cancers become terminal very quickly. Some common older-age cancers, such as prostate cancer in men, can be treated and managed well. In prostate cancer, the five-year survival rate is 99 percent. The 15-year survival rate is 95 percent. 
What's more, many older people respond well to cancer treatment. However, living alone, particularly after the death of a spouse or the breakdown of a relationship, can make treatment and recovery more difficult. 
For this reason, finding adequate care for an older parent or loved one with cancer, especially one living alone is crucial.
Reducing the risk of cancer
Although there is no way of accurately predicting who will develop cancer, some people are at greater risk if they have a family history of the disease. 
Maintaining a healthy weight, stopping smoking and eating well are all key in reducing the risk of cancer, as is exercise, which a friend or live-in carer can encourage. Avoiding prolonged periods in the sun while using higher SPF sunscreen can reduce the danger of developing skin cancer, while cutting down the amount they drink can help to avoid developing liver cancer.
While some lifestyle choices can be easily changed, many elderly people will struggle to make changes without assistance. Exercise can be difficult for many older people, particularly if they have mobility issues or are suffering from depression and not interested in leaving the house.
If certain lifestyle choices are in fact an addiction, it can be difficult to overcome them. These habits have been built over decades for many people and can be hard to quit. There are resources which can help with this.
People often find their appetite reduces as they age which can make healthy eating difficult. If your loved one is struggling to do the shopping and prepare and cook meals, they may not be eating enough, or may be eating an unhealthy diet, which is where a live-in carer can provide assistance.
Live-in care for older people with cancer 
A cancer diagnosis is often a time when the family decides that more care is needed. Depending on the stage of cancer, a nursing home may be required, but for many older people receiving treatment, in-home care is the preferred option. 
Looking after someone with cancer at home can be a challenge for family members, so having a professional caregiver there to support is beneficial. Not only can it help to reduce worry and offer some peace of mind but having professional care allows the family to get some respite and focus on other things. 
Companion care – or live-in care as it is otherwise known – is an increasingly popular form of elderly care. With a live-in carer, your loved one can remain in their own home and receive all the help, support, and companionship they need as they come to terms with and are treated for their cancer. This is particularly beneficial to those in need of dementia care, who could find the upheaval of moving into a care home extremely distressing – on top of a cancer diagnosis.
A live-in carer will be with your elderly relative around the clock and can assist with everything from cooking, cleaning and looking after pets, through to personal care tasks such as washing, going to the toilet and getting dressed.
They will be able to drive your loved one to and from hospital appointments and treatment sessions too. They can also help them to keep up any activities, or social engagements they have enjoyed, as remaining active and mentally stimulated can help ward off the feelings of loneliness and depression those living with cancer may experience.
At Elder, we understand the issues and needs surrounding caring for a parent with cancer. We know that at this stressful time, you want a solution that makes life easier, not more complicated. That's why our live-in care service helps with every aspect of providing expert elderly care at home. From the moment you contact us, through to finding a carer and making sure everything is running smoothly, we'll be there.
We match professional carers to care recipients based on factors, such as location, experience, personality and attitude, to make sure the person your parent welcomes into their home is right for them.
Frequently asked questions
Does cancer spread slower in the elderly?
It is a common misconception that all cancers are less aggressive in the elderly. It is widely accepted that some cancers – such as breast and prostate cancer – do spread slower in older people however others such as colon or bladder cancer are more aggressive.
How can I help my elderly parent with cancer?
Handling a cancer diagnosis can be tough for everyone involved. It can become more difficult for the elderly considering the other factors that come along with aging, and any additional health concerns. Therefore, one of the most helpful things can be extra care and support from professional caregivers. They can provide social and personal support.
Why is cancer more likely the older you get?
Cancer can strike anyone at any time, but it is known to be more common in older people. This is because as people get older their DNA becomes more prone to mutation. This mutation in cells is what increases your risk of developing cancer.