The UK's trusted 24-hour care providers
Elder helps you find the perfect round-the-clock in-home care plan to fit your loved one's circumstances and needs.
Call us, we are here to help
24-hour care at home
Quick summary
A live-in carer who is on-call 24/7 is the standard type of live-in care and involves one carer.
For those with more complex needs, full 24/7 care is available which would involve more than one carer.
Round the clock care provides those with medical needs the constant care they require.
How does 24-hour care work?
If your loved one has acute care needs, they may require support from a professional throughout the day and the night, this is 24-hour care.

When looking at care options it's important to note there's a slight difference between a carer being on call 24/7 and providing 24/7 care. The former is undertaken by a single live-in carer who fulfils the care recipient's needs throughout daylight hours, sleeps at their property, and is available to assist your loved one a couple of times during the night should they wake. The latter requires two carers, who are in constant contact with the care recipient, exchanging shifts to make sure continual care needs are met.
We're fortunate to have a variety of care options available for us to provide better care for our loved ones, depending on their circumstances. Each variant offers a level of care particular to a specific need, such as care at home, elderly care, dementia care and companion care.
The difference between live-in care and 24-hour care
It's important to understand that standard live-in care is different from 24-hour care. The distinction is made by the number of carers looking after your loved one and whether they're 'on call 24/7' or 'providing care 24/7'.
Standard live-in care involves one live-in carer who works up to 10 hours per day and then is available for ad hoc care needs through the night – provided that this wakes them up less three times per night. Above and beyond this support, your loved one may need 24-hour care.
24-hour care is particularly suitable for those with medical conditions that need around the clock care and treatment. In this instance two or more live-in carers would split the 24-hour shift to ensure care is provided at all times of the day.
Assessment is key
It's crucial your loved one is professionally evaluated to determine the care options best suited to their requirements. While we may have an idea of what our loved ones need, it's important to receive a professional assessment of the type of care that would benefit them the most.
If you feel your loved one requires an assessment, you can get one by contacting your local authority or your GP. However, if your loved one is in the hospital, one will be carried out by the discharge team.
An assessment will confirm whether your loved one can remain living at home, and whether they require nursing or daily living assistance. Attention will also focus on any existing medical conditions, and make provision for the changing nature of degenerative illnesses.
Whether your loved one needs 24-hour care will depend on different factors – such as specific conditions or progression of conditions, sleep quality and behaviour.
Conditions such as Alzheimer's or Multiple Sclerosis, especially in the later stages can make day-to-day tasks challenging but also can cause problems during the night – such as pain with MS or tendencies to wander for those with Alzheimer's.
In instances such as these, 24-hour care will likely be recommended for the person's comfort, safety and care.
Is 24-hour home care an alternative to care homes?
As older people live longer, there's an ever-increasing demand for quality care. A Laing Buisson survey conducted in 2016 revealed that there are approximately 416,000 people living in care homes across the UK.
This means 4% of the total population aged 65 and older are living in care homes, increasing to 16% living in care homes for those aged 85 and older.
However, attitudes towards residential care are changing. As of 2020 over 70% of people surveyed for the Just Group Plc Social Care Report said they did not want to go into a care home – up from less than 50% in 2013. In addition to that the report found that 64% of over 75's would prefer at home care, in light of the Covid-19 pandemic.
Many people are now choosing to meet their loved ones' needs by providing them with 24-hour care at home instead.
With 24-hour care at home, your loved one is matched with carers on the basis of their care needs as well as their personality to ensure a perfect match.
What are the benefits of 24/7 care at home?
There are many benefits of receiving care while living at home. Live-in care provides a 64% reduction in the likelihood that a person will become housebound which in turn can help reduce depression and loneliness.
A person's perspective and their outlook are critical to the success of daily living. Remaining in a place that they know and love, and are surrounded by the comforting familiarity of community keeps loved ones independent, positive, and reduces anxiety and stress.
Is round-the-clock care expensive?
The quality of one-on-one attention for loved ones round the clock can lead to the misguided assumption that 24-hour care is too expensive for most of us to manage financially.
The average hourly rate paid for round-the-clock care in the UK is £15.50, according to the Health and Social Care Information Centre.
Introduction agencies – those that match you with professional carers – are affordable. Leading home care providers like Elder can offer 24-hour care at home for up to 30% less than a care home. Contact our care support team for a tailored care assessment.
At Elder our prices for live-in care start at £1095 per week.
Funding
Your loved one may be eligible for funding from their local authority. Their financial situation will be discussed alongside care needs during their formal assessment, to make sure they gain access to all avenues of support available to them.
At Elder we recommend a four step plan to funding care which consists of applying for relevant benefits, checking your eligibility for NHS funding, accessing local authority funding, and considering funding care with savings or other assets.
For someone who's care needs are intensive enough to require 24-hour care, it is worth considering whether they are eligible for NHS funding, as this is likely.
Here for you, whenever you need us
Thousands of people up and down the UK live with serious conditions or personal circumstances that require expert care from trained residential care professionals at any time.
At Elder, we specialise in helping you find the perfect live-in carers, who can provide the highest level of round-the-clock care for your loved one. They provide everything your family needs to ensure an elderly relative is as comfortable, happy and independent as possible, all in their own home. We offer expertise in a huge range of care skills, whether they are living with Alzheimer's, hypertension or mobility issues.
Choosing Elder 24-hour care
Our UK-wide network of 24-hour care professionals helps you find the right care for your family. Get in touch with our team to find out more.
Specialist 24-hour carers
We help you find expert carers who offer care in the home around the clock.
Dedicated support
Your dedicated Account Manager remains on hand to answer any questions you have, seven days a week.
Urgent response
If your family needs to find expert live-in carers at short notice, we are here to help.
Colin and Dulcie's story
Dulcie is 100-years-old and lives with her son Colin, his wife Mary, and her Carer Sarah. She has dementia and has had full-time live-in care for six months. We talk to the family about the challenges of finding the right care solution for a fiercely independent woman – and how the positive benefits of live-in care with Sarah has transformed all of their lives.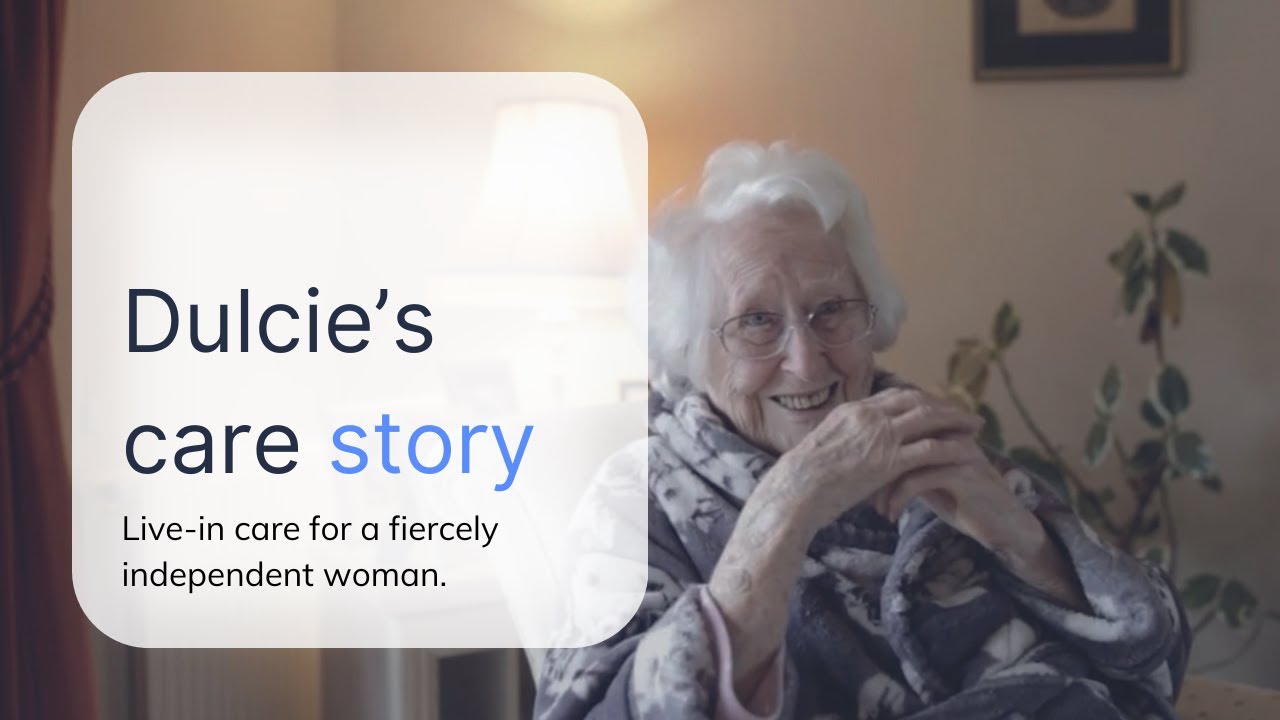 Get in touch for expert care advice
Care in the home
We specialise in helping families up and down the UK find carers with the skills and expertise to look after elderly relatives with specialist care needs, in their own homes. We assess your unique requirements, and identify the right local experts to help look after your loved ones 24 hours a day in a comfortable environment.
Trusted carers, whenever you need them
At Elder, we believe that finding the right person, with the right care expertise is central in ensuring your loved ones receive the physical and emotional support they need to live happily and independently. That is why our carer network covers the entire UK, and you can have a carer in your home within 24 hours if you need one urgently.
Affordable round-the-clock care
We are completely transparent about our pricing structure at every stage of our process. Our initial consultancy process is completely free of charge and you can contact our team at any time if you have any questions about 24-hour care in the home.
Frequently asked questions
How is a 24-hour care plan structured?
Elder-approved carers work for up to ten hours a day each, taking their breaks intermittently throughout the day, but only when it is absolutely safe to do so. This carer will also be on-call throughout this time, in the event of an emergency. Each live-in carer requires a spare room in your loved one's home to sleep in when they are on call or between shifts.
For a 24-hour care plan, the care recipient's home would need two carers and therefore two spare rooms. As with our standard plans, if and when your live-in carer requires time off, a respite carer will move in to cover their responsibilities. Respite carers are held to exactly the same high standards of vetting and background checking as any other Elder home carer.
What happens if my loved one requires help during the night?
If your care plan requires just one carer, who is on duty during daylight hours and on call during nighttime hours, then we plan for up to three wake-ups per night on average. Whatever the reason for your loved one requiring care assistance, we can implement a number of ways of notifying the carer, including an alarm, a bell or a mobile phone alert.
Should the care needs of your loved one require more than three carer wake-ups per night on average, the carer will notify us directly and we will help you create a two carer plan.
When do 24-hour care plans require more than one carer?
As mentioned above, there is a distinction between someone being on-hand 24/7 and two carers providing 24/7 care.
Some progressive conditions, such as Alzheimer's, dementia and later stage cancers require constant supervision to ensure that the care recipient is safe and happy. Particularly with conditions that affect memory or the ability to sleep, the enduring support of a carer is key in ensuring they receive a level of care which allows them to love in the utmost comfort.
When these conditions require more than three carer wake-ups during the night, we recommend that a second carer be brought in wherever possible.
What is the pricing structure for 24-hour care plans?
We create holistic 24-hour care plans to make your life easier when looking for a two carer plan, rather than requiring you to pay for two single carer plans like other care providers.
Our pricing for 24-hour care plans is tailored depending on your loved one's unique needs and requirements. Visit our pricing page to learn more about our pricing structure and to book a consultation.
Which kinds of older people require 24-hour care?
Many older people with either progressive medical conditions, disabilities or physical limitations require a helping hand at all times.
Some conditions such as Alzheimer's and dementia can affect memory or ability to complete day-to-day tasks such as washing and going to the toilet, while physical disabilities such as multiple sclerosis (MS) can cause pain in the night and inability to sleep.
At Elder, we believe that everybody deserves the care they need to live their lives as comfortably and happily as possible, that is why we offer bespoke care plans to fit all needs, be they round-the-clock or otherwise.
Learn more about Elder
Read more care advice