Live-in Care: What Is It?
You may be wondering what exactly live-in care means and how a live-in carer can help to look after your loved one as they grow older. Here is a guide to how a 24/7 live-in carer could meet your loved one's daily needs and provide companionship so that they maintain the highest quality of life possible in their later years.
Personal Care
The services provided by in-home care agencies can be tailored to include whatever level of assistance with personal care the care recipient needs. If your loved one has problems coping with incontinence issues for example, a live-in carer will support them with this as well as helping with washing and general hygiene, dressing, applying their makeup or shaving. A live-in caregiver is there to meet your loved one's needs, even if these are quite complex.
24/7 care means that there will be someone there overnight too, so if support is needed during the night, it will be there. This gives you the peace of mind of knowing there is always someone there for your loved one whatever the time of day or night.
Practical Help
In addition to the usual elderly care services that home care can provide, a live-in carer will also carry out domestic tasks such as shopping, light housework, washing and ironing. Private live-in care means that you will not have to be worried that the care recipient is eating properly because the carer will plan and cook nutritious and balanced meals for them every day.
If your loved one has animals, but they now find they need help to look after their pets, the carer will be able to assist with this too. This enables the care recipient to continue to enjoy the companionship of their beloved pets, rather than having to give them up because they cannot look after them any longer or because they have had to go into a residential elderly care facility.
This is one reason why it's so important for private care providers to match a carer with the care recipient carefully, to ensure that all their needs can be met.
Help With Day to Day Tasks
Even something as simple as answering the door can be difficult or impossible for some older people, but with a dedicate home carer it means there is always someone to pick up the phone or go to the door. In addition to the practical help, this also provides a vulnerable person, especially those who need dementia care, with protection against anyone attempting to defraud or deceive them.
If your loved one needs help with their correspondence or day to day financial matters, a caregiver they trust will be able to help with this. They will also assist with managing any arrangements such as hairdressing or healthcare appointments, social outings or shopping trips. Many carers can drive the person they are caring for, or will otherwise accompany them. This means that the care recipient is able to maintain their independent living standards without feeling that they are imposing on family members.
---
Dulcie's care story
Duclie is one of our longest serving customers. In this video her and her family talk through their decision to arrange care in the home rather than the care home.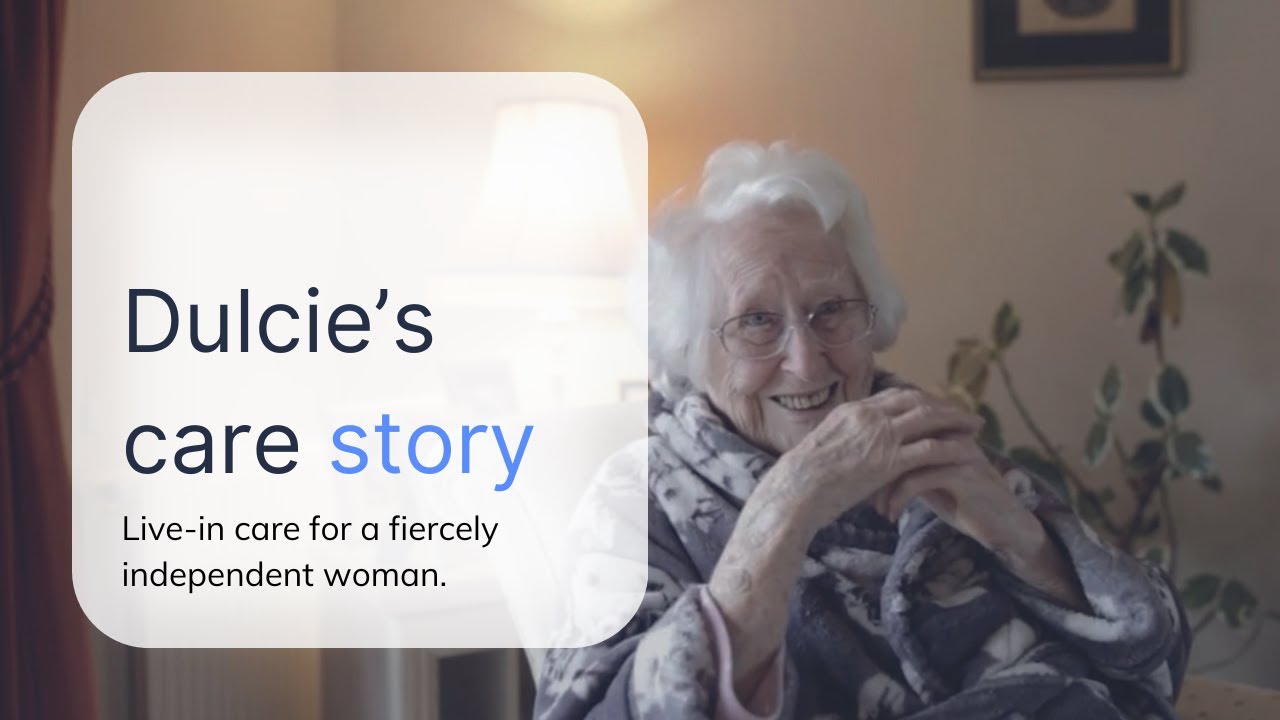 ---
Emotional Support
Most people would prefer to stay in their own home as long as possible, but loneliness can be a problem. Private care in the home can enable your loved one to remain happily in their familiar environment. They can continue to live surrounded by the things they love but with the added benefit of the companionship they may be missing.
Private care providers will work hard to ensure that the carer and care recipient are well matched and have plenty in common. They will look at things like interests and hobbies, likes and dislikes and personality, and try to match your loved one with carers with whom they will really get on well. Your loved one could continue to enjoy the pastimes and hobbies they always have, supported by someone who really understands.
Peace of Mind
It can be difficult and stressful when you know your loved one needs elderly care at home, especially if the situation has arisen suddenly and you need an urgent solution. Keeping your loved one safe, happy and well cared for is the number one priority. You naturally want to find quality care and this is where private live-in care can help.
In addition to giving you the peace of mind of knowing you have done the best possible thing for your loved one, care at home also provides the care recipient with peace of mind. Many elderly people worry that they may be a burden to their family members, and even if you don't see it that way, they will often be much happier knowing that a professional carer can meet their needs.
More Complex Care
If your loved one has a condition such as Alzheimer's disease or another form of dementia they will benefit from being cared for in familiar surroundings. These conditions may make their needs more complex, but many of our carers are specially trained in providing expert dementia care. They will have a deeper understanding of the issues involved in conditions like this and will know how best to respond to any challenging situations that may arise.
Specialist Alzheimer's care training helps caregivers to communicate effectively with people who are experiencing the changes dementia can cause, and ensures that they can provide the best care for your loved one. Being able to remain in their own home can be very reassuring for people experiencing the uncertainty and anxiety that dementia often causes.
If you want to help your loved one feel encouraged to remain mobile and independent, and enjoy the later stages of their life, care from a live-in caregiver is often an ideal solution.
Call us for expert live-in care advice
You may be wondering what exactly live-in care means and how a live-in carer can help to look after your loved one as they grow older. Here is a guide to how a 24/7 carer could meet your loved one's daily needs and provide companionship so that they maintain the highest quality of life possible in their later years.
Related Questions
Live-in Care: The Questions You Need to Ask
If you are considering live-in elderly care for looking after a loved one, you will want to carry out some research before to help you make an informed decision on the best care solution that suits your specific needs. Here are a few of the questions you should ask when selecting a qualified care provider.
How Can Live-in Home Care Help With Diabetes?
Many of the day to day activities we take for granted can become difficult for older people with mental health problems. Coping with housework and general domestic duties may pose problems, so this is one area where companion care can help. In addition to supporting your loved one with practical tasks around the home, a live-in carer will help with meal planning and preparation so that they will receive a nourishing diet which promotes good mental health.
How Can Live-in Home Care Help With Learning Disabilities?
Learning disabilities come in many different forms, but they all have an impact on a person's ability to live a full and independent life. In the past, residential care was the only alternative to an elderly person remaining in the family home, but nowadays, thanks to the increasing popularity of live-in care, there is a practical and viable alternative to institutional care.
How Can Live-in Home Care Help With Senior Depression?
Senior depression is becoming increasingly common, although it is not well understood. Everyone feels a little bit sad from time to time, and this is perfectly normal, but depression in elderly people can have insidious health effects and so it needs to be diagnosed and treated as early as possible for the best outcome.
Live-in care: can it help someone overcome loneliness?
Every year, the Marmalade Trust hold their annual Loneliness Awareness Week, drawing attention to the fact that one-third of older adults over the age of 60 in the UK will experience loneliness in later life. Here we look at the problem of loneliness and the potential for live-in care to offer a solution.