Live-in Care: How Does it Work?
If you are looking for care for a loved one but are uncomfortable with the idea of sending them into a residential or nursing home, professional live-in care could be the ideal solution. In addition to being practical and comfortable, this elderly care option can also be very cost-effective.
Personalised Care
A live-in carer resides in your loved one's home so that all their care needs can be met. This is different from home care where carers visit at predetermined times during the day, because it is so much more flexible.
If, for example, your loved one feels like staying in bed for an extra hour or decides they would like to go shopping, the live-in caregiver will support them in their decision and offer whatever help is needed at the time it is required. They will not have to comply with rigid routines as they might in other types of elderly care provision.
In addition to providing care at home, a live-in carer will help with everyday domestic tasks as well as assisting your loved one in their leisure activities. If independent living is important to the care recipient, but you know they need help with some aspects of their daily lives, private twenty-four hour care could be the answer.
Peace of Mind
It can be worrying when a loved one's health is declining, and you know they need help but don't want to take away their independence. Care in the home on a twenty-four-hour basis can give you the peace of mind of knowing there is always someone there for them, providing day and nighttime care, to call on and all their daily needs will be met, without having to consider options such as residential or nursing home care.
Having in-home care from someone your loved one gets to know and trust can make their quality of life much better. If you have previously worried that a loved one may be lonely, possibly after the death of their spouse, arranging for them to have someone living with them and providing care can reassure you that they will have the companionship they need as well as physical help with care support and domestic tasks.
Familiar Surroundings
People who have lived in their own home for many years are usually very reluctant to move, even if they know that they need help with many aspects of their lives. A live-in carer can enable the older person to remain in their own home where they feel comfortable and safe.
This is especially important if your loved one has dementia, because they can become very upset by changes in their environment and this can make their condition worse. A specially trained carer can provide dementia care and a high level of support for your loved one in the comfort of their own home.
---
Dulcie's care story
Dulcie is one of our longest serving customers. In this video, she and her family talk through their decision to arrange care in the home rather than the care home.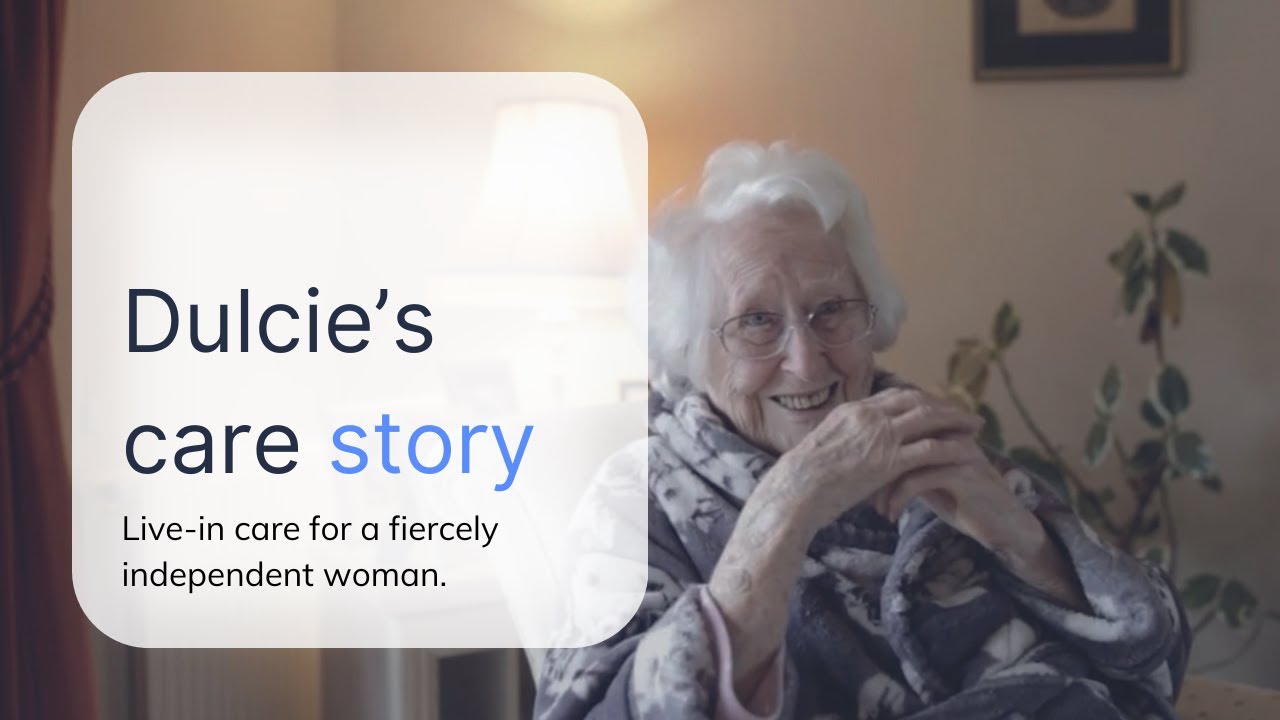 ---
When is Private Twenty Four Hour Care Needed?
24/7 care at home is the ideal solution for elderly care. It may be that your loved one has been receiving domiciliary care but these visits are no longer sufficient to meet their needs, and more care is required. Sometimes a person has tried residential care but is unable to settle in an institution surrounded by so many other people, and is much happier in their own home.
Couples with different care needs often find that the best and most cost-effective way for them to stay together is to opt for 24/7 care at home. If your loved one is in hospital, they may need to have twenty-four hour care in place before they can be discharged. In this case, the only alternative to admission to a residential or nursing home is to arrange for private care from a resident carer in their own home.
Many people choose live-in care so that they can retain their independence and live exactly how they wish in the comfort of their own home.
The Practicalities
A carer will need their own room in your loved one's home. Breaks during the twenty-four-hour shift and sleeping hours can be very flexible depending on the needs of the care recipient.
Usually there will be two carers who work on a rotating basis; for example two weeks on and two weeks off. This guarantees continuity of care and enables your loved one and the carer to develop a solid and trusting relationship.
A carer will be chosen to match well with your loved one. The care provider will work to find someone who shares similar views and interests, so that they have plenty in common and get on well together. The carer will also be able to support the person to continue with their favourite activities, get out and about, and act as both a professional carer and companion to the care recipient.
Alzheimer's Care
People with dementia can be very unsettled by changes in their environment or daily routine, which is why dementia care from a live-in carer can be so much better than other forms of elderly care. Even if they stay in their own home with visits from domiciliary care assistants, the number of different people coming and going can often be very disturbing to someone who has memory problems and may be confused.
The situation can be even worse if they have to go into residential care where there is a strange environment as well as so many more people and lots of confusing noises.
Twenty-four hour care in their own home works by enabling the care recipient to stay in the place they are most comfortable, with all the support and companionship they need, and the best quality of life they can enjoy.
Call us for expert live-in care advice
If you are looking for professional care for a loved one but are uncomfortable with the idea of sending them into a residential or nursing home, private live-in care could be the ideal solution. In addition to being practical and comfortable, this elderly care option can also be very cost-effective.
Related Questions
Live-in Care: The Questions You Need to Ask
If you are considering live-in elderly care for looking after a loved one, you will want to carry out some research before to help you make an informed decision on the best care solution that suits your specific needs. Here are a few of the questions you should ask when selecting a qualified care provider.
Live-in Care: What Does It Provide?
In addition to elderly care, live-in care provides support in many areas of life as well as companionship for your loved one. Read on for more details of what this form of in-home care provides.
Live-in Care: What Is It?
You may be wondering what exactly live-in care means and how a live-in carer can help to look after your loved one as they grow older. Here is a guide to how a 24/7 carer could meet your loved one's daily needs and provide companionship so that they maintain the highest quality of life possible in their later years.
Care for the Elderly: Grooming and Hygiene Guide
Maintaining good personal hygiene is important as your loved one ages, but it is not always easy to intervene if you feel they are not coping well. Poor hygiene can result in uncomfortable infections and skin complaints, so to avoid this, you or your loved one's caregiver may have to encourage them tactfully to accept some assistance. They may be more willing to agree to the support on offer if they realise that it will enable them to retain a level of independent living.
Death of a Spouse: How to Care for Ageing Parents
Losing a parent is hard, but harder still for your surviving parent, who must now face life alone after many years as a partnership. Your surviving parent is likely to be overwhelmed by feelings of grief and loss and will need huge amounts of understanding and sympathy over the coming weeks, months and years.