Whether you are looking to privately arrange live-in care, use a live-in care provider, or an introductory agency – there are plenty of options to consider.
It's essential when arranging live-in care to keep the best interests and personal circumstances of the person needing care at the heart of the conversation.
Live-in care enables elderly people to stay in their own home, which, depending on their needs can be the best option. As an increasingly popular alternative to care homes for those with
higher support needs
– it's important to understand everything from arranging live-in care, to the
benefits of it for 
the person needing care and their family.
This form of elderly care is one of the best ways to help an older person stay safe and remain independent in the home they've spent years building. However, because it's dedicated, one-on-one care, finding the right care company and carer is an essential step.
When looking for a carer it's not just down to skill, background checks, or even experience – it goes to the heart of who the person needing care is, what they enjoy doing, what type of person they get on with, and ultimately, how they like to live their life. Having a holistic view of an individual's needs is crucial when arranging live-in care.
Even though a carer is there to support them with the practical elements of life, they're also there to enable an older person to have the best possible time they can. That means companionship. It means friendship. It means building a relationship of mutual trust and understanding.
There's a lot at stake. And, although you should always be aware that a great relationship won't always happen overnight, taking care when making that initial match can make a world of difference. 
Stories of friendship and support
Elder customers have some incredible stories to tell about their experiences of live-in care. From finding a new friend to sing and dance with, to building a solid support network – find out how carers are changing the lives of older people. 
What kind of home care is available?
Live-in carers offer various forms of home support for their care recipients, from helping them get dressed, and taking them to the toilet, to accompanying them on trips around the local neighbourhood. They're ultimately there to help people stay independent, while ensuring they're safe, healthy and comfortable.
There are various different types of live-in home care available, such as:
Elder approved live-in carers have to meet our standards, which detail the day to day duties a live-in carer can support with – including domestic tasks and personal care.
Domestic duties
Live-in carers are available to help with the domestic duties around the home – from keeping a tidy house to preparing and cooking meals. They'll support with whatever tasks their care recipient finds difficult to complete on their own. Some of these domestic duties include:
Household cleaning
Laundry 
Preparing meals 
Running errands
Companionship
Looking after pets 
Getting out and about 
Personal care
In addition to assisting with general housekeeping and domestic tasks, live-in carers assist with a variety of personal care needs.
Elder-approved carers understand that accepting personal care assistance can be complex. Loved ones may feel too proud to admit they need support in this way, or worry about a loss of dignity. Therefore, carers approach all personal care scenarios with patience and understanding. Some of the personal care support offered is:
Washing and grooming
Getting dressed
Toileting 
Support with mobility 
Sleep and night-time support 
Providing medication reminders 
Who can help you arrange live-in care?
For many, the first step in arranging care will be to organise a care needs assessment with their local authority. This will not only help define specific care needs, but also gets the ball rolling in terms of deciding what type of care is most suitable, and begins the process of getting your funding eligibility assessed.
Arranging a needs assessment
Anyone can apply for a needs assessment, which is undertaken entirely free of charge.
Someone from social services will visit you or your loved one to assess health and social care needs to determine what level of help is required. Social services will also inspect the home to see what adjustments are necessary to make it safer and ready for home care. Following the needs assessment, you'll be presented with a care plan, outlining the type of help that is required.
Your local authority should then be able to go through care options with you.
Often, social workers or occupational therapists – the professionals helping you out with care decisions – won't automatically raise the prospect of live-in care with you. So, if this is an option you're favouring, you need to be proactive and ask them for more information.
If you've already picked a favoured company, you should also ask them about direct payments, so that you have complete control over how any funding available to you is used.
If you or a loved one is currently in hospital, living with a chronic condition, or is looking to begin a palliative care plan,  you may be eligible for full live-in care funding. through NHS Continuing Healthcare. 
However, it's worth noting that this type of funding is reserved for those with intensive health and care needs, meaning those who qualify may require specialist care, for example PEG feeding or stoma support. This falls outside of what an introductory service like Elder can provide. 
Live-in care options
If you've decided live-in care is the best option for, it might now seem daunting to be faced with even more options when it comes to the type of provider to choose. However it is important to do your research so you can make the most informed choice. 
There are different types of live-in care companies to consider, and different ways to arrange live-in care – privately – becoming an employer directly, through a managed service live-in care provider, or through an introductory agency, such as Elder.
First steps to arranging care
Consider the best care option for you and your family. You should discuss the best care options for your personal circumstances, and make sure to put your loved ones' opinions and feelings at the forefront. If you're finding the conversations difficult, this advice from an Integrative Therapeutic Counsellor, who specialises in talking therapy.  
Seek a care assessment from your local authority or  NHS. Local authorities can provide a care needs assessment, during which you can vocalise your desire for live-in care. An NHS Continuing Healthcare checklist can be undertaken by a healthcare professional at a hospital or your GP.
Request a direct payment. Following an assessment by your local authority or the NHS, and once you have your personal budget, you can request for the money to be paid into your bank account. This gives you control over the funding.
Arrange care with your chosen care company. Find out more about how Elder works to make an informed choice.
Using council-run services 
As we've mentioned above, the first step in arranging care should be to contact social services for a care assessment – as they can evaluate your loved ones needs.
Your local authority may provide care services, or you can choose a separate care provider if you prefer. If you or your loved one are entitled to a financial contribution from the local council, you're at liberty to spend the allocated funds on the type of care you feel is best. 
Bear in mind that council-run services are under extreme pressure, so if you'd prefer a more tailored and personal service it may be best to consider alternatives.
Arranging private live-in care
Advantages
You can choose the carer yourself – usually a friend or family member, or you may choose to provide care yourself.
You have control over the arrangements.
The carer lives in the home and is available for around the clock support.
Disadvantages
Legal employer obligations, such as holiday and sick pay.
You're responsible for arranging any respite care.
It can cause personal rifts if the carer is a friend or family member.
You may decide to employ someone to provide in-home care directly.
Private live-in care is usually arranged with a friend or family member – however, there are other ways to find a live-in carer privately such as on websites like Gumtree, or posting on job sites and/or local job boards.
This can work out for some people, but there is a fair amount of work to do, and you'll have various legal responsibilities that may add to your stress levels rather than reducing them.
A friend or family member may appear to be a sensible choice, but problems may arise in your relationship with the carer since you will be their employer, as well as their friend.
Even if you think you know someone well, it's advisable to get a DBS check and two written references before offering them employment. If you've advertised for someone to provide elderly care and employ someone you don't know, this is even more crucial.
As an employer, you'll have to meet certain legal obligations. These include providing the person employed to deliver twenty-four hour care at home with a written statement of employment or contract, and paying them accordingly.
In addition to being paid at least the National Minimum Wage, your employee will also qualify for holiday pay and statutory sick pay. You'll also need to ensure they are covered by Public Liability Insurance and Employers Liability Insurance.
Other responsibilities include ensuring that the carer does not work over the maximum allowed hours in a week, and allowing them adequate rest breaks. You'll need to be mindful of, and look after the carer's health and safety, and will need to provide them with written details of disciplinary and grievance procedures.
You may also be responsible for their Income Tax and National Insurance affairs, and for making pension contributions in some cases, so you'll need to research your obligations with the HMRC.
Using a live-in care agency 
A live-in care agency specialises in providing home care, and their live-in carers are matched with those who need support based on a number of factors, before being placed. 
If you'd prefer not to source your carer privately, you can choose to use the services of an agency, which is the route most families prefer. The hard work described above of checking references, undertaking DBS checks and going through CVs is done for you. And in many instances, the agency will either arrange payment of the caregiver on your behalf, or will offer you sample contracts and perhaps offer a payroll service too.
While you may save a little money by going through the hiring process yourself, this can become quite time-consuming, and many agencies offer a range of services that can make the extra cost worthwhile, such as carer training courses and e-learning programmes. If your chosen caregiver is ill or unable to attend, an agency will source a replacement as quickly as possible too. You or your loved one won't need to worry about being left without a carer.
When you choose a caregiver through a reputable agency, you'll find that there is always someone on hand to deal with any problems that arise. This can be particularly helpful when your care needs are complex. In the end, it all comes down to personal choice and convenience.
Fully-managed live-in care providers
Advantages
An easy and safe way to find a reputable care provider.
You don't have to worry about legal and employment obligations.
Live-in care providers are regulated by the Care Quality Commission (CQC).
Disadvantages
Often a lengthy process as the carer is employed directly by the provider.
Is usually a lot more expensive than either private or introductory agencies.
There's can be much less choice over the carer that's coming in. 
This is one of the easier ways to find the right person to provide 24/7 care for your loved one. It's easier and safer to use a reputable care provider to supply a professional live-in carer, and you won't have all the worry of sorting their tax and National Insurance matters, because you'll simply pay the fees to the care provider who then pays the carer's wages.
Fully-managed providers are regulated by the CQC in England, or the Care Inspectorate in Wales and Scotland. This means you're able to access their rating on the Commission's website. While this is reassuring, you should also be sure to ask tough questions about the company's vetting process, as well as each carer's skills and experience.
It may also mean that while you and your loved one will be able to specify what care is needed, and what other tasks are expected as part of the arrangement, the provider will ultimately be in charge of shaping your care plan and directing how care is delivered – which can be great if you're looking for a hands off approach. 
Advantages
Quick and simple way of finding a qualified live-in carer. 
Introductory agencies have already carried out all screening and necessary checks for you.
With Elder, for example, your loved one is matched with a carer based on their care needs and personality. 
Respite care is arranged by the agency, quickly and easily, whenever necessary.
Disadvantages
Carers are not employed directly by the agency.
Carers are self-employed and therefore responsible for their own tax payments. Although they can get support with this.
Companies like Elder do not fall under the regulation of the CQC, so they have their own vetting processes.
You take on a slightly more hands-on role in managing your carer.
An introduction service for live-in carers is offered by some agencies. This is less complicated and quicker than employing someone directly, because the agency will have carried out the necessary pre-employment checks to screen for suitable candidates.
If you opt for a live-in carer who has been introduced by one of these agencies, they'll normally be registered as self-employed. This is an advantage, as they will be responsible for their own national insurance payments and Income tax return.
An introductory agency will also be able to help arrange respite care quickly and simply whenever the primary carer needs a break – so you don't have to worry about it.
Arranging specialist care
Independent living can still be possible for people with cognitive difficulties such as Alzheimer's disease and other long-term conditions.
In fact, dementia care is ideally provided in the home, since people living with this condition can easily become upset or agitated in an unfamiliar environment.
At Elder many of the carers on our platform have experience providing –
When you approach the care provider, you'll have an opportunity to discuss all your care needs and wishes, and they'll ensure that the carer who is selected has all the necessary experience and relevant skillset. One way of finding a suitable provider of elderly care is by personal recommendation from someone who has experience of the service. Asking the provider about the recruitment, their ongoing role, and the support they provide to carers will also indicate whether the service they offer will be suitable and have a positive impact on your families situation. 
How Elder can help you find a live-in carer
Elder makes a conscious effort to involve the whole family in arranging care, to ensure the best outcome for everybody.
Everyone can have a free consultation with a member of our care advisory team – in which various aspects of the arrangement can be discussed, from understanding whether live-in-care is the most suitable option, to the funding that's available.
From there, you can complete an online care appraisal – which is where you can tell us more about person needing care, the type of care that's needed, and the home environment. This'll be reviewed by a member of our in-house clinical team, and if live-in care is suitable we'll begin the matching process.
We'll work with you and your family to ensure a carer match is made based not only on care needs, but personality fit and interests too. 
MyElder
My Elder lets you manage your care all in one place – you can update payment details, read carer profiles and keep all your loved one's details up to date.
Following this, you'll receive an introductory video of your carer and their profile, so the whole family can make an informed decision – once confirmed, your trial week can begin and you can manage your care easily with My Elder.
Frequently asked questions
What is live-in care?

Live-in care offers 24-hour a day support for those with care needs, including complex care. A live-in carer helps with personal care, medical care, housekeeping tasks and daily errands, as well as things such as cooking and pet care. Live-in care also provides your loved one with full-time companionship and support in anything they need.

Who chooses live-in care?

Live-in care is a great option for those who wish to retain their independence, whilst still receiving full-time care and support. For those with general care needs such as arthritis, to those with complex care requirements including dementia, Parkinson's and stroke recovery – live-in care provides full-time support for medical treatment as well as day-to-day care.

How do you arrange care at home?

Depending on the specific type of home care you're looking for, you can arrange it through a variety of channels. If you wish to have your local council help with home care you'll need to start by asking for a care needs assessment, and from there you can arrange home care with the help of your local council.

Alternatively, if you're looking to privately arrange home care you can look at home care agencies and live-in care specialists. You can arrange live-in care privately with family members, although this does carry its own risks.

A live-in care provider or introductory agency will be able to help you arrange live-in care with specialist, trained live-in carers.

What do private live-in carers do?

A private live-in carer is someone who will live in your loved ones home and take care of their care needs. If they're privately arranged you will be responsible for their employment – including sick pay, holiday entitlement and respite care.

Will the council pay for a live-in carer?

Depending on your loved one's financial circumstances, the local council may help fund a live-in carer. The first step in this process is to contact social services and request a care assessment.

For those who are not eligible for local authority funding, there are additional measures which can be taken to help with funding live-in care, such as claiming relevant elderly benefits and accessing private savings. You can find out more about funding live-in care here.
Read more live-in care articles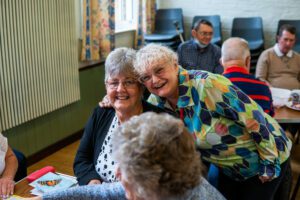 How Can Live-in Home Care Help With Learning Disabilities? Learning disabilities come in many different forms, but they all have an impact on a person's
Read More »