You've reached us outside of our opening hours. Book a free telephone consultation and one of our care planning experts will give you a call whenever is convenient for you.
How Can Live-in Home Care Help with Stroke Recovery?
According to the Stroke Association, stroke is one of the main causes of disability in the UK at the present time, with over half of all stroke survivors experiencing some form of stroke-related disability once they leave hospital.
The organisation reports that, in 2017, there are well over a million stroke survivors in the UK, with a stroke occurring approximately every five minutes, which equates to over 100,000 strokes every year.
What is a Stroke?
There are two main types of stroke: an ischaemic stroke, which is caused by a blockage in one of the blood vessels in the brain and accounts for around 85 per cent of all strokes in this country, and a haemorrhagic stroke, which is due to bleeding in the brain.
There's also a third type of stroke named a TIA, or Transient Ischaemic Attack, which results from a temporary disruption in the blood flow to the brain. Symptoms usually resolve within around 24 hours or so, but a TIA is often a precursor to a full-blown stroke and should never be ignored.
What causes a stroke?
Anyone can suffer from a stroke, including children, although this is relatively uncommon. In general, stroke is thought of as a condition that affects mainly older people due to the narrowing and hardening of arteries as we age. This process can be exacerbated by lifestyle factors and some medical conditions, making it more likely that some people will experience a stroke.
The long-term effects of a stroke
No two strokes are the same, and people are affected differently depending on the part of the brain that bleeding occurs. Some people can recover very quickly with few problems, while others may encounter more serious problems. Recovery can also be affected by the speed with which a stroke is diagnosed, as early interventions have the most favourable outcomes.
---
Dulcie's Care Story
In this short video, Mary and Colin explain how Dulcie's live-in Elder carer, Sarah, has become part of the family.
They discuss how live-in care has allowed Dulcie to stay independent in her own home, while making a new friend at the same time.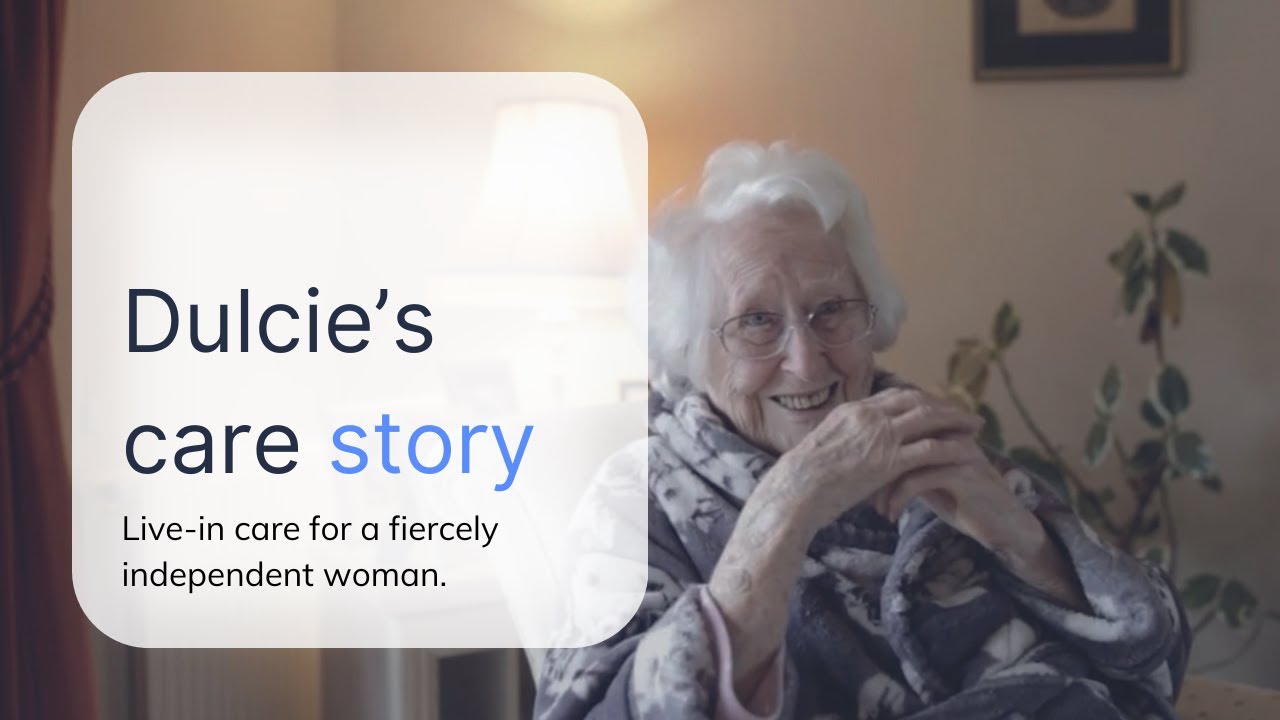 ---
Why choose care at home following a stroke?
If your elderly loved one has suffered a stroke, then the chances are high that they will want to return to their own home as quickly as possible. However, depending on which part of the brain was affected, they may have distressing symptoms to cope with for some time following their stroke, such as loss of speech or movement. No two strokes are the same, and so there is no 'one size fits all' solution when it comes to recovery.
Someone who has suffered a stroke is likely to have complex needs once they return home, which may be beyond the scope of family members. For example, your loved one may struggle with mobility and independence.
They may need help with sitting up, getting dressed, bathing, toileting and other aspects of personal grooming and hygiene. They may not be able to make themselves understood if their speech has been affected, and they may become easily confused.
Where they have a partner, he or she may not be strong enough to cope with the work involved in caring for your loved one, but is nonetheless keen for their partner to return to the family home.
A dedicated live-in carer is an ideal solution, where a trained and empathetic caregiver moves into your loved one's home and offers 24/7 care. The carer will be trained in all aspects of post-stroke care and can help with your loved one's rehabilitation, taking the pressure of care away from family members who may not have the knowledge and skills needed to provide round-the-clock support.
Personalised home care is becoming an increasingly popular alternative to the more traditional care home model, as it allows people to recover in the privacy and comfort of their own homes.
Surrounded by familiar possessions, your loved one can relax and concentrate on regaining their health without any of the disruptions associated with moving into residential care.
Caregivers can provide a range of elderly care duties, encompassing anything from companion care through to the demands of dementia care – and some types of stroke can ultimately lead to vascular dementia if some parts of the brain have suffered irreversible damage.
The carer can liaise with other therapists involved in your loved one's treatment, such as physiotherapists and language therapists, ensuring that daily exercises are carried out and that medications are dispensed as prescribed.
Unlike in residential care and nursing homes, your loved one will be looked after by a maximum of two dedicated carers who will work on a rota, enabling carer and care recipient to form a strong mutual bond of trust and friendship which can help in your loved one's recovery.
Rather than having to interact with many different carers and specialists, your loved one experiences the security of being cared for by one trusted person who can take the time to discuss all aspects of their recovery in great detail, for complete peace of mind.
Given time, the outlook for most stroke patients is good, but recovery received in the home from a familiar face is an excellent way of ensuring the most positive outcome possible.
Call us for expert live-in care advice
A dedicated live-in carer is an ideal solution for stroke recovery. The carer will be trained in all aspects of post-stroke care and can help with your loved one's rehabilitation, taking the pressure of care away from family members who may not have the knowledge and skills needed to provide round-the-clock support.
Related Questions
How Can Live-in Home Care Help With Loneliness?
Older people may have lost their spouse, and as their closest friends pass away or move to be nearer to their families, they can quickly experience the isolation of loneliness, particularly if they have any health problems that make it hard for them to get out and about. But even those in perfect health may find that loneliness has a profound impact on their day-to-day lives.
How Can Live-in Home Care Help With Vascular Dementia?
If your loved one has received a diagnosis of vascular dementia, you may have noticed that they are finding everyday living harder and harder to manage. Memory problems can make it difficult for elderly people to carry out even the most basic of tasks when it comes to caring for themselves and their home.
Live-in Care: How Does it Work?
If you are looking for professional care for a loved one but are uncomfortable with the idea of sending them into a residential or nursing home, private live-in care could be the ideal solution. In addition to being practical and comfortable, this elderly care option can also be very cost-effective.
Live-in Care: How Do I Pay for It?
If your loved one needs help to remain in their own home, live-in care could be the answer. There are various ways to pay for this type of elderly care, which can be more affordable than you might think. Here are some options you may like to consider when arranging 24/7 care in the home for your loved one.
Live-in Care or Care Homes: What's the Difference?
The difference between live-in care and a residential care home is that in the first model the person stays in their own home, whereas in the latter they move into a building with other people who also need care. If your loved one needs assistance with their day-to-day life you might think they could be better off in a care home. However, most people are happier in a familiar environment, and it is advantageous to keep them there as long as they receive the care they need. Private live-in care is the ideal answer.