You've reached us outside of our opening hours. Book a free telephone consultation and one of our care planning experts will give you a call whenever is convenient for you.
How Can Live-in Home Care Help with Cancer?
The elderly can be affected by many different types of cancer, all of which can limit their social lives and the amount they can do around the house.
If your loved one has been diagnosed with cancer and you are concerned about how they will manage, then employing a live-in care worker to help them can give you the peace of mind which comes with knowing that they are being well looked-after and supported at all times.
Cancer can be an extremely debilitating illness, affecting the sufferer both physically and emotionally. Receiving a cancer diagnosis is always a frightening and daunting experience, made all the worse if the sufferer is elderly and already finding day to day living a struggle. Additionally, understanding how to care for a parent or loved one with cancer can come with its own challenges.
What is cancer?
Cancer is a condition which can strike anyone, at any age. It is caused by the uncontrolled growth and reproduction of cancerous cells, which can spread to healthy tissue and organs in a process known as metastasis. Some of the organs most commonly affected include the stomach, breasts, lungs, prostate, bowel and liver, although there are more than 200 different forms of the disease and each is treated very differently.
It is estimated that more than a third of the population will suffer from cancer at some point in their lives, but certain lifestyle choices can make it more likely that an individual will develop the disease. A poor diet, smoking, excessive alcohol consumption and being overweight can all increase the likelihood of developing cancer, although it can strike anyone at any time.
Spotting the symptoms
Unusual or unexplained changes to the body are often the first early warning signs of cancer; discovering a lump, for example, or a change to your bowel habits. The earlier cancer is detected, the better the outlook, so it is important that your loved one seeks medical help immediately if they notice a change which causes them concern.
Certain types of cancer are more easily treatable than others, with the prognosis for cervical cancer, breast cancer, testicular cancer and prostate cancer having far better five-year survival rates than pancreatic, lung and colon cancer, for example.
---
Dulcie's Care Story
In this short video, Mary and Colin explain how Dulcie's live-in Elder carer, Sarah, has become part of the family.
They discuss how live-in care has allowed Dulcie to stay independent in her own home, while making a new friend at the same time.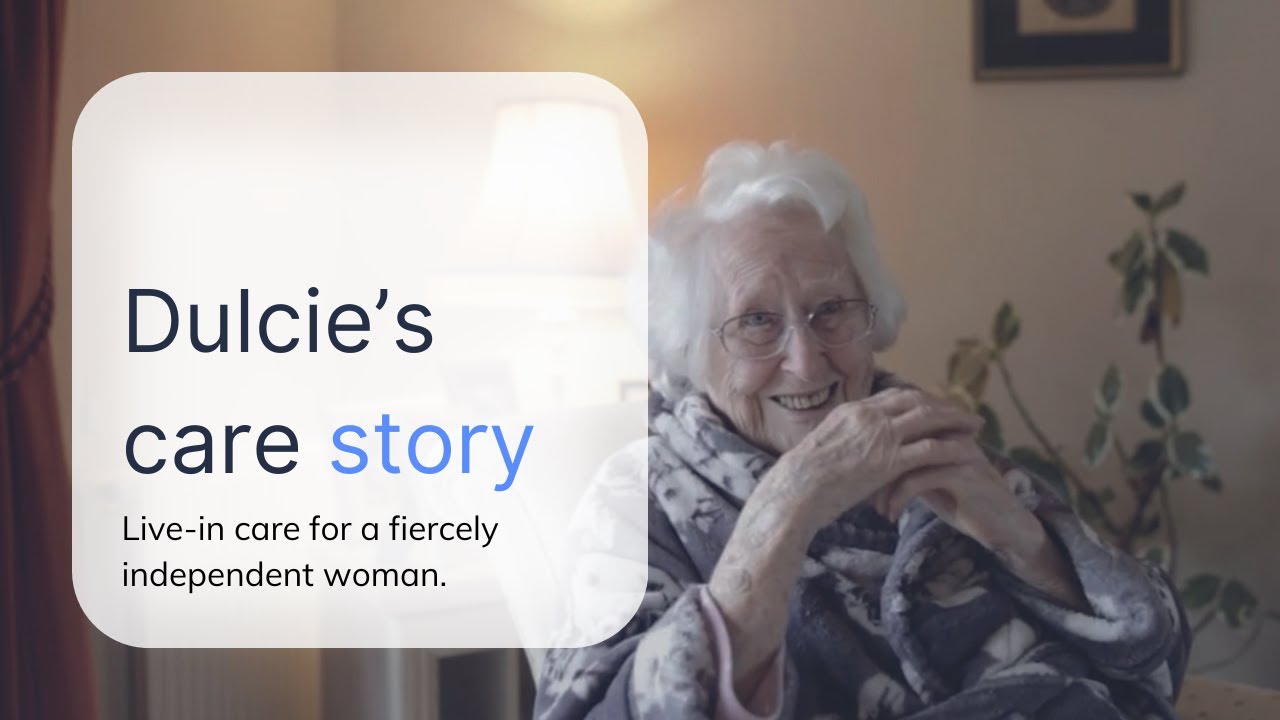 ---
Reducing the risk
Some people are at greater risk of developing cancer if they have a family history of the disease, although there is no way of accurately predicting such things. While it may not be possible to fully eliminate the risk of developing cancer, there are certain things that your loved one can do to help minimise the likelihood that they will develop the disease.
Maintaining a healthy weight, stopping smoking and eating well are all key in reducing the risk of cancer, as is exercise, which their live-in carer can encourage. Avoiding prolonged periods in the sun can reduce the danger of developing skin cancer, while cutting down the amount they drink can help to avoid developing liver cancer.
While some lifestyle choices can be easily changed, many elderly people will struggle to make changes without assistance. Exercise can be difficult for many older people, particularly if they have mobility issues or are suffering from depression and not interested in leaving the house.
Although people often find their appetite reduces as they age. If your loved one is struggling to do the shopping and prepare and cook meals, they may not be eating enough or may be eating an unhealthy diet, which is where a live-in carer can provide assistance with day-to-day activities.
How can companion care at home help?
If you are concerned that your loved one is at risk of developing cancer or has already been diagnosed with the disease, you will need to consider their elderly care options.
Companion care – or live-in care as it is otherwise known – is an increasingly popular form of elderly care. With a live-in carer, your loved one can remain in their own home and receive all the help, support and companionship they need as they come to terms with and are treated for their cancer. This is particularly beneficial to those in need of dementia care, who could find the upheaval of moving into a care home extremely distressing on top of a cancer diagnosis.
A live-in carer will be with your elderly relative around the clock and can assist with everything from cooking, cleaning and looking after pets through to personal care tasks such as washing, going to the toilet and getting dressed.
They will be able to drive your loved one to and from those all-important hospital appointments and treatment sessions too, ensuring that they receive the care they need. They can also help them to keep up any activities, or social engagements they have enjoyed, as remaining active and mentally stimulated can help ward off the feelings of loneliness and depression which cancer can cause.
Organising home help
If your loved one has been diagnosed with cancer, they may find that they are in pain and drained from the treatment they are receiving. They may also need help in taking medication and remembering when and how much to take on a daily basis, meaning that help at home becomes all the more important.
If you think that your loved one might need regular assistance and round-the-clock care, then organising a home care package with a reputable provider such as Elder could be the answer.
A live-in carer will be able to support your loved one and see that they receive all the treatment and help they need, enabling them to remain as independent as possible in their own home, for as long as they are able.
If you are interested in the services Elder can provide, please get in touch with our friendly team today and see how we can help to support your loved one through their cancer treatment.
Call us for expert live-in care advice
If your loved one has been diagnosed with cancer and you are concerned about how they will manage, then employing a live-in care worker to help them can give you the peace of mind which comes with knowing that they are being well looked-after and supported at all times.
Related Questions
Live-in Care: When Is It Appropriate?
Live-in care can be appropriate on many different occasions and for a variety of people in need of some assistance with in their daily lives. As suggested by the name, this type of elderly care is carried out by a caregiver living in the home of the care recipient, twenty-four hours a day. This increasingly popular option allows people to remain in the comfort of their own home whilst receiving the support they need from a friendly and familiar carer.
How Can Live-in Home Care Help With Arthritis?
If you have a loved one who is finding their daily activities increasingly difficult due to arthritis, you will want to help them in the best way you can. Arthritis can make it difficult or impossible to manage daily tasks, but live-in home care can provide all the help and support that your loved one needs to enable them to enjoy the best possible quality of life they can in the comfort of their own home.
How Can Live-in Home Care Help With Fragility?
If your loved one has problems with mobility, becomes unsteady while walking, or has difficulties when getting in or out of a chair or bed, you may worry that they are at risk of falling. This is when they could benefit from live-in care and support in their own home.
How Can Live-in Home Care Help With Learning Disabilities?
Learning disabilities come in many different forms, but they all have an impact on a person's ability to live a full and independent life. In the past, residential care was the only alternative to an elderly person remaining in the family home, but nowadays, thanks to the increasing popularity of live-in care, there is a practical and viable alternative to institutional care.
How Can Live-in Home Care Help With Senior Depression?
Senior depression is becoming increasingly common, although it is not well understood. Everyone feels a little bit sad from time to time, and this is perfectly normal, but depression in elderly people can have insidious health effects and so it needs to be diagnosed and treated as early as possible for the best outcome.