Myth 1: Isn't care free of charge?
**The truth:** Social care services shouldn't be confused with healthcare services, which are free of charge. Social care is means-tested, so if you have income or wealth, you could be asked to pay for care services in part or full. Many people pay for care privately, arranging support with organisations like Elder. Individuals receiving support through a local authority may also be charged too, depending on government rules on payment.
Myth 2: Councils provide home help
**The truth:** Due to a high demand for care services, many councils now only provide care to people who have an urgent need. In many areas of the UK, demand for services outstrips available funding, so people with higher needs are first priority. People with less urgent needs can arrange to have help with tasks like washing and cleaning, but this is usually arranged privately, rather than through a council.
Myth 3: Care staff are unskilled
**The truth:** Even though caring is a skilled profession, many care workers receive low levels of pay. Providing care can be difficult and the sector is full of fantastic carers. At Elder, we expect our live-in carers to have some qualifications and training, but we also know that some of the best care workers are those with plenty of experience who tend to understand individuals' needs better and therefore provide the right kind of support.
Myth 4: My home will be taken away from me if I need care
**The truth:** For some people, the value of their house is considered when charges are made for care services. But there are still many people who aren't affected by these rules, for example if you're means-tested for home care services, then your home isn't taken into account. Also, if there is a partner or dependent relative living in your property, it remains outside the residential care means test. There are other options available to people who do need to use the value of their property to pay for care.
Myth 5: There's no choice of services — you get what you're given
**The truth:** Councils are trying to make sure individuals are placed at the centre of their care arrangements, with full choice and control about what services and support they use to meet their assessed needs. People who are eligible for support are given a personal budget and can receive it as a cash payment, or ask the council to arrange the support they want. This is called personalisation. It means that individuals work alongside the professionals to set up a care package that they're really happy with.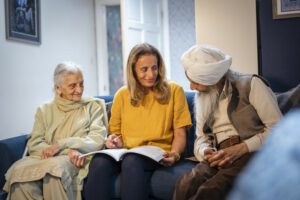 A growing number of people are reaching retirement age with lingering debt – and with the cost of food, utility
Read More »