People with Parkinson's disease and other neurological disorders can also develop forms of dementia. Whatever your loved one's specific diagnosis, if they are living with this condition, they are almost certain to need some level of care and support as it progresses.
Most people think that sending loved ones to a care home is the only viable option when a person living with dementia reaches the point that they need 24 hour care, and in the past this was probably the case. Today there is a solution known as live-in care where companies like Elder take the stress and responsibility out of vetting and managing a full time carer for your loved one.
Dementia Live-in Care
The majority of older people, when given the choice, would wish to remain in their own homes if they could. Professionals largely agree that it is beneficial for those in later life, especially those with dementia, to stay in their familiar environment as it can be very hard for them to accept change.
One option to find home is care is to recruit a private carer yourself. If you organise your own private dementia care, you will need to screen any applicants carefully, check references and ensure that they have suitable dementia care experience and training to be able to provide appropriate care.
You will also have to comply with the legal requirements of being an employer, which can be a large commitment in terms of time and stress. When the carer is on holiday, or absent for any other reason, you will have to engage a suitable replacement, which can cause instability for those being looked after.
The best way to arrange in-home care for your loved one is to find a private live-in care provider, such as Elder, who will manage the whole process of identifying suitable carers, carrying out extensive background checks, ensuring that carers are suitably trained and even go as far as running personality matching assessments to ensure that carers will bond with care recipients.
Should your live-in carer fall ill, go on holiday or be unable to perform their duties for any reason, a live-in care company like Elder will find an equally suitable replacement within hours.
Having a company take care of all the details and hard work means that you do not have to worry about the day-to-day management of your loved one's care.
What is Included in Dementia Live-in Care?
In this type of specialised home care, a trained professional will support your loved one to continue living as independently as possible in their own home. They will move into your loved one's property, and help in any way that is needed. In addition to assisting with the usual aspects of elderly care, such as personal hygiene, bathing or mobilising, they will also perform household duties such as cooking, cleaning and domestic work.
This type of 24/7 care is more like having a skilled family member living with your loved one, and a real friendship can develop between carer and care recipient. The carer will often work on a rotational basis such as two weeks on and two weeks off. When they are away another carefully selected carer will take over. Providers, like Elder, will ensure that the carer chosen for your loved one has the specialist dementia care training and experience they will need to meet your relative's specific needs.
---
Dulcie's care story
Dulcie is one of our longest serving customers. In this video, she and her family talk through their decision to arrange care in the home rather than the care home.
---
Dementia Care Homes
Going to a dementia care home is still seen by many as the only viable option for later life care, especially when dealing with a condition such as dementia. Some care homes can provide dementia care but some cannot. Those that offer more than straightforward elderly care may have higher staff ratios, a specially adapted environment and staff trained in caring for people with dementia.
Many older people are worried at the prospect of going into a care home and having to share their lives with a large group of other older people. For those who have dementia, the move can be disturbing, and they may have problems making sense of the new world they find themselves in.
In a care home, staff are available to help your loved one 24 hours a day. There will be a call bell system to ring for assistance, but staff will also carry out regular checks through the night too.
Disadvantages of Care Homes
A key disadvantage of placing your loved one into a care home is that they have to share all the resources, including carers, with all the other residents and will not get the one-to-one attention they would with live-in care.
Although care homes aim to support their residents to remain as independent as possible, this is difficult when there are so many people with individual needs to care for. It means that the choices about their daily life that your loved one would enjoy at home are curtailed to some extent.
In an environment where everything is provided for them, people can be at risk of losing the ability to carry out the activities of daily living. Unless they are encouraged to remain active, they can become bored and lethargic.
If you are considering putting your loved one into a care home, look beyond the physical environment and try to judge how the staff interact with the residents, and whether the people in the home appear happy and interested in life.
Learn more about dementia care
Take a look at more Elder guides on how to support those living with complex conditions below.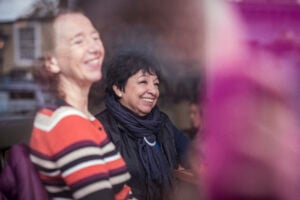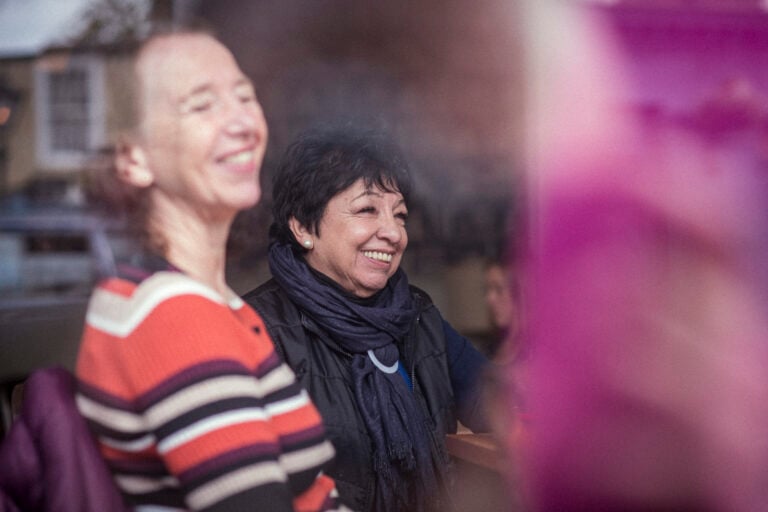 Whatever form of dementia someone may have, it can significantly impact both individuals living with the disease and their caregivers. This guide to Dementia