You've reached us outside of our opening hours. Book a free telephone consultation and one of our care planning experts will give you a call whenever is convenient for you.
How do I arrange home care for myself or a family member?
As we get older, it's only natural that some daily tasks start to feel a little overwhelming. Some elderly people will remain fit and energetic well into old age – able to get out and about whenever suits them.
However, for most of us, aches and pains, difficulty moving, or health problems make life much harder than it should be. Some help around the home could be invaluable, but how do you go about finding the care you need?
When you need a helping hand
Home care comes in all shapes and sizes, so it's vital to understand what your loved one's needs are. Perhaps you have an elderly parent who is living alone and is struggling to cope with some of the household tasks or is maybe feeling lonely following the death of a spouse?
If this is the case, then simple companion care may be all that's needed. Companion care can be arranged without the need for involving your local council or social services department.
Arranging a needs assessment
If you or your loved one need more intensive help, such as help with bathing and dressing, then your first port of call should be your local council. Anyone can apply for a needs assessment, which is undertaken entirely free of charge.
Someone from social services will visit you or your loved one to assess health needs to determine what level of help is required. Social services will also inspect the home to see what adjustments are necessary for the way of alterations. Following the needs assessment, you will be presented with a care plan, outlining the type of help that is required.
Will my loved one be entitled to free care?
Everyone's care needs are different. The care plan provided by your loved one's local council will show what their particular circumstances require. If free assistance is available, then this will be made clear in the care plan.
In many cases, depending upon your or your loved one's financial circumstances, some degree of financial help may be available. The needs assessment will ascertain whether or not you or loved one can afford to make a financial contribution.
Do I have to choose council-run services?
Your local authority may provide care services, or you can choose a separate care provider if you prefer. If you or your loved one are entitled to a financial contribution from the local council, you're at liberty to spend the allocated funds on a private carer at home.
Bare in mind that council-run services are under extreme pressure. If you would prefer the same carer to attend on every visit, it is often better to seek out alternative care options.
If you opt for an introductory care agency such as Elder, you're able to use any funding that would be paid directly to a care home to be paid to you. This means you're able to choose the type of care you feel is best for your family.
---
Colin and Dulcie's story
Dulcie is 102-years-old and lives with her son Colin, his wife Mary, and her Carer Sarah. She has dementia and has had full-time live-in care for over two years.
We talk to the family about the challenges of finding the right care solution for
a fiercely independent woman – and how the positive benefits of live-in care with Sarah has transformed all of their lives.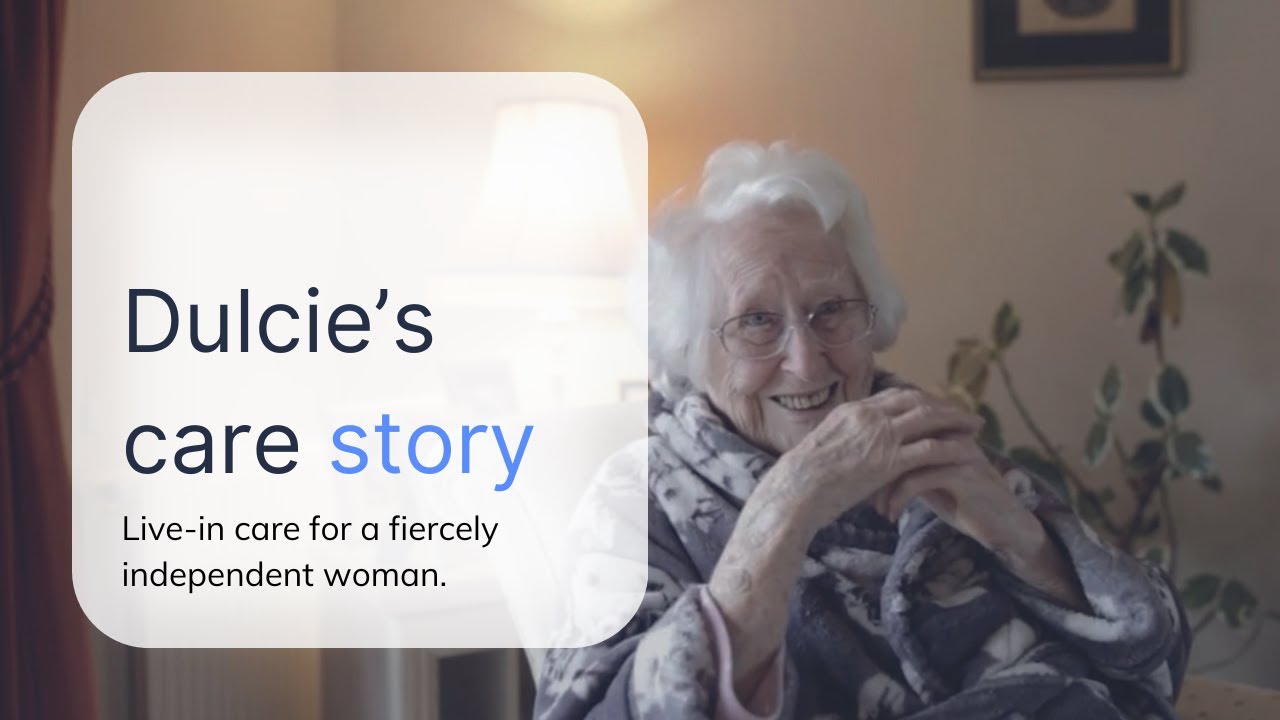 ---
What type of care is available?
You can source care services for just about all needs. If you need to find a caregiver who specialises in dementia care, or you're actively seeking someone experienced in elderly care, there are plenty of options available. The care needs assessment will give you an excellent indication as to the level of care required, so you can use this information to inform your choices.
In some instances, the caregiver may only be needed for a few hours a week. These few hours may cover lending a hand with heavy housework, helping with shopping and even preparing a few meals to ease the daily burden on your loved one. However, some elderly people require more hands-on care, in which case you should seek out 24/7 live-in home care solutions.
A live-in carer is always on hand, at any hour of the day or night, so you or your loved one will never be left entirely alone. This is the perfect option for anyone who needs a great deal of help and assistance in their daily life. Although some lonely elderly people also enjoy having constant companionship too, even if they don't need personal care at present.
Should I go it alone, or use an agency?
When sourcing a caregiver, you have two options. You can hire someone privately, or you can choose to use the services of an agency. Most families prefer to go through an agency. The hard work of checking references, undertaking DBS checks and going through CVs is done for you. And in many instances, the agency will either arrange payment of the caregiver on your behalf or will offer you sample contracts and perhaps offer a payroll service too.
You may save a little money by going through the hiring process yourself. However, it is essential to note that this can become quite time-consuming. Additionally, most reputable agencies offer training courses to their candidates. If your chosen caregiver is ill or unable to attend, an agency will source a replacement as quickly as possible. You or your loved one will not need to worry about being left without a carer.
When you choose a caregiver through a reputable agency, you'll find that there is always someone on hand to deal with any problems that arise. This can be particularly helpful when your care needs are complex. In the end, it all comes down to personal choice and convenience.
Call us for expert live-in care advice
Are you thinking about home care for yourself or a loved one? This article will help you to understand the different options that are available.
Related Questions
Do home carers have insurance?
There are several companies that offer insurance options for caregivers, and it makes sense to ensure that any carer you employ has the necessary cover. Having a robust insurance policy in place gives the caregiver complete peace of mind.
Falls at Home: Caring for Elderly Parents
When we are toddlers, we tend to fall over a lot, as we learn about balance and organising our bodies to stay upright. In middle age, we suffer few falls and those that do occur tend to be the result of tripping, slipping or suffering from an illness. As we age, we can find that we are far more likely to fall and to suffer more serious injuries when we do.
Home care for the elderly – What is it?
The majority of older people would prefer to live independently in their own homes but unfortunately this is not always possible.
Home care: Frequently asked questions
Everyone's individual situation is different which is why we undertake a comprehensive free care assessment for those who are considering home care as a care option for themselves or their loved ones. There are, however, certain questions which come up time and time again which is why we've created this frequently asked questions about home care page in order to give you the information you need to assess your options.
Home care: how to choose a care provider
Choosing which company to employ to provide care for yourself or a loved one is an important decision and you need to carry out some research beforehand.
Home care: the questions you need to ask
If you are looking for in-home care for yourself or a relative, there are a number of important questions to ask potential providers of care at home before you make a decision about which one is most suitable for you or your loved one.
Home care or nursing home: what's the difference?
Deciding whether your needs can be met by care at home or whether you need to go into a nursing home is an issue faced by many older people.
Home care: how to find a carer
People usually want to remain independent and in their own homes for as long as they can, but as they grow older there is often a need for some support with this.
Home care: what are the costs?
The costs of home care to an individual can vary widely and are dependent on many different factors. These include the type of care needed, how many hours a week you need a caregiver to be present, your own financial situation, where in the UK you live and whether you are eligible for any assistance with your care fees.
Home Care: What is Palliative Care?
Palliative care is the support, care and treatment needed by someone who is living with what is often called a life-limiting condition or illness. This type of care is also known as supportive care and may extend to family and friends, as well as the primary care recipient.
Home care: what does it provide?
Home care is a good way of providing elderly care and care for people who are recovering from illnesses or have mobility issues.
Home Care: What is Respite Care?
Respite care involves a carer taking a short break while someone else looks after a loved one. This temporary arrangement can cover all types of care at home including companion care, elderly care and dementia care. Respite care can also offer more specialised help for an older person, particularly if they're recuperating after illness or a stay in hospital or need dementia care.