There are many ways in which you can support your loved one with the right stroke care, whether you are their full time or part-time caregiver. These include making changes to the home, daily exercises, encouraging independent movement and also considering the benefits of appointing a live-in carer.
Seek advice from the hospital medical team and your loved one's GP
While they remain in the hospital, your loved one's care falls under the responsibility of the medical team. Try to get as much advice from them as you can before your loved one is discharged. Once home, their GP will become the medical lead when it comes to their rehabilitation, so be sure to have good lines of communication with the GP surgery and ask for advice and support when needed.
Your GP may also be able to advise you as to where to find other support, including local carer's groups.
Home modifications
After a stroke, there is an increase in the likelihood of falls and slips, and the danger that they pose is significant, at worst triggering another stroke. Get an Occupational Therapist to assess your loved one's home and make any modifications that they suggest.
Modifications may be as simple as fitting anti-slip bases to rugs through to installing seats and grab bars in the bathroom. If the alterations that the OT advises are significant, you may be able to apply for a Disabled Facilities Grant through your local authority.
Rehabilitation exercise
Daily rehabilitation exercise is a crucial aspect of stroke recovery, so ensure that you get proper advice and support. It is also important that you integrate exercises into every day. The more movement that you can encourage, the better the recovery.
Any activities that can be shared with others will also serve as a social function, so as recovery advances, consider group sessions such as Pilates, yoga or aqua aerobics that you can attend together.
Encourage independence
While there is a huge temptation to do as much as possible for your loved one, they will benefit from attempting everyday jobs themselves. There's a fine line between being helpful and preventing recovery by doing everything for them, so avoid being overbearing.
Do some tasks together, such as cooking and laundry, reducing the degree to which you assist as time goes on.
Educate yourself on the signs of strokes and the chance of a 'plateau'
Those who have already experienced a stroke are at a much higher risk of having another. Being aware of the signs, not just of big strokes, but also of minor ones too, will mean faster identification and reaction.
Try to familiarise yourself with the concept of a 'plateau'. This happens typically three months after a stroke, at which point you may see a sudden downturn in recovery. Both you as a caregiver and your loved one will need to push past this. It may just mean reviewing the current rehabilitation programme.
Keep an eye on mental health
Stroke survivors are prone to bursts of crying and laughing as an after-effect of the stroke on the brain. This is normal behaviour and nothing to be alarmed about. However, they may also be susceptible to fluctuations in mood, anxiety and even depression.
Your loved one may need counselling or even treatment for this. Look out for signs and don't be afraid to talk openly about negative thoughts and feelings.
As a caregiver, you may also suffer bouts of anxiety and even depression, or you may just feel overwhelmed by the responsibility. Keeping a check on your mental health is just as important as keeping an eye on your loved one's.
Appoint a live-in carer
Not everyone who has a stroke needs the same level of recovery care, so it's essential to understand that every case is different. If your loved one needs significant attention following a stroke, then seeking out private care solutions for the duration of recovery may be a better option both for you and for them.
A live-in carer will have the specialist skills and knowledge to help in all aspects of recovery as well as knowing what to do should another stroke occur.
Professional live-in care is also a good option for those who need stroke care alongside other types of specialist elderly care, such as dementia care.
A home care professional is the ideal solution for those that require round-the-clock care but wish to remain in their own home.
Helping a loved one recover from a stroke can be a lengthy and emotional process. Being armed with as much knowledge as possible will help you support them. Avoid taking on more than you can manage and remember that there is the option of quality live-in care, whether on a long-term or respite basis.
Learn more about complex care
Take a look at more Elder guides on how to support those living with complex conditions below.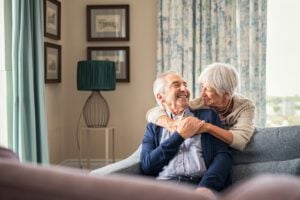 It's estimated that over a third of people with diabetes in the UK are over 65 years of age. That's around 1.5 million people.