Choosing a care home
Live-in care in Lincolnshire might not be suited to everybody who lives there. Your loved one may not live in a house that is big enough to accommodate a home carer, or perhaps the idea of it just isn't their cup of tea.
Even so, Elder would still like to help you make the best later life care choice for your loved one because despite the abundance of information out there, you might not have time to filter through it all.
That's why we've summed up our top ten care home picks in Lincolnshire to ensure that not only do you make the right choice for your family, but you don't get flustered trying to piece it all together either.
The top care homes in Lincolnshire
If you're considering residential care for your parents or loved ones in Lincolnshire, the following eight options may be worth considering.
Bernadette House
The Old Vicarage, South Park, Lincoln, LN5 8EW
Bernadette House is a residential care home providing care for up to 35 service users aged 50 and over. There are 27 single rooms and 4 twin rooms, with 21 rooms benefiting from an en-suite WC. Services offered include independent living training, respite care and day care.
Suitable for sensory impairment, physical disability, dementia and old age.
Ashwood Nursing Home
43 Spalding Common, Spalding, PE11 3AU
This refurbished care home with nursing offers palliative care and respite care and is registered for a maximum of 47 service users aged 55 plus in single rooms with ensuite WC.
Suitable for dementia, old age and physical disability.
The Cedars Care Home (Bourne)
Church Walk, Bourne, PE10 9UQ
The Cedars is a 56-bed care home comprising five units in large grounds. It offers dementia, respite, palliative and residential care for service users aged 65 and over. Residents are not segregated and can choose the unit they live in. All the bedrooms are single and have an en-suite WC.
Suitable for dementia, old age, physical disability and sensory impairment.
The Old Hall
1 High Street, Billingborough, Sleaford, NG34 0QA
This privately owned care home provides residential care for up to 20 service users aged 50 plus in single rooms, 3 of which have an en-suite WC. Services offered include day care, palliative care, convalescent care and independent living training.
Suitable for dementia, no medical intervention, old age, physical disability and younger adults.
Beech Lodge Nursing Home
Frogs Abbeygate, Holbeach St Johns, Holbeach, Spalding, PE12 8QJ
Rurally located, this purpose-built care home with nursing accommodates up to 37 service users aged 55 and over. There are 33 single and 2 shared rooms, with all but 2 of the rooms having an en-suite WC. Convalescent care, respite care and day care are available if required.
Suitable for dementia and old age.
Westerley Christian Care Home
The Broadway, Woodhall Spa, LN10 6SQ
Recently refurbished, Westerley Woodhall provides care for up to 30 service users aged 65 and over in 28 single rooms and one double room. 28 rooms have en-suite WC. Service users are encouraged to share daily prayers.
Suitable for dementia, old age and physical disability.
Canwick House
Hall Drive, Canwick, Lincoln, LN4 2RG
Care home providing long-term and short-term residential care for up to 20 adults aged over 65. The home has 18 single rooms and one shared room. 8 rooms have their own ensuite WC. Respite care, day care and palliative care are offered.
Suitable for mental health conditions, sensory impairment, physical disability and old age.
Monson Retirement Home
Monson Retirement Home, 9-11 Monson Street, Lincoln, LN5 7RZ
Centrally located in Lincoln, Monson Retirement Home can accommodate up to 50 service users aged 55 and over. All rooms are single-occupancy and 45 have en-suite facilities. The home offers palliative, convalescent, respite and day care together with independent living training and physiotherapy if required. There is a car park nearby.
Suitable for physical disability, old age and dementia.
Realising your elderly loved one requires extra, full time care isn't easy and when there seems to be so many options, it might be overwhelming to know where to start.
At Elder, we are always on hand to offer the best impartial advice, every day between 8 am and 8 pm to help you decide on the best care solution for the your loved one.
Get in touch with one of our expert care advisors today.
Frequently asked questions
Can I see a care home before arranging a place for my loved one?
Absolutely. If you have an elderly family member or loved one who needs an increasing level of care, it might be time to consider a care home. It's vital you visit prospective care homes, preferably on more than one occasion. Depending on their overall health and ability, you might like to visit potential care homes with or without your loved one.
Reputable residential care homes will welcome visitors and be happy for you to take a look around. Turning up for an unscheduled visit is a great way to see how the home operates on a day-to-day basis when guests are not expected.
To find out more about Care homes vs. Live-in care check out our handy guide.
How to choose a live-in care provider?
There are plenty of benefits to choosing a live-in care provider. These services allow elderly people to remain in their own home, with a full package of tailored support that is more cost effective than a care home.
To choose the right provider, it is helpful to look at reviews, speak to friends and family for recommendations and meet with potential providers. Assess their experience, friendliness and attitude and approach to care provision and check the levels of tailored support available to the carer and care recipient.
To find out more about 24-hour care services from Elder, please call us for more information and to receive our free guide to making the right decision for you and your loved one.
Care homes: Is food prepared on the premises?
Food in care homes should be prepared on the premises in order to ensure quality and freshness, but standards do vary.
Good nutrition is very important and so if you are considering a care home, make sure that you consider food quality, choice and standards when researching and visiting potential accommodation. Remember that higher quality care homes often have their own chefs, and meals can be of restaurant quality, but there are many homes where standards fall far short of this.
If you are concerned about your loved one's nutritional or dietary requirements being met, then you may want to consider a live-in care option, rather than a care home. In this instance, a carer can be on-hand to shop for and cook the meals that your relative wants and needs, without having to consider the pressure of mass production or the dietary requirements of many different residents.
Live-in care: How does the relationship work on a daily basis?
For many older people, remaining in their own home with a live-in carer helps them to retain a better quality of life and can be more cost-effective than a residential home.
If you believe your loved one would benefit from live-in care, then it's reassuring to know that the relationship with a carer works like a friendship but with the added care and support your loved one needs. Your loved one will be matched with their carer based on their personality and interests, so they can enjoy shopping or a movie together.
Care plans are always drawn up with the utmost tact and discretion, so the carer always knows when they're required. If you're interested in finding high-quality live-in care for your loved one based on a comfortable and caring relationship, contact us today for more information.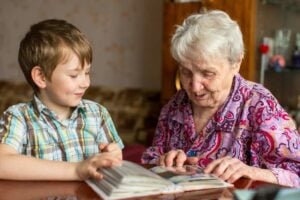 The true cost of care – everything you need to know Discover the true cost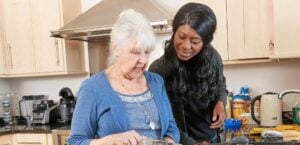 Live-in care Vs Other types of care If your loved one has reached a stage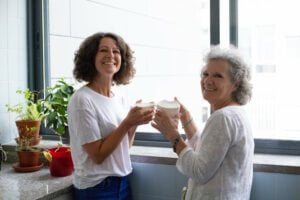 A Guide for Caregivers – Everything You Need to Know If your loved one needs