#1 Engagement: Dementia Jigsaw Puzzle
What is it? A classic jigsaw puzzle, made dementia-friendly with visual memory prompts, practical frames and user-friendly piece sizes.
How can it help? Both soothing and engaging, jigsaw puzzles can be useful in entertaining those with dementia and involving them in an absorbing activity. Puzzles give those providing live-in dementia care an activity they can do with those they're looking after that everyone enjoys. These award-winning puzzles were specially designed to assist and encourage those with early to mid-stage dementia, and come in 24 and 35 piece kits to be assembled within the frame and on a specially printed backing board. The pictures on the jigsaw puzzles – from beach scenes to garden views – have been carefully chosen to prompt conversation about memorable experiences too, allowing carers and family to join in both conversation and activity. The company also makes larger 13-piece jigsaws for those with mid-late stage dementia.
Where to buy it: www.active-minds.org
#2 Independence: Buddi
What is it? A wearable wristband and clip that acts as a personal emergency response service if needed.
How can it help? Disorientation and confusion are part of dementia and grow worse as the condition progresses. This movement-monitoring wristband gives the wearer vital support when out and about, with the knowledge that they can call for help at any time and in any place. In this way, they are able to retain some independence in the early stages of the condition, while families and carers gain valuable peace of mind. The user's whereabouts are monitored through GPS on the wristband, allowing quick and easy location, something especially useful in the case of those with a tendency to wander. If the wearer presses the button for help, the 24-7 monitoring service will talk to them and reassure them through the clip, finding out their location and notifying emergency contacts, relatives or carers.
Where to buy it: www.buddi.co.uk
#3 Stimulation: Rail Carriage LCD Wall Feature
What is it? A wall backdrop that includes an LED screen to recreate the experience of classic train travel
How can it help? Founder of RemPods, Richard Ernest, secured £100K of Dragons Den funding when he took his innovative therapeutic products on the BBC show in 2013. His designs and products are all aimed at improving the quality of life for those living with dementia, including this rail carriage interactive wall feature. The wall decoration can be installed on any blank space to create the feel of an authentic train carriage via a replica framed window with an LCD screen in it, all set in a wallpaper background. The screen plays hours of scenic countryside footage moving by to mimic a train ride – and the 'pop up' environment it creates is designed to soothe and provide visual stimulation for those with dementia.
Where to buy it: www.rempods.co.uk
#4 Eating: 10" coloured dinner plate
What is it? A robust and plain, brightly coloured dinner plate
How can it help? Getting someone with Alzheimer's or dementia to eat a nutritious meal or even to eat enough can become a problem as the condition progresses. But help could come from something as simple as changing their dinner plate. A study conducted last year by Boston University found that patients who ate from brightly coloured plates (without any pattern embedded) consumed 25 percent more food than those who ate from white plates. Various theories have been put forward as to the reasons why, with one of the main theories being that many dementia patients experience difficulties with sight and perception and therefore can fail to properly recognise and distinguish food on white plates.
Where to buy it: www.findsignage.co.uk
#5 Sleeping: Light Therapy Box
What is it? A light box that gives off cool white light from two 24W daylight spectrum bulbs.
How can it help? Sleep disturbances are common symptoms of dementia, from increased daytime sleeping to frequent episodes of waking at night. A study in 2013, published in the Journal of Alzheimer's Disease, suggested light therapy could help improve rest and activity rhythms and sleep efficiency in people with dementia. This research, and a number of other clinical studies, suggests that morning light therapy (using a daylight spectrum light of at least 1000lux, far brighter than natural light) may have benefits in synchronising the body's circadian rhythms, which regulate sleep and improve the quality of rest. The simplest way to introduce light therapy is through a light box such as the freestanding Arabica from light company Lumie. Users can gain potential benefits just by sitting beside it for between a recommended 30 minutes and two hours, something that's easy to introduce into a daily routine while they are watching TV or having breakfast.
Where to buy it: www.lumie.com
#6 Relaxing: One-Button Digital Radio
What is it? A one-button digital radio specially designed for people with dementia and elderly people who may find technology confusing
How can it help? People living with dementia and those who are confused by technology can get worried and scared by complicated configurations of buttons on gadgets. The easiest way to cut out any concern is to strip things back to basics, and this ingeniously designed digital radio, in a smart, durable matt black finish, is a stress-free option for radio lovers. Carers or family members can configure the radio to the station required; the device can then be turned on or off by the user using a large, colour-contrasted button. Plus, the DAB radio gives the device crystal-clear reception from a large speaker on the front and there is even a large headphone jack for private use.
Where to buy it: www.alzproducts.co.uk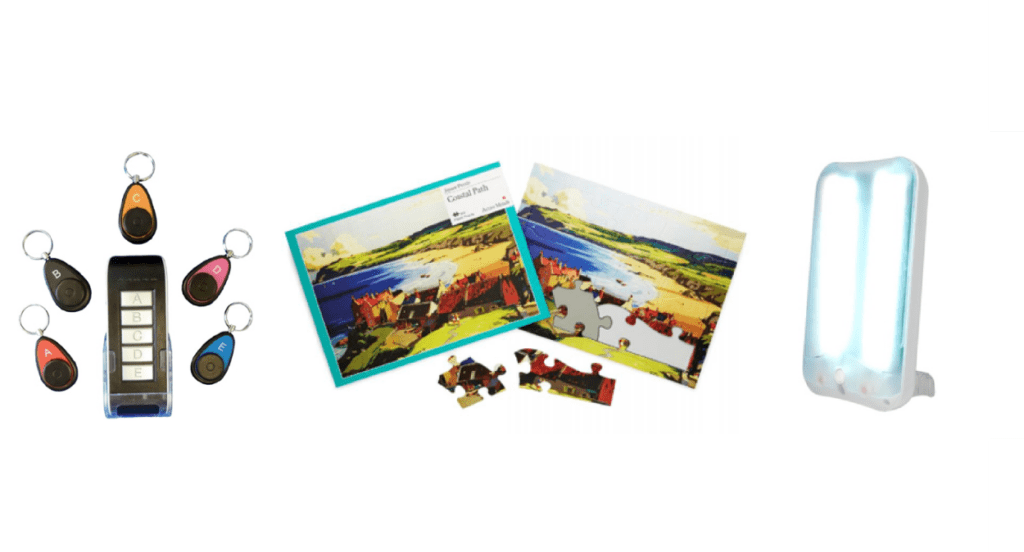 #7 Misplacing things: Object Locator and Beeping Key Finder
What is it? A digital tracker for small household items, useful for those in the early stages of dementia.
How can it help? Mislaying objects such as keys, purses, glasses cases and handbags is a common occurrence in the early stages of dementia when memory loss is mild, but noticeable enough to be able to cause great frustration. This tracker is a simple and affordable solution to this problem. Attaching one of the five colour-coded beepers to objects using Velcro or key rings allows the user to track their whereabouts by pressing the corresponding button on the gadget's remote control handset to sound an alarm. The wireless detection is a good range – up to 50m – with a battery life of 2-4 months, depending on the amount of use, offering a bit of low-key help in everyday living for those who feel that they need it.
Where to buy it: www.unforgettable.org
#8 Health monitoring: Guardian II wearable elderly dementia care support with GPS and 2 way calling
What is it? Stay Safe, Independent and Active at all times with the CPR Guardian II medical alert watch.
How can it help? The CPR Guardian is a discreet comfortable elderly alarm bracelet designed to keep the wearer safe, independent and active at all times. It is an emergency alert system with a built-in emergency assist button, a heart rate monitor, mobile phone and GPS tracking.
The GUARDIAN II is a GPS tracker that provides you and your loved ones with peace of mind and reassurance knowing you can always be there for them whenever they need you. The guardian II could quite easily be the best medical alert system for dementia sufferers and those who support them.
Where to buy it: www.cprguardian.com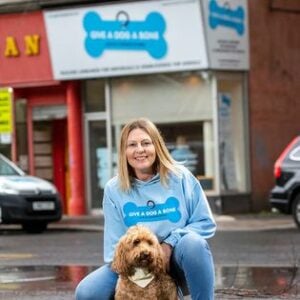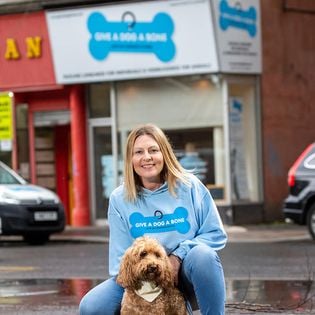 Give a Dog a Bone founder Louise Russell discusses her mission to provide companionship for elderly individuals through the love and comfort of pets. Learn more about her inspiring work to improve the lives of older people.
Read More »