Types of learning disabilities
Everyone's needs are different, and no two people with learning difficulties will require the same types of support, which is why a dedicated live-in carer is so the ideal choice. Your loved one may be distressed by too many changes of personnel, so having a single person caring for them is often much easier for them to cope with.
Around 1 per cent of the population suffers from some degree of autism, which makes it hard for sufferers to make sense of the world around them. They may struggle to interpret facial expressions of conversational nuances and derive great benefit from someone who can help them to make sense of what is happening around them.
It is believed that as many as 1 in every thousand people have Down's Syndrome, which can also present a range of learning difficulties. Symptoms can vary quite widely, and many people with Down's Syndrome can live a fairly independent lifestyle with a degree of in-home support.
The benefits of in-home care
Most of us thrive in familiar surroundings, close to family and friends, and people with learning disabilities are no different – they just need a little extra support to maintain an independent lifestyle.
As every person with a learning disability is unique, there is no 'one size fits all' solution to managing their day-to-day routines, which is why a dedicated live-in care worker is the best choice. The carer becomes a friend, confidante, and enabler, allowing the individual to live their life as independent as possible.
Many people with learning disabilities dislike change and thrive on routine. Constant changes of personal enablers and carers are distressing and disruptive, which is why companies such as Elder take time to match each caregiver carefully to the care recipient. By ensuring that both parties have hobbies, pastimes, and common interests, there is a much greater chance that both parties will 'gel' and form a strong partnership based on mutual respect.
---
Dulcie's Care Story
In this short video, Mary and Colin explain how Dulcie's live-in Elder carer, Sarah, has become part of the family.
They discuss how live-in care has allowed Dulcie to stay independent in her own home, while making a new friend at the same time.
---
What tasks can a caregiver assist with?
Learning disabilities vary widely, and the type and amount of assistance that each care recipient requires equally varies. Elder carers can assist with an array of tasks to enable your loved one to live a fulfilling and independent lifestyle.
For example, your relative may need help with managing their finances, paying bills and shopping. They may also need assistance with traveling, arranging medical appointments and organising prescriptions. The caregiver will assist your loved one with much-loved activities, whether helping to organise social events, keeping active, or facilitating enjoyable outings.
The caregiver will lend your loved one a helping hand at every opportunity, from helping with ironing to ensuring that they maintain a healthy lifestyle, with nutritious meals and an appropriate level of exercise. Above all, the caregiver is on hand 24-hours a day to assist whenever and wherever it is needed.
Whatever type of learning disability your loved one has, Elder, can supply a dedicated and empathetic home care worker to enable them to live a rich and fulfilling lifestyle, giving you and the rest of your family complete peace of mind. Elder can also provide a range of other types of specialist care, such as elderly care and dementia care.
Call us for expert live-in care advice
Learn more about live-in care
Take a look at more Elder guides on the benefits of live-in care.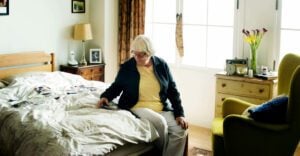 Live-in care: can it help someone overcome loneliness? Every year, the Marmalade Trust hold their annual Loneliness Awareness Week, drawing attention to the fact