Living with dementia can be challenging for both the person experiencing symptoms, and those closest to them. No two people will experience the same symptoms, and the disease doesn't follow a clear progression, which makes it difficult to anticipate exactly life will change over the coming weeks, months or years.
With elderly care at home becoming an increasingly popular option for many families, it's important to understand the impact of a dementia diagnosis and plan accordingly.
From improving lighting and labelling essential items to installing alarms and assistive technologies, there are numerous ways in which a home can be adapted to provide a safer and more comforting environment. 
What is important to people with dementia living at home?
Living at home can help give people with dementia more independence, for as long as possible – it means they can continue their preferred routine, see friends and family whenever they like, and keep up with hobbies and activities which may be more difficult in care homes, such as gardening or collecting. 
Remaining in a familiar environment may help manage confusion or agitation too. The home can prompt positive memories, and the familiar sights, smells, and noises may have a comforting effect and support a better quality of life, as their condition progresses. 
How can I make my home more dementia friendly?
If you have dementia, the way your home is laid out can have a big impact on your everyday life. Symptoms of dementia such as memory loss, confusion, and slower mental processing may lead to forgetting where things are kept, or how to use them safely. 
There are some simple changes you can make around the home to support independent living, although it's not advisable to make a lot of changes at once. 
It's also important to remember every dementia experience is different – what works for one person may not work for someone else so creating a comfortable, dementia-friendly environment may involve a little trial and error. 
Lighting 
Good lighting helps people living with dementia to make sense of where they are and find the things they need. Natural light can make a real difference to people who often become confused about what time of day it is, or experience sundowning symptoms. Keeping on top of window cleaning and ensuring things like net curtains or outside foliage aren't restricting the light coming through the window may help.  
If natural light is lacking, installing dimmer light switches may help you adjust light levels throughout the day instead. People with dementia will often find dark areas or shadows confusing or upsetting. 
Floors
People with dementia can become unsteady on their feet and may need to use a stick or walker to move around safely.
It can take an older person a long time to recover from a fall, so it's good practice to go through the entire home, assessing anything that may compromise balance or safety, and removing any items of furniture that could present a hazard to your loved one. You may wish to start with – 
Getting rid of any rugs or mats, or slippery vinyl flooring
Making sure the floor is clearly visible, and that it's not too shiny or a similar colour to the walls
Keeping wires and extension cords out of the way
Adding a safety gate across the staircase 
Furniture and fittings
Dementia can leave people feeling disorientated, even in places that are familiar – and certain shapes and patterns may add to this confusion.
They may also struggle to recognise their reflection in the mirror, which can be incredibly distressing too. As such, some people remove mirrors from their homes or cover them up until needed.
If you do need to make any of the changes listed below, try not to change the layout of a room too much in one go, as it may have the opposite effect. 
Remove or cover striped or bold patterned furnishings as they can be confusing
Use bright, contrasting colours so it's easy to distinguish chairs and tables from the walls and floor
Add a chair with arms which can be easier to rise from 
Is TV good for people with dementia?
Television can be a wonderful source of company and entertainment, but you may need to monitor its use and encourage a person with dementia to watch something more lighthearted or short. This may include game shows, nostalgic or familiar sitcoms, nature documentaries, or shows based around hobbies or interests, for example, The Great British Bake Off, or The Repair Shop. 
News and current affairs programmes could potentially cause upset if the person is unable to process the information being shown. Even if they don't fully understand what's being said, people with dementia are still well able to discern the tone of a programme. 
MyLife is a dementia-friendly TV subscription service which streams carefully selected content –  from quizzes and singalongs to classic shows from the 1960s to the present day. For more information click here.
Assistive technology 
Technology is helping to make everyday life easier and safer for people with dementia. There's a wide range of devices that can aid memory, increase safety, and help a person keep up with their daily activities. These include –
Automated reminder devices – these play pre-recorded audio prompts for things like appointments or when it's time to take medication. 
Clocks and calendars – these can again, use audio to announce the time and date, or have a large and simplified display that only shows the most important information. 
Alarms and locators – some products can automatically send an alert to a person's next of kin if they wander from the home. Others can be manually activated with a simple push button in the event of a fall or accident 
Virtual assistants – these include Amazon Alexa and Google Assistant, and provide answers and information, or can perform certain actions in response to a voice command. 
Noise levels
Background noise can make it difficult for a person with dementia to concentrate or process information. Try turning off things like the television or radio if they're not being used, especially if you're trying to have a conversation. Soft furnishings like carpet and cushions can help absorb and minimise unavoidable noises – for example, the sound of someone walking across a room, or closing a door. 
Disengaging the doorbell might be a sensible precaution too if sudden loud noises are particularly startling – replacing it with a video doorbell could be a more suitable option. 
Outdoor spaces
It may help to make the front of the home stand out from neighbouring houses, so it can be recognised more easily – you could do this by adding a lot of planters or ornaments, or painting the front door a different colour. If you've got a garden, it can help to add sheltered seating to provide a rest spot when spending time outside. You may also find it helpful to –
Ensure paths and lawns are level and free of trip hazards 
Secure the garden to prevent accidental wandering 
Add raised flowerbeds if the person enjoys gardening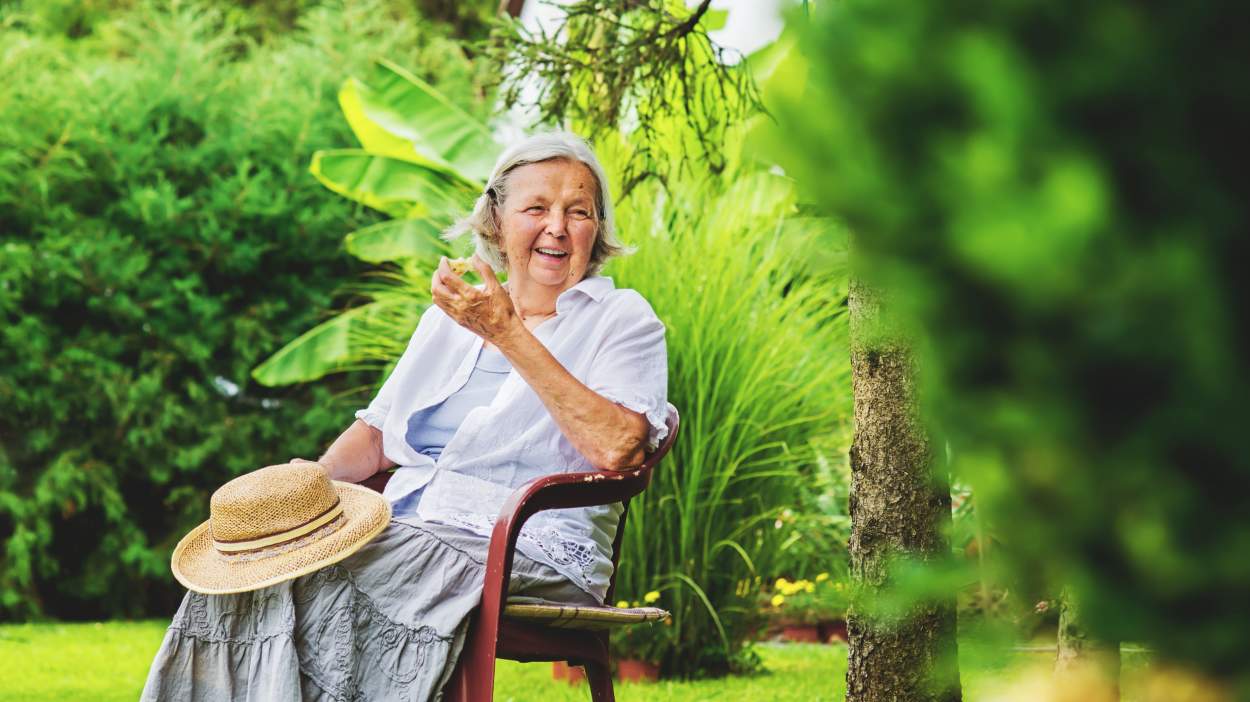 How do I make the bedroom dementia friendly?
It's important that the bedroom is a comfortable space that supports restful sleep. This often starts with ensuring the bedroom can be made dark so that it's clear that it's nighttime and time to sleep. However, some people may become fearful of the dark, in which case, you may wish to provide a nightlight to offer reassurance when needed.
A person with dementia may experience changes in their senses, becoming increasingly sensitive to noise too. Again, excess noise can be reduced by choosing carpet over wooden floors. 
If a person with dementia gets up in the night to use the bathroom, has a tendency to wander, or simply struggles to remember where the light switches are, installing lights which come on automatically when they sense movement may help.
How do I make the kitchen dementia friendly?
Dementia doesn't just impact how a person perceives and interacts with the kitchen, it can also change their appetite and interest in food – which means making the kitchen dementia-friendly can be crucial to both staying safe and maintaining a healthy diet. 
You may wish to make the following kitchen adaptations – 
Use transparent and shatterproof cupboard doors, or remove the doors altogether if it's safe to do so, so it's easy to see what's inside
Use clear containers to store food, or label containers clearly with a marker pen, sticky label or picture of what's inside 
Keep the most used ingredients or utensils at eye level, or in an obvious place
Ensure work surfaces are uncluttered 
Use crockery and utensils that contrast the food that's being prepared or eaten, as well as the surface it's on
Lock away dangerous cleaning products
Keep knives and sharp utensils out of sight and out of reach
Unplug microwaves and toasters or switch off the cooker from the main supply when it's not in use
How do I make the bathroom dementia friendly? 
Being unable to find the bathroom when you need the toilet can be very distressing, so signposting is often one of the first steps people take when making the home dementia-friendly. You may wish to add signs with arrows around the home (similar to those you'd find in a public venue or restaurant) and add a sign on the bathroom door itself. Painting the bathroom door a different colour from other doors in the home can be helpful too.
A person with dementia may forget some personal hygiene tasks, so you may want to try displaying a list of daily tasks such as brushing teeth in a place that's easy to see. 
Inside the bathroom the following changes may be helpful – 
Make the the toilet seat and lid a contrasting colour to the rest of the toilet, so they are easier to see
Install grab rails to help a person with dementia to get on and off the toilet, and in and out of the bath or shower. Making them a different colour to the walls can make them easier to find
Install traditional-style or lever taps that are clearly marked hot and cold 
Try flood prevention plugs which release water down the drain if a bath is left running for too long.
Turn down the hot water thermostat or install a thermostatic mixing valve to the bath and basins, to reduce the risk of a person scalding themselves from the hot taps.
Try leaving the bathroom light on during the night, or use sensor lights to light the route to the bathroom
Change the bathroom door lock to one that can be opened from the outside in the event of an emergency
Remove the bathroom bin if it could be mistaken for the toilet, you could try replacing it with a swing-style or tall bin to reduce the likelihood of confusion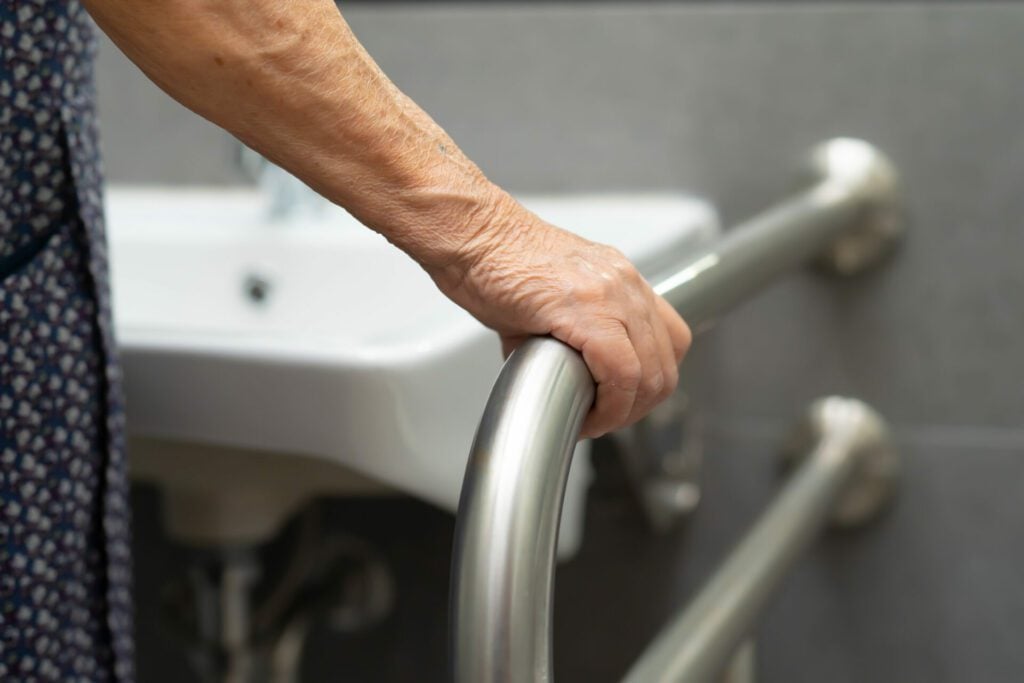 What are dementia-friendly colours?
As you've probably gathered from this article so far, colour and contrast can play a big part in creating a dementia-friendly home. 
You can make it easier for your loved one to find their way around the home by painting handrails and doors in bright colours. Some people have found that painting the area around the front door a dark colour or placing a small dark rug there can limit wandering, as this can affect the depth perception of someone with dementia. 
Choosing a colour scheme is less straightforward and could be down to personal preference. Some experts believe red is best, as older eyes see it most clearly, or you may choose colours that feel appropriate to the room or activity associated with it. For example, blue is often associated with being calming and restful. 
For further information on creating a dementia-friendly home, The Alzheimer's Society has created a comprehensive 40-page guide. 
Live-in dementia care can help
Thoughtful design and adaptation can make a living environment dementia-friendly – and allow those with the condition to stay at home for longer. 
However, as dementia progresses, many people can struggle to cope with familiar household appliances, and forgetfulness could present a particular hazard, especially in the bathroom and kitchen.
If you feel that your loved one is not safe to remain alone in their own home, then a live-in carer may be a  good option. You can source someone to provide simple companion care or more complex dementia care, according to their needs, for complete peace of mind.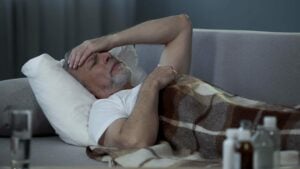 Caring for sleep problems in elderly Changes in sleeping patterns are frequent in older people, and you may notice that it progressively gets worse over
Read More »