You've reached us outside of our opening hours. Book a free telephone consultation and one of our care planning experts will give you a call whenever is convenient for you.
Home care: the questions you need to ask
If you are looking for live-in care for yourself or a relative, there are a number of important questions to ask potential providers of care at home before you make a decision about which one is most suitable for you or your loved one.
The ability to maintain independent living even when you need assistance with some of your daily activities is extremely important to most people.
Finding the right provider of care in your home – whether it is funded by your local council or is private home care – can make a difference to your loved ones' daily life and overall well-being.
Carrying out initial research is important to ensure that you select the right provider who will be able to meet all your needs or those of your loved one.
What Background Checks do Your Care Employees Undergo?
When people working in home care are interviewed, providers should ensure that they take up a minimum of two written references before they decide to offer them a position.
They should also undergo a detailed DBS (Disclosure and Barring Service) background check to find out if they have a criminal record. It is also important for the care provider to establish that the people they employ are legally entitled to work in the UK.
What Training do Your Care Employees Receive?
Finding out about the training and skill level of a potential caregiver is important. While some components of elderly care are similar across households, all employees of a home care provider should receive a proper induction and training for whatever care they are expected to provide.
You may need to find out whether employees are trained in dementia care, for example, or how much experience of Parkinson's care they have. Regular training updates are important for any caregiver, and even more so for those who provide care at home.
---
Colin and Dulcie's story
Dulcie is 102-years-old and lives with her son Colin, his wife Mary, and her Carer Sarah. She has dementia and has had full-time live-in care for over two years.
We talk to the family about the challenges of finding the right care solution for
a fiercely independent woman – and how the positive benefits of live-in care with Sarah has transformed all of their lives.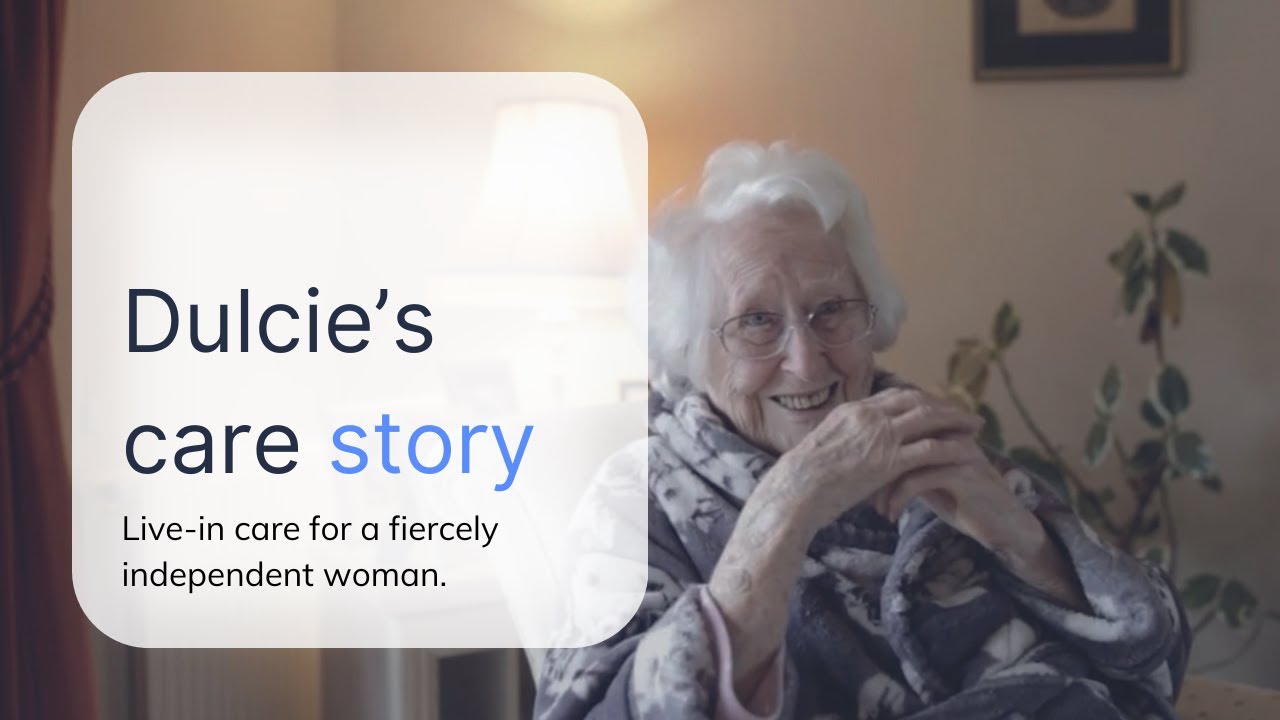 ---
Will There be a Regular Care Worker at Each Visit?
It is very difficult for many providers of home care for the elderly or providers of dementia care to guarantee that the same person will be able to visit you or your relative every time. There may be occasions when the regular care worker is off sick and a substitute has to be found. Sometimes there may be various different care workers scheduled to cover the shifts.
Do You Provide Private Live-in Care?
A carer who is on the spot and able to provide 24/7 care can offer so much more reassurance to an elderly person, particularly those who require Alzheimer's care.
A live-in carer can often make it possible for a person to remain in their own home even when their needs are quite complex and they would be at risk of accidents or injury if they were living alone in their home.
How do You Match Care Workers With My Needs or Those of My Elderly Family Member?
Some homecare providers and providers of live-in care.
What Charges for Care Will Apply in My Situation?
Whilst employing a live-in carer may initially appear to be more costly than intermittent visits from a domiciliary care provider, the benefits of twenty-four-hour care are so much better in terms of helping the older person to feel safe in their own familiar space.
Some individuals will qualify for help from their local council, so it is well worth contacting the local adult social care team to find out your position. Depending on the type of home care provider you opt for, the cost of care can vary significantly.
What Practical Arrangements can be Made Regarding Access to the House?
Sometimes a person who needs a care worker is unable to get to the door to admit them, so alternative arrangements have to be made. A key safe outside the door can be an ideal solution, but keeping the information about security arrangements safe can be an issue so another solution could be to provide the carers with keys.
What are the Out of Hours Contact Details?
Questions or concerns about care workers or the service generally can occur at any time, and you should make sure that there is a number to call in the event of an emergency occurring outside normal office hours.
Most providers ensure that their clients receive high-quality care at all times, but verifying the availability of both the customer support team and the carers themselves is an important consideration.
What Insurance Cover do You Have?
Damage to property, accidents, and mistakes involving the care worker should all be insured against and it is the responsibility of the elderly care provider to ensure that adequate cover is in place.
There are many more things you may wish to discuss with a potential care provider, but this just provides a few essentials. Care at home is the ideal for many older people, but it is important to make decisions about this with forethought.
Call us for expert live-in care advice
If you are looking for in-home care for yourself or a relative, there are a number of important questions to ask potential providers of care at home before you make a decision about which one is most suitable for you or your loved one.
Related Questions
Home care for the elderly – What is it?
The majority of older people would prefer to live independently in their own homes but unfortunately this is not always possible.
Home care or nursing home: what's the difference?
Deciding whether your needs can be met by care at home or whether you need to go into a nursing home is an issue faced by many older people.
Home care: how to choose a care provider
Choosing which company to employ to provide care for yourself or a loved one is an important decision and you need to carry out some research beforehand.
Home care: how to find a carer
People usually want to remain independent and in their own homes for as long as they can, but as they grow older there is often a need for some support with this.
Home care: what does it provide?
Home care is a good way of providing elderly care and care for people who are recovering from illnesses or have mobility issues.