How can a home carer help after a hospital discharge?
It is essential to have the correct level of support in place when your loved one is discharged from the hospital. The right support will help ensure that their transition back into their own home is as seamless and as stress-free as possible.
When should my loved one be discharged from the hospital?
Discharge from the hospital is only confirmed when:
– A senior member of medical staff has medically cleared your loved one
– Your loved one has received a written care plan which should set out the appropriate level of support that will be needed
– Your loved one has undergone an assessment to determine that they are ready to be discharged safely
Once discharged, there are a variety of reasons as to why your loved one might not be eligible for care from social services or the NHS. Every hospital will have an individual discharge policy. It can be stressful if it transpires that you will need to organise care at home with short notice.
How can I arrange home care for my loved one?
Your loved one's needs assessment may determine that they require support. However, they may not be eligible. There is no reason why it should not still be straightforward to organise your own home care.
Your loved one's discharge planning coordinator should be able to provide you with detailed information and advice as to how to reduce the risk of their needs worsening post-discharge and how to mitigate the development of new, additional requirements.
Your loved one may need assistance with domestic tasks during a short period of recovery or might require additional help for some time after being discharged. Our carers understand how to meet a wide variety of needs under a range of different circumstances.
What can I expect from my loved one's home carer?
The services provided by our carers will always be personalised to the needs and requirements of your loved one. Elderly care can be particularly complex. Extra steps are set in place when elderly patients are discharged from the hospital to ensure that they will feel completely safe and secure throughout the process.
---
Colin and Dulcie's story
Dulcie is 102-years-old and lives with her son Colin, his wife Mary, and her Carer Sarah. She has dementia and has had full-time live-in care for over two years.
We talk to the family about the challenges of finding the right care solution for
a fiercely independent woman – and how the positive benefits of live-in care with Sarah has transformed all of their lives.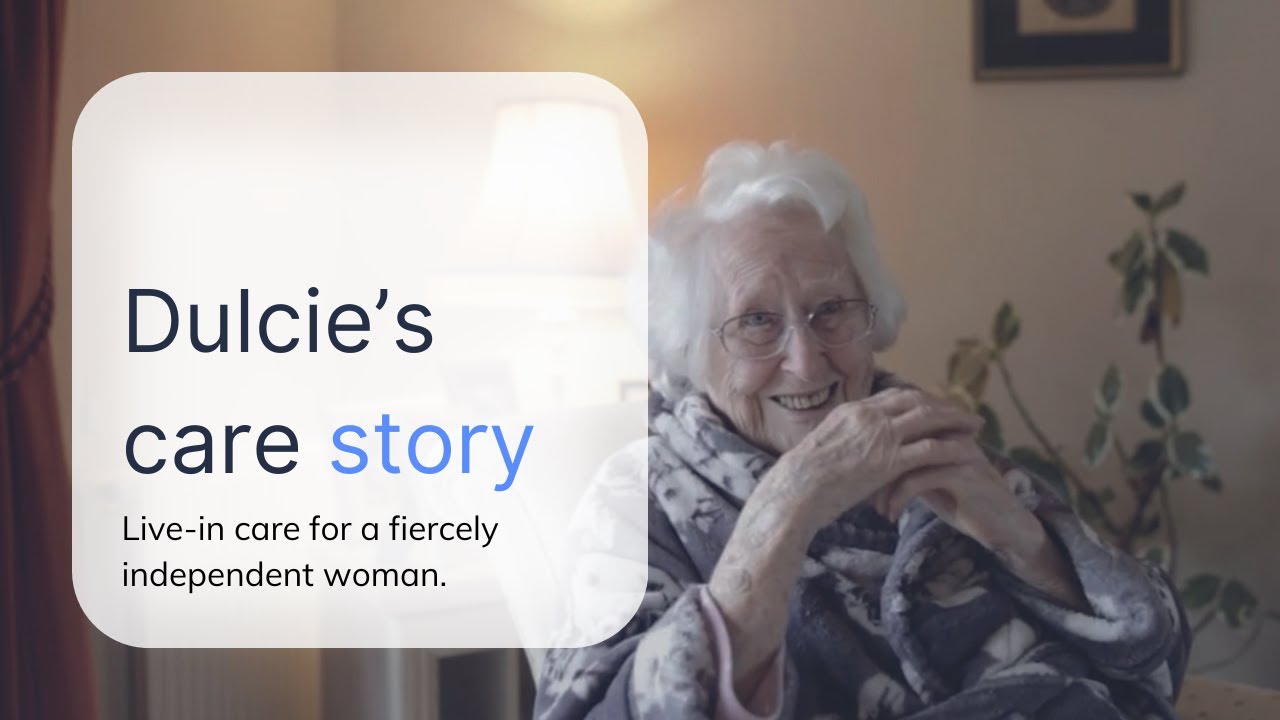 ---
The following are some real-life scenarios as to how your loved one's carer can provide vital assistance in several different real-life situations.
– Post-fall care
If your loved one is unsteady on their feet and/or is possibly at risk of experiencing a further fall, our carers can help. The carers we work with can aid in improving their mobility while also assisting with a range of light household duties. Live-in carers ensure that your loved one will never feel pushed to take on too much too soon after discharge.
– Care following a knee or hip operation
In many cases, patients are placed on bed rest or become immobilised after knee or hip surgery. If your loved one is expected to find it very difficult to move around for some time, a carer can help with a wide variety of everyday activities. These activities cover tasks such as general housework and cooking nutritious meals.
– Convalescence care
Spending any length of time in a hospital environment can be both disorientating and tiring. Without additional support or companion care in place, your loved one might find returning home a stressful experience.
The carers we work with understand how to help your loved one to transition back into independence with ease, reassurance and compassion. This is done by simplifying the process and reducing the risk of your loved one's needs worsening.
– Dementia care
Initial diagnosis of dementia may occur within a hospital environment. If your loved one is in this situation, it is beneficial to find a carer who can demonstrate specialist knowledge and relevant experience.
Having a specialist dementia carer with the right qualifications will help to ensure a more seemless transition from hospital to home.
At Elder, we have strict policy that we'll only help match those living with dementia to a professional who has experience in understanding the specific challenges it represents.
– Mental health care
If your loved one is discharged from a mental health hospital or facility, they might be eligible for specialist support in the community. Additionally, they will also benefit from the expertise of carer with specific mental health knowledge and experience.
Organising care before a hospital admission
If your loved one is going into hospital for an elective procedure, it is best to think about organising post-discharge care arrangements before admission.
This should include thinking about preparing the house for home care, with adaptations – such as grab rails and ramps. This is something your local authority will hlpe you pay for and can help make the home significantly safer for the elderly, reducing the risk of another trip to hospital because of a fall or hip fracture.
It should also include doing adequete research in the best way to hire a carer – whether you're opting for a live-in care agency such as Elder, want the added regulatory coverage (and increased cost) of a fully-managed provider, or the cheaper (and less extensive) support of an hourly care provider.
Should you face the situation where there is an unplanned admission to hospital, the carers we work with can be at your door within 48 hours.
The transition between hospital and home with a carer
Different factors may influence as to how quickly your loved one is discharged from the hospital. These factors include how quickly their health improves and the type of support they will require upon returning home.
It is crucial to ensure that your loved one will have easy access to everything they will need to recover at home. It is also imperative that both you and your loved one are comfortable with the care arrangements that are in place. You should never feel pressured into a decision.
The carers we work with dedicate themselves to ensuring that our care recipients have the companionship they need to settle back into their home environment after a stay in hospital.
An important consideration, which your medical professional and social worker will be able to help with, is whether your loved one is in a situation of needing nursing care or home care.
Call us for expert live-in care advice
After a hospital discharge your loved ones needs can change for various reasons. Here we discuss how a carer can ensure an easy transition once returning home.
Related Questions
How Can Live-in Home Care Help With Mental Health?
Many of the day to day activities we take for granted can become difficult for older people with mental health problems. Coping with housework and general domestic duties may pose problems, so this is one area where companion care can help. In addition to supporting your loved one with practical tasks around the home, a live-in carer will help with meal planning and preparation so that they will receive a nourishing diet which promotes good mental health.
What Are the Benefits of Home Help?
Help around the house and with personal tasks means that your elderly relative can continue to manage the day-to-day activities within their grasp, while receiving assistance with those things they are no longer able to do.
How can a home carer help in a medical emergency?
Have an elderly parent or loved one who's normally independent? It can be a shock if their situation changes suddenly. Here's what to do in an emergency.