You've reached us outside of our opening hours. Create your account to get access to My Elder, our online portal for arranging care and accessing information to support your journey to care.
How to find the best home carer for my needs
How to find the best home carer for my needs
As our loved ones get older, we need to carefully consider the plan for their long-term elderly care to best ensure their wellbeing. The needs of our elderly relatives change with time. Activities that were once simple everyday tasks, such cooking and cleaning or moving up and down stairs, can become difficult and overwhelming.
Inviting your elderly relatives to live with you may not be an option due to the additional space you may require, other family commitments, such as children and the time constraints relating to work commitments.
There are so many reasons you may feel independent living in their own home is the only choice you would consider for your loved one. Whilst in the past this wasn't a viable option for many people, private live-in care introductory agencies like Elder have now made home care services more accessible and affordable.
Care at home
Finding appropriate care for your loved ones is no mean feat. Home is where the heart is and expecting your elderly relatives to let go of fond memories of bygone years can be stressful and unnecessary.
Your loved one may still reside in the family home where they raised their children; even the suggestion of them moving away may cause emotional distress.
A live-in carer provides the option for your relatives to remain in their own home; living independently and receiving ongoing care. This means that they can keep their treasured pets, their own garden, stay close to friends and family, remain a part of their local community, visit local shops and maintain the hobbies and interests they enjoy.
Here are some things to think about when considering a home carer:
Elderly care
Private elderly care at home offers the peace of mind you deserve. You can be safe in the knowledge that your relative is receiving one-to-one round the clock care.
Live-in elderly care providers can assist with your loved one's daily routine, including help with personal care tasks such as bathing, dressing and toileting. As well as domestic duties such as cooking, shopping, domestic help and bill paying, getting in and out of bed, in addition to mobility inside and outside the home. You have the reassurance that the safety and security of your relative is our highest priority.
Dementia care
More and more people are turning to live-in carers to assist with their relative's dementia care. This type of home care allows your loved one to remain in familiar surroundings and still receive the dedicated support they require from our specially trained and experienced carers.
Remaining in the comfort of their own home and having that continuity of structure and routine can have a positive impact on the care recipient's quality of life. For those living with it, dementia is a disorientating condition and poses difficulties with thinking, including memory loss and sometimes language difficulties, providing care in the home is very often the best solution.
Companion care
It's important that carers bond with the clients they are caring for. Live-in care providers should carefully match your relative with a companion carer based on their interests and things they may have in common. That way they can build a lasting friendship and enjoy the time they spend together.
---
Dulcie's story
Dulcie is one of our longest serving customers. In this short video, she talks through the reasons behind her, and her family's decision to choose full-time home care rather than the care home.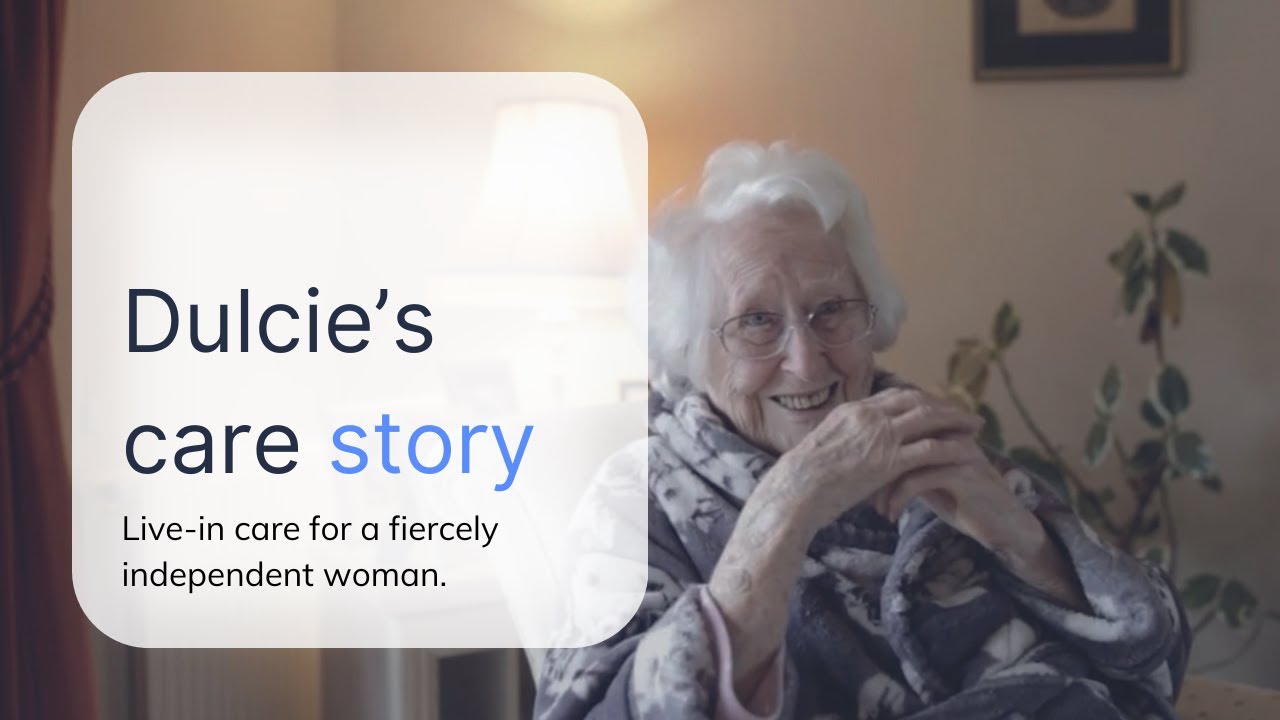 ---
How do you find the best carer for your parents or relatives?
1. Consider the needs of your relative
Speak to other relatives as well as your family GP in order to consider the level of care your relative requires. You may have been carrying out some care tasks yourself and in that case, you will have first-hand knowledge of the needs required. It is then a matter of finding a carer who can fulfil those needs.
Things to take into consideration include: personal hygiene such as bathing and toilet hygiene, dressing, cooking and eating, domestic chores and mobility. Also consider the skill of the carer required. For example, your relative may be living with dementia, which would mean they would need additional expertise.
2. Ask a lot of questions
Suitable care for your relative is paramount. It's always a good idea to be prepared with lots of questions. A reputable care provider will be happy to answer all your queries, and you can make an informed decision as to whether you feel they can help you to secure the best level of home care for your relative's needs. Think about: level of experience, DBS checks, availability and cost.
3. Get to know each other
Your relative and their home carer will spend a lot of time together, so a good match is important. Think about personal characteristics such as patience, respect, kindness and friendliness, in addition to their ability to provide care to your relative. Speak to the carer who may be providing your relative's care and be honest about the personality traits and habits of your loved one.
4. Think about your budget
Cost is a major consideration for most families. Before approaching a care provider, be sure that you have a thorough understanding of the financial situation and options.
A good agency will be able to advise you on the funding options available to you to cover the cost of care.
Call us for expert live-in care advice
There are so many reasons you may feel independent living in their own home is the only choice you would consider for your loved one. Whilst in the past this wasn't a viable option for many people, private live-in care introductory agencies like Elder have now made home care services more accessible and affordable.
Related Questions
Home care: Frequently asked questions
Everyone's individual situation is different which is why we undertake a comprehensive free care assessment for those who are considering home care as a care option for themselves or their loved ones. There are, however, certain questions which come up time and time again which is why we've created this frequently asked questions about home care page in order to give you the information you need to assess your options.
Home care: how does it work?
Home care works in many different ways. Each person's case is different with unique preferences, physical needs and life experiences, and care at home should be as tailored as possible to the individual's requirements.
Home care: How do I pay for It?
There are various ways of paying for home care and dementia care, but understanding the various options of care provision can seem very daunting at first.
Home care: how to choose a care provider
Choosing which company to employ to provide care for yourself or a loved one is an important decision and you need to carry out some research beforehand.
Home care: how to find a carer
People usually want to remain independent and in their own homes for as long as they can, but as they grow older there is often a need for some support with this.
Home care or nursing home: what's the difference?
Deciding whether your needs can be met by care at home or whether you need to go into a nursing home is an issue faced by many older people.
Home care: the questions you need to ask
If you are looking for in-home care for yourself or a relative, there are a number of important questions to ask potential providers of care at home before you make a decision about which one is most suitable for you or your loved one.
Home care: what are the costs?
The costs of home care to an individual can vary widely and are dependent on many different factors. These include the type of care needed, how many hours a week you need a caregiver to be present, your own financial situation, where in the UK you live and whether you are eligible for any assistance with your care fees.
Home care: what does it provide?
Home care is a good way of providing elderly care and care for people who are recovering from illnesses or have mobility issues.
Home Care: When Is It Appropriate?
There are many different times home care can be helpful. Sometimes just a short period of care at home is enough to make a difference, but more often families may decide that they need an extended period of elderly care in the home for an older family member.