You've reached us outside of our opening hours. Create your account to get access to My Elder, our online portal for arranging care and accessing information to support your journey to care.
Home care: how to find a carer
People usually want to remain independent and in their own homes for as long as they can, but as they grow older there is often a need for some support with this.
Housework, cooking meals and shopping can pose real problems for some older people, so they need assistance to maintain independent living through in-home care.
Small everyday tasks such as getting out of bed, washing and dressing can also become difficult, and they may need care to help with their personal needs. Luckily, live-in care now means those with full-time needs, who in the past would have to move to a care home are now able to get that extensive support they need in their own homes.
Dementia care services including Alzheimer's care can be provided in the home, which is much less worrying for a confused elderly person than having to go into residential care.
Care at home
There are different kinds of support available to elderly people. Some people are eligible for services that will meet their needs, but some of these will be means tested. You may also be able to have care in the home depending on your assessed needs.
Some of the services that are available to help people to stay in their own homes include help with getting up and going to bed, washing and bathing, cooking or preparing meals and domestic cleaning.
Equipment such as bath seats and stair lifts that make it easier to stay in the home may also be fitted. People who attend a day centre may receive support with this too.
---
Dulcie's care story
In this short video, Dulcie and her family explain their reasons for choosing Elder live-in care.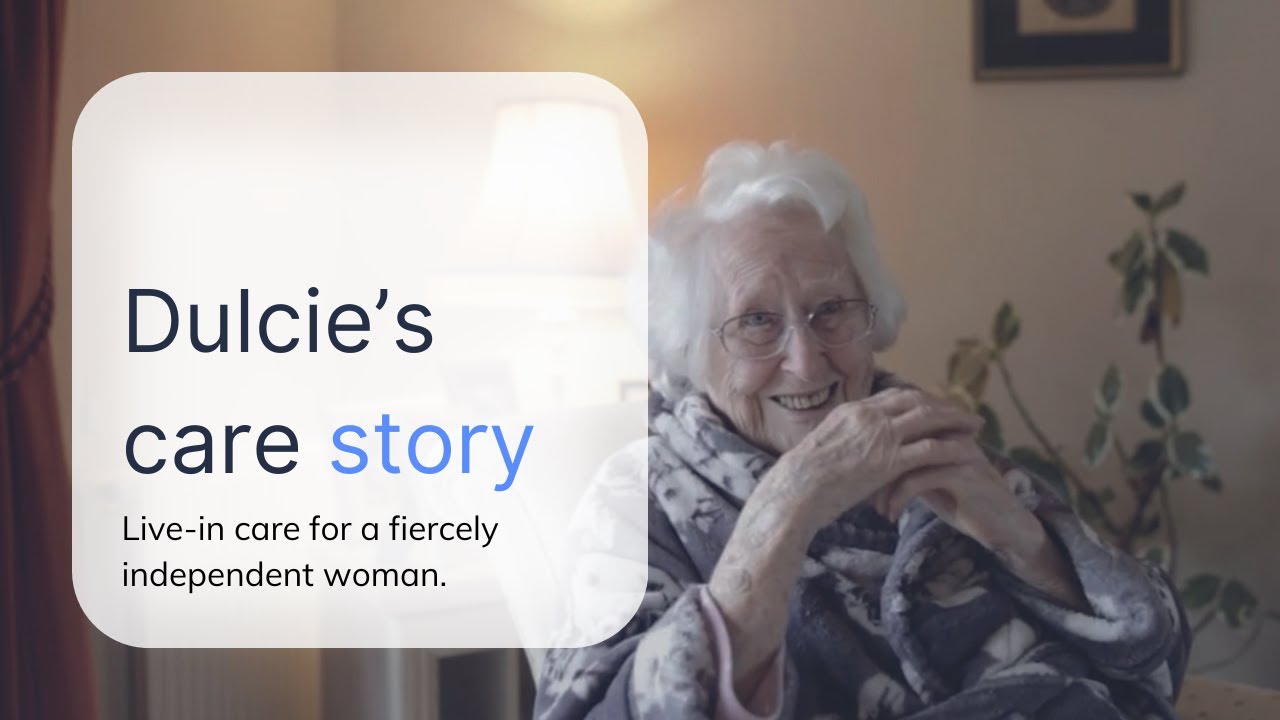 ---
How to find care
The first port of call for arranging care for yourself or a family member is the adult social services department of your local council. Everyone is entitled to a care assessment in which their care needs will be assessed. This is a free service and is not means tested at all.
The care assessment is generally carried out in your home. The assessor takes into account all aspects of your care needs, not simply your physical problems, and will consider your emotional and social needs as well.
Your wishes and needs are an important part of the assessment, as are those of anyone who looks after you. People involved in the assessment may include a nurse, occupational therapist and social worker. When the assessment has been completed, an individual care plan will be agreed and recorded.
Once there's a clear picture of needs, you'll need to explore different care options. Central to this is choosing the right care agency for your family's individual requirements.
Paying for care services
Services provided by local councils are usually chargeable, but the majority of councils cap the amount anyone has to pay. The council has to calculate how much you can afford and still retain a reasonable income.
If your assessment says you need care at home, you may have the option of choosing direct payments. The council pays these directly to you or to someone that you trust, meaning that you will be able to arrange your own care and pay for it. Personal budgets have also been introduced, meaning that people have increased control and choice in their private care arrangements.
If you need home care, you may be eligible for help from the council. If you only need assistance with shopping, housework or gardening, you may need to arrange this privately. Private care providers and local branches of voluntary organisations – such as the Royal Voluntary Service or Age UK – are able to help with this.
Arranging care services
If you need help with personal care or other aspects of everyday life, you can find care services through a private agency.
Details of providers of Alzheimer's care, elderly care and private can be found through the UK Home Care Association, or your local department of adult social services may have lists of agencies providing dementia care, live-in care and elderly care. Relatives or friends may be able to recommend suitable providers of care services covering your area.
However, obviously, as the UK's leading live-in care agency, we'd always suggest giving Elder a call. Whatever your situation we'll be able to provide advice on the next steps to take.
Employing a carer
It is possible to directly employ a care worker, but if you decide to do this, you will need to draft an employment contract to clarify the details of the employment. You may also be responsible for paying National Insurance contributions and pension contributions, so it is worth contacting the HMRC for advice.
Bear in mind that if you directly employ a caregiver, whether it is a live-in carer or someone who visits regularly, you will need to make arrangements for times when they are on holiday or if they are ill. If the care provision you choose is through a provider, they will be responsible for providing cover for holidays and also for running checks on the carers they employ, which is a distinct advantage.
24/7 care in your home can mean that even people with quite complex care needs can stay safely in their own home for longer. Knowing there is someone else in the house provides valuable reassurance, not only to the elderly person but to relatives as well, particularly if they do not live very near.
Whether you directly employ, use an agency or even a provider, it's essential to ensure your home carer has been background checked. If you have any concerns about a directly employed carer's honesty or actions, you should contact your local council or Disability Rights UK for help in tackling the problem.
Some people choose to employ a friend as a personal assistant, but this can sometimes create problems in the relationship between you. It seems an ideal solution because you are likely to feel at ease with a friend and know they can be trusted, but you still need to treat them as an employee while they are working for you.
Call us for expert live-in care advice
People usually want to remain independent and in their own homes for as long as they can, but as they grow older there is often a need for some support with this.
Related Questions
Home care: how to choose a care provider
Choosing which company to employ to provide care for yourself or a loved one is an important decision and you need to carry out some research beforehand.
Home care: what does it provide?
Home care is a good way of providing elderly care and care for people who are recovering from illnesses or have mobility issues.
Home care: the questions you need to ask
If you are looking for in-home care for yourself or a relative, there are a number of important questions to ask potential providers of care at home before you make a decision about which one is most suitable for you or your loved one.
Home care or nursing home: what's the difference?
Deciding whether your needs can be met by care at home or whether you need to go into a nursing home is an issue faced by many older people.
Home care for the elderly – What is it?
The majority of older people would prefer to live independently in their own homes but unfortunately this is not always possible.