You've reached us outside of our opening hours. Create your account to get access to My Elder, our online portal for arranging care and accessing information to support your journey to care.
Why should I hire a self-employed carer?
When your elderly loved one is struggling to cope in their home, your primary concern is bound to be for their safety. This raises the question of arranging elderly care.
You may consider moving them into a care home as one option, but another, more favourable idea might be to employ a home carer for them.
This would allow your loved one to remain in their own familiar and much-loved surroundings. It would avoid all of the upheaval and distress that comes with downsizing possessions and moving into somewhere new.
Care at Home
It has become clear that we are living in an ageing population. Second to this, there is a growing disillusionment with the care home model. These two factors have led people to consider care at home, as they wonder how to cope with ageing parents or relatives.
Understandably, many elderly people prefer to stay in their own home for as long as possible. Some are worried by negative press reports regarding care homes, and some simply want to remain independent in their familiar environment. It is, therefore, little wonder that many elderly are discovering the profound difference that a helpful pair of hands can make around the home.
Whether visiting for an hour or helping twice a week, attention from a dedicated caregiver allows your loved one to continue to enjoy life at home, in safety.
The benefits of a self-employed carer
Caregivers can be sourced independently or can be found with the help of a dedicated care agency. The agency route is a popular option due to the thorough vetting that every candidate receives. As well as this, an agency references checked and DBS checks carried out, to ensure the safety and responsibility of each candidate.
However, as you might expect, there are costs involved with administration, which will, of course, be passed on to you and your loved one. A traditional agency must fund its staff and premises and ongoing costs, which raise the cost of hiring a caregiver.
Against these costs, it's essential to weigh up the convenience. The agency will be responsible for paying the carer, removing the need for you and your elderly loved one to worry about National Insurance, tax, holiday and sick pay. For many families, these are costs that they will happily absorb if it means that their loved one can continue to live happily in their own home.
When you employ a self-employed carer independently, you can be sure that the same carer will always be available for your loved one. This may not necessarily be the case when hiring through an agency. When hiring through an agency, the availability of caregivers can vary, resulting in less certainty that your loved one will receive care from the same individual.
---
Colin and Dulcie's story
Dulcie is 102-years-old and lives with her son Colin, his wife Mary, and her Carer Sarah. She has dementia and has had full-time live-in care for over two years.
We talk to the family about the challenges of finding the right care solution for
a fiercely independent woman – and how the positive benefits of live-in care with Sarah has transformed all of their lives.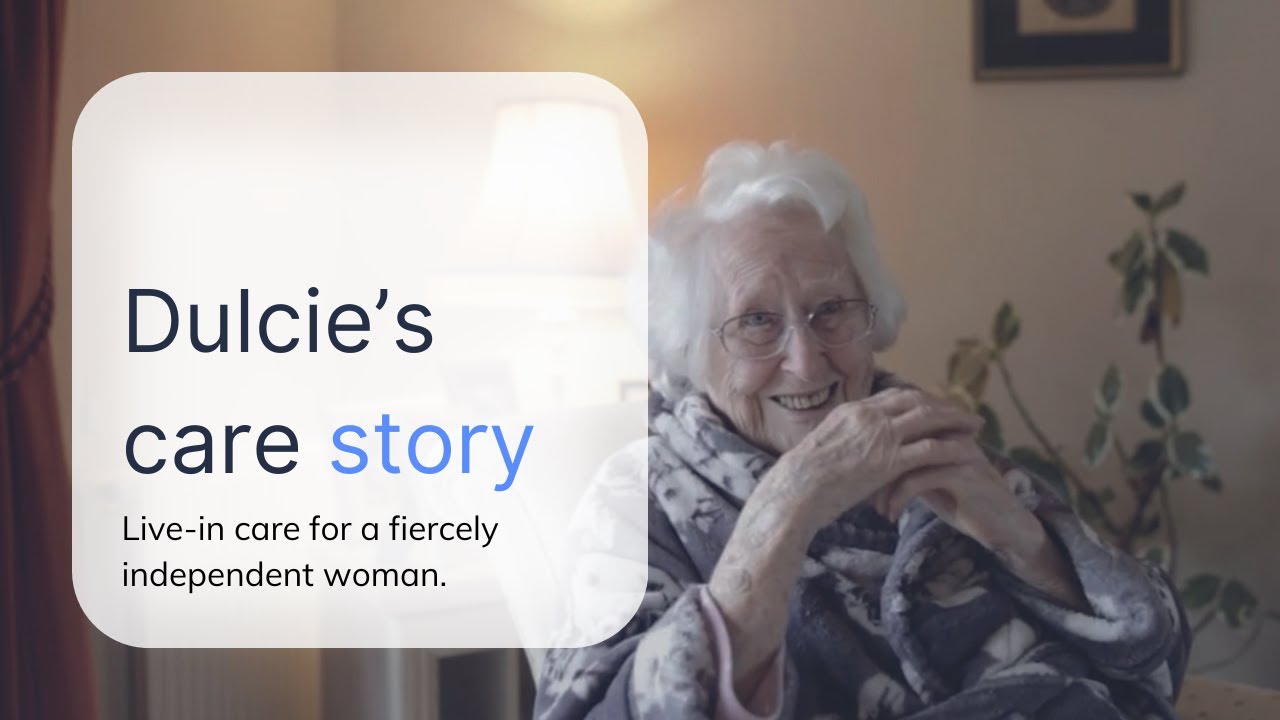 ---
Types of Care
Whatever your loved one's circumstance, there is home help available to suit all conditions. Some lonely older people may crave companionship more than assistance. This is common if they have lost a much-loved spouse and are unaccustomed to spending so much time alone. In these cases, companion care is the perfect solution. With companion care a carer provides company for walks, trips out and even just a cup of tea and a friendly chat. This can make all the difference in raising a lonely person's spirits.
In other cases, your elderly loved one may be struggling to cope with household chores. In this instance, elderly care can be combined with housekeeping duties. If your loved one is experiencing memory loss, dementia care may be the most appropriate solution. In this scenario, you may opt for 24-hour live-in care, with the carer providing personal care where needed.
Points to Consider
It's essential to source precisely the right sort of elderly care for your relative's unique circumstances, so the process should never be rushed. If you decide to go it alone, take the time to interview prospective candidates thoroughly. Make sure that each candidate has an up-to-date DBS check to ensure your relative's safety. Ensure to follow up references very carefully and never ignore your gut instincts about a candidate.
Consider your legal requirements regarding the need for contracts, as well as your commitments relating to holiday and sickness pay. You should also make sure that you have any necessary insurance cover, so it's worth taking the time to consult a legal professional. Be clear about the terms of employment with a cast-iron contract. It may cost more initially, but it provides endless peace of mind in the long term, making it worth every penny.
If you are looking for an alternative solution to finding a carer yourself, Elder provides the answer. Matching your loved one with a local, vetted and trusted carer, Elder offers the best of both worlds. Click here to find out more about the process of finding a carer with Elder.
Call us for expert live-in care advice
You may consider moving your loved one into a care home, but another option may be to employ home care for them. There are different types of care available to those who need support. This article discusses the benefits of hiring a self-employed carer.
Related Questions
What type of background checks should I be doing on a home carer?
When bringing someone into the home of your loved one, it is worth doing proper research to ensure their safety. Background checks are therefore a necessity. Find out how to action carer DBS checks here.
Home care: How do I pay for It?
There are various ways of paying for home care and dementia care, but understanding the various options of care provision can seem very daunting at first.
Home care: how to find a carer
People usually want to remain independent and in their own homes for as long as they can, but as they grow older there is often a need for some support with this.
Home care: what are the costs?
The costs of home care to an individual can vary widely and are dependent on many different factors. These include the type of care needed, how many hours a week you need a caregiver to be present, your own financial situation, where in the UK you live and whether you are eligible for any assistance with your care fees.
Home Care: What's the best way to hire a carer?
There are a number of ways in which you can hire a home carer. You can use a specialist such as Elder to provide your loved one with a carefully vetted and matched carer, or you can employ a carer directly. You will no doubt want to consider all options when making the decision in order to find the most suitable solution for you and your loved one.