There are a lot of elderly care options available in the UK, and even if you know which type of care you want, choosing between providers can be overwhelming. To help you make an informed decision we've covered Elder's care options below, as well as how these shape up against other options on the market.
Elder care options for lower care needs 
Elder specialises in live-in care. While it's often considered an option for people with more advanced care needs, live-in care can actually be beneficial when a lower level of care is needed too.
In fact, Age UK's 'The State of Health and Care of Older People in England 2023' report found that a significant number of hospital admissions could be avoided if older people received care and support earlier on – to prevent small health problems from becoming a crisis.
Live-in care can often be a good choice in the following situations: 
Companionship live-in care 
Elder can support with elderly companionship care – connecting an older person to a carer who shares common interests, or complements their personality or lifestyle.
It's easy to become lonely or isolated in later life. The loss of a spouse or close friend can leave a significant gap in someone's life and a lot of hours to fill. And, even if an older person is able to see other friends and family regularly, this can sometimes serve as a reminder of how lonely they feel the rest of the time. 
A live-in companion can provide support and help boost an older person's quality of life in a number of ways. This may be something simple as making time for a daily chat over a cup of tea, sharing meals, or accompanying them on outings or shopping trips. They can also help with things like email and video calls to help an older person stay connected to their family. 
If an older person is in the very early stages of a progressive condition having a live-in companion carer is an effective way to manage symptoms and spot any changes. Carers can help them make gradual adjustments to their routine or how they approach certain tasks to ensure life remains as comfortable as possible. 
Respite live-in care
If an older person regularly relies on the help of friends and family, Elder can arrange short periods of live-in respite care to give these caregivers a break.
Sometimes, people may only require support with trickier tasks like cooking, or may need someone to check they've taken their medication, or that they're drinking enough. Live-in care can provide peace of mind by ensuring this support is available whenever it's needed. Families don't need to worry about whether a visiting carer has made it to their loved one, or whether they're spending enough time in their company, and checking the right things. 
Pros of live-in care for lower needs:
Provides peace of mind – especially if to family members who live far away

Gives informal caregivers a chance to step away from some or all of their caregiving responsibilities, so that they can focus on being a relative or friend, instead of a carer

Reduces the risk of later life loneliness or becoming isolated

May make it easier to accept more hands-on care if the time comes – especially if they're able to keep the same carer

Older people can continue with their normal routine and daily activities 

Having someone around all the time can help with safety, from physical safety such as preventing trips and falls, to financial safety by protecting them from

mail or doorstep scams 
Cons of live-in care for lower care needs:
It's not always easy to accept someone new moving into the home, even on a temporary basis, especially if the person needing care has lived on their own for a long time 

Requires the home to have enough space for the carer to have their own bedroom 

 More costly than visiting care, as the carer remains with the older person 24/7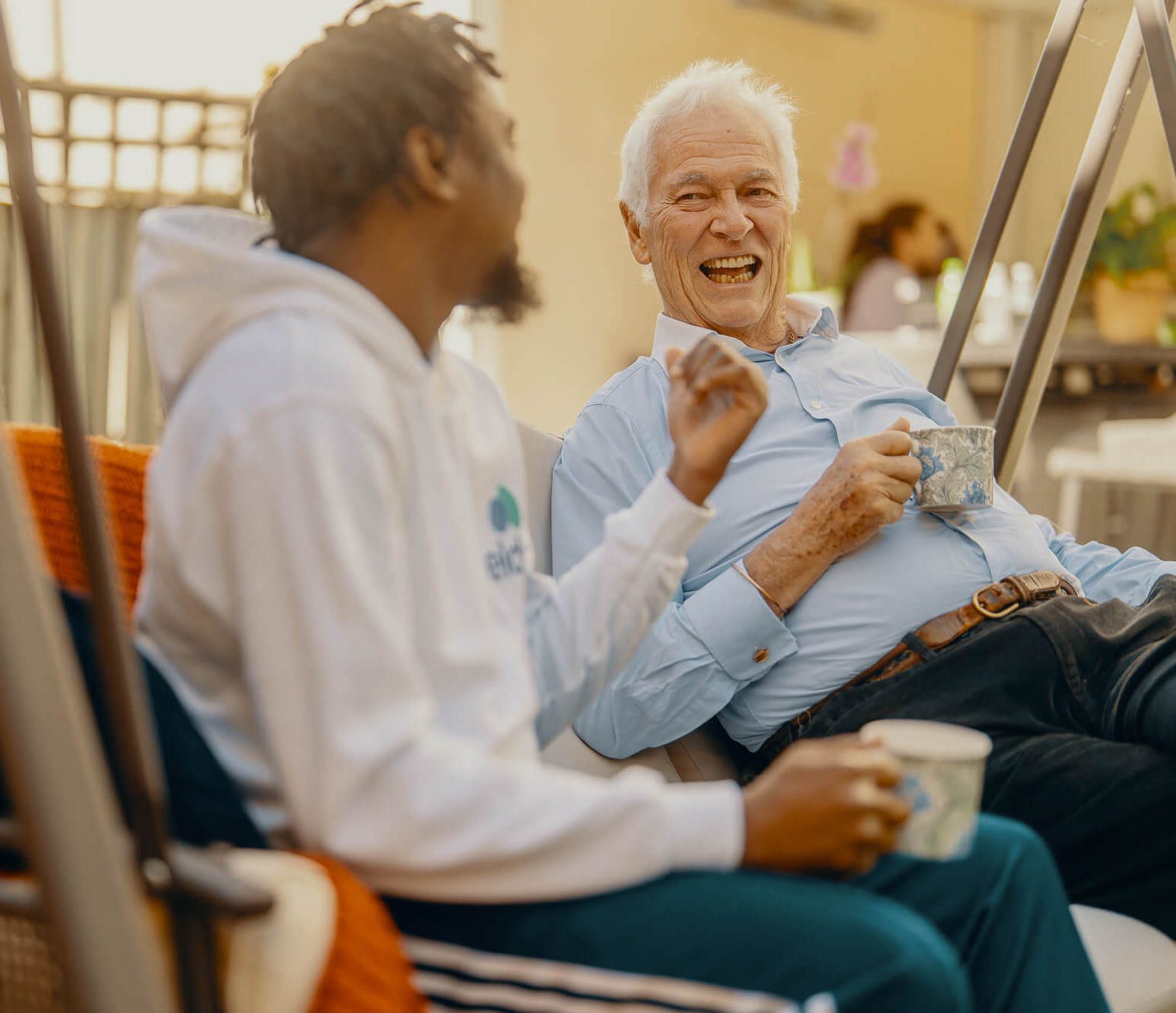 What are some alternative care options for lower care needs?  
Assisted living facility
What is it? 
Assisted living requires older people to move into a specialist property. Assisted living properties are much the same as a regular flat or bungalow – they'll have their own front door, as well as individual kitchens, bathrooms and living spaces. However, they're usually set within a dedicated complex for people over a certain age, have emergency call alarms in the majority of the rooms, and staff on site 24 hours a day. 
Pros: 
Older people can enjoy independent daily living, with additional support in place should they need it. 

Complexes usually have a range of support staff and a dedicated warden on shift at all times

Some complexes have communal lounges and optional activities so residents can be as social as they wish 
Cons: 
Requires older people to move out of their current home. This may mean downsizing and getting rid of some furniture and possessions. 

Properties are unlikely to have the space for a full-time live-in carer if the person needs a higher level of care in the future. This may mean they have to move again, which can be a significant upheaval. 

Housing options can be limited in some areas due to demand. Rental and purchase prices are likely to reflect regional market prices too. 
Visiting home care
What is it? 
Regularly scheduled visits from a carer can be sufficient to enable the person to remain in their own home if they have limited care needs.
For example, a home carer could visit in the morning to help an older person get washed and dressed, then return at lunchtime to assist with meal preparation. An evening visit could be arranged to help with undressing and going to bed.
Visits usually take place during daytime hours, and depending on the provider and the level of care needed, older people should have some say over how many hours per day the carer spends with them.  
Pros: 
Older people can stay in their own homes, and maintain much of their independence

Visiting care can be used to support and lighten the load on family caregivers 

Often a more affordable option as the carer isn't present all the time 
Cons: 
It may not be the same carer visiting each day, making it difficult to build a rapport or relationship

There may not be much time for a friendly chat during shorter visits, especially if support is focused on household chores or practical support 

Older people may find their routine disrupted if the carer is delayed, or need to adjust their existing daily routine depending on carer availability 

Not suitable for those who are at a greater risk of falling or injuring themselves, or who need a higher level of supervision to keep them safe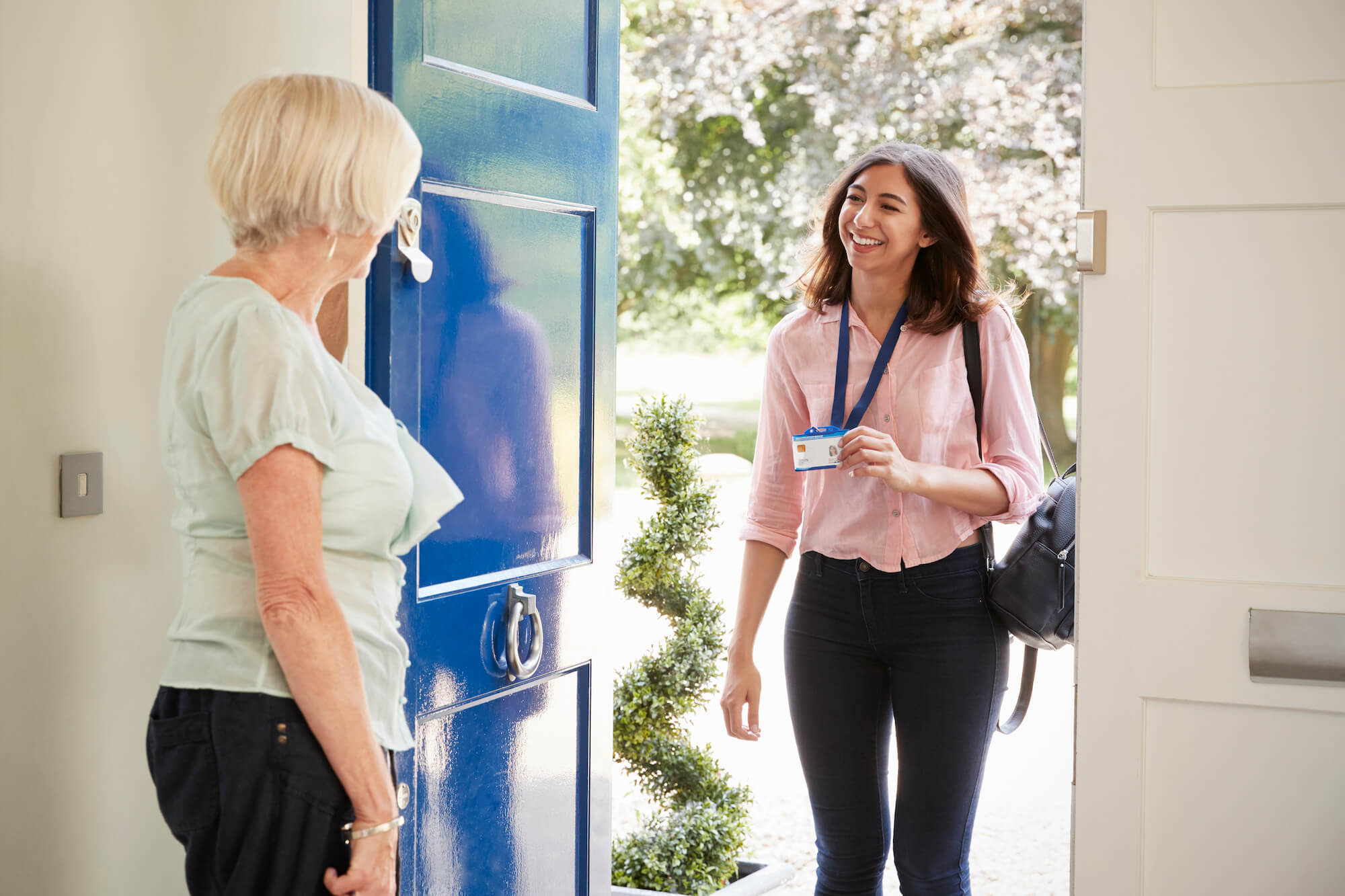 Elder care options for more advanced care needs
Full-time live-in care
A full-time live-in carer can be a good option for those requiring more complex care – allowing them to maintain as much independence as they can, for as long as possible. Carers can support a wide range of personal tasks that have become too difficult, such as getting out of bed, toileting, personal hygiene and dressing.  Carers can also help with many other aspects of life, from offering reminders to take medication correctly, to ensuring an older person can still get out and about to see friends safely. 
Because the carer has only one person (or sometimes a couple) to look after, the care can be tailored specifically to their needs or any specific health conditions.
For example, for those living with dementia, care at home means that they do not have to face the upheaval and upset of moving into a care home. They may feel more settled and content in their own familiar environment and many care providers can ensure they're supported by an experienced dementia carer – with the skills to manage symptoms.
In addition to the care, a live-in carer will also carry out domestic duties that are essential to everyday life.  They'll shop, prepare nutritious meals, do the laundry and do some cleaning. A live-in carer can even help with pet care or gardening if this has become too difficult for your loved one.
Live-in palliative care
Palliative care exists on a spectrum – requiring input from a number of different people, support systems and healthcare professionals. The exact requirements can include physical, psychosocial and spiritual support.
Live-in care can be a form of palliative care and provide companionship support for the person, their family and the rest of the care team. It can help with daily care needs too, such as meal preparation, personal care, running errands and managing the home. Essentially, it can help people remain at home as they near the end of their life – as opposed to having to move to a hospital, care home or hospice.
Pros of live-in care for more advanced care needs:
Older people can be supported one-to-one by a dedicated carer, helping to nurture a trusted and meaningful relationship

Ensures someone is available 24/7 – providing peace of mind 

Allows couples with different care needs to continue living together, and provides additional 24/7 support to a healthy spouse who may have previously been providing care to their loved one alone

Helps people remain in the comfort and familiarity of their own home 

If you're applying for funding support from your local council, the value of your property will not be included in your assessment 
Cons of live-in care for more advanced care needs: 
For those who require specialist health care, such as stoma or catheter management, wound management, or controlled drugs, live-in care may need to be used in conjunction with other services, such as district or community nursing. 

It's not always easy to accept someone new moving into the home especially if the person needing care has lived on their own for a long time

Requires the home to have enough space for the carer to have their own bedroom
What are some alternative options for those with advanced care needs? 
Residential care 
What is it? 
Many people view this form of elderly care as the norm for older people whose health or social care needs mean that they can no longer live independently. It involves older people moving into their own rooms in a dedicated Residential Care Facility. Rooms are usually en-suite as standard and may have a living area with a sofa and television.
Residents are supported by a staff of carers who'll help with personal care such as washing, dressing and toileting. They may also administer certain medications. Meals are provided to all residents in a dedicated dining room, and there are plenty of communal areas for residents to share. 
Pros: 
Provides 24-hour care and security 

Trained staff available to help administer medication

Many homes offer additional services such as hairdressing, bars or cafes, exercise classes, chaplain services, and resident day trips.  

Some homes specialise in dementia care or offer dedicated dementia services 

Provides a structured schedule, which can help reduce feelings of anxiety or stress, and help with forming a healthy sleep pattern.
Cons: 
Limited independence. It may not be easy for elderly people to leave the grounds of the care home on a regular basis 

Not all of the fees will go towards care – homes need fees to cover keeping the facility clean, utilities such as electricity, and catering three meals a day. Some activities may come with additional charges too. 

Elderly residents will need to adapt to the routine of the home, which may mean eating meals or waking up at times they're not used to 

Residents may be unable to keep their pets or all their possessions with them

Due to the demand for places, older people may get less say over where they go, especially if the council are funding their care

Price can vary a lot by region, older people in the south of England and London are likely to pay a lot more than those in the North and Scotland
Residential nursing care 
What is it?
This is similar to a care home, but the care is overseen by registered nurses. It ensures people with life-limiting or progressive health conditions have access to skilled nursing staff and medical intervention around the clock. Residential nursing care can monitor and respond to changing health needs, as registered nurses are trained to identify when something may be wrong. They'll also know when to call for a GP or consult a specialist from a person's health care team. 
Pros:
Due to the nature of the care required, people in nursing homes are more likely to be entitled to NHS Continuing Healthcare funding, which covers care costs in full. 

Provides a structured schedule, which can help reduce feelings of anxiety or stress, and help with forming a healthy sleep pattern.

Offers round-the-clock care from skilled nursing professionals 
Cons:
If you're not eligible for full funding, it can be expensive due to the specialist nature of the care and support provided.

Elderly residents will need to adapt to the routine of the home, which may mean eating meals or waking up at times they're not used to

Residents may be unable to keep their pets or all their possessions with them

Couples are unlikely to be able to continue living together – particularly if their care needs are different. 
Hospice care
What is it?
Hospices are dedicated facilities that provide free medical, emotional, and practical care to people with terminal and life-limiting conditions. 
They offer day services for people at any stage of a terminal illness – which can involve support sessions, exercise programmes, complementary therapies, spiritual support and counselling. They also offer residential services – where people can stay in their own room at the hospice. These services are used for short periods of respite or to ensure someone nearing the end of their life has a comfortable environment where they can receive intensive care during the final stages of an illness.
Pros:
Free of charge 

You'll have access to a team of health and social care professionals including doctors, nurses, therapists and social workers
Cons:
You might prefer to spend your final days in your own homes, rather than a hospice 
---
Dulcie's care story
Duclie is one of our longest serving customers. In this video her and her family talk through their decision to arrange care in the home rather than the care home.
---
What type of care company is Elder?
Elder is an introductory agency. This means we carefully match those in need of care to self-employed care professionals based on the information you provide. This information includes details of who the person needing care is, what they like and dislike, their daily routine, and their health to help us identify carers who fit their lifestyle.
However, Elder is different from many introductory agencies on the market, who classify themselves as carer 'recruitment' services, as our service and support go beyond just matching. We perform the background checks and assessments you'd expect of a leading care provider – ensuring that all the carers in our network are experienced in delivering a high standard of care. 
Our in-house clinical team will also review your situation in detail to ensure Elder is the right solution for your care needs, and you'll have the personalised support of your own dedicated Family Support Specialist, throughout your Elder Journey.
What else makes Elder different? 
With Elder you control your care experience – from choosing your carer, to setting your own daily routine. Everything can be managed quickly and easily in your own MyElder online account. All you need is access to the internet to do the following – 
Tell us what you need using our intuitive care appraisal form, and update your needs anytime 

Review carer profiles and select your favourite carer

Read updates from your carer with the care logs feature

Access helpful advice and resources 

 Easily update payment information and track your invoices
Learn more about elderly care
Take a look at more Elder guides on later life support.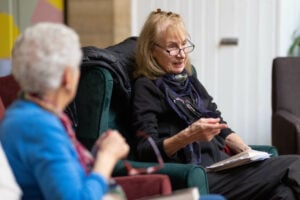 Elderly Care: What if Elderly Parents Refuse Care? Growing older and less able to maintain an independent lifestyle can be hard for an older