Choosing a care home
Live-in care in Bury St Edmunds might not be suited to everybody who lives there. Your loved one may not live in a house that is big enough to accomodate a home carer, or perhaps the idea of it just isn't their cup of tea.
Even so, Elder would still like to help you make the best later life care choice for your loved one because despite the abundance of information out there, you might not have time to filter through it all.
That's why we've summed up our top ten care home picks in Bury St Edmunds to ensure that not only do you make the right choice for your family, but you don't get flustered trying to piece it all together either.
The top care homes in Bury St Edmunds
If you're considering residential care for your parents or loved ones in Bury St Edmunds, the following eight options may be worth considering.
Montana Care Home Grace and Compassion Benedictines
East Barton Road, Great Barton, Bury St Edmunds, IP31 2RF
This single-storey care home accommodates up to 19 service users in 16 rooms with en-suite WC, 3 of which can be used as doubles. Residents range in age from 65 to 102.
Suitable for old age.
Davers Court
Shakers Lane, Bury St Edmunds, IP32 7BN
Danvers Court provides care for up to 60 service users aged 65 and over. All bedrooms are single and have en-suite facilities. The home also offers convalescent care, day care and respite care.
Suitable for dementia, old age, physical disability and sensory impairment.
Mildenhall Lodge
St John's Close, Mildenhall, Bury St Edmunds, IP28 7NX
Mildenhall Lodge is a purpose-built care home with nursing registered for a maximum of 60 service users aged 65 and over in single en-suite rooms. The home offers palliative care, convalescent care, respite care and day care. There is a separate dementia care unit.
Suitable for younger adults, old age, physical disability and dementia.
Ford Place Nursing Home
Ford Street, Thetford, IP24 2EP
Ford Place is a care home with nursing offering respite care as well as long-term care. The home is registered for up to 49 service users aged 50 and over and has 37 single rooms and 6 shared rooms, all with en-suite WC. Palliative care and convalescent care are also available.
Suitable for dementia and old age.
Glastonbury Court
Glastonbury Road, Bury St Edmunds, IP33 2EX
Glastonbury Court is a new purpose-built care home for up to 60 service users aged 55 plus. All rooms are single occupancy and have their own en-suite WC. Secure gardens for service users living with dementia. Respite care is available in addition to long-term care.
Suitable for dementia.
Hillcroft House
Finborough Road, Stowmarket, IP14 1PW
Care home close to the centre of town providing accommodation and care for a maximum of 43 service users aged 60 and over. There are 41 shared rooms and 1 single room. 41 rooms have en-suite facilities. Respite care available.
Suitable for dementia and old age.
Stowlangtoft Hall
Stowlangtoft, Bury St Edmunds, IP31 3JY
Privately owned care home with nursing registered for a maximum of 47 service users. There are 39 single rooms and 4 shared rooms. 29 of the rooms have an en-suite WC. The home offers palliative care, convalescent care and respite care to service users aged 65 plus.
Suitable for physical disability and old age.
The Beeches
39 High Street, Ixworth, Bury St Edmunds, IP31 2HJ
The Beeches is a care home for people with dementia aged 65 and over. It is registered for up to 35 service users accommodated in 25 single rooms and 5 shared rooms. 22 rooms benefit from an en-suite WC. The home also provides respite care.
Suitable for old age and dementia.
Realising your elderly loved one requires extra, full time care isn't easy and when there seems to be so many options, it might be overwhelming to know where to start.
At Elder, we are always on hand to offer the best impartial advice, every day between 8 am and 8 pm to help you decide on the best care solution for the your loved one.
Get in touch with one of our expert care advisors today.
Frequently asked questions
Home care: What does it provide?
Home care is a wide term that can cover anything from companion care through to complex care. This can include specialist live-in dementia care. The overall aim is to offer the care recipient the support they need to allow them to live independently in the comfort and familiarity of their own home.
The carer will provide 24/7 support with day-to-day activities, such as transport, cooking and housekeeping. They will also support the care recipient in their social activities, including hobbies and outings.
One crucial aspect of in-home care is the fact it is one-to-one. This means that the carer develops a real bond with the recipient and provides valuable companionship, as well as practical support. The benefits, flexibility and cost-effectiveness of in-home care mean that it is an attractive alternative to residential care homes for many families and their loved ones.
How to choose a care home?
While selecting the best home for your loved one will be a highly personal choice, there are some things you should bear in mind when comparing homes in your area. Online reviews can be a valuable resource when researching homes but exercise caution when using anonymous sources.
Private room – will your loved one be distressed sharing a room? If a private room is essential, you should make this a priority.
Bathrooms facilities – if a private bathroom is a must, you should make this known from the start when selecting and contacting with care homes.
Activities – some homes offer extensive activity programmes, which can help your loved one to settle in and may help improve his or her quality of life. Ask about activities and find out what the residents do to pass their time in the home.
Live-in care: can care recipients choose their routine?
One of the principal advantages of live-in care over a move into a residential care home is the flexibility that care within your loved one's own home provides.
In a care home setting, the needs of the group may outweigh the specific needs of your elderly relative, since the staff members are unable to dedicate themselves specifically to one person throughout the day. However, with live-in care, the sole focus of the caregiver is your loved one.
Of course, that doesn't mean that your loved one has the final say in absolutely everything, particularly if they are living with dementia, for example, which could lead to them making poor choices that compromise their safety. But a care plan is clarified with the care recipient and their wider family, ensuring that all parties are happy with the plan. It can be adapted over time as your relative's needs change.
Do care homes allow pets?
Although some care homes will allow their residents to have a pet, the vast majority do not. The emotional and health benefits associated with pets are well recognised, and many care homes will allow therapy animals to visit from time to time so that service users can have some contact with pets.
Some care homes will also allow an elderly person's own pets to visit if they are being cared for by a family member, but this can be upsetting if your loved one has had to give up a cat or dog who has been part of their family.
This is where live-in care can make a real difference to an older person's quality of life, because not only are they able to remain at home with their pets, but their live-in carer will be happy to help with feeding and caring for their animals if this has become difficult for them.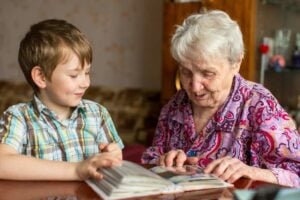 The true cost of care – everything you need to know Discover the true cost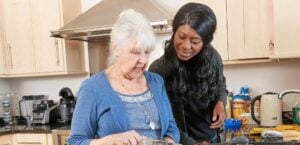 Live-in care Vs Other types of care If your loved one has reached a stage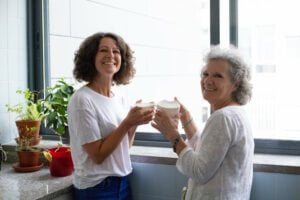 A Guide for Caregivers – Everything You Need to Know If your loved one needs