The role of the caregiver is more crucial than ever – over 2 million people each year will take on some kind of paid or family caring responsibility in the UK. And for those living with dementia, illness, frailty, or one of the many other challenges that come with growing older, the efforts of these carers are vital.
But for the carers themselves, it can be a tricky transition. Caring for a loved one isn't something anyone is ever truly prepared for and most people only learn how to handle every unique situation as it arises. To help you navigate the role of caregiver and to prepare as best you can for the care journey ahead, we've put together some useful tips in this guide.
01: Introduction to caregiving
Whether you have noticed that someone you care about is starting to need more assistance with daily life, have been full time caring for a family member yourself, or your loved one has an urgent requirement for professional care, this guide will provide you information that supports you on your care journey and role as a caregiver.
"In the UK alone, care at home provided by family and friends is estimated to be worth £132 billion per year… The way we value and support the contribution of carers is at the heart of addressing some of the current major challenges our society is facing. It is also of even more fundamental importance; caring and being cared for is part of being human and something which almost everyone will experience at some point in their lives."

State of Caring 2017, Carers UK
Caregiving can be one of the most fulfilling and simultaneously challenging roles many of us will ever undertake. The demands of balancing caregiving, immediate familial requirements and professional duties leave many people feeling incredibly stretched both emotionally and financially.
With over 1.3 million people across the country providing over 50 hours of care per week, the enormous time commitment presents conflicts in its own right, from managing work schedules, taking unpaid leave and sacrificing potential wages. It may come as no surprise then, that these factors can contribute to carer depression, especially where there was little choice when it came to taking on the caregiver role.
This is because the role and challenges of being a caregiver is often underrepresented in mainstream media, and those providing care can therefore often feel very isolated. We've created this guide as a resource to help you feel more connected and informed when providing care or choosing a care solution for your elderly parents or loved ones.
For those just starting to recognise a need for more support for their loved ones or taking the first responsibilities of caregiving, it can be a confusing time. You'll no doubt have a lot of questions, from getting your head around what daily activities are actually required for your situation, to assessing time commitment, cost implications and where to go for assistance.
Many people who are providing care for loved ones do not consider themselves to be carers at all, and often consider their care responsibility as a familial duty. However, the simplest definition of a carer as described by the Care Act is "someone who helps another person, usually a relative or friend, in their day-to-day life."
While caregiving may take place in the older person's home, it can also occur in many other venues such as at the hospital, on visits to a residential nursing care facility, or other location that may even be far away from the care recipient.
It's important to identify when you are in a caregiving role so that you can seek appropriate support from government by arranging a carer's assessment, your employer, and family and friends. Start to consider care options that help you maintain physical and emotional wellbeing for both you and your loved one.
Identification can be doubly important for those who are termed 'sandwich carers', meaning they are providing care for both older relatives and children at the same time.
Caregivers undertake a wide variety of tasks, from shopping, preparing meals, dispensing medication, organising doctor's appointments, to facilitating leisure and social activities. Managing the requirements of daily life, particularly in cases of illness or disability, can be intimidating and uncomfortable at first.
Through their ongoing dedication and selfless contributions, caregivers enable their elderly loved ones to live as dignified and independent a life as possible.
While growing older is an inevitable part of everyone's life, very often those who find themselves in a caregiving position did not actively take up the role, but simply find themselves in it. Because of this, the question of where to begin to tackle what can be both a physically and mentally challenging new position is key to answer.
In the next sections of this guide, we outline tips for carers that will point you in the right direction for creating a care plan and for dealing with everyday tasks.
While care requirements will change over time and it's not feasible to foresee every stumbling block you may come across, planning for the most common ones and setting out solutions will make a difference toward how well you get a handle on the stresses inherent in being a caregiver.
At the same time, the resources and strategies we outline in this guide are meant to help you cope with some of the guilt and apprehension you may be feeling, so that you can better care for your own health, and therefore will be better able to assist your loved one.
02: Developing a care plan
Taking responsibility for the care of a loved one is an exercise in compassion, dedication and foresight. Here we explore a few tactics to get you started on creating a care plan and how to negotiate tricky discussions with a loved one who you think may need more day-to-day support.
"When it comes to caring for an elderly person, it can be hard to strike a balance between giving what help is needed and being too overbearing. Try to treat the elder in your life with as much respect as possible, and he or she will be most likely be grateful for your assistance."

Shelley Webb, The Intentional Caregiver
Care plan
Creating a care plan is an essential step to establish the foundations for future care that will adapt over time as the needs of your loved one changes. The core questions to ask right from the beginning which form the basis of the plan are:
– Who is the care recipient: an older parent, a spouse, a disabled family member or friend?
– Will the care be long-term or for a short amount of time?
– How much daily care is required?
– What type of care will the recipient need from the caregiver?
– What does your loved one want for themselves? For instance, many people do not wish to be relocated to a care home and would prefer to remain in the comfort of their own home. It's important that you discuss this with them to ensure you are as aligned as possible on the care plan.
In addition to answering these fundamental questions, the next step in developing a care plan is to consider what your goals as a caregiver are.
While it may not be realistic for your loved one to live a completely normal life if they are generally unwell or living with a long-term condition, it could be realistic to ensure that they live a dignified, fulfilling later life and are treated with compassion.
Honesty is the best policy
Having an honest, frank conversation with your loved one about their expectations and your capacity as a caregiver early on in the relationship can make a big difference to the future.
The first care plan you make should be seen as just an initial step – it has to remain flexible and should be reevaluated at regular intervals. While there are many unknowns in caregiving, it is certain that circumstances will change over time, so be prepared to evolve your care plan every few months, or in some cases as frequently as week to week, if your loved one's condition is altering quickly.
Over time and with more and more experience, you may discover that you need some extra help from outside support providers or additional family members in order to maintain your own quality of life and your family's wellbeing, as well as, of course, the care recipient's. Should that be the case, you may look into hiring external assistance from private live-in care providers to cover tasks that you may not be best suited to manage.
This could be anything from daily grooming, preparing meals, administering medication, paying bills, or home maintenance. You may also wish to seek the advice of medical professionals or other experts for their opinion when making care decisions to gain the benefit of their experience.
Whatever solution you decide upon, it's important to check in regularly and to plan as far ahead as possible for any circumstances that may affect your care arrangements. And don't forget to be realistic with yourself – it will take some trial and error to adapt to your new role as a caregiver and to acquire the skills needed to handle all types of situations that will arise.
You should never feel guilty if you need to take a break, there is always the option of respite care if you require some well-earned time to recharge.
What our customers say
"The carer you sent me is fantastic. My mum loves her. She's kind, caring and works as a team with me."
Angela, Manchester
Setting caregiving goals
Due to the nature of being a caregiver, you will no doubt experience a range of emotions toward the person you're caring for. At times it will be easy to be patient and compassionate in your day to day interactions, whereas at other times it may feel overwhelming or impossible. For this reason, many people in your circumstances find it useful to write down a list of goals to help guide their role as a caregiver when the going gets tough.
These goals may be as simple as demonstrating random acts of kindness such as preparing a favourite meal once a week or taking a walk in the park together with a beloved pet. Or it could be ensuring that the care recipient is able to take have a say in their daily schedule.
Many elderly people express concern about being a burden to their families or discomfort with being treated like children as they get older. Including goals such as independence or self sufficiency on your caregiving list and ensuring that your loved one remains as social and active as possible, can help to overcome this common issue.
Starting the care conversation with your loved one
While it may seem apparent to you or family members that your loved one needs the assistance of a caregiver, it may not be so obvious to the care recipient. Initiating the care conversation can be tricky, and concerns are often rooted in fear of losing control, of becoming a burden, or of being uprooted from their own environment as is the case with residential care homes.
Opening a dialogue by reassuring your loved one that you're open to listening, are keen to understand their wishes, and want them to be as in control of their own life as possible, is a good place to start the conversation around care.
A good way to start the discussion is to simply ask your loved one what they believe would help their situation. For example, say "I wonder if you need some help with ____?" If your offers of assistance are refused, you may wish to seek another opinion from your loved ones trusted friends, other family members, doctor, or elderly care specialist, who may carry more influence in this area.
Another way to position the conversation could be in the context of planning for the future, such as "Did you know that live-in care is up to 30% less expensive than a care home?"
Talking about personal finance or health can be difficult in the best of circumstances, turning this around to be in a forward looking situation rather than a pressing problem can be an effective tactic for discussing care options, especially for those who may wish to shy away from this type of sensitive topic. However, it's also key to speak honestly and not to make false promises even though it may be convenient at the time to manage difficult emotions.
Finding a mutually agreeable solution will likely not happen instantly, so be prepared for multiple discussions between you, your loved one, and family members. Make sure to fully research the options available to you and include the care recipient in the vetting and decision making process.
There are now options such as live-in care available to make sure your loved one can remain as independent as possible in later life that are better alternatives to a traditional care home route for many reasons. In instances of dementia, Alzheimer's or other condition that may affect the person's decision-making capacity, you may need to discuss the best way forward with a doctor.
Caring for someone at a distance
In situations where you aren't able to live close to the person you care for due to work or family commitments, it is considered long-distance caregiving, and while millions of people are remote caregivers, it comes with its own set of challenges.
For instance, being far away can make it harder to have the foresight required to anticipate care needs or to deal with any problems that may arise in the course of daily caregiving. If you are in a remote caregiving position for a loved one, you may consider the following tips for long-distance caregivers useful for overcoming the mileage gap between you.
Plan for regular visits
Visits should be planned several weeks in advance, and where possible arranged for workdays rather than weekends, so that you can organise time visit nursing facilities, organise medical appointments, or interview potential caregivers.
If you're checking up on rather than setting up a caregiver, you may wish to show up without advance notice in order to get a more representative read of the situation.
For example, take a look at whether food is being stocked in the kitchen, the cleanliness of the home, whether monthly finances like utility bills and council tax payments are being taken care of, and of course that the overall health and wellbeing of your loved one has not deteriorated.
Set up a support system
As you aren't able to be there all the time, make sure that someone who is, such as a close friend or neighbor, has a set of keys and is familiar with the medical alert systems you've put in place for your loved one in case of emergencies. Speak with them consistently at an agreed time so that you're checking in at regular intervals and are informed if there are any changes to your loved one's situation.
Whenever you speak with them, make sure to note down in a logbook whether there has been anything worrisome or that requires medical attention. Also write down the names of the people you're speaking to, including caregivers, medical professionals, or anyone else involved in the care for your loved one, and compile a list of any required actions so you can follow up.
If you need additional assistance, there are a number of excellent services like The Silverline, who exist to provide support, friendship calls and direct to services for older people.
The local council in your loved one's area should also be able to direct you to support services. Or if you have set up 24 hour live-in care at home for your loved one through a private live-in care service like Elder, you call the provider at any time for an update.
03: Managing daily care needs
The role of caregiver is at its core a series of day-to-day tasks to help the person you're caring for live a safer, more comfortable and dignified life. Whether it's light activities such as dressing or shopping for food, or more continuous care at home that is required, these tips for caregivers should help to make your job a little easier.
"We live in an extraordinary time with increasing numbers of us in the UK living longer than ever imagined before. On the one hand, many can celebrate living financially secure, active, engaged and healthy lives for longer, but we also know living longer exposes many other older people to huge vulnerabilities."

Asghar Zaidi, Professor of International Social Policy, University of Southampton
More and more research such as Age UK's Index of Wellbeing in Later Life, is showing that being active and engaged as we get older can boost overall wellbeing. From taking part in activities like going to a museum, visiting a cinema, or participating in the arts, or engaging in a community group, can all have positive impacts on health and happiness for older people.
Mobility and getting around
Key to achieving a sense of wellbeing and one of the most common issues faced by caregivers, is how to make sure that the person they are caring for can be mobile. While getting outside, taking part in exercise, or enjoying social activities with friends may not always be possible, for many people, maintaining the ability to move around both inside the home and outside can instill a greater sense of independence.
Restoring or easing the ability to getting around offers a much-needed change of scenery and can improve the overall mood and demeanor of the care recipient, which can in turn make the job of caregiving easier.
The first place to start when assessing options for boosting mobility is with your loved one's doctor. For example, is the best course of action to start an exercise programme, to use a walker, wheelchair, stairlift, or other device. A doctor may also assess any medication that may help or may be causing drowsiness, pain, or dizziness that could be impeding mobility.
If a reduction in mobility is due to a chronic condition such as Parkinson's disease or multiple sclerosis, a doctor can also advise you on how to prepare for any future changes you should be aware of.
Protecting against falls and accidents in the home
Many older people are fearful of falling to the extent that they avoid exercise and other potentially enjoyable activities, which can actually have the opposite effect of weakening bones and muscles due to immobility. It's widely known that falls and fractures are a major cause of serious injury for elderly people, so it's important to take steps to ensure the home is safety-proofed to prevent injury.
Evaluate the home for potential problem areas
Loose stairwells, low lighting, or clutter such as cords, throw rugs or loose linens on the floor are all potential hazards to safeguard against in your loved one's home. Installing motion-sensitive lights, nightlights, and safety equipment like strong railings on staircases, grab bars in tubs, anti-slip mats or a shower chair in the bathroom can be very helpful.
Make sure that for cupboards that store frequently used items, especially those that are higher or may be hard to reach, that you place a grasping tool nearby, rather than needing a stepladder or other potentially risky device.
Monitor health and encourage exercise
Maintain regular appointments and conversation with your loved one's doctor to set up an exercise programme aimed at strengthening muscles, and improving flexibility and coordination to protect against falls. Also make sure that any medication isn't impairing balance or causing dizziness that can lead to accidents in the home.
Simple exercises like stretching or light yoga that can be performed every day can be very helpful for the body as well as improve the mood and overall happiness. In addition to the GP, make sure your loved one is getting regular eye exams, has suitable eyewear and wears sensible rubber-soled shoes with good traction, all of which can prevent accidental falls and injury.
Meal preparation and diet
It's very common for older people to eat less than they should, which can lead to vitamin deficiencies and other health problems caused by inadequate nutrition in the elderly. Fortunately, planning and eating meals with your loved one can be both good for their physical health as well as a positive way to connect and share time together.
Whether you are preparing meals yourself, with your loved one, or with the assistance of a live-in carer, make sure that the kitchen is safe and that the environment is adapted for their situation. For situations where your loved one is living with dementia, Dementia Care UK offers a room-by-room guide and e-learning course for making the home safer and dementia-friendly.
Preparing home-cooked meals together can be a rewarding experience that offers the opportunity for quality time with your loved one and a chance for them to participate in the activity of making their favourite meals.
Here are a few pointers that should make the meal preparation process easier:
– Safeguard and organise the kitchen so that common items are accessible and within easy to reach. Choosing easy-to-open food containers, large print cookbooks and special eating utensils suitable for those living with dementia will make meal preparation more manageable.
– Create nutritious meal plans and shop ahead. Whether you source healthy recipes from friends, your loved one's doctor or simply from the internet, there are hundreds of ideas for easy to prepare, nutritious meals for the elderly available. Many supermarkets now also offer delivery services, which can make shopping for frequently used or heavy items more convenient.
– Many meals, like soups or stews, can be easily stored and heated up later, so make extra portions to be frozen now and eaten in the future.
– If you need more help with meal preparation and are considering additional care support, a live-in carer will take care of cooking responsibilities. At Elder, our carers often bond with their care recipients by preparing their favourite foods – from tomato soup, to shepherd's pie, to a Sunday roast.
04: Hygiene, bathing and personal care for the elderly
Personal hygiene and grooming are among the most intimate of daily activities, something that all of us will have done for ourselves since our teenage years and that become more challenging as we age. These tips can help to make keeping up with the regular routines of bathing and self-care more manageable.
Bathing
It can often be challenging or sensitive to start to assist your elderly loved one with supporting their personal hygiene routines. However, maintaining good hygiene is incredibly important for health, avoiding infections, skin issues and overall comfort.
Mobility issues may have an impact, making it harder or even hazardous for them to bathe themselves in conventional bathrooms with the potential for slipping or getting stuck. Arthritis may make holding showers, products or even handrails tricky, and conditions such as depression or dementia may affect their motivation, independence or ability to keep up bathing routines.
Needing help in this area can be stressful and embarrassing for a loved one – and approaching a solution must be done with dignity in mind. Having a frank and open conversation around this issue with them is important, if possible.
In this way you can find out what they are concerned about, what their needs are and how best to support them. Allowing them to express their wishes – and adhering to them where possible will also mean that they can feel empowered in a sensitive situation.
Many older people find it preferable to have an experienced live-in carer help with their bathing and toileting functions – removing the need for close family members to be involved in this personal care.
As such you can work with them to decide on a bathing schedule that meets their needs. In terms of frequency, an older loved one with a fairly sedentary lifestyle may not necessarily need a shower every day, as an active younger person would, instead they might opt for a daily sponge bath and a shower or bath three times a week instead.
By consulting with your loved one you can also find out what their preferences are for a shower or bath, to wash morning or night and their favourite, familiar toiletries. These seemingly 'small' things can make all the difference – and can be incorporated into the care plan where safe to do so.
Allowing your loved one to maintain as much of their self-care as is safely possible is important. While grooming tasks may take a little longer to complete, they are an essential part of maintaining their independence along with live-in care in their own home.
And for all aspects of self-care there are simple 'hacks' and tips that can make things easier for an elderly relative. For example, something as simple as switching to a short or easy to manage haircut could allow your loved one to be able to do their own hair and an electric razor might allow a man who cannot safely shave with a blade to continue having control over his grooming.
"Aging parents and their children are often in denial that there is a problem until they notice things out of the norm in the everyday living environment. Poor personal hygiene is a sign that Dad or Mom may need help. Daily living tasks sometimes get to be too much as we age, and it's important for family members and loved ones to step up and address the problem when this happens — even if it is difficult or painful. The problems will not go away and usually need to be addressed in a timely manner. Bathing and grooming is one of the roles many caregivers need to assume."

Dr. Melissa Henston, A Place for Mom expert and geriatric psychologist
Safety first
An assessment of potential hazards should be made when making the transition to assisted bathing – and an experienced live-in carer will be able to help you, possibly spotting some that you might have missed!
Things to consider include the possibility of slipping and falling; it may be necessary to install handrails or a shower seat for example, if your ageing relative has poor balance or finds it difficult to stand. You will also need to put non-slip mats on the bath and shower floors. Age UK has a range of products designed to help safer bathing – and can also help with questions about and provision of adapted bathrooms.
Think about installing a hand-held shower if your loved one does not have one in a bathtub or a shower, as it is often easier to manoeuvre than a fixed shower head. In turn this will help ensure that products are thoroughly rinsed off so their skin does not become irritated. And remember, even the smallest details make a difference – a bar of soap in a bathroom can be a far more dangerous slip hazard than liquid soap in a pump dispenser for example.
Scalding is another danger – elderly loved ones, especially those with dementia, may be unable to tell you if water is too hot or cold so it's vital to test the temperature at regular intervals before and while bathing them.
Also consider access – if your loved one can be left alone in the bathroom safely it is vital you're always able to get in in case of an emergency – removing locks and putting "in use" signs on the door instead may be one option to consider.
Assited bathing made easier
It's vital to keep calm and positive and make the situation of assisted bathing as neutral as possible. Things that may help reduce the awkwardness and embarrassment include playing music in the background and keeping up relaxed conversation while bathing. For many elderly people, holding a towel around themselves is also a way to maintain their dignity during the experience of being washed by another.
"Talk positively and be sensitive towards the person when discussing how you feel about bathing them. Reassure them that, despite it being a very personal activity, you are happy to help. Ask how they feel and what they would prefer," suggests the Alzheimer's Society. "Try to find as many ways as possible to help them remain independent, and offer support as unobtrusively as you can."
In short, maintaining a relaxed manner, regardless of how you might actually feel, is essential. If you show anxiety or embarrassment you will most likely make your loved one feel the same way – and it is for this reason that many family members opt to arrange live-in care rather than take on this delicate and difficult interaction themselves.
For elderly people with dementia there may be even more specific considerations – some may be scared of the sound of running water, and if so then the carer should run the bath before they are brought into the bathroom. Others may be suspicious of getting into a bath if they cannot work out where the water has come from. Again, a live-in carer can work with you to develop a routine that works for them, and deal with any issues that may arise around fear or reluctance to bathe.
Caring for older skin
Older skin can be dry and very delicate and needs careful attention. The most important part of bathing an elderly person is to make sure that they are clean under all the skin folds, where bacteria can grow if left.
These include the folds of the breasts and stomach, neck and genitalia, all of which will also need rinsing thoroughly to avoid skin irritation and careful drying to avoid fungal infections. For those who don't like shampoo on their face, products such as 'shampoo shields' and washing trays from chemists and specialist websites can help.
Incontinence is a common issue amongst the elderly, and while it may not be a subject many would be willing to broach, if your loved one has problems controlling bowel or bladder functions, it's even more crucial to maintain their personal hygiene or else run the risk of developing infections. In addition, sometimes elderly people, especially those with dementia, will also need prompting to wash their hands after using the toilet.
Clean from top-to-toe
While bathing doesn't necessarily need to be an everyday routine, attending to teeth, beard and hair does – and again these are routines that the care recipient can often continue with in some cases, with helpful modifications.
For example, elderly people can be encouraged to take care of their nails by themselves for as long as they can – and may find that this is more enjoyable done while watching television or listening to music.
The most important thing, particularly with oral hygiene, is that the attention is regular and consistent. As we age saliva (which cleans teeth) decreases, which means the mouth is more vulnerable to tooth decay and infection.
According to the British Dental Association, poor oral health can have a devastating impact on overall health from pain and ulcers caused by ill-fitting dentures to dehydration and malnutrition caused by difficulties with eating. As such, elderly people need to brush night and day and see their dentists every six months to check dentures for proper fit and gums for gum disease or oral cancer.
An electronic toothbrush can make brushing easier and more effective, as can a mild mouthwash. If your loved-one has trouble holding the toothbrush then a live-in carer can help – either attaching the brush to their hand with a wide band, or by manually helping them to brush their teeth.
A clean, well-kept head of hair is a powerful way to raise the spirits and everyone likes to look their best, no matter what their age. Again, it pays to be realistic – a daily wash and blowdry is not feasible aim for an elderly person, but hair care can be supported between washes with products such as dry shampoos or no-rinse shampoo caps.
All products should be considered in terms of safety and ease – baby shampoo is a gentle way to clean hair without the worry of it stinging if it gets into eyes or no rinse shampoos and leave-in conditioners may be a good solution.
If your elderly relative cannot leave the house then mobile hairdressing services can always be booked to come to them at home – something that will not only keep their hair in good shape, but can be an enjoyable social appointment.
Moving to assistance with grooming and hygiene issues can be challenging for an older person, but with the right care and a careful assessment of safety and your relative's needs and wishes it's possible to both keep up good hygiene and levels of personal grooming – and allow them to maintain the dignity they've always had.
05: When your loved one needs more care
Sometimes in spite of the best intentions, you may find that you need additional support to provide the best level of care for your loved one. Luckily, there are many more types of care available today, which mean that care doesn't need to be as emotionally or financially distressing as you may initially believe.
Assessing your situation and researching the options in order to make an informed decision can be stressful – this guide is here to help make the process easier.
"Most long-term caregivers have times where the fatigue and frequent frustration of providing care for a vulnerable person can border on burnout. Being proactive is one of the best ways to combat potential burnout."

Christine M. Valentin, Licensed Clinical Social Worker
How can care help?
Being a caregiver is hard work, particularly in cases of dementia, progressive illness or other disability. It's important to realise that you don't have to take on the responsibility of caring for your loved one on your own.
Arranging appropriate professional care means that you, your loved one, and your family can feel secure and supported.
Perhaps all that is needed is someone to pop round and make sure your loved one is ok – in which case hourly care may be the most appropriate option. However, if they have more extensive needs, the right kind of care will be crucial in providing you the peace of mind that they are safe and comfortable at all times, living in the comfort and familiarity of their own home and local community.
Professional live-in carers are experienced in looking after people with a wide variety of needs, and many are also trained to deal with the requirements of medical conditions such as dementia.
A carer will ensure that all day-to-day functions are covered for your loved one, helping with everything from domestic responsibilities to toileting, getting them in and out of bed, reminding them to take medication and ensuring safety around the house.
They will also offer 24/7 assistance, including a comforting presence at night – so you will have peace of mind that your loved one is being fully looked after at any point.
The presence of a friendly face is a powerful and positive addition to an older person's world. Regular contact is essential for a happy, healthy life. Yet loneliness is one of the biggest challenges for a growing ageing demographic in this country.
Age UK estimates there are some 11.6m people over 65 in the UK, a number that is expected to rise to 16m by 2030.
The Campaign to End Loneliness points out that there are currently over 1.2m older people in the UK who feel lonely most or all of the time, which is known as chronic loneliness. There are a lot of people out there who just aren't speaking to people for weeks on end.
By offering dedicated help, 24/7, a live-in carer becomes more than practical support. They also become a companion, even a friend, offering conversation, contact and a continuity that is invaluable to your loved one.
How much care is needed?
To provide basic levels of care – for example, help with light housework – an hourly carer may be all that is needed. Hourly care has less continuity than live-in care, with different carers coming each day, which can be unsettling for some people. As the parameters of this kind of care are fixed and timed, it is not adequate for those with greater care requirements.
Those with more extensive care needs or who are living with a condition such as dementia, generally should have someone around at all times to ensure their safety and your peace of mind.
If your loved one is frail and at risk of falling, or wandering and getting lost, for example, then putting the appropriate care in place before anything happens is a better approach than waiting for the worst to happen before addressing the situation.
For someone with greater support needs, live-in care is the best long-term option – and a positive long-term care alternative to dreaded traditional avenues such as care homes.
In a live-in care arrangement, your loved one will be matched with a carer who not only meets their practical and medical needs, but who also shares similar interests and outlooks. Indeed, many live-in carers go on to become genuine friends with the person they are working with, and are often taken into the family circle.
Luckily, there is very little preparation needed for a live-in caregiver, as long as your loved one has a spare room. This generally eases the transition into requiring care because it means your loved one only has a new companion to get used to, and not a whole new environment.
Living with Live-in Care: Dulcie's Story
In this short video, 100-year old Dulcie, her family and her carer talk about what it's like to receive live-in care and how it has enhanced their lives.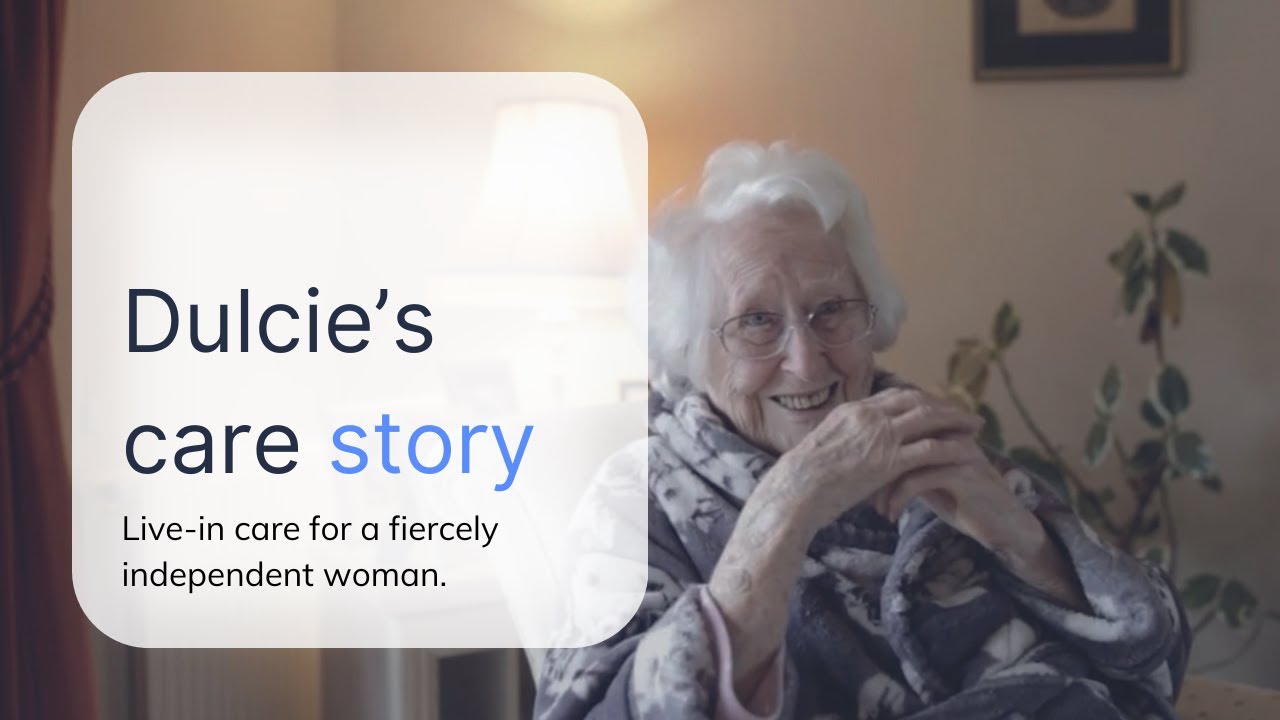 How Elder live-in care can help
Engaging a live-in carer provides you with the security and knowledge that you are doing the very best for your loved one for the long-term, and that someone is around 24/7 to keep an eye out for both their mental and physical wellbeing.
Live-in care also provides valuable continuity; your loved one will have one or two dedicated carers, and the flexibility to adapt the care plan to suit their changing requirements over time.
Financially, too, live-in care makes sense, when you consider that it can be up to a third cheaper than funding a care home place. Savings can be even greater if a carer is supporting a couple in their own home – another benefit over care homes, as it allows people to stay together as they grow older, even if one has extensive medical needs.
For a complimentary care assessment about your situation, speak to one of Elder's care specialists at 0330 134 6372. We speak to many people every day and are always available to provide impartial advice on everything from resources, funding, daily care needs, wellbeing and more.
We've been featured in…