Statistics show that over 30% of people over the age of 65 experience at least one fall each year, with the likelihood of a fall increasing over time. By the age of 80, that figure increases to 40%, making it a real issue for the elderly.
If your loved one has already experienced a fall, or you are worried that they are a little unsteady on their feet, there are a range of mobility aids available that will help them to move around with greater confidence.
Walking stick
A walking stick is a simple and effective method of providing extra support for anyone who experiences problems with balance or walking. Easily available, they come in a range of sizes and designs, making it easy to find one that suits your loved one's circumstances.
Elderly people will benefit from a weight-bearing stick made from aluminium or carbon fibre for the highest level of support, with some models offering additional support in the form of a tripod base. Folding walking sticks are ideal for older people who like to get out and about, as they can be easily stored away when not required.
Walking frames and rollators
Providing more significant support than a walking stick, walking frames are lightweight and sturdy. They come in a variety of designs, with some models being height adjustable, so make sure your loved one tries several models to find the one that best suits their needs.
Walking frames, also known as Zimmer frames, usually have four rubber feet, or two rubber feet and two wheels for more natural movement.
Rollators, or trolley walkers, have wheels and a break, for greater control. They usually offer a range of accessories, such as caddies for holding personal items on the move, and some models also provide a seat, making them an excellent solution for older people who like to get out and about.
Wheelchairs
If your loved one's doctor thinks that a wheelchair would be appropriate, they will be offered an appointment with their nearest NHS Wheelchair Service centre. In these instances, the wheelchair will be completely free of charge and will be maintained by the NHS.
If your loved one would prefer to organise their own wheelchair, they will be offered a voucher to set against some, or all, of the cost.
Where the NHS does not consider a wheelchair to be necessary, it is still possible to source one through a range of providers, with some models folding down for ease of transportation.
Motorised wheelchairs are also available, so study the range of models on offer before coming to any decision about the most appropriate solution for your loved one's circumstances.
Mobility scooters
A Class 2 scooter cannot exceed 4mph and should only be used on paths and pavements. More powerful Class 3 scooters, which are intended to be driven on the road, can travel at speeds of up to 8mph and require registration with the DVLA.
Because they are classed as disability vehicles, there is no road tax to pay. However, it is advisable to take out an insurance policy with the minimum of third party cover, to cover the user in the event of an accident, although this is not a legal requirement.
Scooters and wheelchairs can easily be hired from organisations such as Motability and the Red Cross if they are only expected to be needed for a short period. This can also be an excellent way of discovering whether they are an appropriate long-term solution for your elderly relative.
Stairlifts
With more elderly people choosing to remain in their own homes, rather than moving into residential care, elderly care at home is becoming a popular option. High quality live-in care agencies will closely match a carer with your loved one to ensure their needs are met fully.
Where stairs are an issue, a stairlift can offer real benefits, allowing your loved one to move about their own home in complete safety. Stairlifts come in a variety of styles and designs and can be fitted to most stairways, even where they have many twists and turns.
Bathroom aids
Bathrooms are particularly hazardous places for the elderly, thanks to the combination of hard surfaces, soap and water, which all contribute to the likelihood of accidents for anyone who is not secure on their feet.
There are a range of aids available that can help to make bathrooms a safer environment, such as grab rails, walk-in baths and shower seats. Whether you are providing companion care or dementia care in your loved one's home, appropriate bathroom aids will make life easier over time.
In many cases, removing baths and creating a 'wet room' can be a helpful long-term solution, enabling easier use of the bathroom facilities for your loved one.
Living long and well – the role of physiotherapy in later life
As CEO of The Chartered Society of Physiotherapy, Karen Middleton is passionate about the role physiotherapy has to play in enabling people to live long and live well. We talked to her about how crucial it is to stay active for optimum health and life experience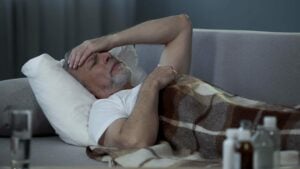 Caring for sleep problems in elderly Changes in sleeping patterns are frequent in older people, and you may notice that it progressively gets worse over
Read More »