Live-in carers from companies such as Elder, can provide assistance with many aspects of home life, and provide reassurance that your loved one is safe, 24-hours a day. 
Employing a 24-hour live-in carer
Although some people employ a live-in carer directly to provide companion care for their loved one, there are many benefits to choosing a reputable company to provide 24-hour care at home.
Not only will they screen carers thoroughly to ensure they have all the qualities needed to provide care at home, but they will also select the ideal person to care for your loved one.
This means matching them in personality and interests, as well as taking into account experience and training. The carer will have an enhanced disclosure and barring check (DBS check) and the service provider will also ensure that they are legally entitled to work in the UK. You should be able to see a copy of their CV and profile before meeting them.
All the necessary administrative tasks associated with being an employer are also carried out, so you won't have to worry about dealing with things such as employer's insurance, income tax, national insurance or holiday entitlement.
The other advantage of using an elderly care service is that there will always be someone to cover for holidays and sickness, so your loved one can consistently receive the support they need. In this way, you will also not need to intervene if an emergency situation occurs and the usual carer is unable to work for any reason.
Choosing a live-in care service
When you contact the service, they will want to carry out an care assessment to establish what your loved one's needs are. This way, they can ensure that all their requirements are met by the carer chosen for them.
For example, if your relative needs dementia care, a live-in carer will be selected with experience of the condition and training in how to cope with the kind of problems that may arise. You should be able to meet a potential carer before they start work and see how they relate to your loved one.
It is important that the carer providing elderly care for your loved one speaks good English and can communicate well with them. They will also be selected because they have interests in common and will relate well together.
Ask about how the care plan for your loved one will be drawn up. Ideally, both you and your relative should have input into this, so that you can clarify any particular needs and wishes to be incorporated.
For example, it may be key for your loved one to be able to get out on a regular basis, and you may wish to specify that you need someone who can drive and can take your them shopping or out for coffee.
Naturally, the cost will also be a consideration, but it is likely to be more affordable than you expect, and often favourably comparable – up to 30% cheaper in some cases – to residential care.
---
Dulcie's care story
Duclie is one of our longest serving customers. In this video her and her family talk through their decision to arrange care in the home rather than the care home.
---
In an emergency situation
If your loved one has an accident or becomes ill suddenly, you may need to arrange for a 24-hour live-in carer to start as quickly as possible. Elder can provide a carer to start within 48-hours of your approach, making a real difference to the situation.
If care provision needs to be in place before your parent is discharged from a hospital stay, this can be arranged, so that they can get back to their own home as soon as possible.
Ongoing care
You can arrange for a live-in carer to move in with your loved one for a specified period, such as a fortnight, while you or a regular carer have a break, or it can be for a time when they are convalescing following an illness or accident.
However, live-in carers commonly provide care and support for an extended period, as an alternative to your loved one having to move into a care home.
It is common for a person's physical and emotional needs to change over time, and the carer will recognise this. The care plan will be reviewed and regularly updated to ensure it meets all your loved one's needs. You will also be able to read about any issues that arise. Naturally, the carer would inform you of any relevant changes.
Because the service will provide ongoing support, you will be able to contact the carer at any time with any concerns you may have. Problems are less likely to occur with 24-hour live-in care because the carer can get to know your loved one so well, and become familiar with their needs and how they like things to be done.
Having a limited number of carers, usually two in a two-weekly rotation, to look after your loved one, means it is much less stressful for them. Having a succession of strangers visiting the house can happen with other forms of assistance at home, while staff turnover in care homes is well known to be high, meaning that there is often less continuity of care.
Call us for expert live-in care advice
Learn more about 24-hour care
Take a look at more Elder guides on round-the-clock care.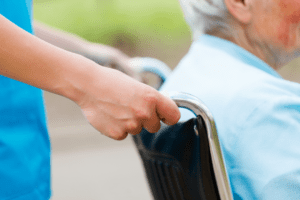 Care Homes Vs Nursing Homes – What's the Best Option? At some point, your loved one may reach a stage where they require 24-hour