Staying in Their Home: How to Care for Ageing Parents
Independent living is important to many people as they grow older, and most say they want to remain in their own home, even when they need help to manage their day-to-day tasks. There are many ways of supporting your elderly parents to stay in their familiar surroundings, from providing extra equipment to arranging 24/7 care.
Mobility Aids
If one or both of your parents have problems with their mobility or are unsteady on their feet, there are practical solutions to ease the situation. For example, grab rails installed where an older person might need extra support can help to keep them independent and able to use the toilet or bathroom safely, or to get in and out of bed independently. Grab rails where there are steps or changes in floor level can help to minimise the risk of falls.
If your elderly parents live in a two-storey house, the stairs may become a problem. If they are unable to use the stairs or you worry that they may be unsafe, the installation of a stair lift will enable them to access the whole house safely and without a problem. The company will design a stair lift to fit the specific staircase, and it glides up or down on a rail. The seat usually folds up when not in use so that other people can still use the stairs.
Elderly people sometimes find using a conventional toilet difficult due to stiffness or problems such as arthritis that make it hard for them to bend and sit down. A raised toilet seat can make both much easier. They are available in different heights, and some include armrests too.
Other Aids
Shoulder stiffness, poor grip and various other problems can make pouring boiling water from a kettle tricky and hazardous. A kettle tipper is a simple aid that holds the kettle in place in a pivoting cradle. The appliance can then be tilted and water poured into a cup or mug beside it. Rather than lifting the kettle out of the tipper for filling, it can be filled in situ from a jug.
Reachers or grabbers are also handy for people who have difficulty in picking up small objects from the floor, or who are at risk of falling if they bend down. Grabbers come in different lengths and sizes and are useful for people with poor mobility.
Home Care
If your loved one is finding it difficult to cope with their personal care needs, in-home care could be the answer. Sometimes, in an elderly couple, one member is the primary carer for the other, however, as they both grow older, this can become more challenging.
Having a caregiver who visits to help with tasks such as getting up, going to bed, washing and dressing can be enough support for the couple to allow them to stay in their home together. Meals on Wheels, day care and domestic help can also be arranged if they are needed. However, the cost of all these services can mount up and sometimes it makes sense to look at other elderly care options.
---
Dulcie's care story
Dulcie is one of our longest serving customers. In this video, she and her family talk through their decision to arrange care in the home rather than the care home.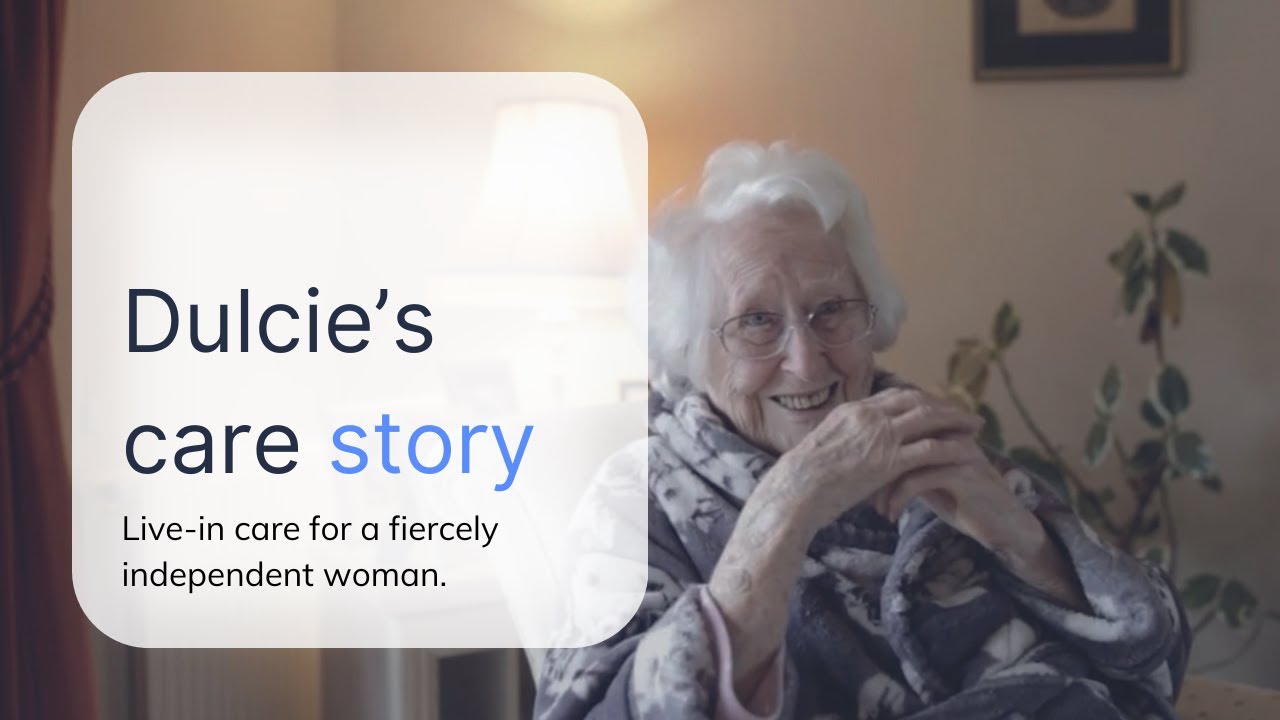 ---
Live-in Care
Private live-in care is the ideal solution for many people who need elderly care, but particularly for couples. In addition to providing personal care, a live-in carer may also prepare meals, carry out laundry and light domestic tasks and help with many aspects of day-to-day life.
With live-in care, the private care provider will match the assistant with the recipients so that they can develop a strong relationship. The carer moves into your parents' home and often becomes like another family member. You have the peace of mind of knowing your parents always have someone to call on in an emergency, 24-hours a day, and they also feel safer.
The specific care at home provided will vary depending on the needs and wishes of your parents but can include helping with taking medication, socialising and getting out and about, taking them outside the home to appointments, driving and sometimes even pet care.
If one of your parents needs dementia care, this can be difficult for the other member of the couple. The advantage of care from someone who lives with your parents 24/7 is that they will have completed a recognised Alzheimer's care training course and have previous experience of dementia care.
This means they have the skills and understanding to support people living with dementia, even if their behaviour becomes challenging at times. Because they get to know your parents so well, they can build up a relationship of trust with the person who has dementia. It is also a great support to the other member of the couple who may have been coping with a difficult situation for some time.
Arranging 24-hour elderly care in the home is more affordable than you might think, especially for couples. In addition to costing less than two places in a care home, it also enables your ageing parents to enjoy the best quality of life they can in their own home.
Call us for expert live-in care advice
Independent living is important to many people as they grow older, and most say they want to remain in their own home, even when they need help to manage their day-to-day tasks. There are many ways of supporting your elderly parents to stay in their familiar surroundings, from providing extra equipment to arranging 24/7 care.
Related Questions
Keeping Seniors Active: How to Care for Ageing Parents
As people age, it's inevitable that they begin to slow down, but this shouldn't mean they cease to be active. Keeping fit and healthy in old age is important, for both physical health and emotional wellbeing, and finding ways to keep your loved ones active is a positive step in caring for them. Staying active can help preserve a sense of independence too, as well as helping to lower the risk of heart disease, stroke, diabetes, depression or dementia – all conditions associated with a sedentary lifestyle.
Finances: How to Care for Ageing Parents
Difficult as it might be to contemplate, there may come a time in your parents' lives when they are no longer able to make decisions about their own finances. Choosing to step in and take over the management of your loved one's financial arrangements can be tricky. Even if they can see it is in their best interests, many elderly people will still find it hard to accept and may view it as a loss of independence.
Should Your Ageing Parent Move in With You?
The number of people living with their ageing parents is on the rise, and it's not surprising considering the increasing cost of living and lower disposable incomes many families are experiencing. A quarter of all caregivers provide disabled or elderly care in their own homes, according to the National Institute of Health. There are many positives to this arrangement, but there can also be fatigue, expense and stress involved in living with your ageing parents.
Frequently Asked Questions About Live-in Care
Elder's expert live-in care advisors answer questions for hundreds of people looking for care for themselves or their loved ones every day. Below you'll find the answers to some of the most frequently asked questions that our customers ask before making the decision to use Elder to take the stress and strain out of caring for someone in need.
How Can Live-in Home Care Can Help With a Physical Disability?
Whether your loved one has mobility issues or suffers from a condition such as arthritis, day-to-day living can become increasingly difficult with age, and you may be concerned that they are not so capable of looking after themselves in their own home as they once were. If you think that your loved one is no longer managing alone, then it may be time to consider their elderly care options.