Quick summary
Elderly people are unfortunately far more likely to experience falls at home.
There are a number of fatalities each year as a result, occurring as a result of frailty or ill health.
Care at home can help to support the elderly and prevent falls at home – ensuring their safety.
Every year across the UK, there are approximately 6,000 deaths resulting from home accidents. While falls are the most common cause of injury across all ages, the risk increases markedly in the elderly. According to NHS England, around one in three people over the age of 65 will have at least one fall a year. 
Many fatal, and non-fatal, accidents among elderly people occur as a result of frailty or failing health. Additionally, according to Age UK, 1.5 million people aged 65-84 are living with sight loss, which can make common objects found around the home more hazardous. Therefore it's essential that potentially dangerous everyday objects and habits be picked up on and removed to avoid accidents.
For those whose loved ones continue to live at home – either alone or with an elderly partner who may not be able to help in an accident – safety can be a concern.
We've put together our elderly safety tips to help you minimise the risks for older people in their homes. By making these home modifications for the elderly, you can help reduce hazards in the home and improve overall wellbeing – especially for those living with conditions such as dementia, frailty, Parkinson's, and other age-related health concerns. 
For an older person, feeling safe at home can help to improve confidence in moving around, and provide greater independence, while bringing peace of mind for the family. 
Why do accidents occur in the home? 
There are many reasons why so many elderly people experience falls, aside from the obvious hazards of slipping and tripping. As the body ages, the ability to balance reduces, along with the ability to react fast enough to avoid the fall. 
Physiological decline is a natural part of ageing, meaning that vision, spatial awareness and ability to process messages passed from the inner ear to the brain, become compromised. It's easy to see why more than 40% of people over the age of 80 suffer at least one fall each year.
Not only that, but there are other risk factors associated with ageing, such as: 
Increased likelihood of infections which can lead to further illness, and confusion
Erratic blood pressure which can cause dizziness
Neurological disorders such as Parkinson's disease and dementia
The more risk factors that an older person has, the more likely they are to suffer a debilitating and distressing fall. 
It is important to attend regular healthcare appointments in order to reduce the above risks – from attending hearing and eye tests, to regularly exercising to promote better balance, and living a healthy lifestyle. 
Home modifications for the elderly 
Home modifications can help minimise the risk of falling and serious injury. There are options for both minor and major modifications, and financial support is often available for both.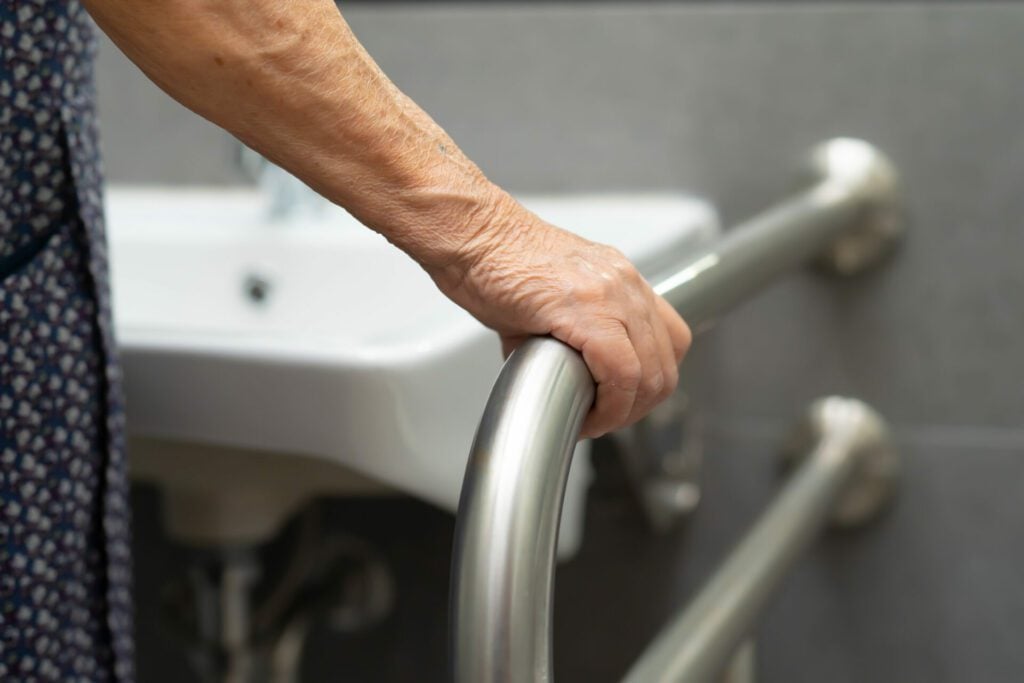 Rearranging furniture 
Before making more permanent home adaptations to support your loved one, simple things such as rearranging furniture can help to keep them safe and allow them to move around freely. 
It's important to remember however, that moving furniture or changing the layout of a room can be confusing or distressing for those living with dementia, so it's important to remember not to abruptly change the home environment – and instead, do it over time. 
Clear up any clutter 
Having clutter around the house can be a trip hazard. Keep the house as tidy as possible – ensuring any items that may be a risk are stored away. 
Remove obstructions 
Make sure to move any unnecessary obstructions such as extension cables, papers, magazines and pet beds. Whether this be moving them to a new less dangerous location or getting rid of them all together. 
Ensure access within rooms is clear. For example, if you know your loved one enters the living room and goes straight to a certain seat, make a clear path for them free of obstacles. 
Create space for walking aids or wheelchairs 
If your loved one uses a walking aid or wheelchair, make sure there's plenty of room for them to move around comfortably and safely. This could mean moving tables or sofas to sit along the edge of rooms, or removing unused items of furniture. 
Place unstable furniture close to walls 
Ideally, unstable furniture should be replaced or removed, however we understand that's not always practical. Another solution is to move it against walls for stability – if it can be secured to the wall that's even better. This will reduce the chance of fallen furniture obstructing the path. 
Tuck away wires from appliances 
Wires can form dangerous trip hazards in any home. But, as they can be difficult to spot for those with impaired vision or other conditions, it's important to be extra careful. Run wires against the top of the skirting board if possible and secure with a cable clip.
Grab rails and supports 
Installing extra support in the home is one of the ways you can minimise the risk of falls for your loved one. These types of rails can be especially useful for those with conditions that impact their mobility, such as arthritis and osteoporosis, as they release pressure on the joints and allow people to move more freely. 
Adding grab rails in the bathroom can help a loved one get in and out of the bath or shower and use the toilet without necessarily needing assistance, preserving their privacy and dignity as well as their safety. As some people are prone to dizzy spells, especially in warm temperatures, fitting a grab rail close to seating in the kitchen might also be a good idea.
If your loved one is receiving support in the form of daily visits from a carer, they may still be left alone for many hours at a time. Being able to use the bathroom as and when they want can help them feel in control and more independent.
Ramps and stairlifts 
Getting up and down sets of stairs can become difficult with age. Especially for those living with conditions such as Parkinson's, osteoporosis and arthritis as these conditions can limit mobility. 
Replacing steps to the front and rear of your loved one's property reduces the risk of them tripping as they come and go from the house. This can pose a particular danger in the autumn and winter when slippery fallen leaves or ice present an added risk.
Converting the steps to a ramp and adding a sturdy handrail will help keep your loved one safe and mobile. It'll also  help them feel confident about getting out of the house, which is an important step in reducing the feeling of isolation that mobility issues can often cause.
Benefits of using a ramp over stairs 
It reduces the risk of trips and missteps 
Ramps provide greater balance
Allows access to the outdoors for those with mobility issues or who use a wheelchair
Fitting a stairlift indoors can be beneficial to those with mobility problems. If your elderly relative is still living in their own home a stairlift enables them to access upstairs rooms, rather than facing the disruption and cost of converting the house to introduce a downstairs bedroom, or bathroom facilities.
Benefits of a stairlift 
A stairlift is a practical alternative to making a multi-storey house accessible, or moving to a bungalow. 
It minimise pain for those with muscular or bone conditions 
It improves the quality of life for those with mobility issues 
Provides a safe and reliable mode of transport 
It's a very effective way of preventing falls
They're customisable to individual needs
Safety in the kitchen
One of the many ways elderly relatives like to maintain a sense of independent living is by continuing to cook their own meals, rather than rely on 'Meals on Wheels' services or waiting for a caregiver to come once or twice a day. If your loved one is receiving dementia or Alzheimer's care however, being left alone in the kitchen can be extremely dangerous, and we'd recommend looking into a more full-time care solution.
Those with memory problems can struggle to cope with basic daily tasks and may leave cooking unattended or forget to turn off appliances. As well as an increased risk of fire, there's also a danger that they may burn themselves on dishes they didn't realise were hot, or scald themselves when they run taps.
Storing cleaning products, knives, and other sharp tools in a locked drawer can be an effective way to ensure that you can supervise their use. 
Someone with dementia might not be able to work out where the kitchen items they need are kept, and labelling cupboards and drawers can help. Try grouping similar items together, to reduce the likelihood of your loved one injuring themselves as they hunt for what they need.
Some of the best ways you can make sure your loved one is as safe as possible in the kitchen are to: 
Make sure the things they use often, and heavy things are within easy reach
Use non-slip mats under dishes and boards when cutting/preparing food
Use timers when cooking to remind them that they have food in the oven/on the hob
Purchase knives with specially shaped handles that are easier to control
Use cups and mugs that have a wide base to prevent spills
Put labels on cupboards and objects to make them easier to identify for those with neurological/memory problems
Fire prevention 
Fire prevention is essential in any home but especially in the elderly – where their cognitive abilities may be impaired as a result of conditions such as dementia – or where their reaction times may not be as fast. 
It's essential to make sure all smoke alarms and carbon monoxide detectors are working in the house, and are fitted in all the necessary places. It may be worth adding a reminder to the calendar to test the alarms. Making sure furniture is fire retardant and keeping a fire extinguisher in the home, and ensuring everyone knows how to use it, can also provide an added layer of safety. 
Cooking is one of the biggest risks in terms of a fire so make sure alternatives to cooking, such as meal delivery services or having family over cook, are encouraged and cooking appliances are safe to use. 
If your loved one wishes to continue to cook, there are devices, such as electric stove guards, which can be fitted to cookers and gas-powered equipment so that they will automatically cut out if left unattended.
Your local Fire and Rescue Services might offer free fire safety audits (sometimes called "Safe and Well" visits), which might be helpful with the identification of additional fire risks.
Mobility aids, assistive technologies and devices 
Walking frames, walking sticks and hearing aids can help prevent falls. Hearing aids prevent falls by improving balance, but it is important they are used properly otherwise they can have the opposite effect. Ensure all rooms are well lit and check for ways you can make mobility easier around the home.
Modern technology is available to help enhance the home, with fridge sensors, bathroom sensors or even ones that alert you if a loved one leaves the house.
Available assistive technologies include: 
Telecare systems – this involves sensors being placed around the home which remotely check on the safety of those in the home.
Personal alarms – which allow people to call for assistance if they have a fall or accident.
GPS trackers – a wearable tracker with an alert button, fall detector and radio.
Memory aids – such as medication reminders. 
In order to understand more about the available assistive technologies, you can speak to professionals such as an occupational therapist. They should be able to help assess the right devices for your loved one. 
Your local authority should be able to assist with funding for such devices – make sure to have a free care needs assessment if you feel your loved one would benefit from any of these home additions – and hasn't had one already.
Assistive technologies can be particularly useful in dementia care – especially GPS trackers if your loved one has a tendency to get lost when they go out alone.
Employing a carer 
Of course, it's difficult to make a home entirely risk free, and you may feel the only way you and your loved one can have full peace of mind is by knowing someone is always there to offer care and support, and to ensure they stay safe. If your elderly relative is reluctant to move into a care home, then employing a live-in carer can be a good alternative option.
Live-in care is more affordable than most people realise and in-home care packages can be tailored to your loved one's needs.
Elderly care in the home is available for the day or overnight – depending on your loved one's needs they may require one or two carers.
Frequently asked questions

How can we keep the elderly at home safe?
There are various ways to keep the elderly safe at home, from adapting the home and putting safety measures in place such as grab rails and supports, to having a live-in carer move into the home and support with care needs.
How do you keep those with dementia safe at home?
As dementia affects a person's cognitive ability it's even more important to ensure their safety. It's especially important to keep them safe when cooking – making sure to implement technologies that can ensure safety at home.
What are the safety issues for the elderly?
There are a variety of safety issues that can affect the elderly – from slipping, tripping, wandering out of the house, accidental fires or gas leaks. Having support in the home can help to minimise the risk.