One common question we get asked at Elder is – 'What does an average day look like for a live-in carer?' Unfortunately, this can be quite tricky to answer, as an average day can look completely different from one carer to the next. 
Live-in care is a completely person-centred approach to later life care. At Elder, every live-in carer works in collaboration with the person they're caring for and their family, developing a comfortable routine around the needs and wishes of the individual. It's about improving their day-to-day life without asking them to change the way they like to do things, and creating new opportunities to do more of what makes them happy. 
In short, no two care recipients – no two carers – and no two days are the same. However, while this is the case, we understand that when you're looking to arrange care or provide it, knowing what live-in care can look like on a daily basis is essential to figuring out if it's the right option for you. 
So, we've shared what a daily routine for a live-in carer can look like below, as well as a personal story from live-in carer Caroline. 
Morning 
A live-in carer offers personalised support after a long night in bed – such as helping an older person get into their dressing gown, or by bringing them a drink to ease them into the day gently. 
If the older person has bowel or bladder issues, a carer can provide discreet support to ensure they are clean and comfortable. A carer can also ensure an older person gets washed and ready for the day safely – ensuring they don't lose their balance on a wet floor, or burn themselves with hot water. Bathroom time is, of course, an incredibly personal time  – so if this type of support is needed a live-in carer will align their work with an older person's wishes and create the most comfortable environment possible.
Everyone likes to look their best, no matter what their age. A live-in carer can help an older person get into their clothes and tackle fiddly fastenings – which can be difficult for older joints. They'll also ensure they are appropriately dressed for the weather – protected from either bright summer sun, or well wrapped up on cold days. 
Preparing breakfast is next up – what's on the menu will be determined by the person they're caring for, however a live-in carer can advise on healthy and nutritious choices – such as yoghurt and fresh fruit. 
This may also be when a live-in carer reminds an older person to take their morning medication. 
Midday
A live-in carer will usually help an older person to keep their home clean and in order alongside their care duties. This can include vacuuming, changing bedding, doing laundry, and wiping down surfaces with antibacterial spray. The tasks they do depend on how much the older person can manage themselves. 
Carers can also help with small practical jobs around the home such as changing light bulbs, keeping garden pathways clear, and feeding pets. 
A live-in carer is as much there to offer and support companionship as they are to tend to physical and housekeeping needs. This can mean making time each day for a cup of tea and a chat, enjoying a gentle walk into town to meet friends at a social club, or helping with technology so they can catch up with family over Zoom or Facetime.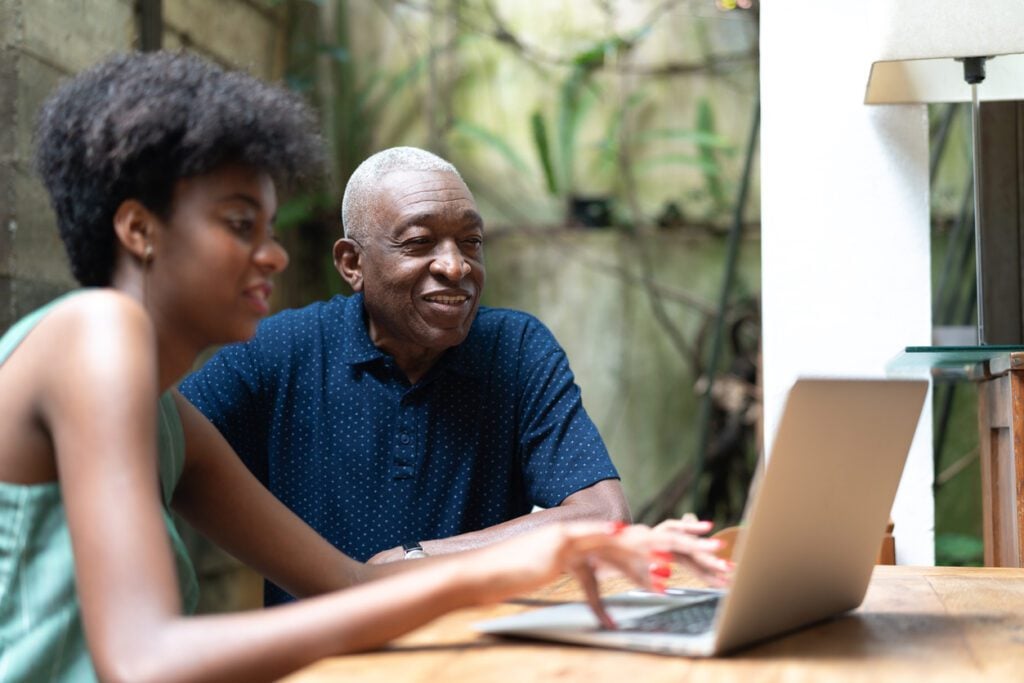 Afternoon 
After eating a healthy lunch together – prepared using fresh ingredients from the weekly food shop, the carer may suggest a game, or taking some time to enjoy a hobby. This is a good opportunity to connect over shared interests and work together. Research has also shown that mental training in old age – such as playing board games or solving puzzles can help boost intellectual power, maintain mental functions and, in some cases, slow or reverse memory decline.
Evening 
If an older person is living with dementia, they may start to get anxious or confused when it starts to go dark outside. This is commonly known as "sundowning".
A live-in carer is on hand to offer their support until it passes. They may use a range of techniques to calm the situation down, from keeping their mind busy with another activity, adjusting the lighting and noise levels in the room, or something as simple as giving their hand a reassuring squeeze.
A big part of every evening routine is preparing a home-cooked dinner. A live-in carer takes the time to get to know the individual tastes and dietary requirements of the person they're caring for. If they enjoy doing the cooking themselves, the carer will be happy to take a backseat, stepping in only when asked, or in order to keep the older person safe. 
Finally, a live-in carer can help shape a comfortable and effective nighttime routine too. Of course, this will be determined by the needs and preferences of the person they're caring for, but may include helping them change into their nightwear, preparing a warm drink, or leaving them to a spot of reading. Developing consistency is important as it can prove fundamental in ensuring a healthy, happy lifestyle in the long term.
Caroline's story 
Caring is something I have wanted to do since I can remember, and I have always liked looking after elderly people, even from a young age. 
When I arrive at a placement I introduce myself and talk to them about how I enjoy looking after people to put them at ease. Importantly, I also ask the person I am caring for about themselves – my clients have lived long and interesting lives and I love hearing about them.
To be a good carer you've got to get on with the person and know what they like and don't like. For example, one lady I was looking after had no interest in games or colouring or even the TV. I asked her what she liked and she told me she was keen on Carry On films, so I bought some DVDs and we watched them together. We also kept active by going for a walk three times a day – and singing songs together, which made us laugh – which is important. She had pretty severe dementia and it took me six months to get her into a routine.
But you've got to explain to the care recipient clearly from the start that you are there to look after them and to keep them safe. I always say, "I am not here to boss you about or tell you what to do, I am just helping you".
I encouraged her to do what she could. I'd give her a shower in the morning and then we'd go into the bedroom where I'd lay out all her clothes on the bed so she knows what styles and colours are there. I'd ask her what she would like to wear and she'd choose.
I can honestly say caring is the job that I've always wanted to do. Elderly people are amazing. They were all young once and have had a life – and it's nice to be able to keep that person dignified and their memories going.
Read more on live-in care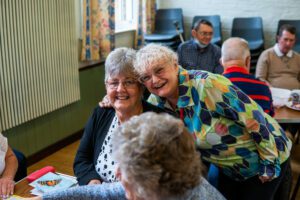 How Can Live-in Home Care Help With Learning Disabilities? Learning disabilities come in many different forms, but they all have an impact on a person's
Read More »