With increasing numbers of families choosing to provide elderly care at home, rather than moving their loved one into residential care, understanding ways of keeping them mentally stimulated is important.
Providing 24-hours of care at home gives the caregiver plenty of opportunities throughout each day to promote activities that encourage the care recipient to engage their cognitive functions. Completing tasks fosters a feeling of satisfaction and success, which has proven health benefits aside from preserving your loved one's mental health.
If you provide live-in care for your elderly relative, you'll find that you can both enjoy taking part in activities together. Gentle exercises and mental stimulation promote feelings of well-being and can help bond people over shared pursuits.
Seniors who rely on more complex dementia care can also reap the benefits of taking part in gentle and carefully-controlled activities that help to rekindle memories and provide them with much-needed reassurance.
The key with dementia patients is to focus on the activity itself, not the results, which may be haphazard. Engaging with activities seems to lessen the anxiety that they are prone to, encouraging quiet and gentle interaction.
Here are our suggestions for ten activities that will stimulate your loved one's brain and offer other health benefits too, such as a renewed sense of purpose and, in most cases, the opportunity to laugh with friends and family at the same time.
1 – Engage in meaningful conversations
Having a chat may not seem to be an activity for most of us, but for an older person who may spend many hours of the day alone, spending time chatting with someone else is an important part of feeling part of society. Spend time discussing your loved one's life, and encourage them to talk about their experiences.
2 – Undertake craft projects or other hobbies
Spending time creating something takes us out of ourselves and gives us the satisfaction of using our hands to manufacture something unique. Whether it's building model railway sets or making scrapbooks of their life story, engaging in hobbies helps to foster good feelings for the care recipient and their carer.
3 – Gardening
Spending time outdoors is crucial for a senior to receive the health benefits of being out in the fresh air and exposed to sunlight, which is necessary to supply the body with adequate amounts of Vitamin D.
No matter how mobile your loved one is, they can enjoy pottering in the garden. From the exercise involved in tasks such as weeding a flowerbed to planting a few seedlings in a container, the benefits are profound.
4 – Playing an instrument
If your elderly relative enjoys music, then playing an instrument might be something that they find particularly inspiring. Whether this is a skill that they have had for many years, or they are a complete beginner, the challenges to their mental and physical dexterity will strengthen neural pathways.
5 – Take part in dancing or low-impact exercise activities
Keeping active is important for good health, and there are lots of exercise options for today's seniors. From gentle Tai Chi classes that promote good posture and breathing, to dance lessons aimed at seniors, you'll find lots of opportunities for your relative to get active in local classes.
6 – Provide a selection of puzzles
Nothing stretches the mind as much as puzzles. Crossword puzzles, word searches and Sudoku games all provide opportunities to stretch the mind and get it working. Find out what types of puzzles are most appealing for your relative, and provide a selection to keep them entertained.
7 – Play board and card games
Most older people will enjoy playing board games, which encourage engagement with other players and require thought and planning. Card games are another old favourite, and dementia patients may enjoy taking part in simple games such as Pairs and Snap.
8 – Have a baking day
The smells and sensations that accompany a few hours spent baking can act as a powerful stimulus to promote happy feelings and can even remind older people of days gone by. Find out the types of cakes that they enjoy making – and eating – and stock up on ingredients and equipment, so that you can enjoy a fun and productive time together.
9 – Learn a language
Learning a new language gets harder as we age, but it's a brilliant way of forging new mental connections. From brushing up on some long-forgotten French to attempting to learn a whole new language from scratch, you'll find lots of online resources which make learning fun.
10 – Play computer games
Computer games aren't just for the younger generation. Use online resources to find games aimed at a senior age group, including lots of options for those with dementia too. Your loved one may find that they enjoy interacting with digital technology, particularly if this is something that they have little previous experience of.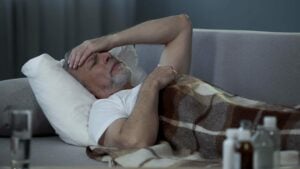 Caring for sleep problems in elderly Changes in sleeping patterns are frequent in older people, and you may notice that it progressively gets worse over
Read More »